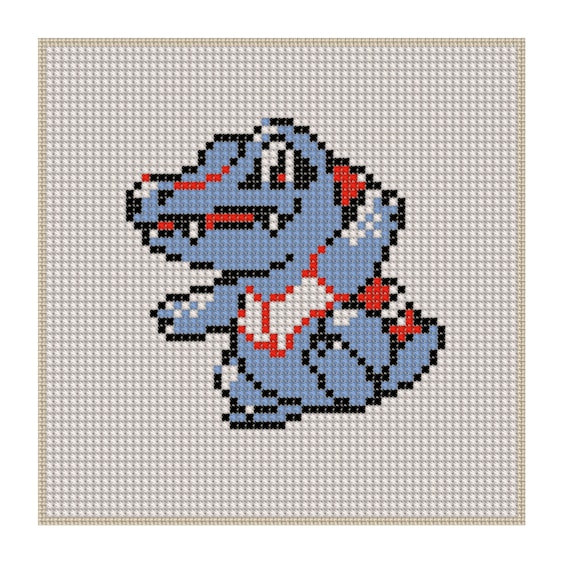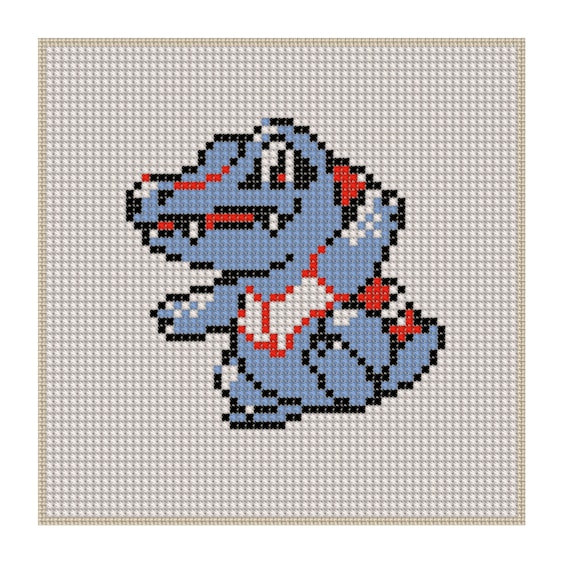 ---
Features
---
Item details
THIS PDF Pattern includes:
. Basic cross stitch tutorial.
. Pattern with the design in color, black and white and legend.

. Skill Level: easy
. Basic Skills Necessary: Basic cross stitching.

Size of Pattern:
61 x 61 Stitches

Finished Sizes:
14 count: 4.29" W x 4.29" H
16 count: 3.75" W x 3.75" H
18 count: 3.33" W x 3.33" H

This pattern forms part of the Silver Collection, all of the patterns in this collection have a compatible size of 61 x 61 stitches including the borders, please find our other patterns belonging to this series.

For this Cross Stitch pattern, you will also find our beginners guide on how to stitch, called Cross_Stitch_Manual.pdf in which you can read some tips on how to stitch and links to helpful resources.


----------------------------------
About Totodile:

It evolves into Croconaw starting at level 18, which evolves into Feraligatr starting at level 30.

Along with Chikorita and Cyndaquil, Totodile is one of the three starter Pokémon of Johto available at the beginning of Pokémon Gold, Silver, Crystal, HeartGold, and SoulSilver.

Totodile resembles a bipedal, blue crocodile with red spines on its back and tail. The spine on its back is larger with additional ridges. Totodile's head is large, with ridges above its eyes. Much of the head's size is composed of Totodile's snout and strong jaws. There are two visible teeth on the tip of its upper jaw, and two rows of three teeth on each side of its lower jaw. On its chest is a yellow, somewhat V-shaped pattern that extends to its arms with a line bisecting the pattern. Totodile has five sharp claws and three toes. Its eyes are red and surrounded by a dark blue or black pattern. Totodile tends to be playful by nature, and has a habit of biting anything it sees, including its Trainer. In the wild, Totodile prefers to live along the edges of bodies of water.
----------------------------------



::: Sell what you sew! ::: Items made using this pattern may be sold in your own shop. Just please be sure to give me credit for the design.

Re-sale and distribution of pattern pieces and instructions is expressly prohibited. Please do not sell or distribute this pattern.

::: Instant Download ::: Delivery of this digital product is automated. You will receive an immediate download link once payment has been confirmed. If you have problems downloading directly, please contact me.

Please note this is a PDF pattern only. No fabric, floss, or other materials are included in the listing. The finished cross stitch shown in the photos is for demonstration purposes only.

© Copyright 2016 Pokepats.

Happy Sewing!