Christmas Illustrations - 50 traditional sights and celebrations of the season on a digital collage sheet download - XMASST50
(1)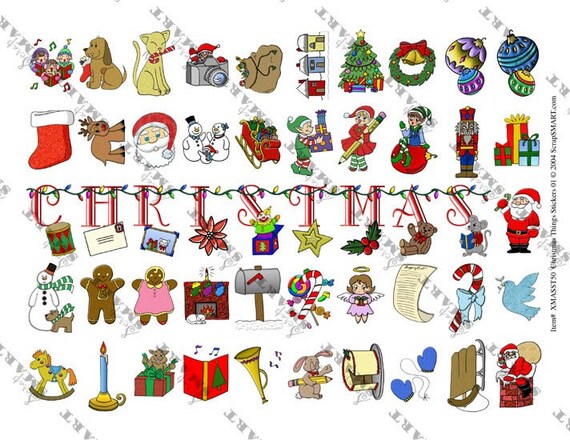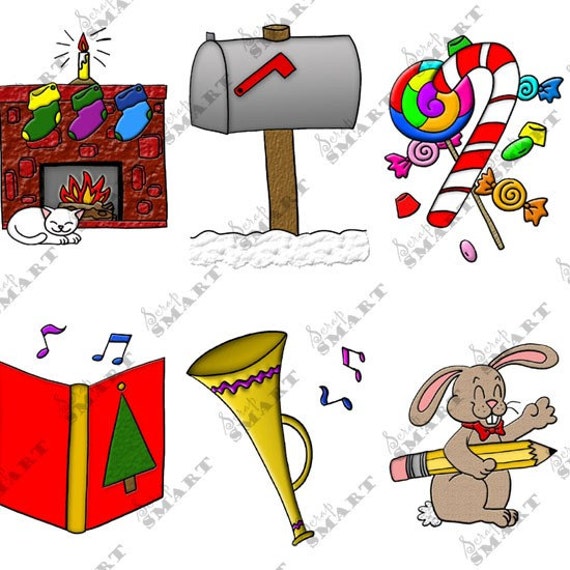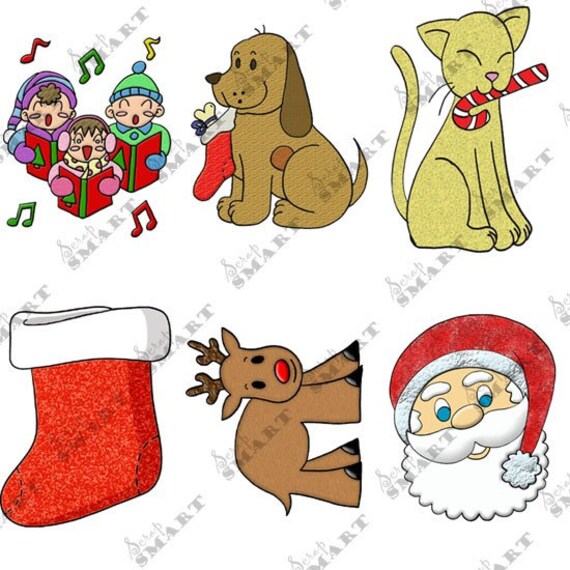 ---
Features
---
Item details
Scans of vintage ephemera, photographs, and original artwork on an 8 ½" x 11" digital sheet.

Our creative team preserves the past by working with the vintage images. We take the original antique images and carefully restore and repair these fragile images to their original splendor and vibrant color.

Our original drawings are created by the ScrapSMART.com team of illustrators and designers. They are of the highest quality for you to use in your designs and crafts.

This digital download comes to you in these high-resolution file formats:
PDF - Ready to print
JPG - Resize to fit your projects

FAQS:
Frequently Asked Questions about our DIGITAL COLLAGE SHEETS.

Question: What is a digital collage sheet?
Answer: Digital Collage Sheets are high-resolution (300 dots per inch) images that you download to your computer. All our digital collage sheets are 8 ½" x 11"size. We email you a link to the high-resolution images to both JPG and PDF formats. No special software is needed. Check my feedback to see what other folks are saying.

Question: Is creating items on the computer considered handcrafted?
Answer: YES. We consider the computer to be one of the most powerful tools available to crafters.

Question: When will I receive the images?
Answers:
• When ordering, please specify an email address.
• When we receive payment, we will e-mail you a link to the high-resolution images with easy downloading instructions in about 2-4 hours during our normal business hours. Our office is open Monday-Friday 9-4 EST. If I'm up at night crafting, you could get your images at all hours and usually over the weekend!
• Please be sure to check your ETSY conversations or your email's spam, junk, or bulk mail folder. If you do not receive your order please let us know. We want you to be happy with our service. Most customer service concerns can be solved very quickly.
• Should you send your payment to PayPal and not receive your files within this time frame, please contact us.
• We host all the images on our own web site so your email won't be bogged down with very large files. The watermark will not be present in your download.
• In a HOT RUSH, look at our instant service at: www.ScrapSMART.com

Question: How do I save the images to my computer?
Answers:
• Right-click the link in the email and choose "save target as" or "save link as." Choose where on your computer you want to save the file.
• On a MAC, you may have to Control-Click and then choose "save target as" or "save link as."
• Types of files - Depending on the type of product, we use these file formats: JPEG, PDF, DOC, ZIP, EXE – the product page will tell you exactly what you'll be getting. To learn how easy it is to use each of these types of files, go here:
www.scrapsmart.com/mm5/merchant.mvc?Screen=CTGY&Store_Code=ss&Category_Code=HowTo-FileFormats

How do I resize and edit the images:
Answer: It's easy to learn how to use Microsoft Word to resize images at: www.scrapsmart.com/mm5/merchant.mvc?Screen=CTGY&Store_Code=ss&Category_Code=HowTo_Edit
To receive a FREE copy of the graphics editing program Picasa, you can go to:
http://www.scrapsmart.com/mm5/merchant.mvc?Screen=CTGY&Store_Code=ss&Category_Code=HowTo-Picasa

Question: What's the easiest way to print the images?
Answers:
• Be sure to check your printer's settings before printing. Set page scaling to 100% or "None" so the image prints the correct size.
• For information on "How to print on Printable Fabric" see: www.scrapsmart.com/mm5/merchant.mvc?Screen=CTGY&Store_Code=ss&Category_Code=HowTo-PrintableFabric

Question: Where can I get fresh ideas and inspiration for my projects?
Answer: For crafting ideas using VintageHolidayShop images, see our videos at: www.scrapsmart.com/mm5/merchant.mvc?Screen=CTGY&Store_Code=ss&Category_Code=Videos

For step-by-step instructions on using printable fabrics, view the PDFs at: www.scrapsmart.com/mm5/merchant.mvc?Screen=CTGY&Store_Code=ss&Category_Code=Magazine

FAQS:
Frequently Asked Questions about our Copyright and Angel Policy

Question: What is YOUR copyright on the images on VintageHolidayShop?
Answer: All our vintage images are 100% copyright free according to U.S. law. We personally own the copyrights to all the original designs and illustrations. My daughter is a copyright lawyer and she keeps her Mom in line.

Question: How can I use these digital collage sheets?

Answer: Here is our Copyright Policy and Angel Policy: In simple terms, if you personally create or handcraft (with paint, glue, computer, etc.) a product using ScrapSMART.com designs within the project and sell it directly to the consumer you are not violating the copyright. The intent here is for the professional crafter/boutique to be able to use these designs to make hand-finished products for resale.

By purchasing our images, you agree to respect the VintageHolidayShop and ScrapSMART.com copyrights.
• You agree not to share or use these images for digital sales and give aways.
• You agree not to use the images in other collage sheets, scrapbook or other kits, other digital downloads, CDs or products, or in competition in any form with VintageHolidayShop on ETSY.com or ScrapSMART.com
• You agree to keep the images safe so they cannot be stolen in any way. When you use it on a web site, it must be 72 DPI using 200 pixels as the maximum and/or heavily altered and watermarked.
• You also agree to refrain from mass production, distributing, copying, or otherwise forwarding any of these digital images.
• Do not purchase any of our digital images if you do not agree to these terms. Violators will be prosecuted to the fullest extent of the law.
• We appreciate your understanding in this matter.
• When you need to an image for mass production of over 100 pieces, our non-exclusive licensing fees for commercial use start at only $10.00.
• For additional copyright and licensing inquiries, contact: lic [!at] Scrapsmart.com

Question: How many handcrafted pieces can I produce without violating the copyright?

Answer: Print your collage sheets as many times as you like for personal use. To create "Hand-Finished" items for sale and for commercial use, we limit the use to 100 items from any one design. Licensing fees for commercial use start at only $10.00. Print on cardstock, photo paper, sticker paper, fabric sheets, and more to embellish cards, make scrapbook pages, craft jewelry, and sewn or quilted projects, etc.

Question: What can't I do with the ScrapSMART.com designs?
Answer: Digitizing the images for embroidery patterns, a sticker line, rubber stamp line, clip-art/digital format, or any commercial use, etc. to sell or distribute is not allowed under our copyright policy. Anytime artwork is changed so that the other people can create with it, please contact us at Scrapsmart.com for a licensing agreement from us before using, distributing or selling the designs. Non-exclusive licensing fees for commercial use start at only $10.00.

Thank you, Reenie and crew

All images that we are selling on Etsy.com are © ScrapSMART.com
---
---
Thank you for the fast & easy service. Your designs are awesome.
Nov 1, 2012 by A fellow maker
---
More from this seller
---
Digital downloads
---
Payments
New York State Residents ONLY
8% Sales Tax will be added to your total.
---
Returns & exchanges
We don't offer exchanges or refunds on our digital collage sheets as there isn't any way to return them. If you are having a problem with a file we will re-send it to you quickly.
---
Additional policies
Copyright and Angel Policy
All our vintage images are 100% copyright free according to U.S. copyright law. We personally own the copyrights to all of the original designs and illustrations. My daughter is a copyright lawyer and she keeps her Mom in line.

In simple terms, if you personally create or handcraft (with paint, glue, computer, etc.) a product using Vintageholidayshop or ScrapSMART.com designs within the project and sell it directly to the consumer you are not violating the copyright. The intent here is for the professional crafter/boutique to be able to use these designs to make hand-finished products for resale.

By purchasing our images, you agree to respect the Vintageholidayshop and ScrapSMART.com copyrights.

• You agree not to share or use these images for digital sales and give-aways.
• You agree not to use the images in other collage sheets, scrapbook or other kits, other digital downloads, CDs or products, or in competition in any form with vintageholidayshop on ETSY.com or ScrapSMART.com
• You agree to keep the images safe so they cannot be stolen in any way. When you use the images on a web site, they must be 72 DPI.
• You also agree to refrain from mass production, distributing, copying, or otherwise forwarding any of these digital images.
• Do not purchase any of our digital images if you do not agree to these terms. Violators will be prosecuted to the fullest extent of the law.
• We appreciate your understanding in this matter.
• When you need to an image for mass production of over 100 pieces, our non-exclusive licensing fees for commercial use start at only $10.00.
• For additional copyright and licensing inquiries, contact: lic@Scrapsmart.com

Printer Suggestions:
• Any inkjet printer works great!
• Be sure to check your printer settings before printing.
• Set page scaling to 100% or "None" so the image prints at the correct size.
• Do not use "fit to page" because it will shrink your image.
• Always download the digital file to your computer rather than printing from the web page link.

1. Right-click the link in the email and choose "save target as" or "save link as." Choose where you want to save the file on your computer.
2. On a MAC, you may have to Control-Click and then choose "save target as" or "save link as." Choose where you want to save the file on your computer.
3. And please REMEMBER where you saved it!
• Resizing and Editing the Images:
• Learn how to use Microsoft Word to resize your images and to receive the FREE graphics editing program Picasa go to:
www.scrapsmart.com/mm5/merchant.mvc?Screen=CTGY&Store_Code=ss&Category_Code=HowTo_Edit

Hints to Saving Money!
• Go to File / Print Preview to see the image size before you print will save time and ink.
• To check the size for your project before printing in color, print your file in black and white. Go to File / Print / Properties / to change your color printer to print in Black and White only.

Paper Suggestions:
• There is a world of exciting papers for you to use! Also try photo paper, cardstock, fabric sheets, magnetic sheets etc. There are great paper selections at any office supply store such as Staples, Office Max, or Office Depot.
• For information on using Printable Fabric go to: www.scrapsmart.com/mm5/merchant.mvc?Screen=CTGY&Store_Code=ss&Category_Code=HowTo-PrintableFabric

FAQS:
To make it easy to purchase our collage sheets, all Frequently Asked Questions about our DIGITAL COLLAGE SHEETS are listed in the description section of each item.
All images that we are selling on Etsy.com are © ScrapSMART.com