Plotter file Penguin - Flamingo love - DXF silhouette cutting file silhouette cameo portrait Cricut Paul & Clara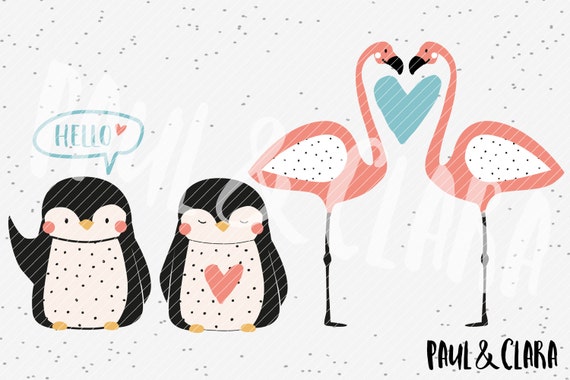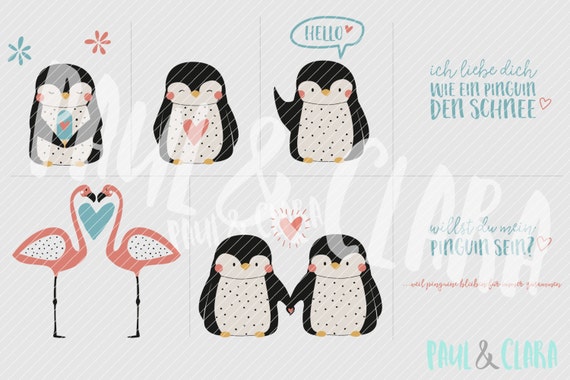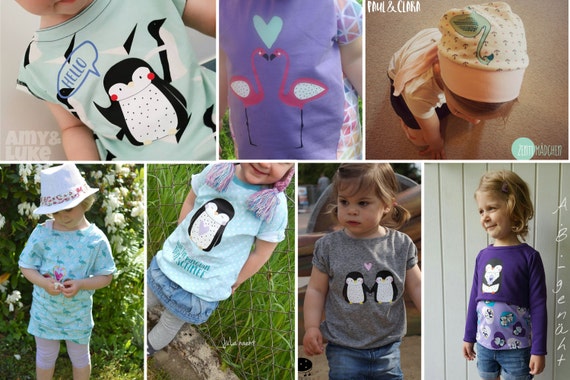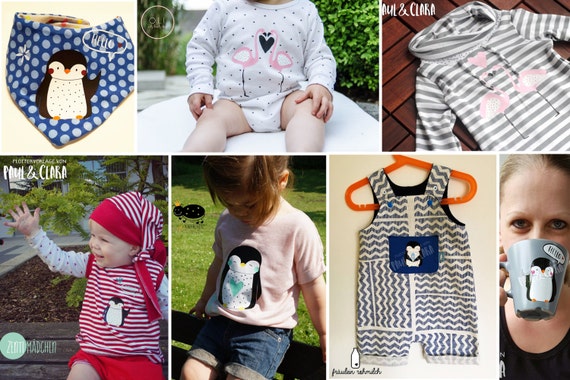 ---
Features
Made in Frankfurt am Main, Germany
---
Item details
Sorry, we couldn't translate this to English.
Plotter file Penguin & Flamingo love - DXF silhouette cutting file silhouette cameo portrait Cricut Paul & Clara

Plotter motive "Penguin & Flamingo love"
★ in the file: 3 individual penguins, 1 couple of Penguin and 2 loving flamingos.

★ Only for private use. Please read the license terms (see below).
★ File format: DXF
★ The file after the payment immediately for download is available.
★ Warning: Here you are purchasing only the file for a plotter - not finished geplotterten motives.

LICENSE TERMS:

RIGHTS OF USE:
General license terms:
• All images are subject to copyright law.
• That is used exclusively for establishing the plotter motif on a cutter plotter file. The plotter file may not be used for other purposes.
• Plotter files are digital files that are excluded from the return & Exchange.
• Is not allowed change, reproduction, copy, transmission of digital data.
• The disclosure individually geplotteter motifs as such as ironing motifs, patches, stickers, wall stickers, etc. (such as gifting, as winning at sweepstakes, etc.) are not allowed and requires approval by Paul & Clara.
• The photographic illustration of the motifs is permitted only in conjunction with a "copy protection". Please read & note the references to the "copy protection" (see below).

Plotter files for private use:
• May use private motives.
• The distribution of your beplotterten works is permitted. (But not individual motifs - see "general license terms")
• The use for commercial purposes is not allowed or possible only with a commercial license.
• Furthermore apply the "terms and conditions" (see above).

COPY PROTECTION:
The "disclosure" (see "general license terms") can be done also by the simple illustration of your own photos, on which the plotter motives are to see. The "automatic outlining" the motifs in a plotter software must be impossible! Therefore the following is expressly to be observed:

• Photos, on which finished geplotterte and unzip gitterte to see motives, must be equipped with a sufficient copy protection on the plotter motif!
• Photos of your sewing works in close-up, which are decorated with geplotterten motifs may be mapped only with a sufficient copy protection on the plotter motif! If the photos of your sewing works are so photographed (not in a close-up and not frontally photographed), the copying of the subject (by "automatic tracing" in a plotter software) is impossible, you may use the photo without the copy protections.
• All digital data, which are located in the download folder, may never be shown without copy protection.
---
Digital downloads
---
Payments
Secure options
Etsy Studio keeps your payment information secure. Etsy Studio shops never receive your credit card information.
---
Terms & conditions
§1 Allgemeines
(1) Anbieter und Vertragspartner für die im DaWanda-Shop "Paul & Clara" dargestellten Waren ist: Sarah Kalweit, Altenhöferallee 151, 60438 Frankfurt
(2) Diese allgemeinen Geschäftsbedingungen sind Bestandteil jeder vertraglichen Vereinbarung zwischen dem Anbieter und dem jeweiligen Besteller. Entgegenstehenden AGB des Bestellers wird widersprochen.

§2 Vertragsabschluss
(1) Ihre Bestellung ist ein Angebot an uns zum Abschluss eines Kaufvertrages. Eine Bestätigung der Bestellung bedeutet noch keinen Vertragsschluss. Die verbindliche Annahme Ihrer Bestellung erfolgt erst durch den Download der Dateien.
(2) Die Darstellung der Produkte im Online-Shop stellt kein rechtlich bindendes Angebot, sondern einen unverbindlichen Online-Katalog dar. Durch Anklicken des Buttons "Kaufen" geben Sie eine verbindliche Bestellung der im Warenkorb enthaltenen Waren ab. Die Bestätigung des Eingangs Ihrer Bestellung erfolgt zusammen mit der Annahme der Bestellung unmittelbar nach dem Absenden durch automatisierte E-Mail. Mit dieser E-Mail-Bestätigung ist der Kaufvertrag zustande gekommen.

§3 Garanie
Eine Garantie wird von dem Anbieter nicht erklärt.

§4 digitale Waren
Mit dem Kauf der Ware erwerben Sie keine fertig gestickten Aufnäher, fertigen Bügelmotive oder fertig geplotteten Motive! Es handelt sich immer um Dateien zur Nutzung auf einer Stickmaschine bzw. eines Schneideplotters. Es sind digitale Dateien.

§5 Nutzungsbedingungen
Mit vollständiger Zahlung des Kaufpreises erhalten Sie folgendes Nutzungsrecht für für Stickdateien & Plotterdateien:

(1) Stickdateien:
Der Verkauf bestickter Werke ist in Kleinauflagen gestattet, jedoch nicht in Massenproduktion! Es ist untersagt die reine Stickdatei weiterzugeben (auch Teile davon). Es nicht erlaubt, fertig gestickte Muster (Aufnäher/Buttons/Applikationen) zu veräußern. Es ist nicht erlaubt, Veränderungen an den Dateien vorzunehmen oder sie verändert als eigene auszugeben. Alle Rechte an den Stickdateien liegen bei Paul & Clara.

(2) Plotterdateien für den privaten Gebrauch:
Sie können die Motive privat uneingeschränkt nutzen.
Die Nutzung für gewerbliche Zwecke ist untersagt bzw. nur mit Gewerbelizens ("Plotterdateien für eine gewerbliche Nutzung") möglich. Veränderung, Vervielfältigung, Kopie, Weitergabe ist nicht gestattet.
Alle Rechte liegen bei Paul & Clara.

(3) Plotterdateien für eine gewerbliche Nutzung:
Sie können die Motive privat uneingeschränkt nutzen.
Auch der Verkauf Ihrer beplotterten Werke ist gestattet, jedoch ist zu beachten, daß eine Massenproduktion verboten ist.
Untersagt ist die Gewerbliche Erstellung von fertig geplotterten Motiven (Bügelmotiven, Aufnäher etc.) die für den Verkauf bestimmt sind.
Veränderung, Vervielfältigung, Kopie, Weitergabe und Massenproduktion ist nicht gestattet.
Alle Rechte an den Motiven liegen bei Paul & Clara.

§6 Urheberrecht/Kopierschutz
Die Gestaltung der Seiten meines Shops sowie insbesondere die darin enthaltenen Abbildungen sind urheberrechtlich geschützt und dürfen ohne unsere ausdrückliche, schriftliche Genehmigung nicht zur Veröffentlichung, Vervielfältigung, Verbreitung genutzt oder nachgeahmt werden. Die Nutzung der Produktfotos ist auch nicht zum Zwecke des privaten Weiterverkaufs der Ware erlaubt.

zur Abbildung von Plottermotiven:
Die Weitergabe der Motive ist untersagt.
Bitte beachten Sie: Die Weitergabe kann auch durch die einfache Darstellung der Plottermotive OHNE Kopierschutz auf Ihren Webseiten geschehen!!!
Daher ist folgendes ausdrücklich zu beachten:
1. Sie dürfen das im Ordner liegende Bild "Produktbild.jpg" für Ihre Produktabbildung auf Ihren Webseiten nutzen.
2. Die Abbildung aller weiteren im Downloadordner bereitgestellten Bilddateien ist nicht gestattet!
3. Fotos von fertig geplotteten und entgitterten Motiven sind mit einem AUSREICHENDEN KOPIERSCHUTZ auf dem Plottermotiv zu versehen! (Oder verwenden sie "Produktbild.jpg")
4. Fotos von Ihren Nähwerken in Nahaufnahme, die mit geplotterten Motiven verziert sind dürfen nur mit einem AUSREICHENDEN KOPIERSCHUTZ auf dem Plottermotiv abgebildet werden!
5. Sofern die Fotos von Ihren Nähwerken so fotografiert sind, daß das Kopieren des Motives (z.B. durch automatischens Nachzeichnen des Motives in einer Plottersoftware) unmöglich ist, dürfen Sie das Foto auch ohne Kopierschutz verwenden.

§7 Gerichtsstand
Erfüllungsort und Gerichtsstand ist Potsdam. Alle Streitigkeiten aus diesem Rechtsverhältnis unterliegen dem Recht der Bundesrepublik Deutschland. Die Anwendung des UN-Übereinkommens über Verträge über den internationalen Warenkauf ist ausgeschlossen.

§8 Salvatorische Klausel
Sollte eine Bestimmung dieser AGB unwirksam sein, wird davon die Wirksamkeit der übrigen Bestimmungen nicht berührt.

Widerrufsbelehrung:
Sie haben das Recht, binnen vierzehn Tagen ohne Angabe von Gründen diesen Vertrag zu widerrufen.
Die Widerrufsfrist beträgt vierzehn Tage ab dem Tag, an dem Sie oder ein von Ihnen benannter Dritter, der nicht der Beförderer ist, die letzte Ware in Besitz genommen haben bzw. hat.
Um Ihr Widerrufsrecht auszuüben, müssen Sie uns (Sarah Kalweit, Altenhöferallee 151, 60438 Frankfurt, hallo@paulundclara.com) mittels einer eindeutigen Erklärung (z.B. ein mit der Post versandter Brief, Telefax oder E-Mail) über Ihren Entschluss, diesen Vertrag zu widerrufen, informieren.
Sie können dafür das beigefügte Muster-Widerrufsformular verwenden, das jedoch nicht vorgeschrieben ist.
Wir werden Ihnen unverzüglich (z.B. per E-Mail) eine Bestätigung über den Eingang Ihres Widerrufs übermitteln.
Zur Wahrung der Widerrufsfrist reicht es aus, dass Sie die Mitteilung über die Ausübung des Widerrufsrechts vor Ablauf der Widerrufsfrist absenden.

Folgen des Widerrufs
Wenn Sie diesen Vertrag widerrufen, haben wir Ihnen alle Zahlungen, die wir von Ihnen erhalten haben, einschließlich der Lieferkosten (mit Ausnahme der zusätzlichen Kosten, die sich daraus ergeben, dass Sie eine andere Art der Lieferung als die von uns angebotene, günstigste Standardlieferung gewählt haben), unverzüglich und spätestens binnen vierzehn Tagen ab dem Tag zurückzuzahlen, an dem die Mitteilung über Ihren Widerruf dieses Vertrags bei uns eingegangen ist. Für diese Rückzahlung verwenden wir dasselbe Zahlungsmittel, das Sie bei der ursprünglichen Transaktion eingesetzt haben, es sei denn, mit Ihnen wurde ausdrücklich etwas anderes vereinbart; in keinem Fall werden Ihnen wegen dieser Rückzahlung Entgelte berechnet.
Wir können die Rückzahlung verweigern, bis wir die Waren wieder zurückerhalten haben oder bis Sie den Nachweis erbracht haben, dass Sie die Waren zurückgesandt haben, je nachdem, welches der frühere Zeitpunkt ist.
Sie haben die Waren unverzüglich und in jedem Fall spätestens binnen vierzehn Tagen ab dem Tag, an dem Sie uns über den Widerruf dieses Vertrags unterrichten, an uns zurückzusenden. Die Frist ist gewahrt, wenn Sie die Waren vor Ablauf der Frist von vierzehn Tagen absenden.
Sie tragen die unmittelbaren Kosten der Rücksendung der Waren.
Nicht paketversandfähige Waren, die zum Zeitpunkt des Vertragsschlusses zu Ihnen geliefert wurden, werden bei Ihnen abgeholt.
Sie müssen für einen etwaigen Wertverlust der Waren nur aufkommen, wenn dieser Wertverlust auf einen zur Prüfung der Beschaffenheit, Eigenschaften und Funktionsweise der Waren nicht notwendigen Umgang mit ihnen zurückzuführen ist.

Ausnahmen vom Widerrufsrecht
Das Widerrufsrecht besteht unter anderem nicht bei Verträgen zur Lieferung von Waren, die nicht vorgefertigt sind und für deren Herstellung eine individuelle Auswahl oder Bestimmung durch den Verbraucher maßgeblich ist oder die eindeutig auf die persönlichen Bedürfnise des Verbrauchers zugeschnitten sind und bei Verträgen zur Lieferung von Ton- und Videoaufnahmen oder Computersoftware in einer versiegelten Packung, wenn die Versiegelung nach der Lieferung entfernt wurde sowie bei Verträgen zur Lieferung von Zeitungen, Zeitschriften und Illustrierten mit Ausnahme von Abonnement-Verträgen.

Widerrufsverlust bei digitalen Inhalten
Hiermit stimmen Sie zu, dass der Unternehmer bei einem Vertrag über die Lieferung von nicht auf einem körperlichen Datenträger befindlichen Daten, die in digitaler Form hergestellt und bereitgestellt werden (digitale Inhalte), mit der Ausführung des Vertrags vor Ablauf der Widerrufsfrist beginnt und nehmen zur Kenntnis, dass Sie das Widerrufsrecht mit Beginn der Vertragsausführung verlieren.

Widerrufsformular 2014
Hier findest Du das neue Widerrufsformular:
(Wenn Sie den Vertrag widerrufen wollen, dann füllen Sie bitte dieses Formular aus und senden Sie es zurück.)

An
Paul und Clara
Sarah Kalweit
Altenhöferallee 151
60438 Frankfurt
hallo@paulundclara.com

Hiermit widerrufe(n) ich/wir () den von mir/uns () abgeschlossenen Vertrag über den Kauf der folgenden Waren () / die Erbringung der folgenden Dienstleistung ()

Bestellt am _________________ ()/erhalten am __________________()

Name des/der Verbraucher(s) _________________________________
Anschrift des/der Verbraucher(s)

Datum Unterschrift des/der Verbraucher(s) (nur bei Mitteilung auf Papier)

(*) Unzutreffendes streichen