Best Colored Pencils - 72 Coloring Pencil Set With Case - Artist Professional [Free Shipping]
(1)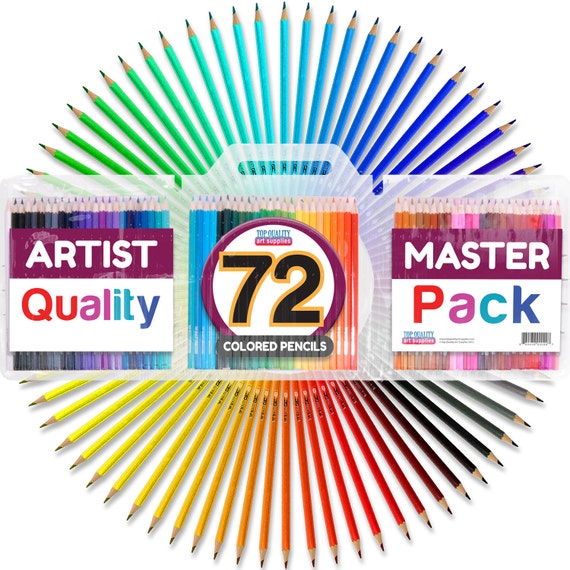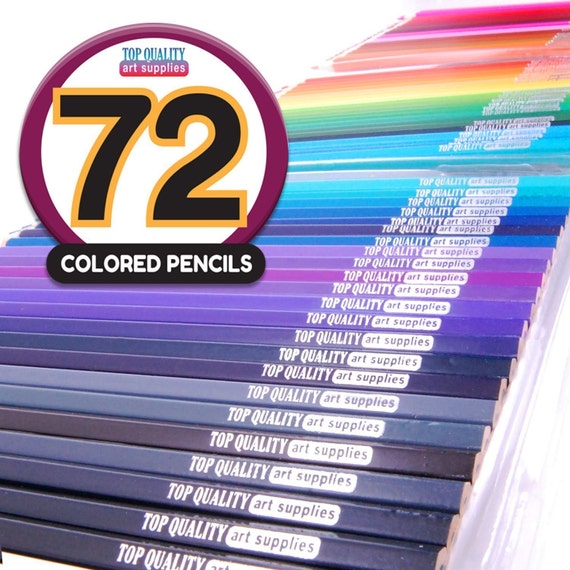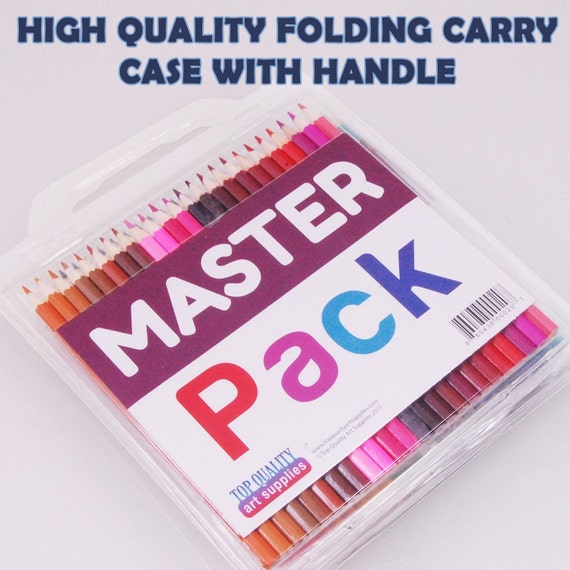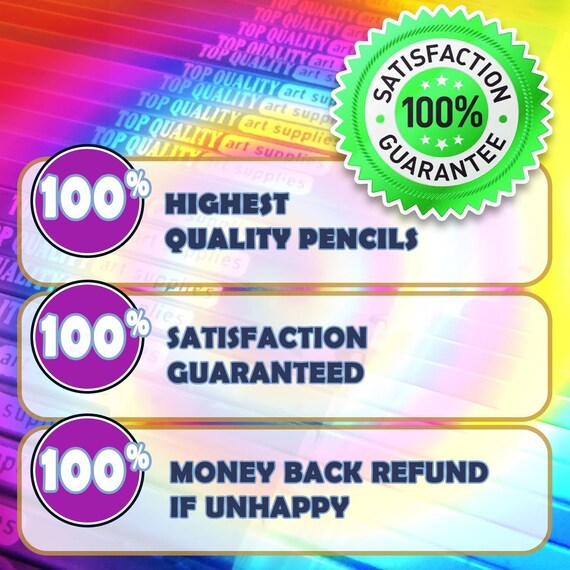 Arrives from the United States
---
Item details
Colored Pencil Set with Case, 7-Inch, Pack of 72

New Colors - Adult Coloring Pencils: Top Quality Art Supply™

[ #1 Best Selling Colored Pencil Set on Amazon. Buy here and Save $$$ ]
Trusted USA Seller with 100% Positive Feedback
*** FREE EXPEDITED SHIPPING & TRACKING ***
30-day Refund/Return (shipping not included)
100% Satisfaction Guaranteed

Fun for Adults Coloring or Kids this beautiful set of 72 Colored Pencils, in a compact carrying case, will be a welcomed addition to your art supplies. There are no repeat colors. Each color has many different shades. There is one white and one black pencil. There are many shades of grey as well. This is the most complete set of colors I have seen.

* Amazing Bulk Set of 72 Colored Pencils - All of our Pencils are 7 inches and have color coordinated barrels to match the lead. This makes finding the perfect color extremely easy. Our set comes in multitude of colors including; Skin Tones, Neon, Bright, Metallic, Blues Red, Yellow, Green, Orange, Purple, White, Black, Charcoal, and Many Many More!

* Perfect for 100s of Creative Ideas and Designs - Our pencils we're made to the highest of standards which makes them usable for soft & delicate designs or bold & firm artwork. Other common uses have been Adult Coloring Books, Drawing, Sketching, Portraits, as well as advanced techniques such as Layering, Blending, or Burnishing

* GREAT FOR ADULTS OR YOUNG ASPIRING ARTISTS - Whether you're looking for a beautiful set of pencils for Grown Up Coloring Books or for your 3rd Grader's art project - You'll find this set to be perfect for both!

* COLLAPSABLE FOLDING CASE WITH HANDLE INCLUDED! - Perfect for storing in a desk or backpack - The case also has individual slots for each coloring pencil, which helps keep them organized and easy to find.

* 100% MANUFACTURER MONEY BACK GUARANTEE - We strive to make the best set of colored pencils you've ever used. If you're ever unsatisfied please contact us and we'll give you a full refund.

Amazon Customer Reviews
4.4 out of 5 stars - 2,009 Reviews

5.0 out of 5 stars - I am so glad I've decided to try these!!!
By Dee Cee on October 21, 2015
Verified Purchase

This pack of 72 pencils comes in a see through plastic case... I feel it is quite flimsy, but rather cleverly designed... It folds up in to 3 parts, revealing 24 pencils per part... It is held together with a snap... And has a carrying handle...
To me, the pencil barrels seem a bit thinner than other pencils I have, but not by much... And, they are still sturdy...
The colors contained in the pack are AMAZING!!! So many different shades in the same color family...
I've taken out 12 different pencils in various shades to make test swatches... Each swatch has a sample of a light touch and a harder touch... When I pressed down for the harder touch, the pencils did not break...
The color lays down evenly, and they produce a rich and vibrant color...
I am THRILLED to have purchased these... And, at $19.95 for 72 fabulous colors, it was worth it to me...
Any one want to bet that the price on these will soon be going up???
P.S. - I was NOT paid to try this product or write this review!!!

5.0 out of 5 stars - Perfect for casual colorers!
By Roxy on November 22, 2015
Verified Purchase

I became addicted to the adult coloring trend several months ago. When I first started I went to the craft store and dropped a butt load of money on a big case with lots of colors and different types of pencils. I quickly realized that the pencils broke constantly during sharpening, the color pallet wasn't extensive, and all told I really got ripped off. I took a hiatus out of my frustration but recently ordered a new book so I started shopping g for better pencils. I am not an artist by any stretch so I seriously cannot justify exorbitant amounts of money for my little hobby. I found these and read the reviews so I decided to give them a go. I was VERY pleasantly surprised! These are quality pencils that sharpen well and last. The color palette contains some very pretty shades of all the colors. They go on a little light but that's nice for shading and allows me to be more in control of the depth I am looking for. Handy little case makes traveling and storing easy. Great kit for novices I definitely recommend!

5.0 out of 5 stars - What a beautiful set of colored pencils this is
By Rachael D on October 29, 2015
Verified Purchase

What a beautiful set of colored pencils this is! There are endless shades of every color, so you're sure to achieve whatever look you're going for. The pencils slide seamlessly across paper, producing beautiful results. I experienced no breakage, even during sharpening. The pencils sharpen evenly and easily. The colors are incredibly vibrant as well! All around excellent quality!
Sample provided for evaluation

5.0 out of 5 stars - These colored pencils are very nice quality, now I do have to state that ...
By Lisa Mac on October 23, 2015
Verified Purchase

These colored pencils are very nice quality, now I do have to state that I'm not an artist so I'm basing this on me being a mom dealing with tons of Crayola, Rose Art and multiple craft store brands.
The range of colors are great, there are different shades of each color which is perfect for someone like me who tries to make whatever I'm coloring look more realistic, even when I'm coloring in my 3 year old daughters Disney Princess coloring book with her. Initially I was disappointed that they weren't labeled with the name of each color, but honestly I've never once colored something saying this looks like it should be the color scarlet red, let me find that exact color, so I quickly got over it.
It comes in a nice tri-fold carrying case with a handle which you can appreciate if you're like me and tries to keep everything neat and orderly. This way every pencil has a perfect home and it opens up easily so you can view each color without digging through a pencil case.
I received this for free in exchange for my honest and unbiased feedback.

5.0 out of 5 stars - All The Unique Colors I Could Ask For
By Melissa Hesia on November 21, 2015

I love unique colors and every shade and a great variety of colors to choose from. So instead of using the standard crayon box, I would go for the huge pack of crayons. Well I was offered this colored pencil set for a great deal to try and share my honest opinion about them so I definitely ordered a set. The pack has 72 different colors, multiple shades of the colors, I am beyond excited about them. They are all sharpened and ready to use and their protective case is perfect for keeping them in pristine condition. I definitely recommend these colored pencils for anyone who wants an amazing set of pencils.
---
---
Aug 21, 2016 by meli gonpe
---
More from this seller
---
Shipping & policies
Arrives from the United States
Estimated Shipping