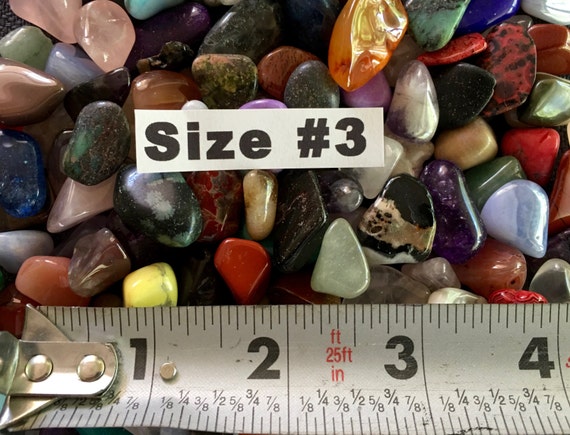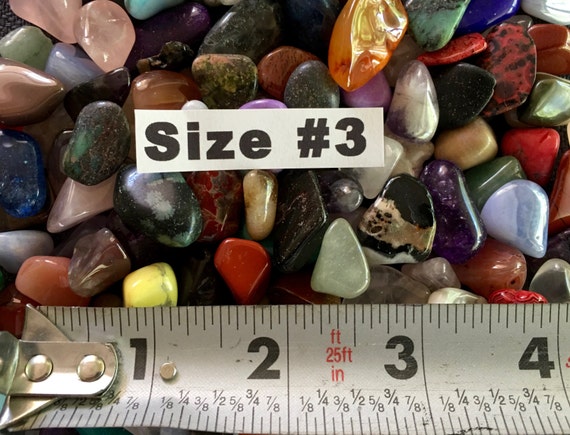 Arrives from the United States
---
Item details
You will receive:

1/4 Pound Bag of Polished Mixed Gemstones... (Size #3)


Approximate sizes 1/4" - 1/2"



These gems are unsearched, and could contain dozens of different gemstone
varieties such as amethyst, peridot, turquoise, jade, and many other types.

You may even find an emerald or some beautiful
green tourmaline or pink Rhodochrosite.

Use these Gems to make jewelry or crafts.

There are so many different things you can do with these gems that you

can't help but find something that can make or resell.

This mix also makes a great gift or teaching tool.

Great for crafts, gemstone jewelry, or collecting.

All the Gemstones are very highly polished and very colorful


Below is a list of all the gemstones you may receive

Amethyst -- Semi-precious Gemstone in a mix of purple colors. February Birthstone. (India & Brazil)
Goldstone - Tan colored stone with thousands of tiny sparkling copper crystals all over. (China)
Lapis Lazuli - Popular blue stone sometimes occurring with areas of grey calcite or tiny sparkles of Pyrite. (Chile)
Labradorite - Translucent green with flashing bursts of rainbow colors inside the gem. (Madagascar)
Peridot - A very bright lime green gemstone. Usually has a transparent color. (Arizona)
Snowflake Obsidian - Volcanic obsidian with grey ash snowflakes imbedded in the gem. (Utah)
Malachite - Dark green gem with swirls and bands of light green. Heavy gemstone. (Zaire)
Crystal Quartz - Colorless quartz that can look like glass because of its wonderful clarity. (Brazil)
Peach Moonstone - Unusual form of Moonstone in a mix of light to dark peachy or tan shades. (India)
White Moonstone - Famous June birthstone, Moonstone has a creamy white color in translucent stone. (India)
Rainbow Moonstone - White moonstone with small flashes of blue and other colors as the stone moves. (India)
Garnet - Dark transparent red. Garnet comes in other colors, but red is the most common. (India)
Yellow Calcite - Beautiful translucent yellow color. Looks like a lemon drop candy. (Mexico)
Dalmation Jasper - White to grey quartzite with multiple spots of black. (Mexico)
Red Jasper - Brick red color Jasper that sometimes contains white creamy lines. (South Africa)
Blue Aventurine - Dark to medium translucent blue. Member of the quartz family. (India)
Blue Lace Agate - Popular form of agate with a light blue color containing lacy, wavy bands. (Namibia)
Iolite - Purple-blue gemstone that sometimes displays a color changing quality when rotated in the light. (India)
Unakite - Mix of pink Feldspar and green Epidote. Named for the Unaka Indians of the Appalachian Mtns. (Virginia)
Fluorite - Heavy gemstone that comes in a mix of color from blue, purple, light green or bi-colors. (China)
Leopardskin - Named for the big cat, Leopardskin has black or red-ringed spots on a cream background. (Mexico)
Rose Quartz - Very popular quartz in a translucent pink color. Often used to sybmolize love. (Brazil)
Gold Tiger Eye - Famous stone known for its shimmering cat's eye effect when rotated in the light. (South Africa)
Red Tiger Eye - Red version of Tiger Eye. Very stunning cut and polished into jewelry. (South Africa)
Magnesite - Snow white color stone with light grey spider web like lines. (Zimbabwe)
Blue Quartz - Very light color of blue quartz. Looks similar to light Aquamarine. (India)
Green Aventurine - A Version of Aventurine in dark to medium green with tiny Mica inclusions in some gems. (India)
Orange Aventurine - Dark to medium translucent orange. Member of the quartz family. (India)
Mahogany Obsidian - Mix of maroon and black obsidian. Created by volcano. (Mexico)
Onyx - Jet black in color. Onyx is a member of the agate family. (Africa)
Picture Jasper - Tan jasper with unusual scenic lines of brown to black or with brown sections. (Idaho)
Snow Quartz - Just like the name suggests, this form of quartz is has a bright snow-white color. (California)
Serpentine - Named for the mystical beast, Serpentine has a mix of unusual green spots on white. (Utah)
Other Gem Varieties are Possible!



100% SATISFACTION GUARANTEE!

*Dimensions and weights provided are approximations based on the average size of the stone. Dimensions and weights will vary due to the uniqueness of each individual stone. Weights may vary + or - 1/2 carat depending on the size of the stones.

*Actual stones received will NOT be an exact match of the image depicted above, the stones will vary in shape and color because of their uniqueness. You will receive a random mix.


Thank You!
---
---
Love my stones
Jun 16, 2018 by Megan Stewart
Perfect! love the different colors and shapes as always fast shipping!! Thanks
Mar 15, 2017 by Sandy G.
---
More from this seller
---
Shipping & policies
Arrives from the United States
Estimated Shipping
Shipping
Delivery confirmation comes with your purchase. Expedited shipping and insurance can be purchased separately. Please contact us if you are interested in these.

We package all items with a concern for their safe arrival and take pride in keeping you informed about your purchase(s). Once your item ships, you will receive an e-mail indicating the date your purchase(s) has shipped along with tracking information.

*NOTE: In the instance of an agreed upon time frame, we guarantee that we will ship your purchase in time for it to arrive according to the estimated window provided by USPS as per your request, however, we cannot be held responsible for any unexpected USPS delays. Please allow plenty of time for delivery when ordering or feel free to contact us about expedited shipping.

Please ensure that your shipping address is entered correctly. We will not be responsible for shipping fees for any unclaimed or lost packages due to wrong address. Please ensure that your shipping address is entered correctly.

---
Payments
Payment
We accept PayPal and most major credit cards.

---
Returns & exchanges
Refunds and Exchanges
We happily accept returns or exchanges if the item is defective, or not as described in our listing. This is the only reason we are able to accept refunds or exchanges, so please plan your purchases accordingly.

---
Additional policies
Additional Policies and FAQs
All products are hand made so please be aware that every piece is different and made and Packaged with Care.

*NOTE: Photos can show variances in the color of the product due to the light, please keep in mind when matching colors.

*Last Updated September 1, 2015