Dual Tip Brush Pens with Fineliner Tip (24 PACK, No Duplicates!) FREE SHIPPING
(15)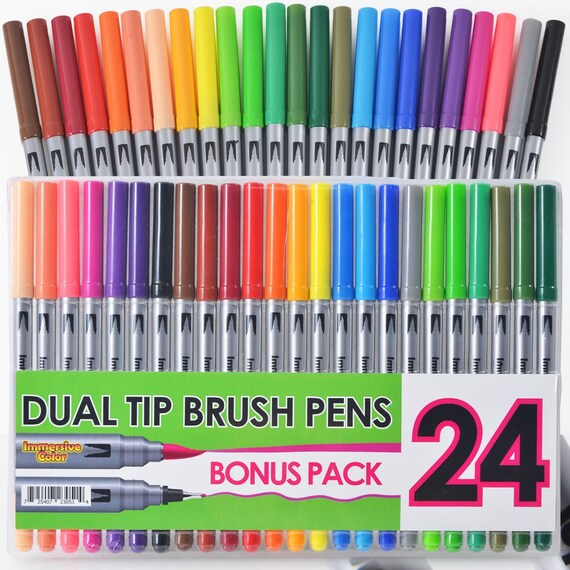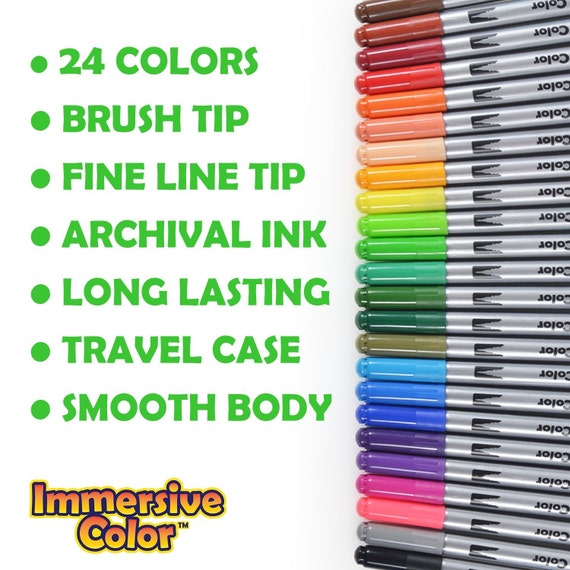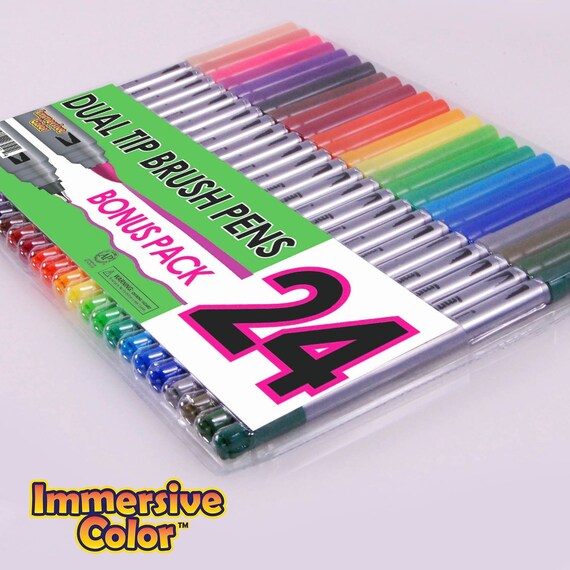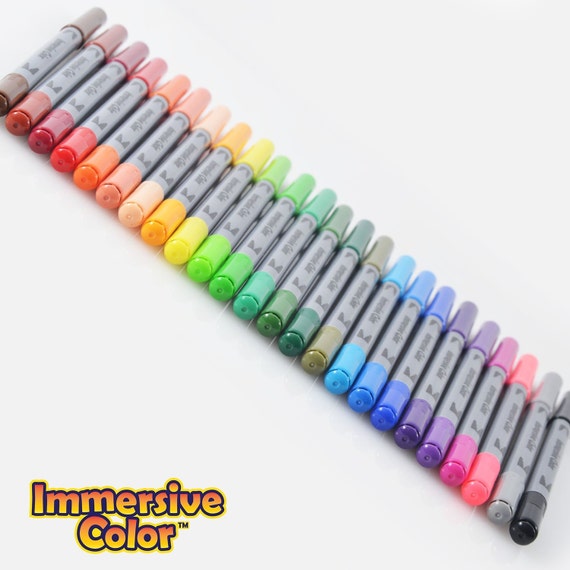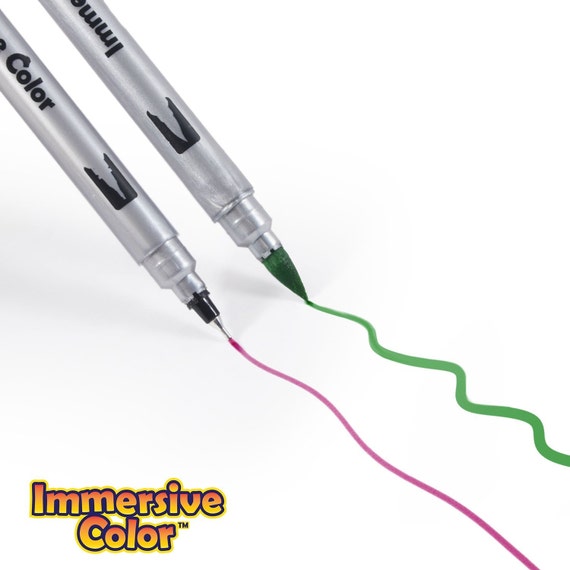 Arrives from the United States
---
Item details
Dual Tip Brush Pens with Fineliner Tip (24 PACK, No Duplicates!) Paint Brush Style Ink Tip and 0.4mm Fine line tip on the other side. Perfect for Artists, Watercolor, Sketching, Coloring, and More!

Brand: Immersive Color™

[#1 Best Seller on Amazon. Buy here and Save $$$]

*** FREE SHIPPING & TRACKING ***
100% Satisfaction Guaranteed
Trusted USA Seller with 100% Positive Feedback
30-day Refund/Return (shipping not included)

* 24 UNIQUE COLORS - Red, Yellow, Blue, Orange, Green, Purple in Neon, Pastel, and Primary Colors.

* CONVENIENT STORAGE CASE - Beautiful Compact Storage Case. Holds each unit in place - Stores great in any desk, backpack, or locker.

* ACID FREE, NON TOXIC, AND KID SAFE - Our Product conforms to ASTMD 4236. They are completely safe for a children or adults.

* IDEAL FOR PROFESSIONALS OR BEGINNERS - Create thin precise lines or beautiful thick blended designs.

* Money Back Guarantee from the Manufacturer - We strive to bring you the highest quality products possible, if at any point you're not happy please contact us and we'll offer you a FULL REFUND/RETURN!

Actual Customer Reviews
4.8 out of 5 stars on Amazon

5.0 out of 5 stars - These really are cool pens.
By Dianaon May 5, 2016
Verified Purchase

I have to state up front that the markers/pens I received did not "Stink" as another reviewer has said. The only smell I could detect was the new plastic smell that you get with just about any new plastic product, and I am talking about the plastic that these pens come in not the pens themselves. These really are cool pens for anyone who likes to draw and or write with style. Each pen has a fine writing tip on one end and a paint tip on the other. You could make beautiful calligraphy if you wanted to and knew how to. Painting/ coloring is easy with one side and drawing/writing with the other. Both my daughter and my son were excited when they saw these pens and wanted to try them out right away. I took a couple of pictures to show the difference between each side. I really wish I was more of an artist and could draw something nice. Unfortunately I will never make myself rich by painting, drawing or singing and I am too old to be a model so, I am hedging all my bets in my kids being talented enough to make us all rich. That is why I buy them nice products to expand their artistic talents :-) Joking aside... These pens are very nice they write and draw smoothly and are of very good quality. I am very happy with these Immersive Color Dual tip pens and would recommend them. I was provided with this packet for testing and in exchange for my honest and unbiased review. i hope that my review helped you with your purchasing decision.

4.0 out of 5 stars - True to color and pigmented
By Marie Gutshall on May 5, 2016

I really enjoy meditative coloring, and thought since these were dual tip they might be easier to carry around with me while giving me the option for a fine or wider tip. The wider end is very soft and almost like painting - great if a watercolor look is what you're going for! The fine tip is great for those intricate designs or even for writing. I do wish they came in a more sturdy container, it's very flimsy and now I need to find something suitable to hold these pens. The color payoff is also great and the colors are true to what you see on the marker lids. My other complaint is that you can put the caps on top of the other cap, making it easy to lose. Overall, great product.

5.0 out of 5 stars - Smooth writing and vibrant colors.
By lisa163 on May 5, 2016

You know how sometimes you can get a new pen and have to scribble to get it to write? Well not with these, I can take one out and just start writing. They have such vibrant color, you also have 24 different colors to choose from. I can't wait to come up with reasons to use all of the colors. So you say how can it get any better than smooth writing and vibrant colors. It gets better because on the other side another tip that allows you to use it as a marker. You now have some pretty great colors to choose from to fit all of your needs for either work or playtime.

5.0 out of 5 stars - artistic, like a paintbrush in a marker
By KCoon May 5, 2016

very cute, rich colors. they are actually like brushes, leaving a trail of thick beautiful ink. i am a confirmed doodler and will be using these for fun, to make rich patterns on paper while i talk on the phone ;) i don't think i'd use these for writing as they really re like brushes and the ink is thick. i'd never heard of brush pens before, so this was new and exciting - it's like marker sized paintbrushes almost, leaving an artistic trail of ink. i received these at a discount in exchange for an honest review.

5.0 out of 5 stars - Five Stars
By Mary Bon May 5, 2016

Great quality and so much fun to use in color books! I reviewed for product but would buy anyways!

5.0 out of 5 stars - Super great!
By D. Huffmanon May 5, 2016

I got these in the mail today and could not wait to try them out on my coloring books. I LOVE the colors! They are bright and pop right off the page. I am very pleased with these markers and will reorder another set when these run out!
---
---
Loved the markers but they dried out kind of quick but beautiful colors
Apr 12, 2018 by Asia
It shipped really early and i love the colors!
Feb 15, 2018 by jalen white
Thank you! It's a Great buy!
Jul 21, 2017 by Lacey Alyssa
A double set! Thank you
Jan 20, 2017 by Robin Right
---
More from this seller
---
Shipping & policies
Arrives from the United States
Estimated Shipping