Premium Color .4mm Fineliner Pens (HUGE Set of 60 Coloring Pens) FREE SHIPPING
(6)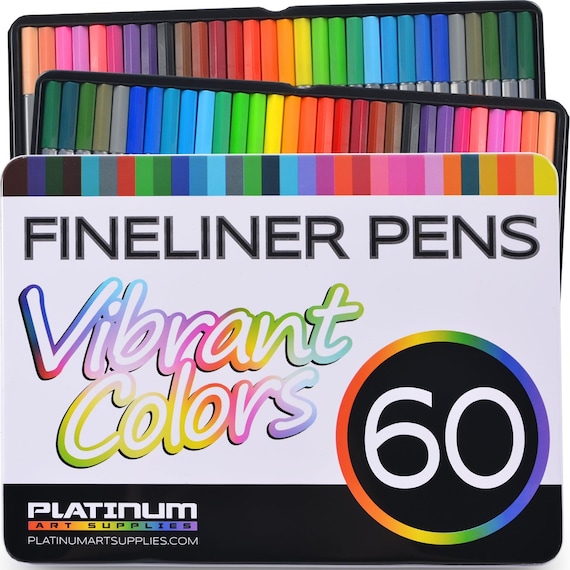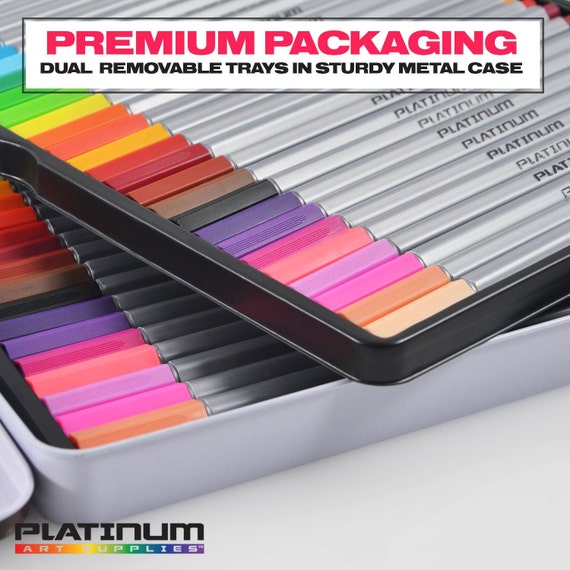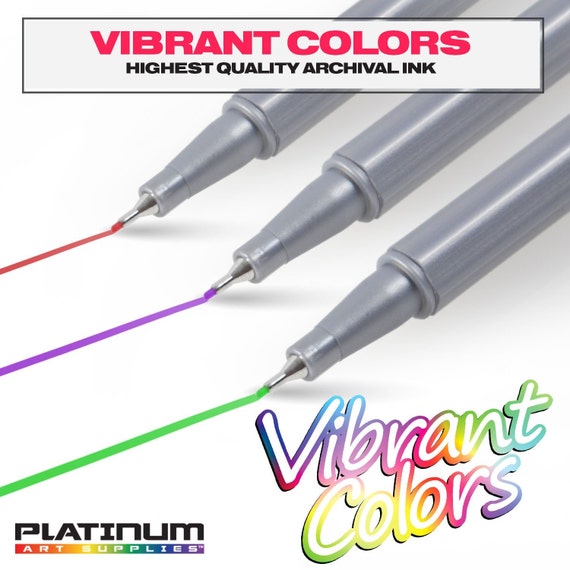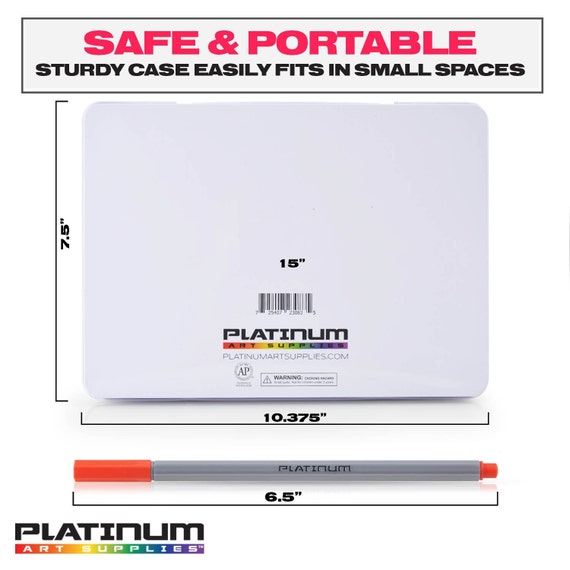 Arrives from the United States
---
Item details
NEW 30 Color Fineliner Pens (HUGE SET OF 60 COLORING PENS) Colorful Ultra Fine 0.4mm Metal Clad Tips in 30 Individual Colors - Porous Point Marker - Perfect for Drawing & Adult Coloring Books!

New Ultra Fine 0.4mm Metal Clad Tips Fineliner Pens!

Premium Adult Professional Coloring Pens: Platinum Art Supply™

[ #1 New Release Colored Pen Set on Amazon. Buy here and Save $$$ ]

Trusted USA Seller with 100% Positive Feedback
*** FREE EXPEDITED SHIPPING & TRACKING ***
30-day Refund/Return (shipping not included)
100% Satisfaction Guaranteed

Fun for Adults Coloring or Kids this beautiful set of 60 Premium Ultra Fine 0.4mm Metal Clad Tips Colored Pens, in a compact tin carrying case, will be a welcomed addition to your art supplies. Each color has many different shades. You get 2 30 color sets, so you can have one at home and one for work or on-the-go. This is a great set for very fine detail work!

- 30 UNIQUE VIBRANT COLORS - Including Neons, Red, Blue, Yellow, Green, Purple, Orange, Black, Silver, and Many More!

- PROTECTIVE ALUMINUM CASING - Beautiful Compact Double Layered Case. Holds each unit in place - Perfect for when you're on the go!

- HIGH-END ALLOY BASED POINT ENCLOSURE - Ensures straight drawn lines if you're using Stencils, Rulers, and Templates.


- DRY SAFE TECHNOLOGY - Can be left uncapped for days without the ink drying up! Our Ink is Non-Toxic and Acid Free!

- 100% Money Back Guarantee from us - We strive to provide the very BEST products possible, if at any point you're not satisfied please contact us and we'll offer a FULL REFUND/RETURN (30-days Guaranteed)!

+++ Actual Customer Reviews +++
4.9 out of 5 stars - 11+ Reviews

5.0 out of 5 stars - Great
By T. Williams on May 5, 2016

Very very vibrant. The case is nice too. Easy to use and no problems at all so far. A good buy that I would recommend to anyone. Will not be disappointed with this one. Great packaging and fast shipping. Great communication from the seller.

Disclaimer - If you have learned anything helpful about this product from my review, please pass it on to others that might benefit from the information. Please note I am not compensated in any way for this review; however, your positive feedback definitely helps me learn what shoppers find as helpful. When I make purchases to review, I buy what I am already in the market for or have interest in. I rely on other people's honest reviews that are posted on Amazon for purchases I make. I know that honest and helpful reviews provide insight to the company and to the purchasers as well. I respect other's opinions of different products and their use. I also read what reviewers on Amazon have to say and value their opinions. I want to help others by providing my reviews that detail the products as well as how the products that I purchase on Amazon have or have not benefited me personally.

I did receive this product at a discounted price in exchange for an unbiased, fair and honest review. I take my reviews serious and will only provide accurate and honest feedback. I am not connected to this company or any of the companies of products that I review in any way. I do so because I want others to be able to make an informed decision on the products that I test and review and it make a mistake if something is not as it should be or they think that it is.

5.0 out of 5 stars - Really Nice Set of Pens/Markers
By M O'Connor on May 5, 2016

Platinum Art Supplies is offering this set of 60 Color Fineliner Markerswith Ultra Fine 0.4mm Metal Clad Tips in 30 Individual Colors and I could not wait for my markers to arrive. This item has two each of 30 unique colors that include neons, metallics and more. The markers are packaged in a really strong aluminum casing for storage and for portability. Each pen is held in place inside of this double layered protective case. These fine markers will draw fine lines and will work well with stencils, rulers and templates. They also come with something called dry safe technology, which means that the markers can be left uncapped for days and the ink will not dry up. This is a wonderful benefit that means no more throwing away markers that you forget to cap. The ink is completely non toxic and acid free, and the manufacturer offers a 100% money back guarantee for a risk free purchase. I will use these pens for coloring, for crafts and for drawing and stenciling. I love this set and hope to have them for a long time to come. They would make a great gift for anyone on your gift list. I hope this review helps to better inform your purchasing decision.

5.0 out of 5 stars - GREAT PENS IN BEAUTIFUL COLORS!
By Bike Book Reviews on May 5, 2016

As the title of the product says, this is a HUGE set of pens, and quality pens at that! I love that they come in a metal carrying case, and when you open the top the pens are in two trays of 30 pens, there are two of each color, which is great if you want to give some away or if you want to keep them and have a backup set!

The pens themselves range in color from neon, to bright pastel, to darker hues, every color you should need for artwork, grading papers, or highlighting things you don't want to forget. I tried out a few colors and they work great as you will see from the pics below.

These pens have a fine tip which is great for an art project, or anything else you want to use it for. They would be great to have in a classroom as the tips don't bleed through the paper like some markers and pens do. You will love this set of colored fineliner pens as much as I do, and 60 pens will last a long long time! I received this product in exchange for my honest and unbiased review.

5.0 out of 5 stars - A wonderful set of quality pens for creative bliss. I love the colors and the case they come in!
By Christine Murray on May 5, 2016

I am so excited, these pens are so much fun and I can create all kinds of 'masterpieces' with them. I love to draw and sketch and the colors in wonderful set allow me the freedom to use exactly the right shade for the projects I am working on. It is so nice that they come in a metal tim so I can keep them organized to be able to reach for the perfect pen with the right color, instead of digging through them to find what I want and getting frustrated sorting them instead of enjoying the creative process. The tips are precise so I can get the effect I want. Felt pens that are poor quality tend to splay out and make a muddy line, but these give me a perfect line of color, exactly where I want it. I received this set for free to test and give my opinion on them. I would not hesistate to recommend them enthusiastically to all my friends and family. I love this set. It's fun!


4.0 out of 5 stars - Color Fineliner Pens Colorful Ultra Fine 0.4mm Metal Clad Tips in 30 Individual Colors
By AC on May 5, 2016

I purchased the 'Color Fineliner Pens Colorful Ultra Fine 0.4mm Metal Clad Tips in 30 Individual Colors' for my personal use. They arrived quickly and nicely packaged in an aluminum tin/box. The pens are layered in two separate rows in the box. There are 60 pens with 30 different colors (two of each color). There's just about every color you could imagine. The pens are made with dry safe technology. They can be left uncapped for days without the ink drying up. The ink is non-toxic and acid free. They are fine tipped and are great for coloring small things or writing. I will be using them in my planner as I like to color code things. The company does offer a 100% Money Back Guarantee from the Manufacturer if unsatisfied. These pens are great
I received the 'Color Fineliner Pens Colorful Ultra Fine 0.4mm Metal Clad Tips in 30 Individual Colors' at a discounted rate in exchange for an honest and unbiased review.
---
---
Mar 2, 2017 by Rachel Gibson
Fast shipping! Thank you very much
Dec 19, 2016 by Lindsey Fry
Beautiful, and they don't bleed.
Oct 21, 2016 by Sunny Darling
My wife loved them for her birthday
Jul 26, 2016 by jesslafl
---
More from this seller
---
Shipping & policies
Arrives from the United States
Estimated Shipping