Watercolor Pencils - HUGE 72 pack - 7" Water Soluble High Quality Colored New - FREE SHIPPING
(9)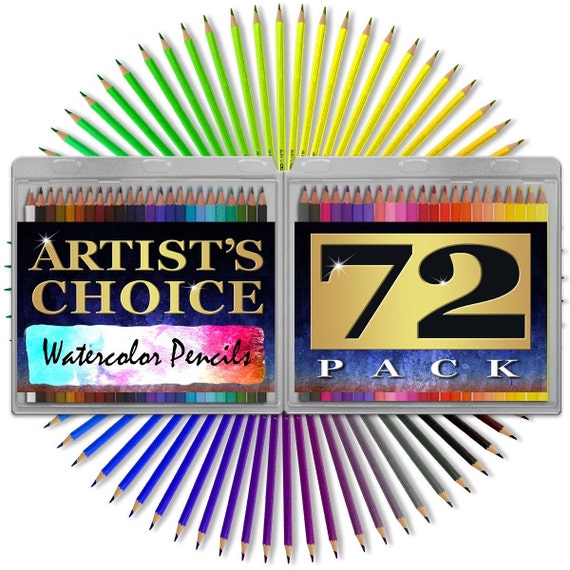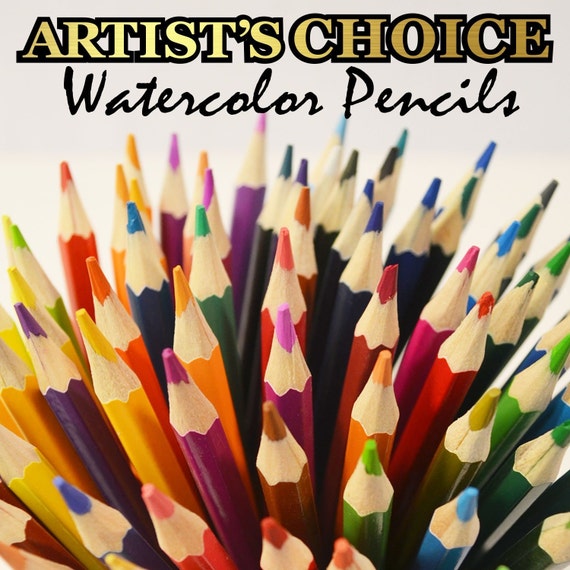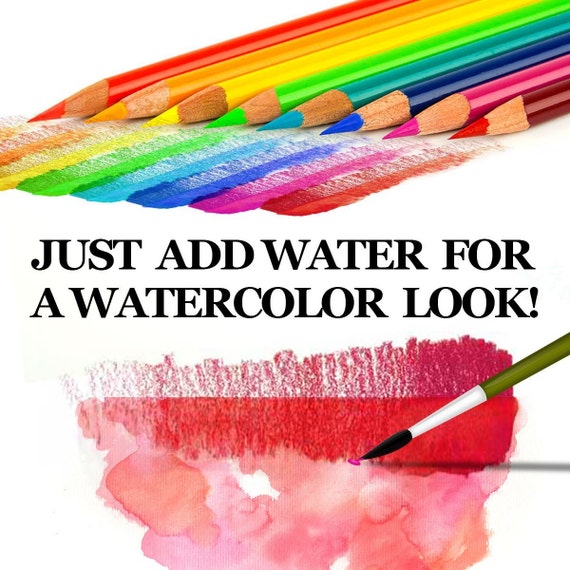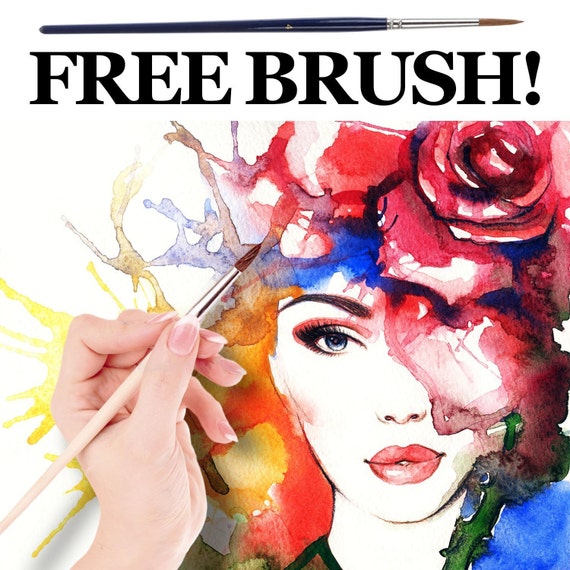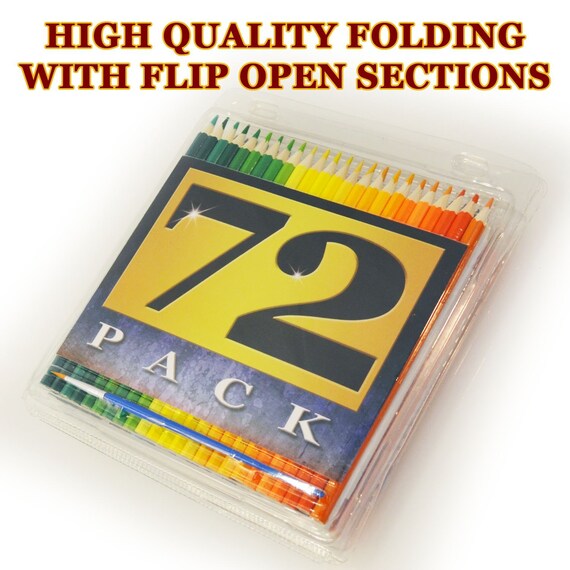 Arrives from the United States
---
Item details
Watercolor Pencils - HUGE 72 PACK - 7 Inch Water Soluble HIGH QUALITY Colored Pencils
BONUS Watercolor Paint Brush Included - Carrying Case Included
Perfect Set for Technical Water Color Drawing

Artist's Choice™

[#1 New Release - Drawing Pencil Set on Amazon. Buy here and Save $]

*** FREE SHIPPING & TRACKING ***
100% Satisfaction Guaranteed
Trusted USA Seller with 100% Positive Feedback
14-day Refund/Return (shipping not included)

PREMIUM GRADE WATER SOLUBLE WATERCOLOR PENCILS IN 72 INDIVIDUAL COLORS - Use These Professional Grade Watercolor Pencils to create Amazing Watercolor Effects with Brush (Included) and Water. Soft Core Design Creates a Smooth Color Layer, Perfect for Blending & Shading!

FULL RANGE OF COLOR WITH 72 INDIVIDUAL COLORS - Reds, Greens, Blues, Oranges, Yellows, Purples, Browns, Blacks, and White. This Watercolor Pencil set has by far the most diverse set of colors and shades!

CONVENIENT TRI-FOLDING CARRYING CASE - Practical Compact Design is Perfect for Storing in a Desk, Backpack, or Locker. Each Pencil has it's own individual slot, This keep all the Pencils in place when in-route.

ARTIST'S CHOICE - DESIGNED AND DEVELOPED BY ARTISTS - Artist's Choice wad created to offer a high quality product designed specically for all types of artists. Regardless if you're a professional, amateur, or beginner you'll come away completely satisfied with our product.

FULL 100% MANUFACTURER MONEY BACK GUARANTEE - If you find any flaw in this Watercolor Pencil Set, or any of our products, please contact our US Based Customer Support line and we'll offer you a free replacement or a full refund.


+++ Actual Customer Reviews +++

4.7 out of 5 satrs (257 Reviews)
5.0 out of 5 stars - Great deal. Great watercolor for this price range.
By Just Caree on March 21, 2016
Verified Purchase

I love watercolors. My boys call them magic and they kind of are. First you have a pencil. It colors, blends, and looks just like any other pencil but when you add water magic happens. The colors take on a paint like effect. They blend differently, merge in a gorgeous medley. As an adult colorist I use water colors whenever I am after a soft sweet look.

Artist's Choice 72 pack of water colors did not disappoint. While they are not the smoothest watercolors I own, for their price range they are fantastic.

Pros
* As a pencil they color well and without much pressure
* They are softer than some other budget friendly brands.
* 72 colors is a huge variety. Add in the blending and your possibilities are limitless.
* The case is reusable, keeps them organized, and storage friendly.
* Comes with a paint brush so all you need it water!
Cons
* Thus far I honestly have not found any.

In conclusion for the price, you can not beat this set. Like I said above sure there are more high quality water colors out there but their price tag is way more than this one. They really do have a soft lead, lay color without much pressure, mix well with water, and create beautiful colors. My kids want their own magic pencils and they will be better these for their birthdays.

I received this product at a discount in exchange for an honest review. The opinions stated in this review are of my own and not influenced by the seller or Amazon.

5.0 out of 5 stars - Coloring Everything!
By Jennifer Bordelon on March 22, 2016

Maybe I'm an oddball, but the one thing I do when I get pencils of any sort is to test them by shaking them. I shake them and listen for the lead or the pigmented watercolor to shake or slide. Usually this means that it is broken up inside and I will waste a lot of time sharpening the pencil if it is broken in multiple places. After testing about ten to fifteen of the pencils, I figured they were all solid which is probably something I am most happy with.

Since it is a 72 ct, there are 72 different shades which is nice and each pencil is pre-sharpened. The pigment is great and the color glides on. I haven't had any trouble coloring, however, I am not a big fan of the pack it comes with. It is great and is held with plastic that folds and stays put with velcro. I just don't like the plastic casing because the pencils flop out of the casing easy. They stay put when fully folded, velcroed and put away, but when they are opened up the pencils flip and flop around. This was easily fixed by putting in another container I have. Otherwise, I love this set.

I received a sample for my honest and unbiased review. All thoughts and opinions are of my own.

5.0 out of 5 stars - Professional Grade Watercolor Pencils
By NYC Rocks on March 28, 2016
Verified Purchase

This Watercolor Colored Pencils set includes 72 amazing and vibrant blendable colors. There is a color in every shade including reds, greens, blues, oranges, yellows, purples, browns, blacks, and even white, with this you don't need to have multiple sets. This has all of the colors you will need to create a lot of drawings and filling in coloring pages. I collect all sorts of adult coloring books and I go through a ton of pencils and coloring tools and these are really smooth. These were easy to sharpen, the tips did not break off while sharpening like other pencils do. The pigments are great, depending on the pressure you apply, you can contour and shade appropriately and get amazing results. Coloring is so relaxing and I enjoy it whenever I get that rare free moment to myself and I appreciate having a good set of pencils to satisfy my hobby. This set includes a bonus watercolor paint brush for easy blending, this also includes a convenient storage and carrying case. You can keep all your pencils stored neatly away when not in use, or take them with you if you are traveling. I am really pleased and impressed with this lovely set of watercolor pencils and I highly recommend them. These are great for people of all ages to enjoy because the quality of the pencil is superb. This would be nice to give with a nice coloring book as a gift.
Disclaimer: I received this product complimentary in exchange for my honest and unbiased review. All opinions are 100% my own.

5.0 out of 5 stars - Best watercolors by far!
By MrsJohnson14 on March 22, 2016
Verified Purchase

This is a beautiful set of high quality colored pencils. They are water soluble, so they can be used with and without water, a brush is even included in the package. They come in a really nice clear folding case, which I really appreciate. There are a total of 72 pencils, pretty much every color I will need. It even at times gets confusing because there is just so many different colors to chose from that are very close in color! I am a huge fan of adult coloring books and go through so many color pencils, with these I will be able to go a long time without having to purchase any more! The colors are beautiful and very vibrant! The best part is that you can add water and make your artwork look like water color drawings. I have never used such an amazing color pencil. I am having so much fun coloring with these pencils. I would recommend them to anyone that wants to have fun trying different shades. These pencils are great for blending, shading, and especially for water color effect. These pencils here offer, in my opinion, everything that I look for in a watercolor pencil. The colors are great and it doesn't require you to press down hard on the paper. A couple of the pencils though were a little lighter in intensity but that may be due to the actual color. Even my children ranging in age from 10 to 16 are loving these Watercolor Pencils! I will definitely be purchasing more of this set! I received this product for free in exchange for my honest and unbiased review!
---
---
Another great item from a great company!
Feb 20, 2018 by Diane DianeLunsford
I haven't tried them out yet, but they look great. I wish there were more neutral colors and earth tones in them though.
Dec 18, 2017 by Cheryl Blanchard
Speedy delivery. Quality item.
Sep 29, 2017 by t T
Fast delivery. Thanks!
Sep 5, 2017 by Ivy Delsanto
Jun 14, 2017 by Elke Isenberg
---
More from this seller
---
Shipping & policies
Arrives from the United States
Estimated Shipping