Sale. Discount 60%. Set 8 digital magazines (2014-2015). Felt Fashion with an English translation- Felting tutorials - How to felt - felt
(4)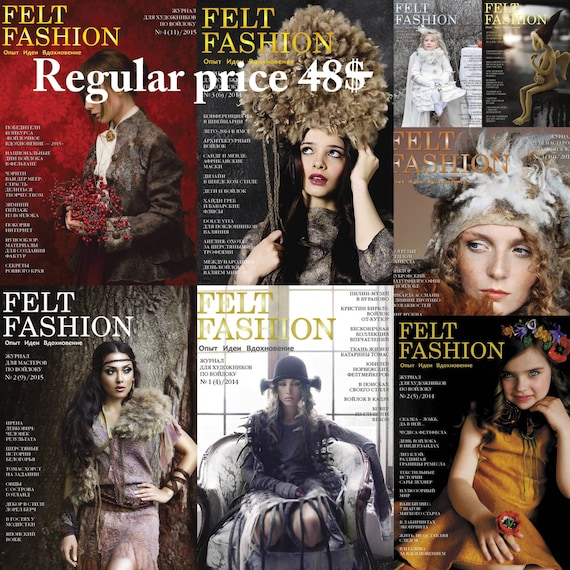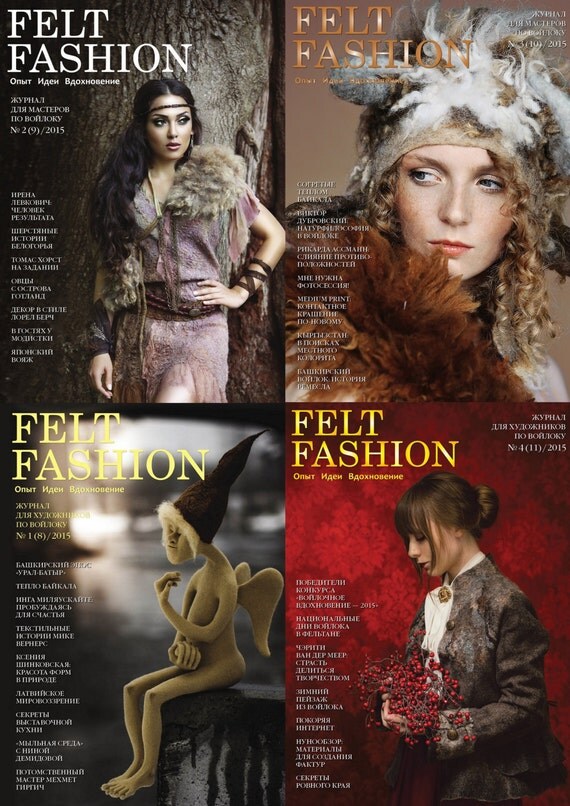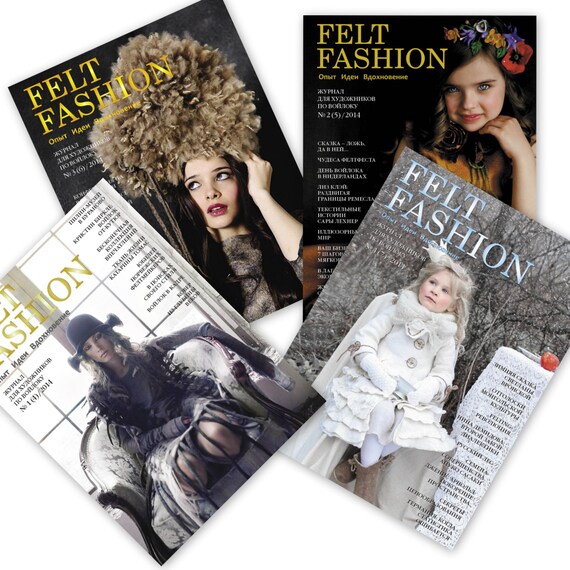 ---
Features
Made in Saint Petersburg, Russia
---
Item details
Sale. Discount 60%. Set 8 digital magazines (2014-2015). Felt Fashion with an English translation - Felting tutorials - How to felt - Best feltmakers- felting

We are happy to announce the FeltFashion with an English translation

Interviews with the famous artists. Photos from the felt events from all over the world. Master-classes and travels. The most interesting things in the felt world just for you.

The files will be sent to you in the email.

The English supplement

1(4)/2014

CONTENTS

Experience Ideas Inspiration

FELT-events FELT without borders
2 Pilin-Museum in Buranovo 42 Norwegian Feltmakers
5 The long awaited 'WoolArtFest' 20 years
May J. Hvistendahl
8
Haute couture felt

FELT-talents FELT-recipes
46 A spring accessory
10 Yulia Khabarova:
Leila Abdullaeva
Colour, decoration, texture 48 Wrap with butterflies
14 Annette Quentin-Stoll:
Yanina Popel-Gurina
Create not counting the hours
18 Ariane Mariane: FELT-origins
Let the people smile! 52 Felted carpet
22 Andrea Graham:
from the distant past

Artist and Thinker
Vera Kydyeva


FELT-inspiration


55 Keepers of ancient tradition


26 Gudrun Bartenberger-Geyer:


Endless collection of impressions


FELT-poster

FELT-founders 58 Too web or not to web
30 Tapestry of life 60 Feltmaker meeting
by Katharina Thomas 61 in Waldenburg
Felt festival
FELT-marketing 'FeltFEST'
62 FELTROSA-2014
34 Felt in the photo

Helen Avramenko FELT-addresses
38 Developing your own style 64

Ekaterina Popova

The English supplement

2 (5) / 2014

Experience Ideas Inspiration


CONTENTS


FELT-events FELT-marketing
2 The story's false; 36 Your business:
but in it lies... 7 steps for a smooth start
5 Miracles of FeltFEST Natalia Shmakova

8 Felting day FELT-recipes
in the Netherlands
10 The "Blossom" 40 Fairytale clock
collection Olga Beregnaya
Irina Demchenko

FELT-experiment


FELT-talents

44 In the labyrinths of ecoprint


12 Diana Nagorna: Olga Kazanskaya

Ideas are in the air Not only FELT
16 Liz Clay:
48 Living life without footprints
Pushing the boundaries
of the craft Vera Frederiksen
20 Sara Lechner: FELT-travel
24 My textile stories
Yaroslava Troynich: 54 Heading to Italy
Close to nature to catch the inspiration
FELT-inspiration FELT-poster
28 A world of illusion
58 Crossing borders

Katerina Kelberg
Anita Larkin


FELT-founders

32 Technologic approach to felting

Bruno Bujack


60 KreaTov 2014 – is waiting for you!

62 Creative felt in

64 FELT-addresses

The English supplement

3 (6) / 2014 Experience Ideas Inspiration


FELT-events FELT-media
2 The IFA conference 38 Heidi Greb and
5 in Switzerland the Bavarian fleeces
Creative felt: summer-2014 Olga Kazanskaya

8 in J ms FELT-recipes
Felt For Architecture
42 The Septembery bird


FELT-talents

10 Irina Demchenko:

Happiness to create in the family ambience

14 Anita Larkin:

The magic of transformation

18 Irina Spasskaya:

Searching for the philosopher's stone

FELT-inspiration
22 Sande & Mende: felt masks

Gladys Paulus

FELT-founders
26 Alexander Pilin:

Do not overwhelm felt with your love!

FELT without borders

30 Swedish Design

Vera Frederiksen

FELT-marketing
34 Sowing the rational, kind, everlasting

Irina Zaytseva

Diana Latysheva
46 Meet the Autumn...

with a new bag!

Natalia Sidorenko

FELT-travel
50 Dolce vita for felt lovers

Nina Demidova

54 England: on the hunt for the woolly trophies

Natalia Shmakova, Elena Shutko

Not only FELT

58 Making up for the losses

FELT-poster

60 Felt United Day:

the theme is… 'Peace'
Dawn Edwards

62 Felting-REVOLUTION: freedom is trending!

64 FELT-addresses

The English supplement

4 (7) / 2014


FELT-events

2 Svetlana Vronskaya's Winter fairytale

5 Feelings awakening felt

8 Echo of the Mongolian culture

10 Saint-Petersburg felting-revolution
Natalya Demidova

13 The month of the felt in Chile


FELT-talents

16 Nina Demidova:

The second law of dialectics

20 Atsuko Sasaki:

The seeds of perfection

24 Janice Arnold:

Space conquest

FELT-inspiration

28 The Russian forest

Ilona Olkonen, Alexandra Alekseeva


Experience Ideas Inspiration


FELT-marketing

36 How to set the right price

Olga Tolstova

FELT-media

40 Understanding the types of English fleece

Natasha Milton

FELT-recipes

44 The cut-out appliqu on felt

Oksana Bueva

46 Freckled winter

Valentina Kostetskaya

FELT-travel

50 When statistics fail...

Nina Demidova,

Natalia Shmakova

Not only FELT

56 Saving without waiting for help

Alexandra Razymeeva


FELT-founders 62
32 Inge Bauer:

Teach people to create 64
Olga Kazanskaya


FELT-poster


FELT-addresses

Content 8/2015

FELT-events

2 Ural-Batyr

Lyaysan Gilmanova

5 Felt. Traditions and the modern age

Natalia Arkhipova

8 The warmth of Lake Baikal

11 One evening

12 The real handmade

14 Melody of the rainfall

FELT-talents

16 Svetlana Vronski:

The honest art

20 Inga Miliauskaite:

Waking up for happiness

24 Irina Sadykova:

Opening my own horizons

28 Mieke Werners:

Textile stories


Experience Ideas Inspiration

FELT without borders

40 The Latvian vision


FELT-marketing

44 The secrets of the exhibition inner workings

Natalia Shmakova

FELT-recipes

46 Paint your spring!

Irina Fedotova

48 Everything in apple-pie order!

Anastasia Avilova

50 Quality criteria

Nina Demidova

FELT-travel

52 Istanbul. October. Carpets

Julia Orlova, Aygul Gashim-zade


FELT-inspiration Not only FELT
32 Art forms in nature
58 Felt comes to Polistovye
Ksenia Shinkovskaya

FELT-founders 60 FELT-poster
36 Mehmet Girgi : An artist by birth 64 FELT-addresses
Natalia Shmakova

2 (9) / 2015

Experience Ideas Inspiration

Dear friends,

I welcome all the felt lovers! Let me introduce myself. My name is Nina Demidova. I live in Moscow and am felting since 2008. I graduated as an editor. During the last seven years felting and the publishing business did not cross paths in my life. However, finally both these main occupations literally 'found' each other, so I recently became the chief editor of the Felt Fashion magazine. I say with confidence that not every type of hobby can boast such a professional print edition as our magazine. Every issue hides a huge work of the editors office, which allows us to provide the readers with relevant and good quality information about the wide range of themes dedicated to felting. I call out for any help you, felt lovers, could provide the magazine. Please do subscribe, ask questions, suggest new topics, take part in the competitions and events.

Nina Demidova,

Chief Editor

FELT-events
2 European felt days – 2015

5 Wool stories of Belogorye Nina Demidova
8 Feltrosa. Caution, it's very addictive!
Julia Orlova
10 Porcelain collection by Anastasia Mironova

FELT-talents
12 Horst is on a Mission Denaria Craig
16 Elisabeth Berthon:

20 Irena Levkovich:

FELT-founders
24 Gunilla Paetau Sj berg: Long live
the wool! Vera Frederiksen Zhotkevich

FELT-inspiration

28 The blooming meadow of the soul

Valeria Loshak

FELT without borders

32 Slavic felt from the Rhein riverside

Alisa Bordo, Olga Kazanskaya

FELT-marketing
36 A new turn of development: working
with shops Zhanna Kharitonchik, Zhenya Danilova

FELT-media
38 Sheep from the Gotland island Birgitta Nygren

FELT-recipes

42 Laurel Burch style decoration
Natasha Gurina
44 Laws of development Nina Demidova

FELT-experiment
46 A visit to a milliner Olga Kazanskaya

50 The OFC conference Nina Demidova

FELT-travel
52 One trip to Japan Irina Goncharova

56 A fresh view. Feltmakers from Sweden in Saint-Petersburg Kerstin H kansson

FELT-poster
60 «FeltPassion» sets on
61 Felt Inspiration 2015
63 Kendal Wool Gathering

64 FELT-addresses

Content 10/2015

I often hear feltmakers say they have learned everything on their own, took no lessons, used only the techniques they developed themselves. It is hard to say whether this is true. You have to admit that if you are an active member of any internet societies and offline clubs your developments can hardly be free of any extrinsic influence. So is it so honourable not to have taken any lessons at all? I believe it is necessary to visit workshops. It does not only apply to felt amateurs, but also to experienced feltmakers. Learning from professional colleagues is not something to hide, but something to be proud of. The belief that everything can be achieved on your own, can harm professional development, creating barriers for beginners and experienced feltmakers. The knowledge correctly presented to apt listeners will definitely sow the seeds for new designer ideas.

The new things will anyway differ from the initial source significantly. This is why we love our unique felt.

Nina Demidova, Chief Editor


FELT-events
2 Warmed by Lake Baikal Natalia Shmakova
5 The anniversary of the Danish
community "Grima" Vera Frederiksen Zhotkevich

FELT-founders

8 Victor Dubrovsky: Philosophy of Nature in Felt

FELT-talents
12 Ricarda Assmann: blending the opposite
16 Birgit N gelke: filzfrau from a french
back country Ekaterina Gorges

FELT without borders
20 Traditional crafts as a modern brand

Lyaysan Gilmanova

FELT-marketing
24 I need a photo shoot! Katerina Terekhova

FELT-recipes
28 Bracelet with treasures Ksenia Shinkovskaya

30 Poppy: a fiery piece of summer
Alla Glushtshenko
33 A romantic rerson Snezhana Kostina
36 With autumn in the heart
40 The third dimension

FELT-experiment

42 Medium print: a new way of contact dyeing

Dina Ronina, Olga Kazanskaya

FELT-media
46 Location matters Ekaterina Gorges

FELT-travel
50 Kyrgyzstan: in search of the local palette

Alina Volkova

Not only FELT
54 How dreams come true

FELT-origins
56 Bashkir felt: the history of craftsmanship

Lyaysan Gilmanova

60 FELT-poster

64 FELT-addresses


Dear friends and fellow hobbysts!

The symbolism of dates and magic of numbers persistently offer us to make a summary of the year's achievements before the New Year's Eve. We have worked hard. In 2015 large felt events took place and new programs started. These are the Irkutsk historic project "Warmth of Lake Baikal", the festival "New Life of traditions" and, of course, the international competition "Felt Inspiration – 2015" conducted by our magazine. Hobby tours and marathons for felt lovers have become a good tradition. Internet projects do not really fall behind: there were two "OFC" conferences, we launched "Laboratory of felt ideas", conducted large -scale Internet-festivals and actively used the formats of webinars and online conferences. Against the background of our felt success Bender's idea of "New Vasyuki" no longer seems so comical and unreal. Friends, let"s not stop there! New horizons are waiting for us! So, Happy New Year 2016, dear feltmakers!


Content 11/2015

FELT-events
2 National days of wool Ekaterina Gorges

4 My soul, you are woven of feelings...
Daria Zaitseva
7 Felt Inspiration – 2015

FELT-talents
8 Sharit: a passion to share the art
12 Svetlana Melnikova: A romance with felt

14 Colours of the Altai as an artistic inspiration

Vera Lazareva
16 Ekaterina Alekseeva: Letting out emotions
18 Elena Zatonskaya: A magical disease
20 Aida Rafikova: Depository of inspiration
22 Katya Vetrova: One story of wool

FELT-awards

24 Victoria Dementieva: Challenge as an opportunity
26 Natalia Lopatkina: The natural motifs
28 Irina Starostina: Creation from your soul
30 Elena Lebedeva: Feeling like a child
32 Olga Veselova: Felt without boundaries
34 Ekaterina Podkopaeva: At first sight!
36 Kristine Zheglova: Felt like the finger of fate

FELT-inspiration
38 Wings for the two

40 Maria Gerasimova: Touching a fairy tale

FELT-recipes
42 Winter landscape Ekaterina Sheshina
46 Pulover with knit elements Zoya Bolshakova

49 What determines the outcome? Nina Demidova

50 Cat house Alexandra Alexandrikova

52 How to make a smooth edge on the felt

FELT-marketing
54 Conquering the Internet Elena Volkova

FELT-experiment

58 Secrets of the soft painting by Valeria Loshak

FELT-media

60 Nunofelt overview: choosing the right fabrics to achieve desired textures Tatiana Sapelnikova

64 FELT-addresses
---
---
very good way , good price...
Sep 9, 2017 by angelikapielech1
This set of digital magazines is full of inspiring photos. It is unfortunate that the English supplement is separate from the magazine. The way they are labeled I am having a hard time matching the English text to the corresponding magazine. Don't know how this could be made any easier. But I'm happy to have the opportunity to view the amazing art presented here!
Oct 18, 2016 by Cindy Bouthillier
I'm sure it will be helpful!
Aug 7, 2016 by effiejay1
Natalia was most helpful in downloading these files for me.Only four stars as I would not have bought them if I had known that the English translation is separate to the photos on the Russian magazines,so you have to read. It then go back and look at the photos, poor arrangement
Aug 4, 2016 by Pippa Coombs
---
More from this seller