Selected knowledge sharing sessions Felt Fashion in English - Felting tutorials - How to felt - Best feltmakers- felt
(10)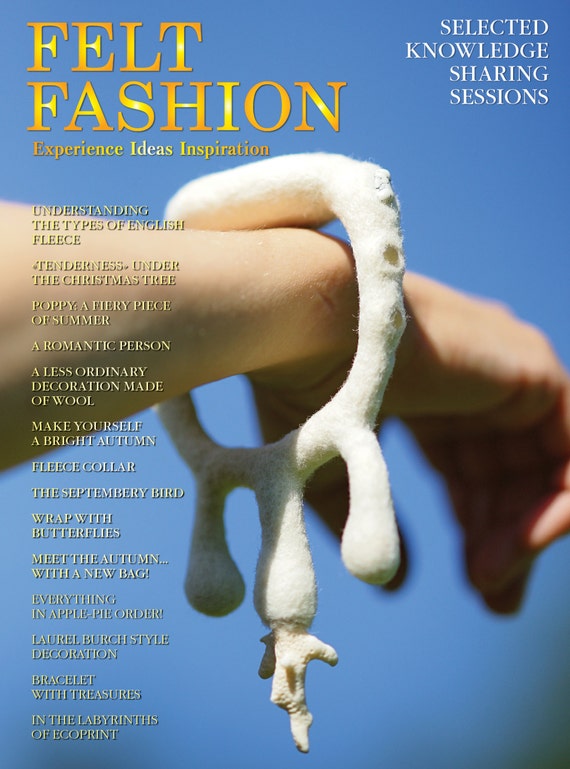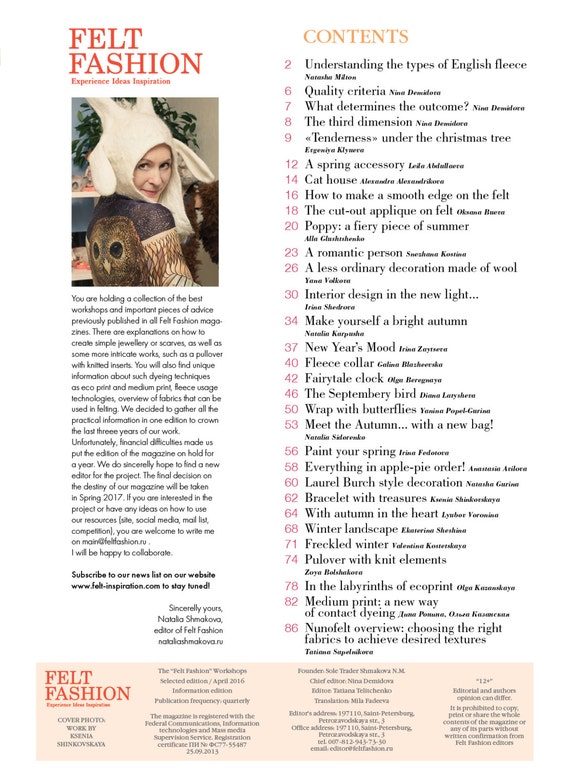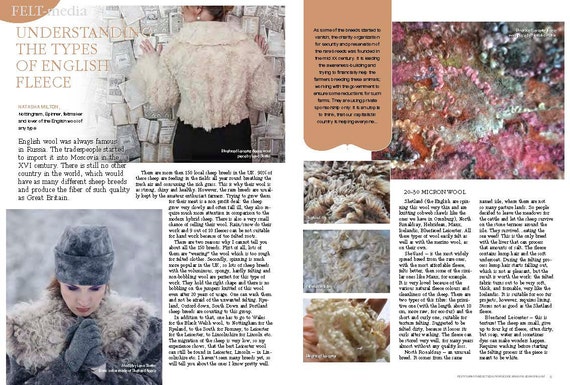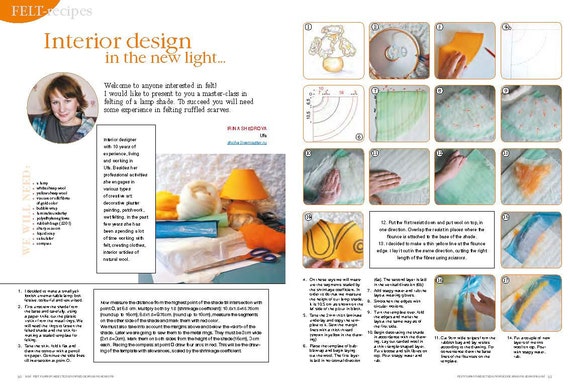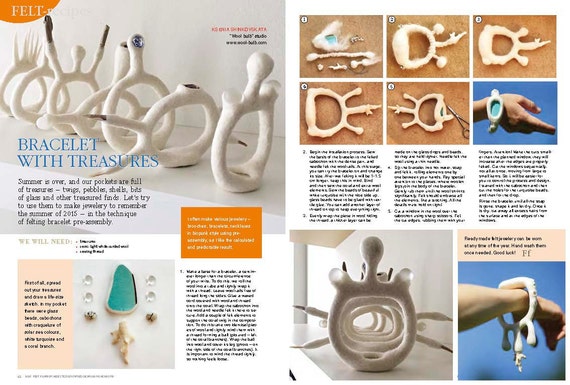 ---
Features
Made in Saint Petersburg, Russia
---
Item details
Selected knowledge sharing sessions Felt Fashion in English - Felting tutorials - How to felt - Best feltmakers- felt

You are holding a collection of the best workshops and important pieces of advice previously published in all Felt Fashion maga- zines. There are explanations on how to create simple jewellery or scarves, as well as some more intricate works, such as a pullover with knitted inserts. You will also find unique information about such dyeing techniques
as eco print and medium print, fleece usage technologies, overview of fabrics that can be used in felting. We decided to gather all the practical information in one edition to crown the last threee years of our work.

contents
2 Understanding the types of English fleece
Natasha Milton
6 Quality criteria Nina Demidova
7 What determines the outcome? Nina Demidova
8 The third dimension Nina Demidova
9 «Tenderness» under the christmas tree
Evgeniya Klyueva
12 A spring accessory Leila Abdullaeva
14 Cat house Alexandra Alexandrikova
16 How to make a smooth edge on the felt
18 The cut-out applique on felt Oksana Bueva
20 Poppy: a fiery piece of summer
Alla Glushtshenko
23 A romantic person Snezhana Kostina
26 A less ordinary decoration made of wool
Yana Volkova
30 Interior design in the new light...
Irina Shedrova
34 Make yourself a bright autumn
Natalia Karpusha
37 New Year's Mood Irina Zaytseva
40 Fleece collar Galina Blazheevska
42 Fairytale clock Olga Beregnaya
46 The Septembery bird Diana Latysheva
50 Wrap with butterflies Yanina Popel-Gurina
53 Meet the Autumn... with a new bag!
Natalia Sidorenko
56 Paint your spring Irina Fedotova
58 Everything in apple-pie order! Anastasia Avilova
60 Laurel Burch style decoration Natasha Gurina
62 Bracelet with treasures Ksenia Shinkovskaya
64 With autumn in the heart Lyubov Voronina
68 Winter landscape Ekaterina Sheshina
71 Freckled winter Valentina Kostetskaya
74 Pulover with knit elements
Zoya Bolshakova
78 In the labyrinths of ecoprint Olga Kazanskaya
82 Medium print: a new way
of contact dyeing Дина Ронина, Ольга Казанская
86 Nunofelt overview: choosing the right fabrics to achieve desired textures
Tatiana Sapelnikova
---
---
Alot of interesting projects in one volume.
Apr 4, 2017 by Helene Kusnitz
Wonderful magazine! Thank you!
Mar 24, 2017 by Marianna Halassy
Dec 27, 2016 by Ellen Sakornbut
it was emailed to me, so arrived immediately. Great selection of tuition sessions
Dec 20, 2016 by janinerees2
Thanks fora great download!
Nov 28, 2016 by Kathy Kinsella
---
More from this seller