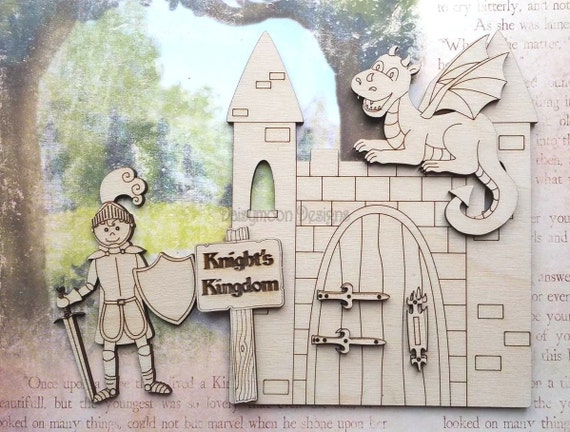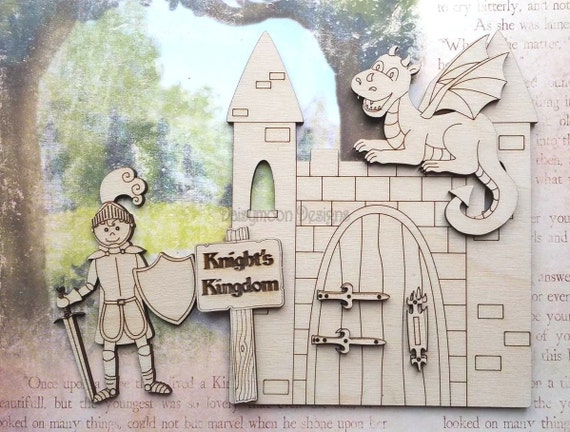 Preparation takes 1-3 business days
Arrives from United Kingdom
---
Features
Made in Caerphilly, United Kingdom
---
Item details
Every knight needs a castle! This set comes with a gorgeous castle door, sign post, your brave knight, and our little dragon - Will he be friend, or foe? You decide!

The castle measures approximately 11cm x 13cm and comes with hinges and a door knocker

The knight is approx 8cm x 5cm

The little dragon is 4cm x 4.5cm

And the signpost 6cm x 3cm.

Each piece comes separately for you to glue on and decorate as you choose. The set it cut from 3mm birch ply.

Happy crafting!
---
---
More from this seller
---
Shipping & policies
Preparation takes 1-3 business days
Arrives from United Kingdom
Estimated Shipping
Shipping & Delivery
We try to send out orders as soon as possible and your orders will be with you within 14 days, sometimes sooner. Personalised gifts or custom orders will take longer. If you think we're taking too long, just send us an email and we'll let you know where we are with it.
All shipping costs, import tax and/or vat fees must be paid for by the buyer.
We charge on a scale depending on the total cost of the basket. Orders with mdf blanks are calculated on weight. When you have purchased your mdf blanks, you will receive a separate invoice for the postage cost. Please email me if you have any concerns about this.The shipping costs listed below are for
Any Shortages or breakages must be notified within 48 hours of receipt of delivery.
UK only. Please email us if you are an overseas buyer.
Orders placed in Europe (excluding the UK) will be charged at a minimum of £3.50.
Shipping costs for an order can be calculated from the checkout page.
---
Payments
Payment, Pricing & Promotions
We accept any major credit/debit card, Paypal and cheques for purchases.
Promotions and and special offers are frequently available, with their own terms and conditions, and are accepted at the discretion of Daisymoon.
---
Returns & exchanges
Returns & Replacements
If you wish to return an item it must be returned within 30 days of receipt and in the same condition that it was received in.
Our address and other contact details can be found on the contact page.
Broken or faulty goods will be replaced where possible, otherwise a similar item of equal or greater value will be substituted. Where a replacement cannot be given a full refund will be sent, covering the original cost of the item and its postage.
We will refund the postage cost of returning a faulty item.
If you wish to return non-faulty goods you must contact us before returning the item. Accepting returns of non-faulty goods is at our own discretion.


Terms & Conditions
Below is our Terms & Conditions (previously 'User Participation Agreement.') By using this site to purchase items you are agreeing to abide by the below:

Purchasing items
The Buyer
By purchasing an item from Daisy Moon the buyer enters into a contractual agreement with Daisy Moon. This agreement states that the buyer is entitled to receive the item, once payment is cleared and once the item is ready, within an acceptable time-frame.
All postage, customs and excise duty, VAT and any other taxes associated with the item will be paid by the buyer. The seller cannot be held responsible for Customs and Excise duties that may need to be paid.
The Sale
The sale will be governed by the Laws of Great Britain (UK) and Daisy Moon will not be at fault for the breach of any rules of the buyer's residing country, if not within the UK.
Reservation of Rights
Daisy Moon reserve the rights to halt any sale from being processed or reject any order; restrict or prevent access to all or part of the site; take any other action to block access to or remove any objectionable material; and to terminate any accounts and/or take any other necessary measures without prior notice.
Grants of License / Intellectual Property/Linking

License
You grant..
By entering into this participation agreement and using the site, you grant Daisy Moon a non-exclusive, worldwide, royalty-free, perpetual, irrevocable right to exercise all copyright, database rights and rights of publicity over any and all material, information, text entered anywhere on the site (excluding any logos, trademarks or similar branding) to use this information in any existing or future media, known or unknown, now or at a later date
This use of information does not include passing on any information to third parties, which is never done without prior consent from you.
Daisy Moon grants..
Daisy Moon grant limited and non-transferable licence to each user, to make personal use of the site only, in accordance with any applicable agreements/policies.
This includes the use of the site and its features such as, but not limited to, purchasing items and using the contact form.
This does not include any modifying, distributing, copying, republishing or making any derivative of the site; the collection of any user details including, but not limited to, name, email address, telephone number and postal address; the collection of any data from the site including, but not limited to, data extraction or data mining.
Intellectual Property Rights
Subject to the license granted above, Daisy Moon reserve the right, title and interest in its intellectual property rights (Including, without limitation, any patents, trademarks, registered designs, application for any of the foregoing, copyright, database rights, design rights, confidential information, trade and business name and any other similarly protected rights in any country) in the site.
Site Linking
Linking to This Site
You must ensure that each and every link (graphical, text or otherwise) to this site that is posted or maintained on any location by you or on your behalf conveys users directly to this site, without displaying or performing any form of advertisement, promotion or content.
In addition, you must not take any action or assist, authorise or encourage any third party to take any action, which would cause the appearance of the site to change or alter in any way whatsoever, from that of the usual viewed appearance of a user accessing the site directly. You must also never make use of any framing techniques or technologies, interstitial advertisements, pop-up windows, consoles or other similar techniques in connection with any link to this site.
Linking from This Site
Any links posted on this site, by you or on your behalf, must not direct users to any illegal content or to media that would negatively effect Daisy Moon or mimic the Daisy Moon website in any way that would make users believe that they are still on the Daisy Moon website.
No content on links should ask for a user's Daisy Moon login details or try to trick the user into giving away any confidential information contain within the Daisy Moon website.
Links must not point to any malware sites or other such sites that may contain viruses or other harmful software.
Daisymoon reserves the right to modify/remove any links at their own discretion, without notice.
Daisymoon cannot be held responsible for the content of external links.
Notices And Revisions
Our Participation Agreement is Liable to change at any point and we may email a notification before any changes take place, but it is best that you periodically check on this website for any changes.
We will never change our policies and/or practices to make them less protective of any customer information collected in the past, without the consent of the affected customers.

If you have any concerns or questions regarding our Terms & Conditions, please feel free to contact us and we will try to resolve the issue for you.

---
Additional policies
Most items from stock will be dispatched within 2/3 days of ordering, If you have not received your item within 10 days please contact us on 07738417822, Custom items and personalised items will take upto 2 weeks