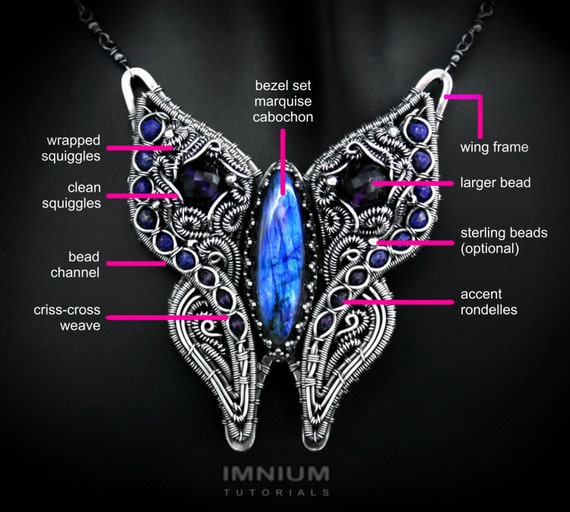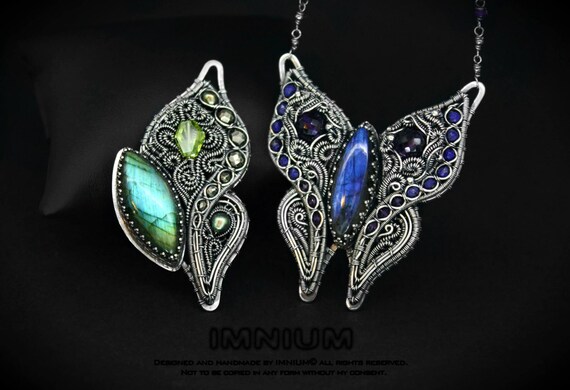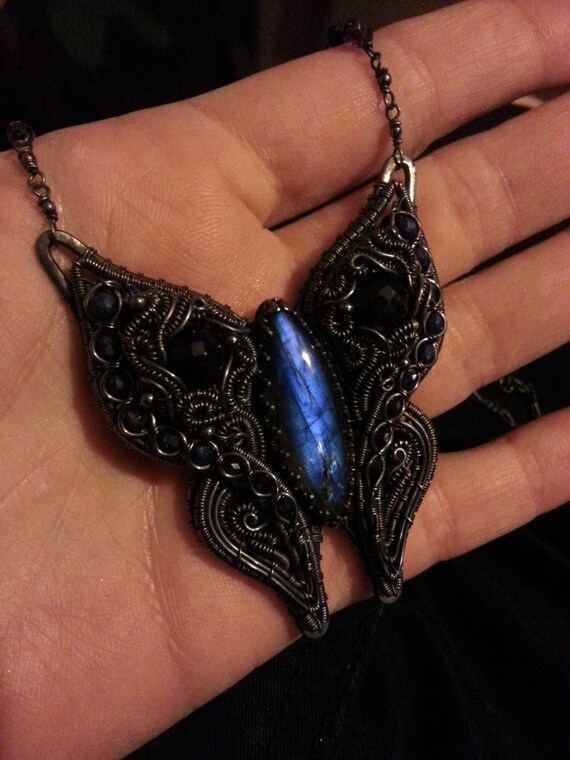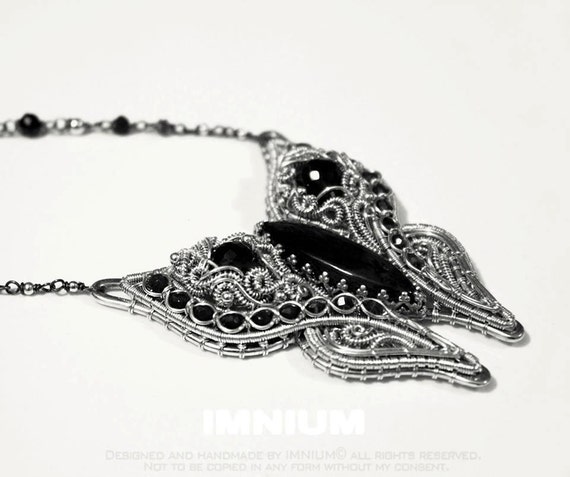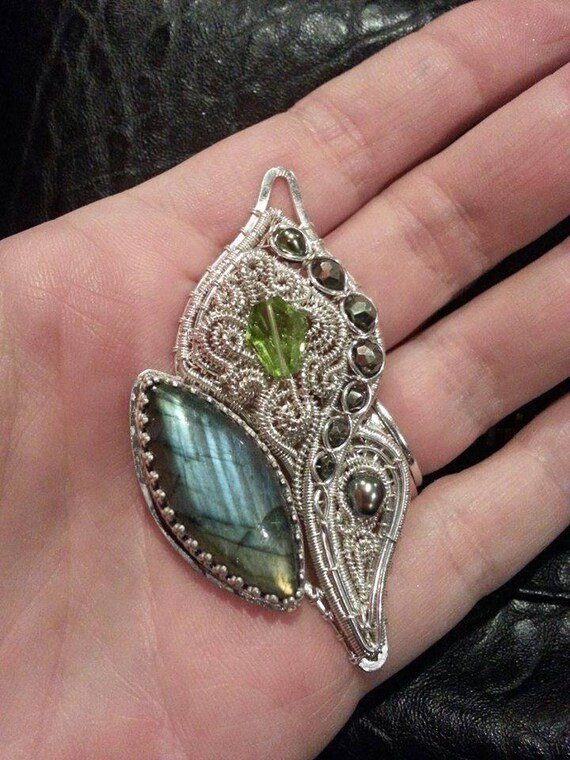 ---
Features
Made in Varaždin, Croatia
---
Item details
This is a complex tutorial that shows you how to make a hybrid pendant (soldered and wrapped) - how to plan and construct a soldered base, set the stone in gallery wire, how to design the wrapped parts and connect everything together. It is a highly adaptable project - you can make the full butterfly, a half butterfly or a completely different shape if you want to, the tutorial and all the techniques in it can be used on any shape (leaves, flowers, teardrops, ovals, circles...)
The new thing in this tutorial is the swirly part that fills the wings which can be used to fill in any possible shape, flat or 3D.
In case you have already bought my "Complex pendant" tutorial you are familiar with the channel borders (the wires going around the smaller stones) but in this tutorial those are done horizontally, seat stones that decrease in thickness and do some other things too :D

In case you have not soldered anything yet and do not have the necessary equipment fear not! It is inexpensive and lasts for years; scroll down to the tools section and at the end of it you'll find the exact product numbers from Rio Grande. Grand total is about 50$.

All the other tools are also inexpensive and can be either bought in hardware stores, on Ebay, from Rio or other sellers.

You will get 62 pages of detailed instructions - 210 photos in 128 steps (2 PDF files).
There is one little typo on page 23; the chapter number should be IV instead of III; we left it like that because we started having technical difficulties with our computers and were unable to change the number.


Skill level: advanced but it all depends on what you are used to making :) I taught this tutorial during a wire wrapping retreat and all the students successfully learned how to make it (some chose to make a half butterfly because it is very time consuming to make the full version). My advice is work slowly, be patient and don't give up.

If you buy the tutorial and decide to make and sell the project pendant you are free to do so just note in the description of your pendant that it was made following this tutorial.
On the other hand you are not allowed to multiply, share, copy or distribute in any way the tutorial or any of its components (i have spent over 2 months writing it so please respect this last part about not distributing/copying/etc. it :) thank you!). If you buy this/any of my tutorials with the intention of teaching the subject matter to others each one of your students is obligated to buy a tutorial of their own from me. Not from any other source. Buying a tutorial does not provide the right to distribute the contents of it in any form (written, verbal or otherwise). If you want to teach one of my tutorials your students or you need to buy a copy of the tutorial for every person that attends.


Also, be 100% sure you want this tutorial because I do not do refunds for tutorials.
There was some confusion lately so just to clarify - this is NOT a physical book, you are not buying a piece of finished jewelry, this is a digital tutorial in form of 2 PDF files. After you buy the tutorial you will get an instant download link from Etsy where you can download all the files. If something goes wrong please let me know and i will send it to you manually.



From the tutorial:

Prior knowledge needed:
· Soldering
· Filing
· Advanced wire wrapping
· Basic hammering
· Oxidizing (optional)
· Flex shaft use / final polishing (optional)


MATERIALS:
IMPORTANT: The quantities noted here may vary due to a number of factors – the size and shape of the stone you choose to use, how accurately you make the wing frames, the pliability of the thinner wire, how tightly/neatly you wrap and if/how much you veer off course. If you want to be extra sure you won't run out of wires close to the end, cut slightly longer pieces.

TOTAL:
- Gallery wire - 6cm
- 14 gauge sterling silver round wire, half-hard - 30cm
- 18 gauge sterling silver round wire, half-hard - 69cm
- 22 gauge sterling silver round wire, dead soft - 136cm
- 28 gauge fine silver round wire, dead soft - 960cm
- Marquise cabochon, 3x1cm - 1pc
- Faceted round bead, 6mm - 2pcs
- Faceted rondelles, 3-4mm - 18 pcs
- Seamless sterling beads, 2mm (optional)
- Chain
- Or 24 - 26 gauge wire to make a chain (in which case, you will need more beads.)
- Clasp
All gauges are American (the ones Rio Grande uses)


TOOLS NEEDED:
- Torch
- Soldering surface
- Solder (any kind you prefer; I used paste)
- Pickle (or the willpower/files/sandpapers to remove firescale manually)
- A large needle or solder pick
- Chain nose pliers (the ones with a narrow tip)
- Round nose pliers
- Whichever cutting tool you like
- Hammer and anvil (or one big and one smaller hammer)
- Various jewelers files (needle and wide)
- A ruler or tape measure
- A sharpie or permanent marker

OPTIONAL:
- oxidizing liquid of choice
- rotary tool/flex shaft (such as Foredom, Dremel, etc)*
- Various polishing buffs and paste, if needed
- 3M 1-micron and 6-micron radial bristle discs
- buffing cloth
- Sanding paper in various grits (400-8000)

* In case you do not own a rotary tool, you can polish the pendant manually with polishing pads and cloths or with a nail polisher and polishing paste.

In case you need soldering equipment here are the Rio Grande item numbers:
- Soldering surface (502064)
- Solder (103100)
- Torch - i use a hardware store pencil torch mostly (about 10-15$ on Ebay, Rio doesn't carry those)

And these are excellent sanding papers just in case you need some :D - 3M Tri-M-Ite Imperial Polishing Paper Assortment (337308). Cut them up in smaller pieces and one set will last for years.

I think this should cover the "tutorial description" part :D If you have any questions at all please ask me before you buy the tutorial.


Thank you very much and have fun making this pendant! \o/
---
---
Beautiful tutorial of an advanced project. Imnium does an amazing job of laying out the steps and techniques needed.
Nov 24, 2017 by rainee6969
Amazing how detailed the tutorial is! I love your work and am excited to try the new things in this tutorial!
Sep 19, 2017 by Lorri Davey
I have not used it yet but I plan to very soon. PDF is very clear and easy to follow. Thank you
Jul 24, 2017 by Theresa Fedee
It's a wonderful tutorial, I read all of it and can hardly wait to try it. Thank you very much :)
Apr 6, 2017 by Maria Gedo
Amazing tutorial.
Mar 16, 2017 by Carrie Petri
---
More from this seller
---
Digital downloads
---
Payments
PayPal, within 2 days from the purchase. If you need more time please let me know before buying (I am flexible but need to know what is going on :D ).

LAYAWAY
It is possible for all items over 150$
Can be set up according to your needs (frequency/number of payments).
If you would like to know more please send me a message.

I also offer the following option: you pay a non refundable down payment of 10-20% of the item value, save up the rest within 2-4 months (depending on items value) and pay in one payment


CUSTOM PIECES
Yes, i can make them :) You can give me detailed instructions re. the design of the piece and set the price range. The only new thing here is that i will from now on need a non refundable down payment before i start making your piece.


RESERVING A PIECE
Yes, you can reserve a piece. The news is that i will from now on need a non refundable down payment in this case too. The percentage needed for the down payment depends on the piece selected.



Explanation of the non refundable down payments: if there is no down payment people order or reserve a piece and some never come back to buy it. Most of them do but some don't and those are becoming more and more numerous lately. I think my collection of never sold custom orders is quite full and i have also had sufficient amount of financial damage from telling people who wanted to buy an item right away 'this item is reserved' and then never hearing back from the reservee again. I think if a person is really serious about buying something a certain percentage of the total amount as a down payment should not be the problem :)
---
Returns & exchanges
I gladly accept cancellations
Request a cancellation within:
6 hours of purchase
I don't accept returns or exchanges
But please contact me if you have any problems with your order.
Additional return information
Returns are possible but not recomended due to possible high costs (covered by the buyer).
Unfortunately i cannot be held responsible for items lost or damaged by the post; no refunds will be issued in those cases.
I make jewelry because i love it and i'd like to continue making jewelry for the rest of my life - it is not my intention to cheat people or have unhappy buyers but at this time i don't have another option of sending jewelry to you (other than standard post) and also cannot insure the package (nobody covers jewelry).
If you are not 100% sure about buying the item or have any other questions please let me know.
I do my best to photograph, describe and present my jewelry as accurately as possible and will answer all additional questions you might have.

TUTORIALS are not refundable, especially if you have already downloaded the files.
---
Additional policies
Buyers are responsible for any and all duties and customs charges that may be incurred.