Rare Gorgeous Orange Elestial Wand w/ Star Ruby Cabochons Sterling Silver ~ Rainbow SALE MARKED DOWN From 650.00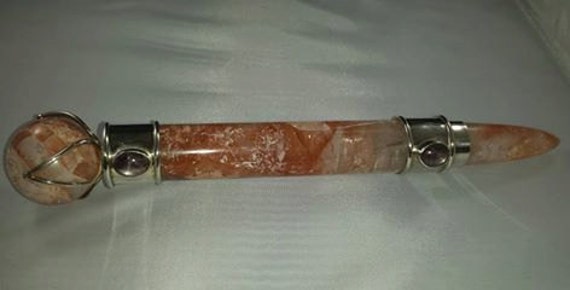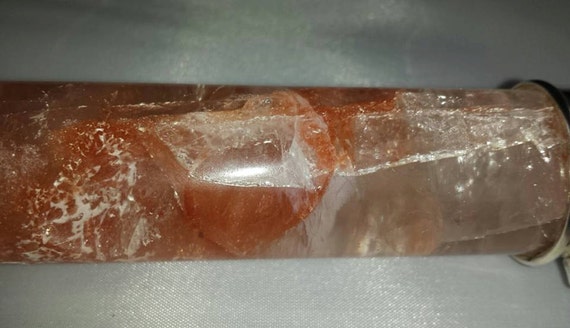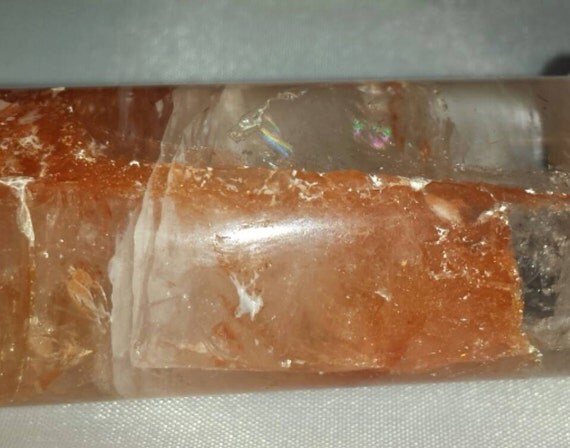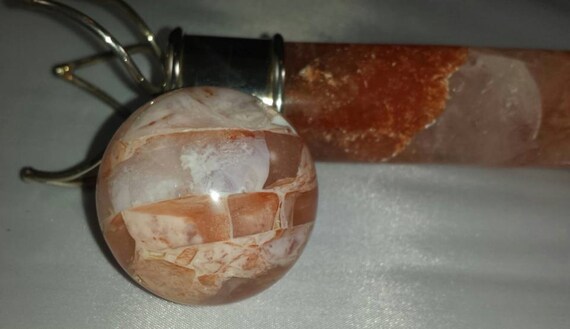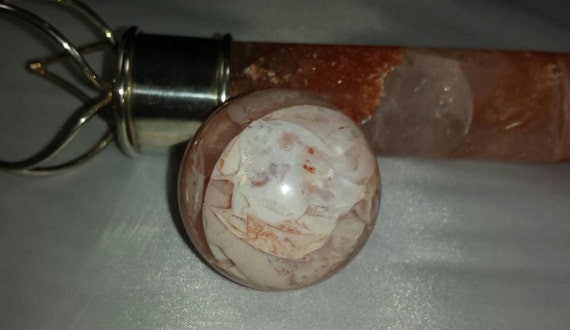 Preparation takes 1-2 business days
Arrives from the United States
---
Item details
This gorgeous and rare Orange Elestial Wand measures approximately 11 inches long x 1.37 inches wide at widest point ~ The sphere is 39mm and removable.

This Atlantean stone of power is highly sought after by "light workers" and is believed to house "old souls". Elestials assist in the mass cleansing, healing and reawakening that is occurring in these times. They bring great strengths, and can assist in overcoming emotional burdens and bring body and spirit into synchronicity whilst connecting us with the Angelic realms.
Elestial crystals function as "library crystals", providing access to information acquired during the long geologic ages of the crystal's formation, including metaphysical information gathered during this period of crystalline growth. Elestials also have the ability to access the subconscious and the superconscious, providing us with the information we need at any given moment to accelerate our spiritual progress. Elestial crystals by their very nature possess the power to integrate the energies of multiple crystals into a unified energy field. They help us to recall the wisdom teachings of the Ancient civilizations that functioned as Caretakers of the Earth, and to integrate those teachings into our nervous systems, so that we exemplify those teachings in thought, word and deed, effortlessly and automatically.

Elestials help to manifest the information needed by each individual to move forward to the next level of their own personal spiritual evolution, enabling us to integrate unconscious childhood memories, traumas from past lives, and intellectual knowledge accrued through study over time into our conscious awareness, clearing the unintegrated energies of their negative charge.

Metaphysically Elestial Quartz contains an inner skeleton that can take you into other lives to understand your karma or deep into your self to give insight into spiritual processes at work. Orange Elestials, especially, tend to house Angelic Beings or "old souls". Some Elestials may house more than one entity. In addition to carrying the properties of Quartz, this crystal facilitates deep karmic release and brings about core soul healing and trust in the universe. This is a stone of change and transformation. It rapidly stimulates spiritual and personal evolution. It is excellent for attuning to the knowledge at the heart of the universe and within one's own soul. Elestials set you on your life's path. This stone connects to the divine and higher spiritual planes and opens spiritual gifts. It removes blockages and fear, balancing polarities and opening the way to necessary change which may come about abruptly and unexpectedly. Elestial Quartz is sustaining and comforting and helps one to overcome emotional burdens and can generate enormous healing and clearing energy. Elestials are high vibration stones.

Physically. Elestials are beneficial for cellular healing, regeneration, restructuring, confusion, spiritual evolution, self healing, restoring brain cells after drug or alcohol abuse, master healing, energy enhancement, cleansing and enhancing the organs, and bringing the body into balance.
---
---
More from this seller
---
Shipping & policies
Preparation takes 1-2 business days
Arrives from the United States
Estimated Shipping
We ship within 1 business day.
---
Returns & exchanges
All returns accepted
Buyer should contact us within 14 Days after receiving the item.
Refund given as Money Back.
Return shipping will be paid by the buyer .
No restocking fee will be charged.