Premium Colored Pencils (SET of 72) Soft Core Lead Ultra Smooth FREE SHIPPING
(5)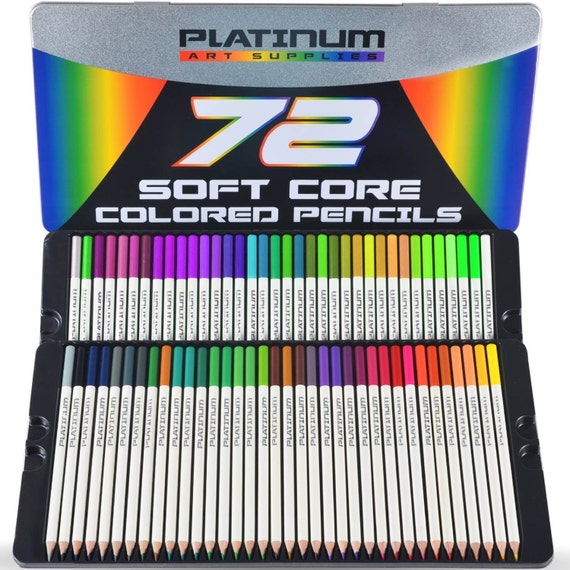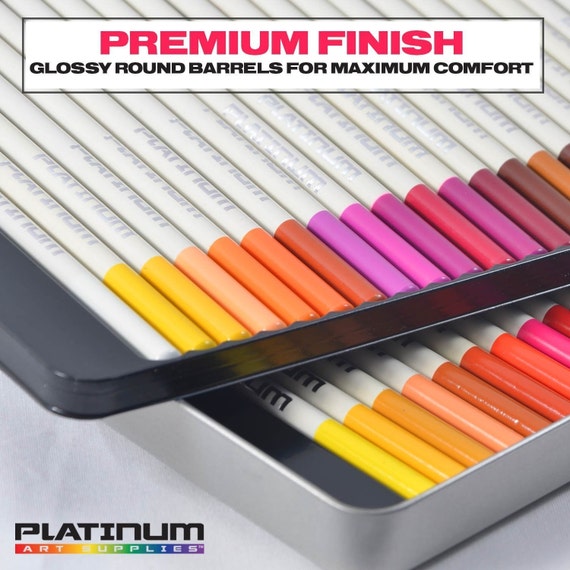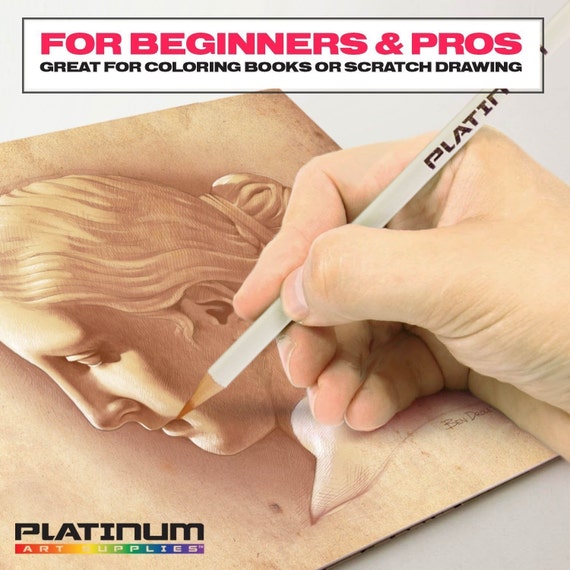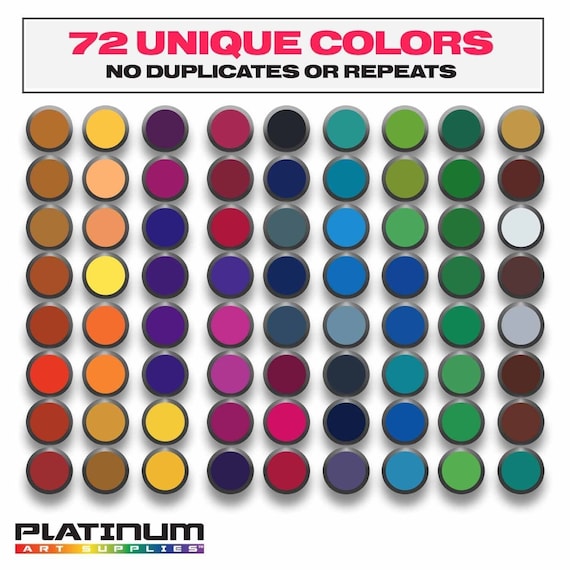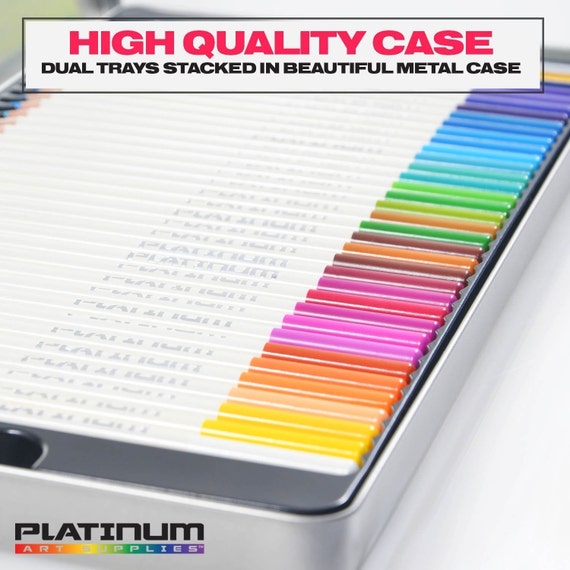 Arrives from the United States
---
Item details
Premium Colored Pencils (SET OF 72) Soft Core Lead Ultra Smooth in 72 Individual Colors (No Duplicates) in a Beautiful Tin Case - Pre-Sharpened - Highest Quality - Perfect for Artists & Beginners!

New Soft Core (Smoother) Lead - Adult Professional Coloring Pencils: Platinum Art Supply™

[ #1 New Release Colored Pencil Set on Amazon. Buy here and Save $$$ ]

Trusted USA Seller with 100% Positive Feedback
*** FREE EXPEDITED SHIPPING & TRACKING ***
30-day Refund/Return (shipping not included)
100% Satisfaction Guaranteed

Fun for Adults Coloring or Kids this beautiful set of 72 Premium Soft-Core Colored Pencils, in a compact tin carrying case, will be a welcomed addition to your art supplies. There are no repeat colors. Each color has many different shades. There is one white and one black pencil. There are many shades of grey as well. This is the most complete set of colors I have seen.

PLATINUM GRADE PACK OF 72 - Wide Array of Different Shades and Tints. Including Blue, Red, Green, Purple, Yellow, Orange, White, Black, Charcoal. Skin Tones, Bright Metallic Pigments, and even Neon. Competes with & Compares directly to Prismacolor

PERFECT FOR DRAWING, SKETCHING, ARTWORK, ADULT COLORING BOOKS - Useful for 100's of Creative Ideas and Styles. From Beginner Shading to Expert Burnishing

BEAUTIFUL WHITE WOODEN BARREL WITH COLOR MATCHING ENDINGS - Fits Comfortably in any Creators Hands. Get Hours of Enjoyment without Cramping or Fatigue.

HARD SHELL PROTECTIVE CASING - Multilayered stack-able design holds each unit in place. Convenient for Students and Professionals On-The-Go!

MONEY BACK GUARANTEE BY MANUFACTURER - Platinum Art Supplies only provides the Highest Quality Products Available. If at any moment you're unsatisfied please contact us and we'll offer a free replacement or a full refund/return (30-day Return/Refund Guarantee)!


Actual Customer Reviews
4.9 out of 5 stars - 151+ Reviews

5.0 out of 5 stars - the price almost seems like a true bargain
By Dora on April 29, 2016

The colored Soft Core pencils are a true hit. We have only had them for a couple of days and already they are being used more than any of our others pencils. The variety of colors is incredible and it comes in this huge slim metal box that screams to be open and used. If you would just judge the product by looks and quantity and design and color, the price would be more than justified. But adding the actual results from these pencils, the price almost seems like a true bargain. I have to admit, I am always a little skeptical at higher priced color pencils. I always wonder if they are really that good that it's worth spending the extra money or whether it's simply made to look expensive but the results would be the same as with cheaper pencils. I did wonder about these as well. Now, I have to disclose that I did receive these pencils at a discounted price in exchange for an honest review. But if anyone ever reads my reviews, I am always brutally honest about quality and effectiveness. If I don't believe in a product, I say so because I have made the mistake of believing other people's reviews who got a discounted item because they were raving about a certain product, and I thought the product must be superior. It turned out that some of those products were everything but good quality and I felt swindled out of my money. I had almost given up on reading reviews until I saw a few people being very honest about a product they bought even though they got it at a discounted price. So I realized there were a lot of people like me, who enjoy a bargain but not at every cost.
I am making this clear in such a lengthy way because I absolutely believe in this product here. The pencils really are great. Gentle and delicate when using it in a soft stroke and powerful and radiant when applying more pressure. Not one pencil has broken and we have heavily used them last night in an extended adult coloring book challenge. This would be a great gift to any aspiring artist. I love them.

5.0 out of 5 starsGreat for shading.
By Danae on April 29, 2016

These colored pencils are high quality. The tin carrying case is nicely shaped, thin, and easy to carry with my other art supplies. There are 2 layers of pencils in the tin. The top layer easily lifts out and fits in the top portion of the tin when it is fully opened so all colors are visible at the same time. The hues are nicely arranged and the colors are vibrant. I was able to easily shade with these pencils with little pressure. This also allowed for a nice transition from light shading to darker shading within each hue. Great for sketching, shading, drawing, or adult coloring books. I received this product at a discount for my unbiased review. Would highly recommend.

5.0 out of 5 stars - beautiful pantone colors
By BelugaCat on May 2, 2016
Verified Purchase

This is a super nice set of colored pencils. Some of the colors are just so close, though, that I'm not sure if it was necessary to have this many. Or, perhaps something different could have been included like additional metallic colors instead of just the gold and silver. There's 2 full trays of pencils, and when I saw the first tray alone I thought everything I'd need was there. But then you lift that up and there's an entire other tray. My only legitimate complaint about this set is probably the storage container. Maybe not everyone will experience this, but mine was very dinged up in the corners, and because if that, I had a really hard time even opening these to get into. The metal is thin and was bending when I tried to open it and then when it finally popped loose, I had pencils flying everywhere. I think the hard case for storage is nice in theory, but it's not practical for getting in and out of. I think I'll have to transfer all these pencils to something else. But the pencils themselves are decent. This would be a nice set for a beginner or to gift to an aspiring artist. They're also just great for coloring in your favorite coloring book. Overall, impressed with the pencils but not the case. I did receive my set free in exchange for my genuine feedback.
Comment 3 people found this helpful. Was this review helpful to you? Yes No Report abuse
5.0 out of 5 starsVery Nice Quality Set! 72 pencils, Glides on Paper, Nice Variety of Colors
By Reviewing Mama TOP 1000 REVIEWER on May 1, 2016
Verified Purchase I ordered the Platinum Art Supplies Premium Colored Pencils for myself. I really enjoy coloring in adult coloring books and these pencils give me a wide variety of colors to work with. But the nice thing about this set is that one you are getting 72 pencils, in a variety of pinks, reds, yellows, greens, blues, browns and more! They come stacked in a nice storage tin and when you open the tin you only see the top layer, but if you take the top layer out you can set it in the lid and have all your pencils completely organized right in front of you and then when you are done they are easy to clean up and put away as well.

The arrive pre-sharpened. They are long lasting. They color smoothly (my coloring book is on card stock paper so they glide across the paper with ease). They also color nicely on regular paper. They are soft core pencils but I don't see much of a difference between them and harder core pencils other than they just glide on the paper a little easier. I did sharpen one a little after using it and it sharpened fine with no issues.

Overall I am very pleased with them and will be giving my kids my old set and keeping this set for myself since it has everything I could possibly need in it color wise.

5.0 out of 5 stars - Would buy them again.
Bydesertsandon May 6, 2016
Verified Purchase

As a senior that enjoys coloring for relaxation, using markers in my various books left me more frustrated than relaxed. These pencils are such a joy to use and I am very pleased with the experience as well as the end results.

5.0 out of 5 stars - ... core premium colored pencils by Platinum Art Supplies are perfect for using with my adult coloring books
ByDanielle L Dillonon May 6, 2016

This set of 72 soft core premium colored pencils by Platinum Art Supplies are perfect for using with my adult coloring books. The set comes in a nice tin and the pencils are all nicely organized. The pencils have a back end that matches the color it is so it's very easy to tell what color is what and you don't just have to look at the tip. They color really well and the pencils are very smooth and glide across the paper. They sharpen nicely in m pencil sharpener and I haven't had any issues with the tips breaking yet. There are so many different colors included in this kit, even some metallic colors which are a nice addition to the set. There are multiple shades of each color so you can truly get the color you want. The pencils are very bold in color and match really well to the color marked by the end of the pencil. My kids love using these for coloring and doing all their art projects with. They have held up nicely to my toddler using them as well. I did receive this item at a discount in exchange for my honest review.

5.0 out of 5 stars - Great value and fun to use
Byjuubeon May 6, 2016

These are great beginner color pencils. They're not as soft and blendable as Prismacolor, but they're just as vivid. The pigmentation is great, and the variation of color allows artists to easily translate their thoughts into art. All of the colors are versatile, and none are exactly the same, meaning each will be useful.

The simple white barrel with the color at the top makes these really nice to look at. The tin they come in isn't the prettiest, so the pencils being so aesthetically pleasing compensate. Inside, there are two layers. Each layer is honestly just a thin piece of plastic that's flexible and makes looking through all the colors difficult since lifting it up is a bit difficult. Putting these in a different container will solve all of those problems though.

For the price, they're a great value. They're superior to most brands of color pencils available in stores (apart from higher, artist quality color pencils, which are going to be two to three times the price).

I received these in return for my honest review.
---
---
Really fast to ship love the pencils thanks
Dec 9, 2016 by wendy butts
My pencils cane in a much better package then I even expected! I will order all my supplies from you! Thanks
Dec 8, 2016 by Leah Bryant
Awesome thanks
Nov 1, 2016 by tinaforbes97
very nice pencils love them and seller is very fast with shipping will buy from again
Oct 25, 2016 by ray cosby
Sep 12, 2016 by Sahina Belizaire
---
More from this seller
---
Shipping & policies
Arrives from the United States
Estimated Shipping