Rose Quartz Sphere - 1 Medium - Stone of Love and Nurture, Stimulates Sensual and Open Mindedness
(8)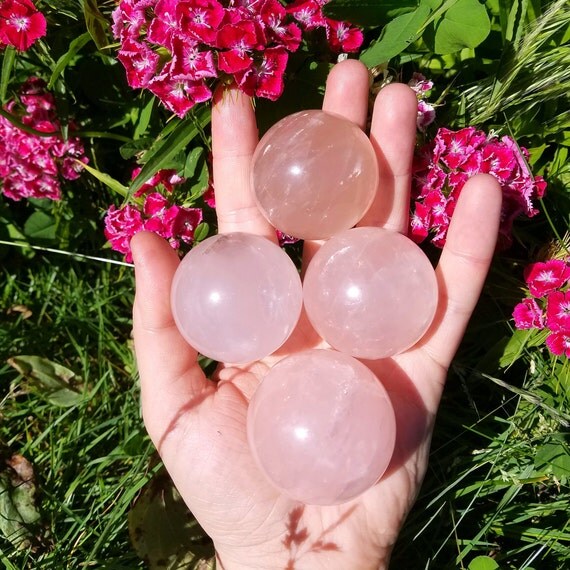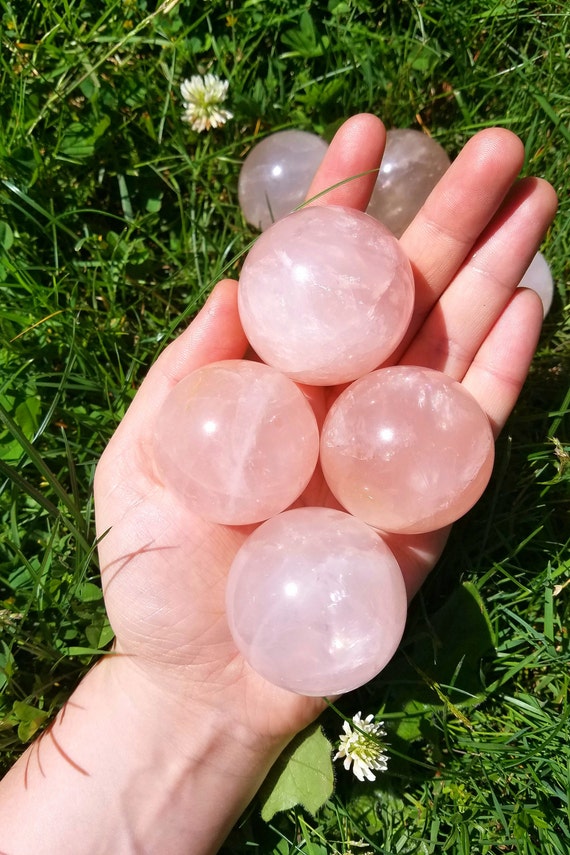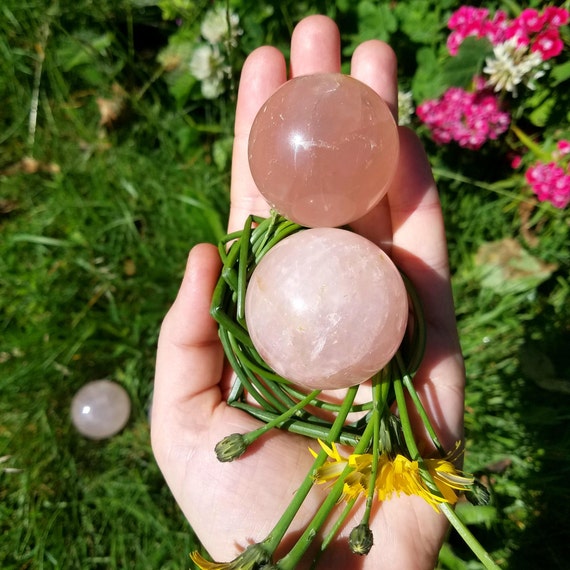 Preparation takes 3-5 business days
Arrives from the United States
---
Features
---
Item details
Natural Raw Rough Rose Quartz Sphere

---Item Description/History/Facts---

-There are many different kinds of quartz in the world, and rose quartz is one of the most sought after variety. This pink to rose hue color is the result different trace mineral inclusions suck as; titanium, manganese, and iron. However, recent studies suggest that the color in huge rose quartz variety is the result of microscopic fibers, an unknown material resulting in its unique color.

-Typically quartz is one of the hardest mineral, with some exclusions like diamonds which are classified as precious and rare.

-Rose Quartz in natural crystalized point formation is extremely rare and is called pink quartz and its color is thought to be caused by trace amounts of phosphate or aluminum.

-This unique rose or pink color is apparently photosensitive and subject to fading, so keep in mind if you keep your specimen on a window sill.

-The first crystals were discovered near Rumford, Maine, USA, however, most crystals on the market come from Minas Gerais, Brazil.

- Today's' industrial uses include in making of mortar and glass, more popularly lenses.

-Pierre Curie, the French scientist ground breaking discovery in the 1880's provided us with modern technology today. He found that slices of quartz crystals become electrically charged when under pressure and can hold memory. (Think about how and where the information is stored on your computer when you save your file, crazy huh?) Because of this property, quartz is used in radio, television, radar and in highly accurate clocks. Pure quartz consists of only two elements - silicon and oxygen.

-The oldest rose quartz find dates back to 7000 BC in a form of beads in the ancient region of Mesopotamia, today's Iraq. Rose quartz in a form of jewelry and talismans was crafted by the Assyrians around 800-600 BC. The Assyrians and the Romans are thought to be the earliest founders who implemented its use mostly decoratively and some religious ceremonies.

-Regarded as the stone of love and beauty, ancient finds dating to 600 BC indicate that Romans and Egyptians used the stone as a gift, or a token to demonstrate their love or admiration.

-Highly regarded for its powers of physical beautification, the ancient Egyptian civilizations, carved facial masks of Rose Quartz, and recently have been recovered from Egyptian tombs. The Egyptians and Romans believed it to clear the complexion and prevent wrinkles. To this day you can find products of beatification or for the purpose of improving ones skins appearance in very expensive creams and elixirs.

---Metaphysical Attributes & Ancient Wisdom Practices---

-Regarded as a stone of love, sexuality and sensuality, rose quartz can be used as a powerful aphrodisiac or stimulating sensual open mindedness.

-Rose Quartz is a nurturing and mothering crystal, assists in self love.

-"Rose Quartz is a wonderful sleep crystal for adults and children, providing beautiful dreams as well as preventing nightmares or night terrors."

-It promotes cohesion and bonding between sentient beings.

-Evolves love or strengthens romantic relationships, and helps to restore trust and harmony, supports and maintains unconditional love.

-Rose Quartz is a encouraging and soothing crystal, excellent for use in disturbance or crisis, including the emotional disruption, trauma or upset, and helps to calm.

-Helps protect against gossip, hurtful judgment, and strengthens and promotes emotions of sympathy, empathy, understanding, sensitivity, and aids in the acceptance drastic life changes.

---Listing Item Description---

-The listing is for 1 Natural Rose Quartz Sphere measuring on average 40-45 mm wide/long.

---Special Note---

-Make note of placement as this crystal type/color tends to fade in direct sun.
---
---
Sits well in the palm of my hand. My baby loves playing with it.
Dec 27, 2017 by victoriakolonikina
Sep 9, 2017 by Amanda Cathey
Neat, unusual item but a great value , best price on Etsy for this stone. Courteous, professional transaction with just the right touch. Thank you! ❤️it !
Jul 5, 2017 by seacreature29
This is a beautiful pink orb! Mine was a little more on the white side but does shine pink when light goes through it!
Jun 20, 2017 by Mariah Millard
May 12, 2017 by tayrose211
---
More from this seller
---
Shipping & policies
Preparation takes 3-5 business days
Arrives from the United States
Estimated Shipping
Your parcel will be dispatched within 48 hours of payment, and will be shipped via United States Postal service via Priority mail or First Class mail at my discretion, within 1-5 business days after that, or sooner, permitting my fussy, yogurt covered assistant can move his paws fast enough. Packages take 7-30 days on average to arrive. It is very important that you provide the correct mailing address; I am not financially responsible to redirect your package, or absorb the cost of the buyer's error. Multiple orders may be combined, if inquired in advance of purchase. Please purchase insurance on your orders if you are not willing to run the risk that your order maybe lost or damaged. The Dharma Gild Gems is not responsible for packages that are lost or damaged in transit. However, don't fret, please communicate with me if something goes wrong or if I made a mistake, and I will do my best to help resolve any problems. At this time The Dharma Gild Gems Shop does not offer international shipping.
---
Payments
All items listed require a full payment before dispatching & shipment. Once an order is placed it cannot be cancelled or terminated for any reason. The only form of payment that will be accepted is PayPal, and Credit Cards through Etsy Direct Checkout. Your parcel will be packaged the best way to prevent any breakage, and handled with tender love and care, however, I cannot guarantee what type of day the mailman will be having the day he delivers it to you, so insurance is highly recommended.
---
Returns & exchanges
Because of the nature of my business and in order to provide fair service, affordable and competitive prices, this is an all sales final shop. By placing and making a purchase, you agree to all the policies listed and no other unmentioned assumptions. I'm not able to accept returns, refunds cancellations, or exchanges. All items are described to the best of my ability and are measured with preciseness in millimeters for jewelers' purposes. Some images are enlarged to show detail. Due to the law of relativity and inconsistency of camera lenses, natural lighting, perception, and different display monitors some colors you see, may not be a total representation of the item. But I will strive to show you the best and the most accurate picture of the product. If you are considering a purchase but are unclear about size, color, or anything else listed, shoot me an email first, or consult a ruler, I do this often myself.
---
Additional policies
-The Dharma Gild Gems Shop reserves the right to terminate business with any persons or company, thus resulting in termination of any future transactions. If you find yourself keep purchasing from my shop and report to be very unhappy, your future transactions will be cancelled & refunded. No need for us to be both unhappy. Albert Einstein's definition of insanity is doing the same thing over and over again and expecting different results.

-Some items may not be combined to save on shipping cost due to the safety and preserving of the item. Please take great precaution when unwrapping the parcel to prevent damage, as some pieces hardness levels are fragile and may crack or break under light pressure.

-By Etsy's and cultures requirement for legalese, here is the following mandatory required statement. "The Dharma Gild Gems Shop cannot guarantee of any specific result with the use of crystals that are recommended or listed on this site. Listed crystals are not intended to remedy, prevent or cure any illness. The Dharma Gild Gems Shop recommends consulting your health care provider or FDA approved methods to treat illnesses. The Dharma Gild Gems shop recommends seeking professional advice from an accredited accountant for financial issues and a barred Attorney for legal issues. The information listed on The Dharma Gild Gems Shop is derived from intuitive, ancient and traditional wisdom practices and may not be supported by scientific methods, FDA, or government agencies."

-Some crystals, fossils, & minerals may contain traces of heavy metals or toxic substances. Please refrain from ingesting elixirs made from these crystals and handle with care.

-Any inquiries about the item must be voiced with 10 days of confirmed postal delivery. All items are whole and new, identified correctly and origins carefully confirmed. If you do not agree with the description, picture or policies, please do not make any purchases at this shop.