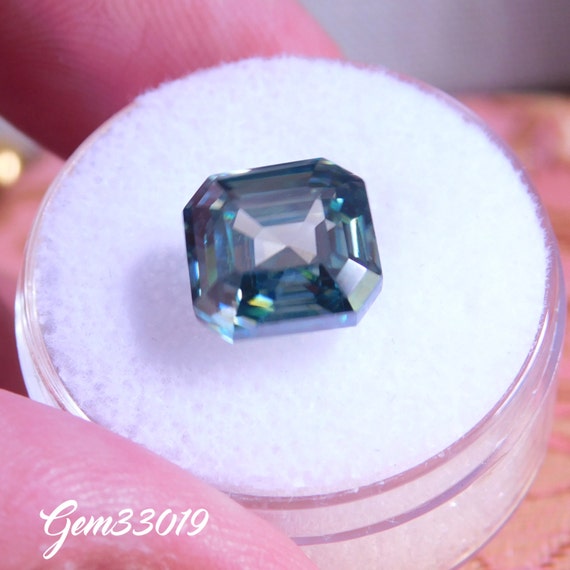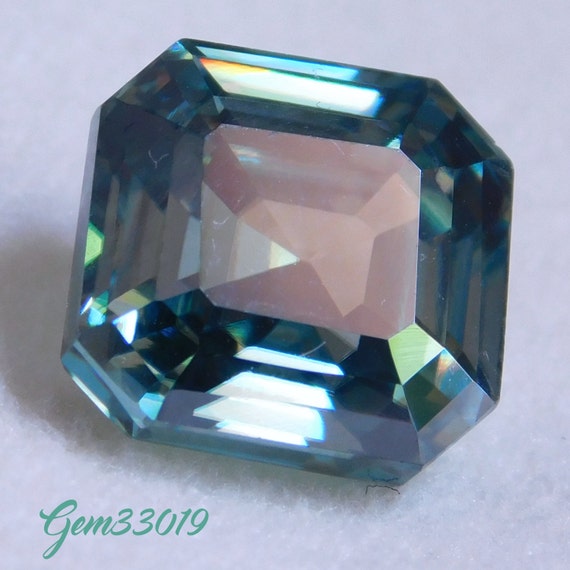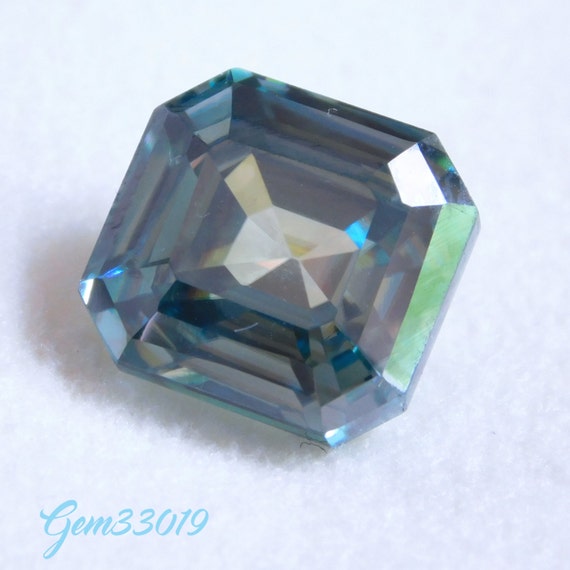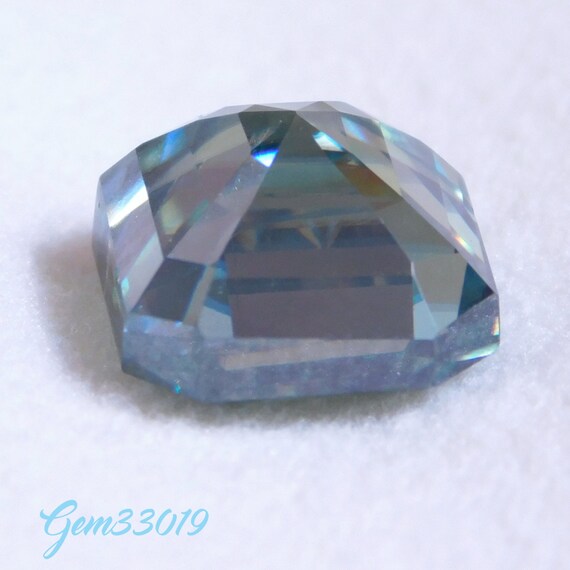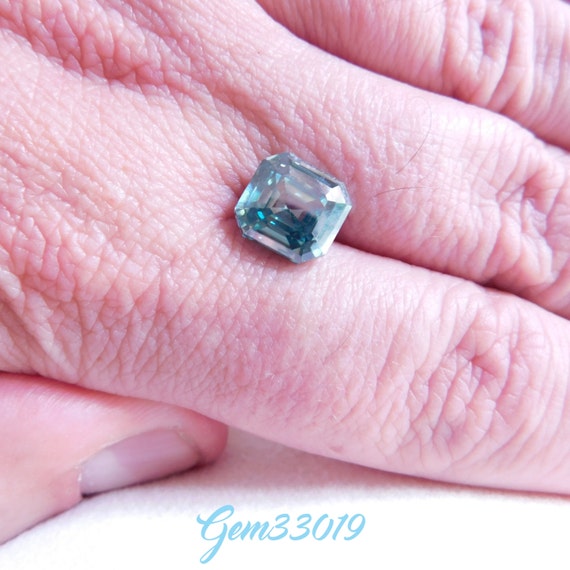 Preparation takes 1-2 business days
Arrives from the United States
---
Item details
ABOUT THIS STONE

GEMSTONE: MOISSANITE
COLOR: BLUE GREEN
SHAPE/CUT: ASSCHER CUT
CARAT WEIGHT: 5.48 DEW / 4.77 Actual
DIMENSIONS: 8.9x9.4 mm
CLARITY: VS1

VIDEO
Watch a short video of the stone in action at:
https://www.youtube.com/watch?v=cd0WlvEUfnI

FREE FIRST CLASS SHIPPING, INSURED WITH TRACKING NUMBER!

RETURN POLICY
I will gladly accept returns if the stone does not meet your expectations or needs. I am happy to pay the initial shipping cost, however, if you return the stone, your refund will be less $5, to cover the initial shipping costs. You are responsible for the return shipping and I recommend insuring the package. Returns must be mailed back within 10 days of receiving your stone(s).

WHAT YOU'LL LOVE ABOUT THIS PARTICULAR STONE...
This Blue Green Moissanite is the perfect medium tome of both aqua blue and green. It's so shiny and sparkly in the sun. The great thing about Moissanite is that it's fire and luster are so high that it even sparkles and shines in an Asscher cut, which usually doesn't give off as much fire.

ABOUT ME
I have been an avid gem collector for many years. I enjoy searching for great gemstones to collect, enjoy and sometimes make jewelry from. I buy A LOT of Stones, cherry-pick the great ones and send a lot of stones back. Moissanites are a new obsession of mine. Their unmatched beauty, range of color, durability and relatively low price make them an easy stone to own, collect and wear.

ABOUT MOISSANITE
Moissanite was first discovered in the late 1800's inside of a Meteorite. The scientist who made the discovery first believed the stone to be Diamond. After testing the stone, it was learned that this was a different and undiscovered stone completely. Since then, Moissanite has been discovered in a few other sources, mainly Israel. While over 2500 Moissanite crystals have been found over the past 16 years, the largest single piece of rough was only 4.1mm. Moissanite has never been found in sizes large enough to cut and make jewelry from. While natural Moissanite does exist in very small size and quantity, there is no natural Moissanite available in the market anywhere.

Lab Created Moissanite is the only available option for owning Moissanite. Lab created Moissanite is chemically a real Moissanite gemstone. The only difference is that the environment in which it is grown was created by science in a lab, not naturally in the earth. Once grown, the rough crystal material is individually hand cut and polished by skilled gem cutters.
The same method used for cutting Diamonds and other gemstones.

WHY BUY MOISSANITE?
Moissanite is the second hardest gemstone available. Diamond being the first at 10 on the Mohs Scale of Hardness. Moissanite being 2nd at 9.25, and Sapphire/Ruby coming in 3rdat 9. Many varieties of gemstones are too soft to set in jewelry with assurance that the stone will not be broken and damaged over time. This is what puts Diamond at the top of the food chain.
A Moissanite's hardness insures that the investment made in the stone will last for a lifetime.

There are other factors that make Moissanite an appealing gemstone. Moissanites have a significantly higher rate of light dispersion (fire) than Diamonds. Bursts of rainbow colored fire that emerge when the Moissanite is under light is a truly beautiful and rare sight. There are many beautiful gemstones out there, but few have the Sparkle power of a Moissanite stone. Moissanite, like Diamond is also a highly lusterous stone. This means that the surface of the stone appears slick and shiny at all times. For this reason, a Moissanite shows it's strengths even in cuts that don't ordinarily create much sparkle. A round brilliant cut is the most sparkly gemstone cut you can get, but even step cut Moissanites (Emerald and Asscher cuts) display far more shine and sparkle than other gemstones would.

TRUTH or DARE?
Because the price of a Moissanite is only 1/10 or less the price of a Natural Diamond, and also because Moissanites are primarily grown in white (colorless) form, many people like to pass off their Moissanites as Diamonds. Moissanites actually test as Diamonds when using a laser Diamond Tester. The tester reads the hardness of the stone and since the 9.25 is so close to Diamond's 10, it will actually read the Moissanite stone as a Diamond.

WHITE vs. COLOR?
Be aware that White Moissanites are near colorless and not as bright white as Diamonds. If you have done your research and are familiar with the Forever Classic, Forever Brilliant and Forever One options, be aware that Classic Moissanites are soft yellow in color, not white at all. The Forever Brilliant stones are white in whiter indoor light, but still show a yellow color in natural sunlight. The Forever One has white Diamond coloring, but the high prices and limited shapes and sizes available make them less appealing option, in my opinion.

CONSIDER COLOR!
Moissanites are available in beautiful bold colors. Beautiful shades of Green, Blue, Bluish-Green, Champagne, Cognac, Bold Pink, Canary Yellow, and more make for some very exciting options in jewelry making. One of my favorite colors is the very unusual olive green. Olive green sounds drab, but when it fires off those bright flashes of color, you will be amazed how rich the olive green color looks! No need to pretend these stones are anything than what they are. They are amazing and exciting all their own. Pair an exciting bold color with the high luster and fire of a Moissanite and you will absolutely fall in love.
---
---
Jan 17, 2017 by diamonda04
---
More from this seller
---
Shipping & policies
Preparation takes 1-2 business days
Arrives from the United States
Estimated Shipping