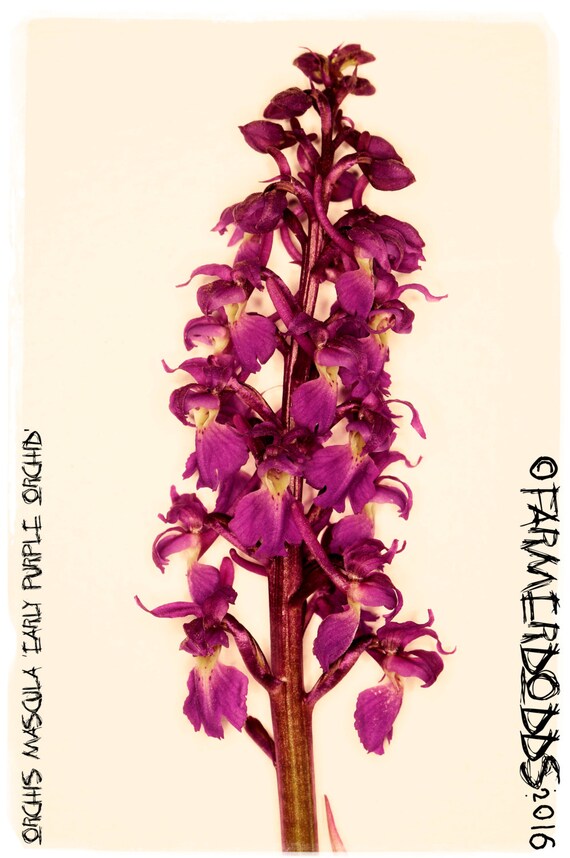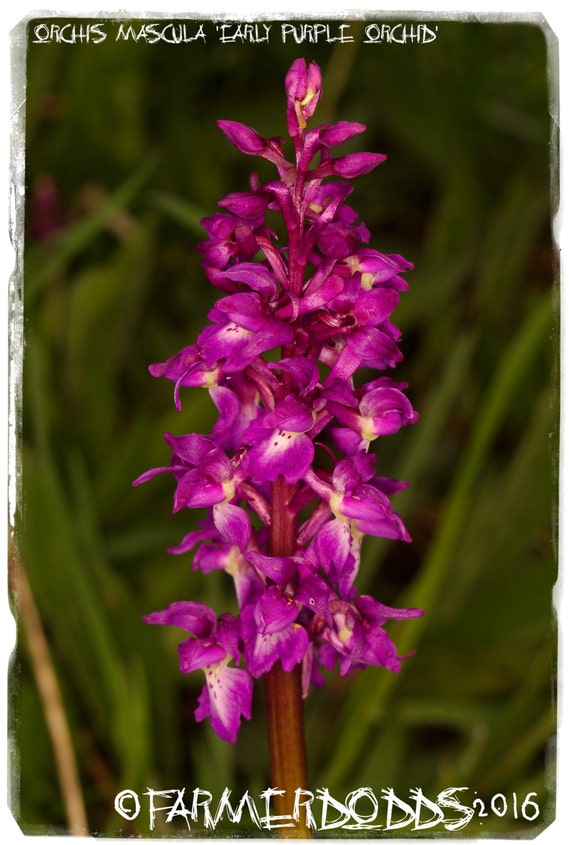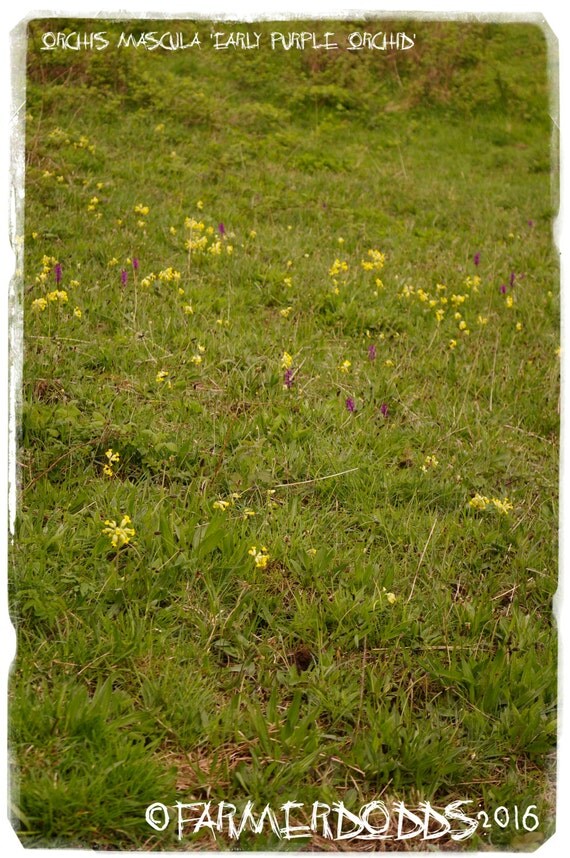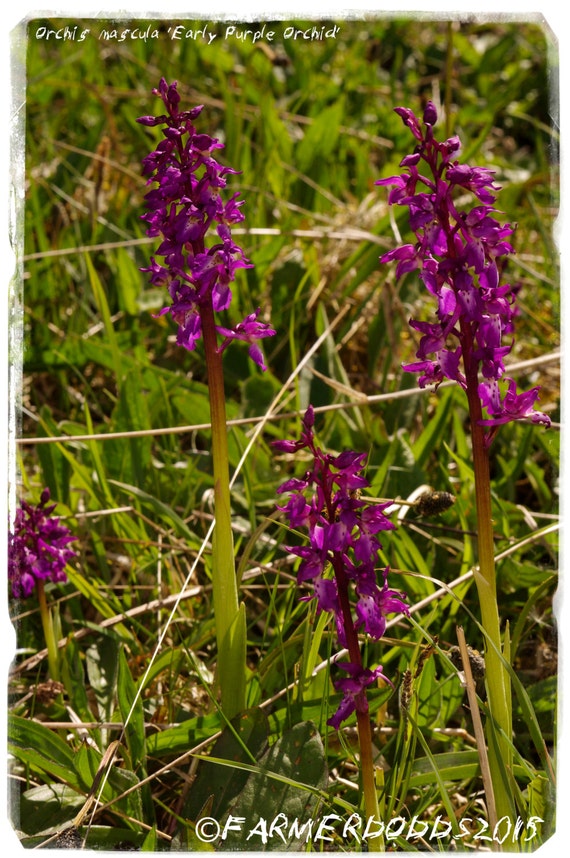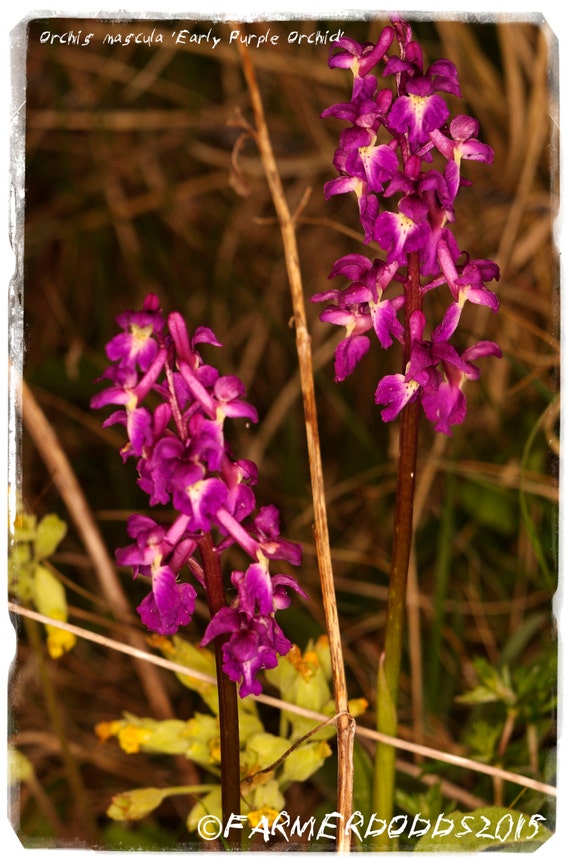 Preparation takes 1-3 business days
Arrives from United Kingdom
---
Features
Made in Durham, United Kingdom
---
Item details
HELLO, I WILL BE AWAY FROM THE 27TH NOVEMBER TO THE 4 DECEMBER. ALL ORDERS FROM THIS PEROID WILL BE POSTED ON THE 4-5 DECEMBER.ORCHIS MASCULA 'EARLY PURPLE ORCHID'

[Ex. Co. Durham]


Orchidaceae: an attractive perennial that grows in woodland, scrub and grassland, doing well on neutral or calcareous grassland. The flowers are pinkish purple, 8-12mm long, with a long spur, appearing in tall spikes from April-June. The leaves are dark green and glossy, with dark spots. Widespread and locally common throughout much of the UK. Native to most of Europe, including Britain, to North Africa, western and northern Asia.


USES:
The root can be cooked. This species is a major source of 'salep', a fine white to yellowish-white powder that is obtained by drying the tuber and grinding it into a powder. Salep is a starch-like substance with a sweetish taste and a faint somewhat unpleasant smell. It is said to be very nutritious and is made into a drink or can be added to cereals and used in making bread. One ounce of salep is said to be enough to sustain a person for a day.
Salep has nutritive and demulcent properties. It has been used as a diet of special value for children and convalescents, being boiled with water, flavoured and prepared in the same way as arrowroot. Rich in mucilage, it forms a soothing and demulcent jelly that is used in the treatment of irritations of the gastro-intestinal canal. One part of salep to fifty parts of water is sufficient to make a jelly. The tuber, from which salep is prepared, should be harvested as the plant dies down after flowering and setting seed.


GROWING INFORMATION:
Prefers a sunny position and a good loamy soil. Requires a deep rich soil. I have one that's a few years old now, it grows happily in a 10" clay pot that stands outside all year round, and it makes a nice clump after a few years. Surface sow seeds, preferably as soon as it is ripe, in the greenhouse and do not allow the compost to dry out. The seed of this species is extremely simple, it has a minute embryo surrounded by a single layer of protective cells. It contains very little food reserves and depends upon a symbiotic relationship with a species of soil-dwelling fungus. The fungal hyphae invade the seed and enter the cells of the embryo. The orchid soon begins to digest the fungal tissue and this acts as a food supply for the plant until it is able to obtain nutrients from decaying material in the soil. It is best to use some of the soil that is growing around established plants in order to introduce the fungus, or to sow the seed around a plant of the same species and allow the seedlings to grow on until they are large enough to move.

Growing orchids from seed isn't easy, or quick, unless you're an expert this process will be completely experimental. And you may end up with nothing so be warned!


HARVESTED: 2017


APPROX. 1000+ SEEDS

Every order will receive a free packet of seeds as a thank you!


I have had to remove all listings of poisonous plants, which include the nightshade family, and monkshoods. All these plants and more are still available from my store:

https://kykeonplants.mysimplestore.com/

TERMS:

ORDERS MAY BE DELAYED TWO OR THREE DAYS DUE TO WORK COMMITMENTS, SO PLEASE BE PATIENT!

ORDERS MADE BETWEEN MARCH - MAY COULD BE DELAYED UP TO A WEEK. THIS IS A VERY BUSY TIME FOR ANYONE ONE IN THIS BUSINESS.

IF YOU ARE THE IMPATIENT TYPE PLEASE LOOK ELSEWHERE!

I LIVE IN THE UNITED KINGDOM NOT THE USA, SO ORDERS WILL TAKE 2-4 WEEKS.

Due to customs issues I do not ship to Brazil!

SHIPPING TO AUSTRALIA AND NEW ZEALAND ARE AT YOUR OWN RISK, I AM STOPPING THE REFUNDING OF LOST ITEMS TO THESE COUNTRIES!!!

IF YOU FAIL TO GERMINATE YOUR SEEDS PLEASE DON'T LEAVE BAD FEEDBACK, SEEDS ARE ALWAYS FRESH AND TESTED FOR VIABILITY BEFORE LISTING, SO I KNOW THAT THEY DO GERMINATE, IF YOU HAVE ANY PROBLEMS PLEASE JUST ASK!!!

PLEASE DO NOT LEAVE NEGATIVE FEEDBACK FOR SEEDS THAT HAVE BEEN LOST IN THE POST, THIS IS NOT MY FAULT AND COMPLETELY OUT OF MY CONTROL, SIMPLY LET ME KNOW AND I WILL HAPPILY RECTIFY THE PROBLEM!

THANK YOU FOR YOUR TIME.
---
---
Ordered nearly a month ago; but didn't received yet. The sender is not replying...
Jan 5, 2018 by shaikh usaid
I took the seeds, thank you very much
Dec 15, 2017 by Atilla
Item was packaged professionally and shipped promptly. Great seller, highly recommended.
Jun 27, 2017 by joel lace
---
More from this seller
---
Shipping & policies
Preparation takes 1-3 business days
Arrives from United Kingdom
Estimated Shipping