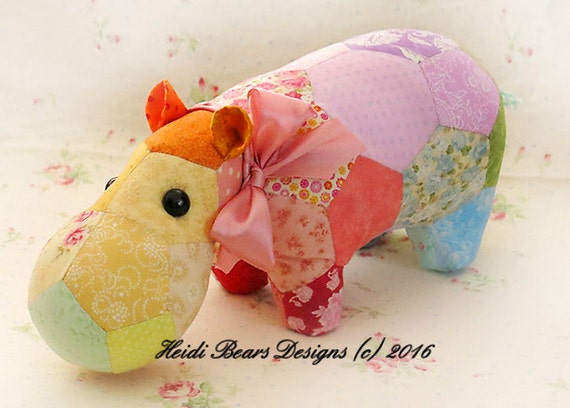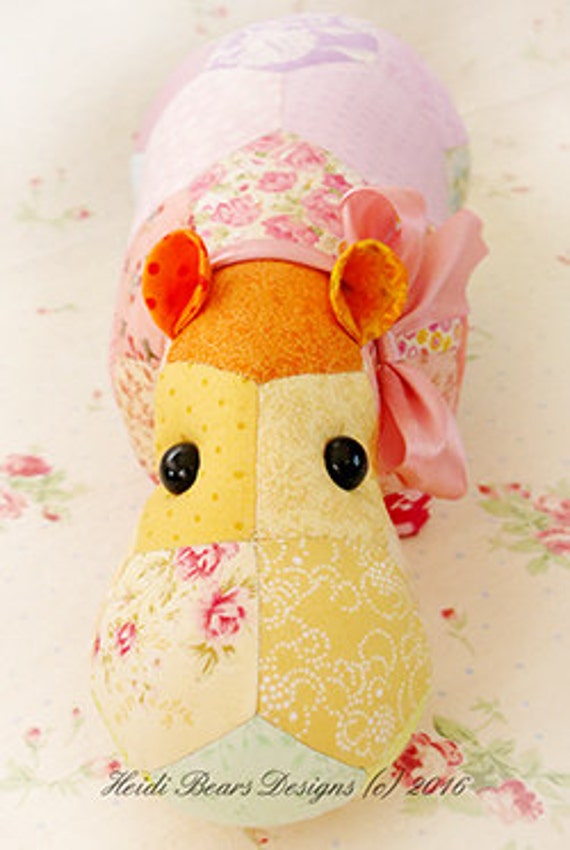 ---
Features
---
Item details
This listing is for a downloadable sewing pattern in a PDF format. It is NOT for a finished item. The pattern has 45 pages and is available ONLY in English. There is not hard copy of the pattern available and patterns are not mailed by post.


The Happy Hippo sewing pattern was born from the original Happypotamus crochet pattern which I designed and published several years ago. Hippos are such funny, adorable creatures, and prove to be very popular with children and adults alike, so I decided to convert the crochet pattern to both a knitting pattern (Knitapotamus) as well as a sewing pattern: The Happy Hippo.

Introduction

The Happy Hippo can be made using a combination of hand sewing and machine sewing. If you enjoy English Paper Pieceing (EPP), you will be happy to know that you can make a great deal of the hippo using EPP methods. For sewers who prefer machine sewing, you too can make most of him using your machine. You only need a straight stitch machine. All of the machine sewing I did for this pattern was done on my Singer Featherweight 221K.
Due to the 3D nature of the beastie, there will be some hand sewing required for machine sewers.

The Happy Hippo is constructed in a modular fashion, by sewing together different shapes in a specific order to create a recognisable 3D hippo friend.
There are five different polygonal shapes involved in making Happy, as well as a separate shape for his ears.
This pattern will guide you step by step through the making process with each step clearly shown photographically with annotations and written instructions.
Since I have found that this pattern format is the best way of describing a 3 dimensional construction, it will be page heavy. I would recommend reading the pattern on your computer or tablet and printing only the necessary pages.

Each motif can be embellished or decorated to your liking. I have included two photo tutorials for making a flowered motif, but any kind of applique, thread embroidery, hand stitching or even fabric painting can be done prior to the assembly of the hippo. The choice is entirely up to you! In order to make the photos clearer and less cluttered, I have used plain fabric without applique for the photo tutorials.

Using the included templates at full size will result in a hippo measuring approximately 30cm (12 in) from nose to tail, and approximately 14cm (5.5 in) from the bottom of the feet to the shoulder.

Materials Requirements

Quilting Cotton

I strongly suggest that The Happy Hippo is made using a good quality quilting cotton.
The amount of fabric you need will depend on the color/s you use for the background of the motifs, as well as any decorations (eg the flower applique). In total you will need approximately one and a half fat quarters for the background fabric alone. In addition, you will need assorted scraps of colors for the flower applique or other embellishments for the motifs.

Additional Items

Good quality Sewing thread Scissors Polyester stuffing An iron Printer
Light weight iron-on interfacing One sheet (A4 or letter-sized) template plastic
One sheet of A4 or letter sized No-Melt Mylar Sewing needles Applique pins
Two wire-looped glass eyes 13mm in diameter Long doll making needle
Strong nylon thread or bear makers waxed tape Loop turner (optional)
Fabric glue pen (optional) One full sheet self-adhesive label (optional)
Fabric marking pen 4-5 different colors of wool or cotton (knitting wool is fine)
EPP weight cardstock for paper piecing Rotary cutter (optional)

The No-Melt Mylar is a fantastic product. It's a clear plastic sheet that can be cut with normal scissors into the shape of your applique. It can be bought from speciality quilting stores or Amazon. There are different sized sheets available. You will need very little for this project, so you don't need to buy a lot of it. You may find it very useful for all of your applique projects, so none of it will go to waste.
A note about No-Melt Mylar : it CAN distort if the temperature is too hot or you hold the iron to it for too long. Although it is very temperature resistant, please be careful when creating your applique shapes. I use the second hottest temperature setting on my iron and never hold the iron down onto the applique/mylar sandwhich for more than 3-4 seconds at a time. If you inadvertently overheat your mylar piece, it will warp. It is better to cut a new one than keep using a distorted one. If you have your own way of doing applique, you will NOT need this item!

Thread: I really enjoy using Aurifil brand thread for quilting. It is smooth, fine and makes beautiful stitches for applique.

Wire-looped glass eyes: PLEASE NOTE THAT ATTACHED EYES ARE NOT RECOMMENDED FOR TOYS CREATED FOR CHILDREN! They can be a suffocation hazard. If you are making this hippo for a child, rather embroider the eyes using embroidery thread! I have used 13mm wire looped glass eyes. These can easily be sourced from sellers on eBay or Etsy.

Fabric Glue Pen: This is very useful for EPPers who prefer to temporarily glue their seam allowances to the paper pieces. Remember to glue a little distance away from the seam line, so that you can still sew the seams together!

Applique pins: These are fabulous for pinning small applique pieces to your motifs, as well as pinning motif sides together. Small enough not to get in the way. I love using these pins!

Skills Requirements

Basic sewing skills. EPPers need to know how to whipstitch the sides together.
Applique (optional, but recommended if you are decorating the motifs with applique)
---
---
Very fast delivery....anxious to get started on my project
Feb 13, 2018 by Nancy Gobee
Looking forward to the challenge as haven't done this sort of thing for years. Love the clear instructions and the fact that it was downloaded so no waiting for post.
Feb 1, 2018 by Myra Upton
This was my first time using quilt pieces. I've been looking at this item but was afraid it would be too difficult for me. I finally took a chance and I was so impressed with the easy to follow instructions. My Happy Hippo is adorable! Thanks!
Nov 12, 2017 by Sheryl
Super excited to put this together!
Sep 20, 2017 by Christine
absolutely brilliant! Thanks very much!
Feb 24, 2017 by sharonhaggerty
---
More from this seller
---
Digital downloads
---
Payments
---
Returns & exchanges