30x NITINOL MICRO SPRING Variety Pack#5 Standard Temp All 1mm Springs 115f/45c Robotics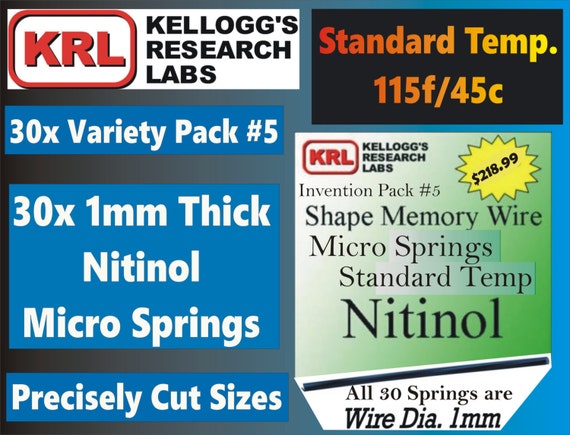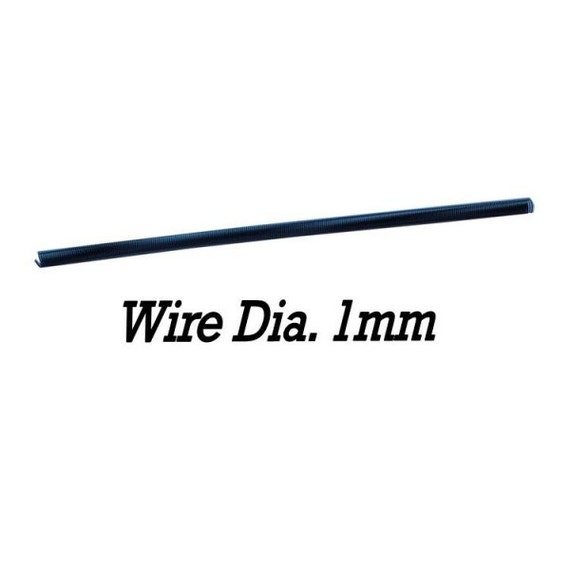 Preparation takes 1-3 business days
Arrives from the United States
---
Features
Made in Hudson, New Hampshire
---
Item details
This is a Variety Pack of 30 NITINOL MICRO SPRINGS. This is STANDARD TEMP MICRO SPRING VARIETY PACK #5.

These 30 Springs are all made from 1mm thick Nitinol wire. There are 3 sets of 10 Micro Springs in this lot.

They are excellent for experiments, motor driven inventions, and other lab and engineering science.

This cold drawn and expertly processed wire is trained to transform at STANDARD TEMPERATURE. (115f/45c).

Here is what is in this excellent lot:

ALL ARE STANDARD TEMP 1mm WIRE:

A) Set of 10 Micro Springs with 3.2mm Mandrel, 2mm Pitch, each 5mm long.

B) Set of 10 Micro Springs with 1.6mm Mandrel, 1mm Pitch, each 5mm long.

C) Set of 10 Micro Springs with 0.9mm Mandrel, 1mm Pitch, each 5mm long.

MANDREL is the inside diameter of the spring.

PITCH is the distance between the center of two consecutive wraps of wire.

These are very precise springs. Kellogg's Research Labs micro springs are the smallest Nitinol (NiTi) springs, and the lightest actuators available on Earth. We are your one-stop shop for small Nitinol that is perfectly trained and ready to go.

This listing is the only source for a pre-packaged lot of micro-springs. We have discounted this lot to 10% less than our keystone Wholesale Price of $109.50 for the 30 Micro Springs as a bulk quantity lot to reach this great price of $98.50. That is a total savings of $120.50 from the $219.00 retail price. You will never see these for less.

The transition temperature of this wire is 115F (45C). Total trained Standard Temp spring length of this lot of 30 pieces is 150mm (5.9 inches) that have been cut into 30 separate 5mm long springs as described above. Of course there is a lot more trained wire involved if you were to stretch it out. NOTE: The required transition heat may be generated using electricity.

Nitinol requires a very precise heat treatment to achieve the shape memory effect. This wire has fully and consistently received this treatment in our US based Laboratory.

The steps that our New Hampshire Lab has taken to Train this Nitinol Wire are not trivial. As such we recommend that most buyers of Nitinol Wire should purchase it in this form that has been Trained.

When at room temperature, this wire is soft, random and easily bent. Expose it to any temp of 115 degrees F, and it bursts to action, quickly changing atomic state, and returning to the programmed shape you set, or creating energy for your experiments.

This fascinating and unusual shape memory alloy wire will be awesome for your engineering projects, educational setting, school, science laboratory, or other organization, robotics, High School, College, or University physics, metallurgy, or engineer courses, etc. Hope springs eternal. For any scientist, a physics fan, inventors, those that follow green or alternative energy, or advanced technology, this is the ultimate gift that keeps on giving. It will repeat this rare shape memory behavior over and over. It is 100% food safe.

This product is manufactured and will be shipped to you straight from our world leading New Hampshire based Nitinol laboratory.

We are Kellogg's Research Labs, the leading Laboratory in the world specializing in the shape memory alloy, Nitinol. We make 107 different types of this complex alloy. Nitinol (NiTi) is the combination of Nickel and Titanium, discovered by the US Navy in the 1950's. Research by top government agencies has continued to this day to unlock the secrets of this metal that behaves like no other. It seems otherworldly as no other metal has these strong shape memory properties.

Nitinol is widely considered to be the least corrosive metal yet discovered. (Stainless Steel is far more corrosive as an example). You can drop this Programmed Nitinol into the ocean and leave it for 1,000 years and it will look the same when recovered.

There is no risk to handling this wire. It has no toxicity, and will not harm food or anything else if dropped or exposed thus. In fact, stainless steel contains, and will generate, far more nickel allergens (to the few who may be allergic to nickel) than Nitinol does. This wire is far safer to handle than stainless steel. Kellogg's Research Labs of New Hampshire is the maker.
---
---
More from this seller
---
Shipping & policies
Preparation takes 1-3 business days
Arrives from the United States
Estimated Shipping