9 x ATC Card wonderful vintage holy Mary with child and roses on shabby background.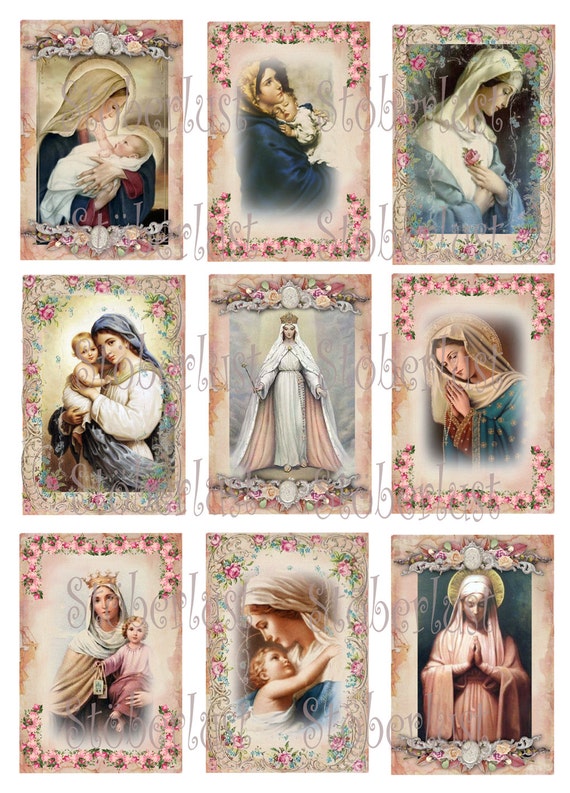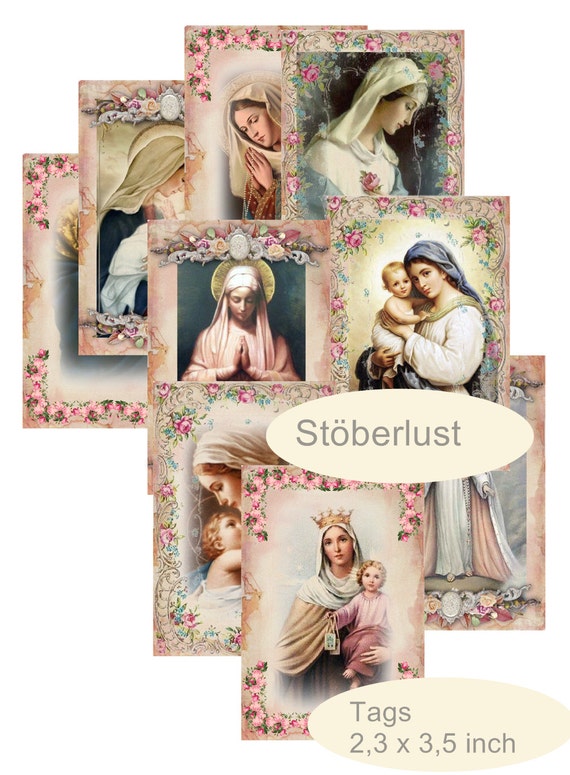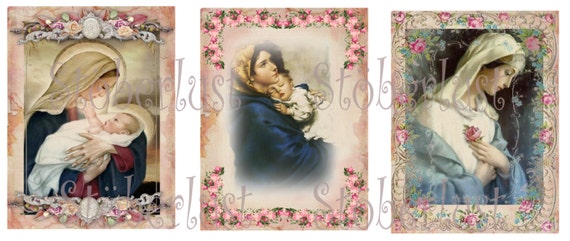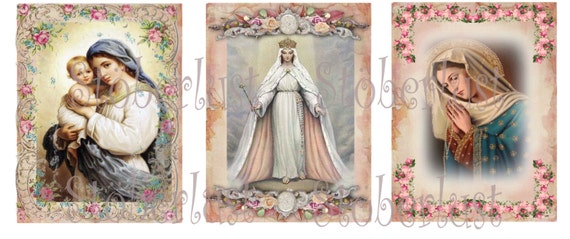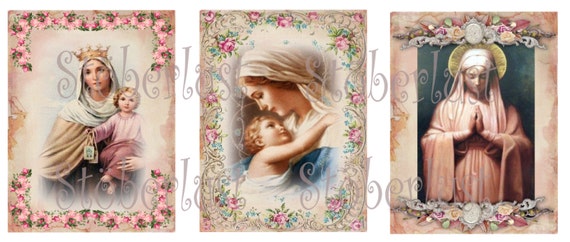 ---
Features
---
Item details
You are purchasing:
1 Digital Download 8 different designs- mirrored in 300 dpi resolution - in jpg format on A 4 ready for printing
1 digital Download 8 different designs- high resolution 300 dpi resolution - in jpg format on A 4 ready for printing

9 Different Designs
Each 2,3 x 3,5 inches
300 dpi, JPEG format
Images placed on 1 sheet, A4 size, ready for printing

If you need the files as png files, please email after purchase and give me your email address, then I will email the files as png files with the size specified here.

9 Gift Tags, Holy mary with child and roses roses.

This vintage Download can be used in endless variations. They can be printed on paper and framed , can be used for scrapbooking or Decoupagetechnik for postcards, etc.

Or print it on iron-on film , and iron it on pillows , to towels, to tablecloths, etc.

IRON ON TRANSFER INSTRUCTIONAL VIDEO: (i have no interest in or knowledge of the company or their product. It is just a good video.) Copy and paste this to view: http://www.youtube.com/watch?v=Us7yI6VjdUg


--- And and and ....

The watermark is not present on the original.
This is an INSTANT DOWNLOAD . After your payment, you will automatically receive an email with the download link. The email will be sent to your Etsy email address. Save the file on your PC and you 're ready to print .

Of course, you can resell things produced by you with these graphics .

The resale and sharing of graphics in digital form , not even as CD's is not allowed.
It is also not allowed to share these files with your friends .

Copyright by Stoeberlust ~ creative
---
---
More from this seller
---
Digital downloads
---
Payments
Secure options
Etsy Studio keeps your payment information secure. Etsy Studio shops never receive your credit card information.
---
Terms & conditions
Allgemeine Geschäftsbedingungen des Etsy Shops Stoeberlust ~kreativ

§ 1 – Anbieter, Einbeziehung der AGB

(1) Anbieter und Vertragspartner für die im Etsy-Shop "Stoeberlust ~ kreativ ~" dargestellten Waren ist: Regina Kunze, Hohenzollerndamm 2, 10717 Berlin(im folgenden kurz "Anbieter").

(2) Diese allgemeinen Geschäftsbedingungen sind Bestandteil jeder vertraglichen Vereinbarung zwischen dem Anbieter und dem jeweiligen Besteller. Entgegenstehenden AGB des Bestellers wird widersprochen.

§ 2 – Warenangebot und Vertragsschluss

(1) Der Anbieter bietet die in seinem Etsy-Shop "Stoeberlust ~ kreativ" dargestellten Artikel anderen Etsy-Nutzern zum Kauf an.
Bei den angebotenen Artikeln handelt es sich teils um Neuwaren, teils um Gebrauchtwaren (Second Hand, Vintage); bitte beachten Sie insofern die jeweilige Produktbeschreibung.
Die farbliche Darstellung der Artikel auf der Internetseite kann je nach verwendetem Internetbrowser und Monitoreinstellungen des Bestellers geringfügig variieren; diese Abweichungen sind technisch nie ganz vermeidbar.

(2) Warenauswahl, Vertragsschluss und Vertragsabwicklung erfolgen in deutscher Sprache.

(3) Der Anbieter liefert innerhalb Deutschlands, USA sowie nach Österreich Frankreich, Groß Britanien, Spanien, Luxemburg, Österreich und in die Schweiz.

(4) Der Besteller wählt die gewünschte Ware aus, indem er sie in den "Warenkorb" legt oder auf den Button "Direkt zur Kasse gehen" klickt. Der Bestellwunsch kann abschließend über den Button "zahlungspflichtig bestellen" an den Anbieter übermittelt werden. Der Besteller hat bis zur Absendung seines Bestellwunsches jederzeit die Möglichkeit, die im Rahmen der Bestellung angegebenen Daten einzusehen und zu ändern oder die Bestellung ganz abzubrechen.

(5) Für die im Shop des Anbieters dargestellten Waren gibt der Anbieter ein verbindliches Kaufangebot ab. Mit der Absendung des Bestellwunsches über den Button "zahlungspflichtig besteller" nimmt der Besteller das Kaufangebot an. Der Anbieter bestätigt den Vertragsschluss per E-Mail (Vertragsbestätigung).

(6) Der Inhalt abgeschlossener Verträge wird im Etsy-Nutzerkonto des Bestellers gespeichert und ist für den Besteller im Etsy-Portal jederzeit einsehbar unter dem Punkt "Meine Einkäufe".

(7) Bei Lieferhindernissen oder anderen Umständen, die der Vertragserfüllung entgegenstehen würden, informiert der Anbieter den Besteller per E-Mail. Eine Teillieferung erfolgt nur nach Zustimmung durch den Besteller.

§ 3 – Preise und Bezahlung

(1) Alle Produktpreise verstehen sich als Endpreise zzgl. Versandkosten. Umsatzsteuer wird nicht erhoben.

(2) Die Versandkosten sind bei der jeweiligen Produktbeschreibung unter dem Menüpunkt "Bezahlung & Versand" aufgeführt.

(3) Bei Lieferungen in die Schweiz können Zoll und Einfuhrumsatzsteuer anfallen, die vom Besteller beim Empfang der Sendung an die Zollbehörde zu entrichten sind. Diese Abgaben fallen zusätzlich zum Kaufpreis und den Versandkosten an und sind vom Anbieter nicht zu beeinflussen.

(4) Der Anbieter liefert nach Wahl des Bestellers gegen Vorkasse durch Einlösung eines Etsy-Gutscheins, gegen Vorkasse per Banküberweisung, gegen Vorkasse mittels PayPal-Zahlung, oder gegen Barzahlung bei Abholung.


b) Hat der Besteller "Banküberweisung" als Zahlungsmethode gewählt, wird dem Besteller im Bereich "Meine Einkäufe" die Bankverbindung des Anbieters mitgeteilt. Überweisungen aus dem Ausland akzeptiert der Anbieter nur als spesenfreie Zahlungen in Euro.

c) Hat der Besteller "PayPal" als Zahlungsmethode gewählt, so gelangt er über den Button "Hier klicken, um mit PayPal zu bezahlen" zum Onlinedienst von PayPal und kann dort die Bezahlung veranlassen.

d) Hat der Besteller "Barzahlung" als Zahlungsmethode gewählt, kann er die Ware am Sitz des Anbieters abholen.

(5) Für Vorkasse-Bestellungen gilt eine Zahlungsfrist von einer Woche ab Zugang der Vertragsbestätigung. Der Anbieter legt die gewünschte Ware während der Dauer der Zahlungsfrist für den Besteller zurück. Es obliegt dem Besteller, seine Zahlung so rechtzeitig zu bewirken, dass sie beim Anbieter innerhalb der Frist eingeht. Der Anbieter behält sich das Recht vor, vom Kaufvertrag zurückzutreten und die Ware anderweitig zu verkaufen, wenn die Zahlung bis Ablauf der Frist nicht eingegangen ist. Eine nach Rücktritt eingehende Zahlung des Bestellers wird dem Besteller erstattet.


§ 4 – Versand, Lieferfristen

(1) Der Anbieter übergibt die zu liefernde Ware innerhalb der in der jeweiligen Produktbeschreibung genannten Zeitspanne ab vollständigem Zahlungseingang an das Versandunternehmen.

(2) Soweit in der Artikelbeschreibung nicht abweichend angegeben, benötigt das Versandunternehmen für die Zustellung ab Übergabe durch den Anbieter ca. 2 Werktage innerhalb Deutschlands und – je nach Entfernung – bis zu 9 Werktage in andere Länder.

(3) Wenn die Lieferung an den Besteller fehlschlägt, weil der Besteller die Lieferadresse falsch oder unvollständig angegeben hat, erfolgt ein erneuter Zustellversuch nur, wenn der Besteller die Kosten für den erneuten Versand übernimmt. Die erneuten Versandkosten entsprechen den bei Vertragsschluss vereinbarten Versandkosten. Der Anbieter wird dazu dem Besteller die erforderlichen Kosten einer erneuten Zustellung per E-Mail mitteilen. Ein erneuter Versand erfolgt erst nach Zahlungseingang dieser Kosten.

(4) Hat der Besteller als Zahlungsmethode Barzahlung gewählt, wird die Ware nicht versandt. Statt dessen kann der Besteller die Ware nach Ablauf der in der Produktbeschreibung angegebenen Lieferzeit am Geschäftssitz des Anbieters abholen

§ 4a digitale Downloads

(1) digitale Downloads werden immer versandkostenfrei als instand download oder Sofort-Downloads gesendet.

(2) Nach Zahlungseingang erhält der Käufer nach wenigen Minuten einen Link für die Dateien. Diese müssen dann noch auf dem eigenen PC abgespeichert werden und können dann sofort ausgedruckt werden.

§ 5 – Rücksendung von Waren als Verbraucher

(1) Bestellern, die als Verbraucher (§ 13 BGB) einkaufen, steht ein Widerrufsrecht gemäß den gesetzlichen Voraussetzungen zu (§§ 312d, 355 BGB). Einzelheiten hierzu können der Widerrufsbelehrung entnommen werden.

(2) Ist der Besteller Verbraucher, vereinbaren die Kaufvertragsparteien für den Fall der Ausübung des Widerrufsrechts, dass der Besteller die regelmäßigen Kosten der Rücksendung trägt, wenn die gelieferte Ware der bestellten entspricht und wenn der Preis der zurückzusendenden Sache einen Betrag von 40 Euro nicht übersteigt oder wenn der Besteller bei einem höheren Preis der Sache zum Zeitpunkt des Widerrufs noch nicht die Gegenleistung oder eine vertraglich vereinbarte Teilzahlung erbracht hat.

(3) Soweit der Besteller die Rücksendekosten zu tragen hat, können der vom Anbieter zu erstattende Geldbetrag und die vom Besteller zu erstattenden Rücksendekosten miteinander verrechnet werden.

(4) Verbrauchern mit ständigem Aufenthalt außerhalb Deutschlands räumt der Anbieter eine 14-tägige Widerrufsfrist auch dann ein, wenn das nationale Recht des Verbrauchers hierfür eine kürzere Frist vorsieht.

(5) Verbrauchern mit ständigem Aufenthalt außerhalb Deutschlands räumt der Anbieter ein, ihre Widerrufserklärung auch dann in Textform zu übermitteln, wenn das nationale Recht des Verbrauchers eine strengere Form vorsieht. Sieht das nationale Recht des Verbrauchers eine einfachere Form als die Textform vor (etwa mündliche Erklärung), so ist die Widerrufserklärung auch in der einfacheren Form wirksam. Die Ausübung des Widerrufsrechts ist für alle Verbraucher auch durch fristgerechte Rücksendung der Ware möglich.

(6) Für Verbraucher mit ständigem Aufenthalt in der Schweiz gelten die Absätze 1 bis 3 und die Voraussetzungen und Rechtsfolgen des deutschen Verbraucher-Widerrufsrechts auch dann, wenn nach schweizerischem Recht ein Widerruf nicht vorgesehen ist.

§ 6 – Gewährleistung

(1) Für die angebotenen Gebrauchtwaren vereinbaren die Parteien, dass die Verjährungsfrist der Gewährleistungsansprüche ein Jahr beträgt, soweit der Anbieter einen Mangel nicht aufgrund Vorsatzes oder grober Fahrlässigkeit zu vertreten hat.

(2) Im übrigen richten sich die Gewährleistungsansprüche nach den gesetzlichen Vorschriften.

§ 7 – Schlussbestimmungen

(1) Der Anbieter erhebt und verarbeitet die vom Besteller im Rahmen seines Einkaufs eingegebenen Daten zum Zwecke der Vertragsbearbeitung und -erfüllung. Soweit der Besteller für die Bezahlung seines Einkaufs den Dienst von PayPal benutzt, gelten für den Zahlungsvorgang die PayPal-Datenschutzbestimmungen. PayPal wird dabei als Erfüllungsgehilfe des Bestellers tätig, nicht des Anbieters.

(2) Es gilt das Recht der Bundesrepublik Deutschland unter Ausschluss des UN-Kaufrechts. Gegenüber Verbrauchern mit ständigem Aufenthalt im Ausland findet das deutsche Recht jedoch keine Anwendung, soweit das nationale Recht des Verbrauchers Regelungen enthält, von denen zu Lasten des Verbrauchers nicht durch Vertrag abgewichen werden kann.

(3) Ist der Besteller Kaufmann, eine juristische Person des öffentlichen Rechts oder ein öffentlichrechtliches Sondervermögen, so vereinbaren die Parteien als Gerichtsstand den Sitz des Anbieters.

(4) Sollten sich einzelne Bestimmungen dieser allgemeinen Geschäftsbedingungen als unwirksam oder undurchführbar erweisen, so berührt dies nicht die Wirksamkeit der übrigen Bestimmungen.