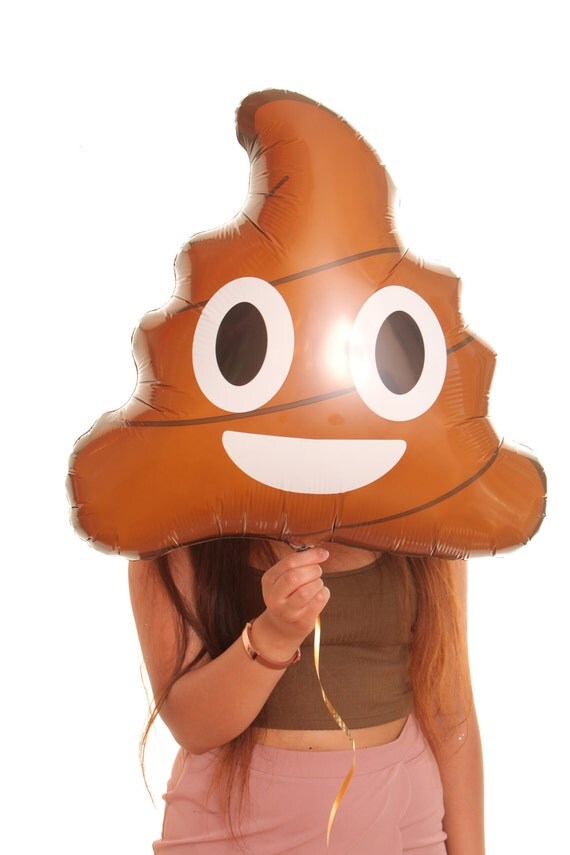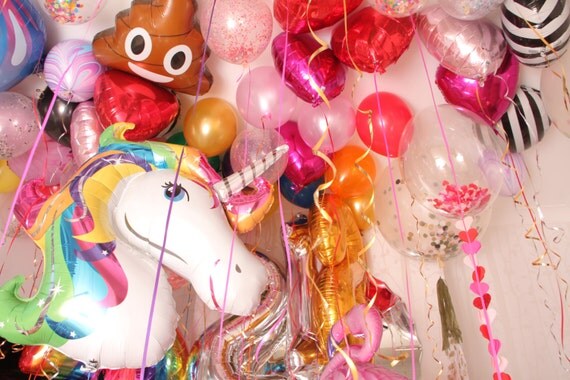 Preparation takes 3-5 business days
Arrives from United Kingdom
---
Features
Made in London, United Kingdom
---
Item details
Everybody poops. Why hide it?

This listing is for one 24" Poop Emoji Foil Balloon.


This balloon is suitable for either helium or air use. Float time with helium (when inflated to full capacity) is upwards of 72 hours. Balloon will be sent deflated. We recommend that you inflate this 1-2 hours before your event. Please consult our FAQs for more details.


Keep out of reach of children. This is not a toy.


UK: this will be shipped via Second Class Signed For, which should arrive within 2-3 working days after dispatch. Shipping upgrades are available. If your order is urgent, please contact us.

International: this will be shipped via Royal Mail Tracked & Signed, which after delivery, should arrive within 4-7 working days. Shipping upgrades are available. If your order is urgent, please contact us.


For bulk order discounts and wholesale inquiries, please contact us via etsy or at thesugarstopco[at]gmail.com
---
---
Shipping & policies
Preparation takes 3-5 business days
Arrives from United Kingdom
Estimated Shipping
we understand that some things are left until the last minute, which is why we don't mind rushing your order! if you're having a confetti emergency (that's the clinical term for it), just drop us a message in the 'note to seller' part of checkout to let us know and we'll get back to you asap.

otherwise, your order will be made, packed and shipped off to you after our usual processing time, which can be found under the 'shipping & policies' tab.

uk: orders are often shipped via royal mail first/second class, first/second class signed or special delivery by 1pm.

international: orders are shipped via royal mail international tracked & signed, or international standard. both aim to deliver within 4-7 working days. unfortunately, we personally can't guarantee delivery within this time frame - there could be mountains of parcels at the local Customs office, which means that your order may take up to 30 days to reach you. we're super sorry for any potential delays, especially because we can't prevent them - though, if it were up to us, we'd hand deliver your order right to your doorstep! please take this into consideration when ordering and reviewing.

sometimes a tax payment is required before you can receive your overseas order. we're not responsible for this and we can't predict how much the payment might be, but your national government website is a great source of information for all this kind of stuff.

by default, we ship to address provided at checkout. if you've realised that the address is incorrect, or if you need your parcel delivered elsewhere, don't panic! you can send us a different address via etsy right up until your order is marked as dispatched.

if your order seems to be missing, it's likely that it's sitting at your local sorting office, waiting for you to collect it. your postman should leave a note saying so, but this can sometimes slip their mind. if you call your sorting office, they'll be able to tell you if your parcel is there.

if your order is returned to us after a failed delivery due to an incorrect address, or if it wasn't collected from your sorting office, we can resend it, though an additional shipping charge will be applicable.

if you have a curious case of a missing parcel, give us a shout. we'll do some sleuthing and locate it for you, or if it has disappeared completely, we'll replace it. please contact us within 30 days of your order being dispatched - the longer it's left, the harder it is to find!
---
Payments
we accept payment through etsy via credit cards, debit cards or gift cards. additionally, we accept PayPal payments.

custom and bespoke orders will be processed once payment has cleared.
---
Returns & exchanges
if you have any problems or questions with your purchase, send us a message. we'll reply as soon as we can.

to return an item, please contact us within 7 days of receipt. you're liable for the cost of returning an item to us. as soon as we receive the items in their original, unopened packaging within 7 days of receipt, we will refund the cost minus shipping. Sale items are not eligible for returns.

if your order is not delivered within the timeframe stated and is lost, we will refund the full amount.

because bespoke orders are made just for you, we unfortunately cannot accept returns or offer refunds due to a change of heart. although, we can keep you updated with your order. if you'd like to see photos of your finished product, send us a message and we'll be happy to oblige. please try to let us know this before we dispatch it - it's a little bit difficult getting back an order once it's been shipped!
---
Additional policies
items may differ slightly from listing photographs due to their handmade nature - each product is completely unique!

see below for faqs regarding confetti, balloons & tassels. can't find your question? drop us a line via etsy or email us at thesugarstopco@gmail.com

FAQS
___

GENERAL:

~ do you offer wholesale prices?

~ we do! contact us to find out about our bulk and wholesale information.
___

~ i would like to resell THE SUGAR STOP CO. products in my online/brick & mortar shop. how can i go about this?

~ yay! email us and we can discuss supplying to your store.
___

~ can i buy products without the box?

~ you most definitely can! purchasing without boxed packaging can lower the overall cost of the item as well as shipping expenses, and it's a great option if you're purchasing in bulk and will be using the products right away. we can provide items in packets, which saves you the job of having to unbox 200 balloons to decorate for your wedding!
___

BALLOONS:

we conduct balloon experiments often to ensure that we're sending out the best possible products to you.
___

~ do balloons arrive already inflated?

~ we send out all balloons deflated. if you're searching for a balloon-in-a-box type of thang, or require your balloons to be inflated for your event, contact us and we'll do our very best to make your balloon dreams come true.
___

~ how can I get the confetti in my balloons to stick to the sides?

~ when inflating with air, shake the balloon once it's full. this separates the confetti. then, rub the balloon against a wall. this creates static which will pull the confetti up to the sides. sometimes, this last part isn't necessary. simply inflating the balloon with a hand pump and then shaking it will cause the confetti to cover the sides of the balloon.

pure helium will always cause confetti to stick to the sides of the balloon, as can be seen in our listing photos. often, the disposable cylinders available to buy in supermarkets are made up of low grade helium and air mixes, so this can be the cause of confetti sinking to the bottom of balloons. party stores can also use a mix of helium and air to inflate balloons, so be sure to tell staff that you require pure helium for your balloon inflation.
___

~ when should I inflate my balloons?

~ we recommend inflating your balloons 1-2 hours before your event. foil balloons can be inflated the day before your event.
___

~ how long will my balloons float for?

~ 5" balloons can float for up to 2 hours; 11" balloons can float for up to 12 hours; round 36" balloons can float for up to 3-5 days; and 15" heart balloons can float for up to 6 hours. balloons must be inflated to their full capacity in order to float for their longest possible float times. these figures apply for both confetti balloons and solid-coloured balloons.

foil balloons can float for any time between a week up to a month!
___

~ how do I inflate my heart-shaped balloons?

~ heart-shaped balloons can be tricky to inflate. the key is slowly, but surely. inflate the balloon slowly until a slight heart shape begins to form. The balloon will begin to feel tight when it has been fully inflated.
___

~ how do I inflate my foil balloons?

~ some foil balloons are air-fill only, and these come with a straw and instructions so that you can easily inflate them.

larger foil balloons are suitable for helium or air. when inflating with helium, please do so slowly to avoid popping the balloon. foil balloons are super easy to over-inflate, in which case it's only a matter of minutes until the helium expands with heat and then pops the balloon - trust us, we've made this mistake many times! we recommend taking your balloon to a supermarket or party store, where they can use an automatic shut-off inflator, which pumps just the right amount of helium into your balloon.
___

~ how do I know when a latex balloon is fully inflated?

~ for 5" up to 36", the balloon is fully inflated once it begins to feel tight. if the balloon has a pear-shape to it, it has been overinflated and may spontaneously pop soon! just gently let some air/helium out until the balloon reaches its round shape once again, and then tie it.
___

TASSEL GARLANDS:

~ how can I get the wrinkles out of my tassel garland?

~ wrinkly tassel garlands to us are like mondays to garfield. the best way to get your garland back to its wrinkle-free goodness is to shake it out and hang it up. gravity will work its wonders and your tassel garland will be back to normal in no time.
___

MINI CONFETTI CANNONS:

~ how do I use a mini confetti cannon?

~ every cannon comes will a label including instructions, so you don't have to worry about telling all of your party guests how to use them!
___

~ is the contents of the cannon biodegradable?

~ yes, indeedy! we use biodegradable tissue paper in all of our cannons.
___

~ are they safe to take on a plane?

~ our cannons are spring-loaded, meaning they're safe to pack in your suitcase and take with you on your travels. we do recommend wrapping them up or packing them in the box they arrive in, just to avoid any confetti explosions whilst in your suitcase!
___

~ can I customise the label?

~ you definitely can! we have a separate listing for customised cannons. please note that customised labels will be printed in black on plain kraft paper, rather that our usual pink cannon labels.
___

CONFETTI:

~ are the loose confetti packs biodegradable?

- some packs of confetti are biodegradable, and others are not. check out the product descriptions to be sure, or contact us and ask for a custom listing for biodegradable confetti.
___

~ will the colours from the confetti stain fabric?

~ we try our best to search for non-bleeding materials so that the confetti won't stain anything, however we can't always guarantee that the colours won't run. using our confetti in dry conditions should be fine. getting the confetti wet before tossing it could cause some colour staining, so make sure that everybody has dry hands when grabbing a handful!