Magic Watercolor Rose Flowers Clip Art-18 Hand drawn Watercolor Roses, logo design, wedding flowers, clip art, pink flower, red, white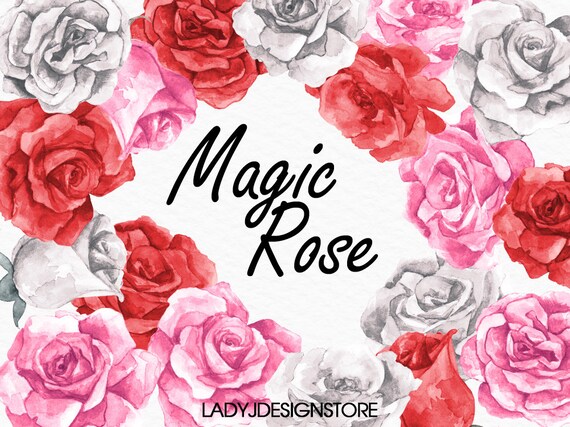 ---
Features
Made in Texas City, Texas
---
Item details
CURRENT SPECIALS: Buy 2 and get 1 free: (put all three items in cart and use coupon code BUY2GET1FREE during checkout)

This listing is for:
Set of 18 independent PNG files on transparent background, all in high definition (300 dpi).

Size:
All can easily be resized without losing definition.
Tested and printed 100% quality

INSTANT DOWNLOAD; Once payment is approved, you will receive a link to download the files at your ETSY email account (usually less than 5 minutes)

Ideal for many uses: cards, stationary, photo albums, Web banners, scrapbooking, journals, and other paper or digital products.


If you have any questions please contact me.
---
---
More from this seller
---
Digital downloads
---
Payments
---
Returns & exchanges
No Refunds and no Exchanges for my digital Files. Thanks
---
Additional policies
LadyJDesignStore Terms of Use
-----------------------------------------
©2012 by LadyJDesignStore ALL RIGHTS RESERVED.

Thank you for purchasing my designs!
Terms and Conditions

ladyjdesignstore.com retains and reserves the right to modify, update and change the Terms of Use for all digital at anytime with or without notice. It is your responsibility to check for updates and changes to the Terms of Use.

All the graphic images Copyright to ladyjdesignstore.com with all rights reserved.

By purchasing or downloading products from ladyjdesignstore.com you are agreeing to the terms outlined in this document. All graphics, once sold or downloaded free of charge, do not become your property.

By accepting these Terms of Use and downloading LadyJDesignStore Exclusive Product, you are also agreeing to abide by the individual Terms of Use included in your download.

-------------------
Personal Use
-------------------
YOU MAY:
--------
1.Submit created using our products to magazines or online publications, so long as you give proper credit to LadyJDesignStore.
2.Alter any graphics with respect to color, size or by adding to or removing from them.
3.Copy any file downloaded from our site on an electronic or physical medium (CDs, disks, etc.) for your own back-up purposes. I highly recommend that you do this, as I cannot guarantee that I will be able refresh your download links.
4.Print a copy of any graphic element to be used for your own personal projects, such as a Shutterfly book or hybrid scrapbook page.

YOU MAY NOT:
------------
1.Use these graphics for any project or product that will be sold or used to generate income.
2.Use these graphics for web templates, web design, e-mail templates, signatures or any other form of electronic/web based design, or anything mass produced.
3.Change these graphics in some way to then claim them as your own. Do not use my designs to create your own designs (you may NOT use any part of this design as a design tool).
4.Resell or redistribute these graphics in any way, shape or form. – Please direct those interested back to where you obtained the product.
5.Use the graphics for any templates, freebies or to share it with anyone.
6.Do NOT use this to create anything to promote or signify anything illegal or obscene in nature, nothing pornographic, racist or hate related. I ask that you please respect my TOU. I take a firm stance on these subjects.

-------------------
Commercial Use
-------------------
YOU MAY:
--------
1.Submit created using our products to magazines or online publications, so long as you give proper credit to LadyJDesignStore.
2.Alter any graphics with respect to color, size or by adding to or removing from them.
3.Copy any file downloaded from our site on an electronic or physical medium (CDs, disks, etc.) for your own back-up purposes. I highly recommend that you do this, as I cannot guarantee that I will be able refresh your download links.
4.Print a copy of any graphic element to be used for your own personal projects, such as a Shutterfly book or hybrid scrapbook page.
5.Use these graphics for any project or product that will be sold or used to generate income.
6.Use these graphics for web templates, web design, e-mail templates, signatures or any other form of electronic/web based design.

YOU MAY NOT:
------------
1.Change these graphics in some way to then claim them as your own. Do not use my designs to create your own designs (you may NOT use any part of this design as a design tool).
2.Resell or redistribute these graphics in any way, shape or form. – Please direct those interested back to where you obtained the product.
3.Use the graphics for any templates, freebies, to share it with anyone or use it for anything mass produced.
4.Do NOT use this to create anything to promote or signify anything illegal or obscene in nature, nothing pornographic, racist or hate related. I ask that you please respect my TOU. I take a firm stance on these subjects.

Please contact me if you have any questions, comments or concerns at: contact [!at] LadyJDesignStore Terms of Use
-----------------------------------------
©2012 by LadyJDesignStore ALL RIGHTS RESERVED.

Thank you for purchasing my designs!
Terms and Conditions

ladyjdesignstore.com retains and reserves the right to modify, update and change the Terms of Use for all digital at anytime with or without notice. It is your responsibility to check for updates and changes to the Terms of Use.

All the graphic images Copyright to ladyjdesignstore.com with all rights reserved.

By purchasing or downloading products from ladyjdesignstore.com you are agreeing to the terms outlined in this document. All graphics, once sold or downloaded free of charge, do not become your property.

By accepting these Terms of Use and downloading LadyJDesignStore Exclusive Product, you are also agreeing to abide by the individual Terms of Use included in your download.

-------------------

Please contact me if you have any questions, comments or concerns at: contact ladyjdesignstore.com

UNAUTHORIZED USE:

It is illegal to reproduce or distribute copyrighted material without the permission of the copyright owner. Accessing the images and text provided on or within this kit does not give you any rights to use them without the permission of the Copyright owner.

All Materials in ladyjdesignstore.com and what contained in the downloaded files, images and text, are protected by copyright under USA copyright law, international conventions, and other copyright laws. You may not use the Content except as specified herein.
.com

UNAUTHORIZED USE:

It is illegal to reproduce or distribute copyrighted material without the permission of the copyright owner. Accessing the images and text provided on or within this kit does not give you any rights to use them without the permission of the Copyright owner.

All Materials in ladyjdesignstore.com and what contained in the downloaded files, images and text, are protected by copyright under USA copyright law, international conventions, and other copyright laws. You may not use the Content except as specified herein.