Colorful and Reversible Baby Blanket CROCHET PATTERN with Fish, Crochet Pattern for Fish Baby Blanket, Kids Crochet Blanket Pattern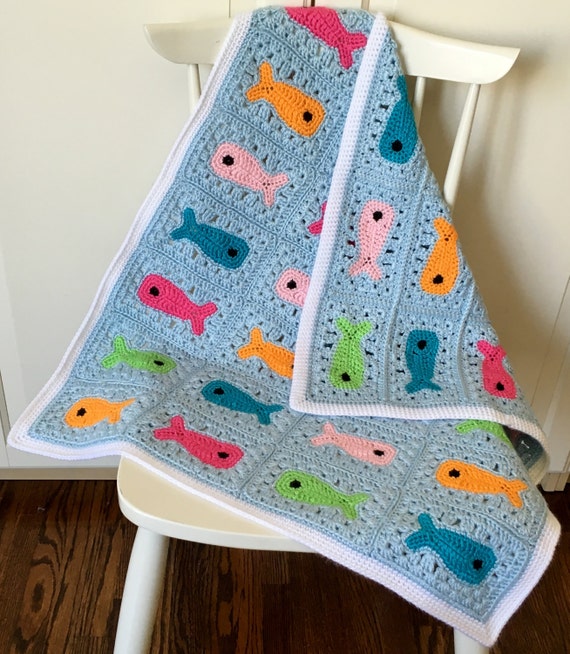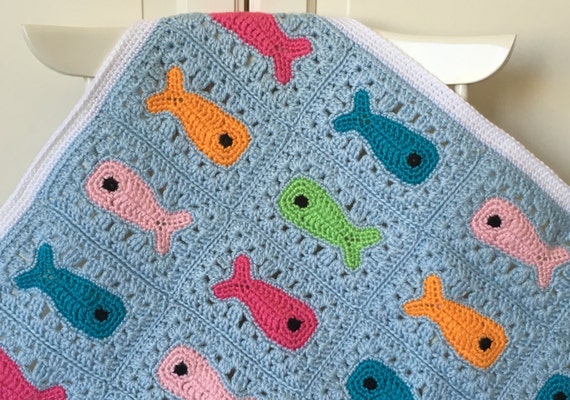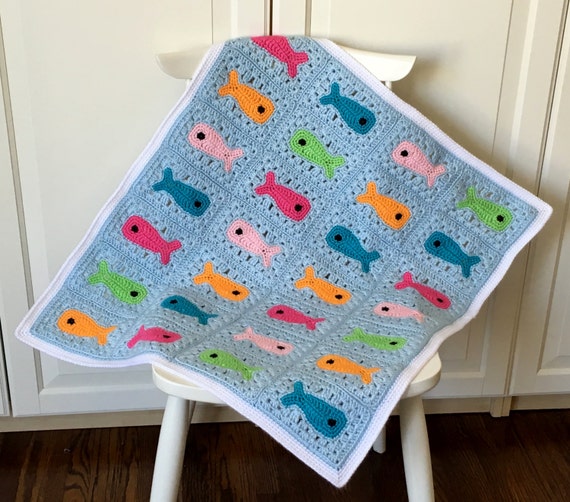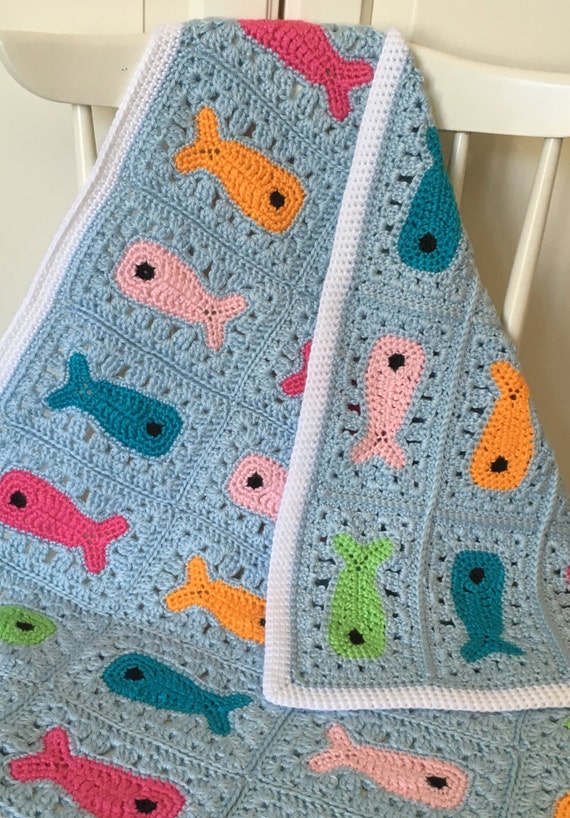 ---
Features
---
Item details
Crochet pattern for a colorful and reversible "fishy" baby blanket / young child's blanket.

This item is a CROCHET PATTERN for a baby blanket. It is NOT A FINISHED blanket. It is a digital document that you purchase to download. The document consists of detailed written crochet INSTRUCTIONS and numerous how-to photos that together explain how to crochet the blanket -- for a very special baby or young child.

This KnotYourselfOut crochet blanket is named: FISHY LITTLE BABY BLANKET.

I know I say it often, and here I go again: I really LOVE this cute and colorful baby blanket. I think the little fish are adorable, and I had so much fun designing them!

With this pattern, I have managed to incorporate the fish right "into" the background (versus sewing it on top of the background, which is what we often see in crochet). It was challenging! I started over endless times, but finally managed to figure it out. The design is actually quite straightforward to make.

I was inspired to create this blanket by the cutest pair of little girl rubber boots that I spotted in the park. They had tiny fish on them in similar colors.

Thank you for checking out my fishy little baby blanket!

This blanket measures approximately 26" wide and 28" long.

It would obviously make a lovely gift for any lucky baby, but because it is made up of one simple, repeated fish rectangle, it would be very easy to make a larger one for a young boy or girl. If you are lucky enough to have access to ocean side property, it would fit in beautifully there as a throw. And, of course, I think it would make a really special photo prop.

This crochet blanket pattern is suitable for an intermediate crocheter. It uses standard North American (United States and Canada) crochet terminology. It has been tested for clarity and accuracy by a professional crochet designer. In addition, and as mentioned earlier, it contains step-by-step how-to photos. I am confident this pattern will make for a happy crochet experience (and a very nice fish blanket).

I am available to answer questions, should you have any.

Thanks again for stopping by.

To view more Knot Yourself Out crochet patterns / designs, please visit my shop:

https://www.etsy.com/shop/KnotYourselfOut

Sonja Hood, KnotYourselfOut Crochet Patterns

P.S.

If you wish to sell finished blankets (online) made using this pattern, you may do so, PROVIDING you give me (Sonja Hood, KnotYourselfOut Crochet Patterns) credit as the blanket's designer. I would also greatly appreciate the inclusion of a link to my shop:

https://www.etsy.com/shop/KnotYourselfOut

Thank you.