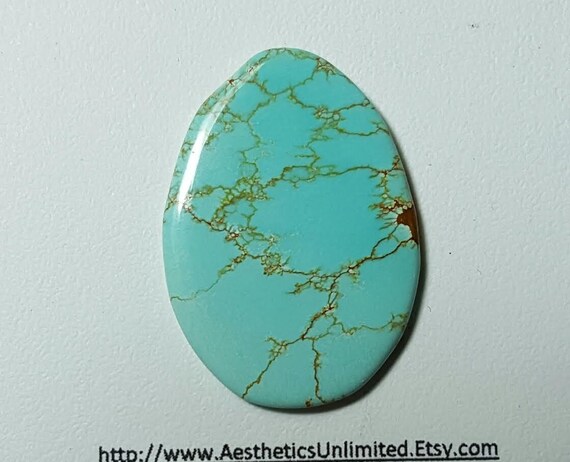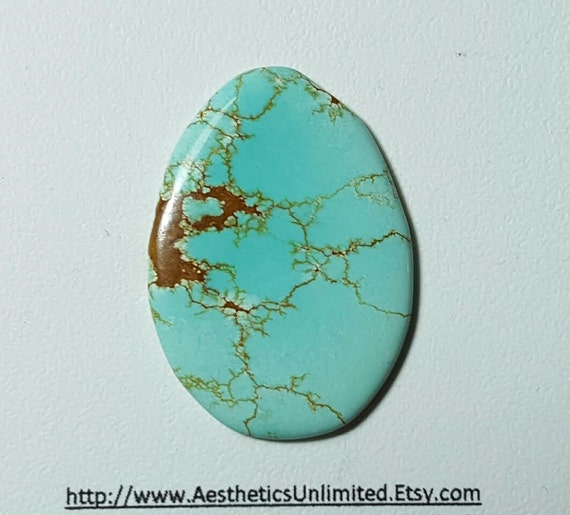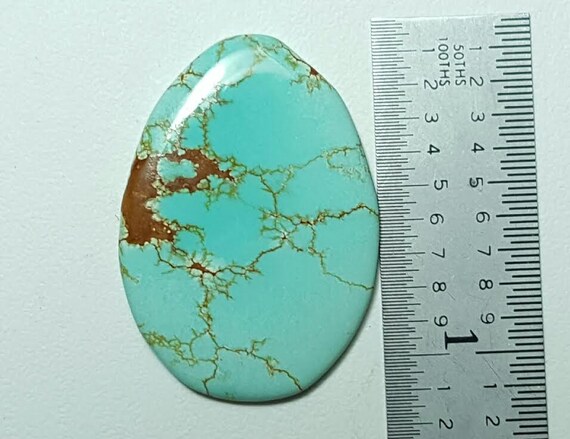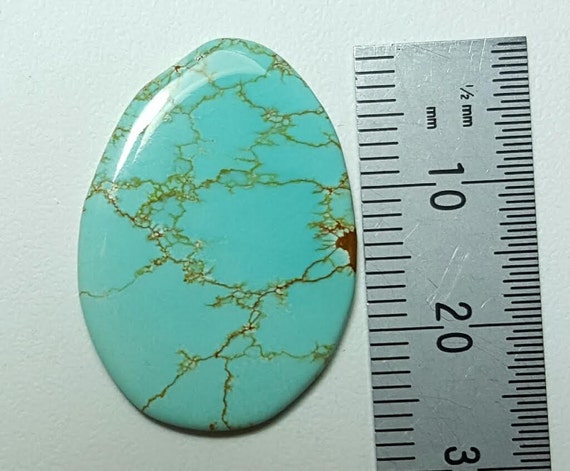 Arrives from the United States
---
Features
Made in Boulder, Colorado
---
Item details
This is a beautiful natural Turquoise polished cabochon from Majkojyn Kazakhstan.
Ruler measurements are in inches in picture 3 and millimeters in picture 4.
Picture 2 shows the other side of this cabochon.
Approximately 27mm x 19mm x 2mm thick.
This sweet Turquoise cabochon weighs 9.5 carats.

Please don't forget to check out my other rare supplies & see my other Etsy shop to see more rare Dioptase & etc. crystals, meteorites etc. & gemstone jewelry at:
http://www.AestheticsUnlimited.Etsy.com

Enjoy!!! :o)
---
---
More from this seller
---
Shipping & policies
Arrives from the United States
Estimated Shipping
I ship all USA orders using the (USPS) U.S. Post Office - Mon. Wed. & Fri. only.
I need to receive your order at least 24 hours prior to my next normal ship day.
All items shipped within 24 - 48 hours unless it is a holiday or the weekend items will be shipped the next business day inside the USA.
*I ship all low cost INTERNATIONAL orders 1 (one) time per week shipped just using regular First Class type mail - on Fridays ONLY - especially if it is during a busy time of year where the USPS has extremely long post office lines - unless it is an order I ship using *Express International Priority type shipping will get next day shipping.
This is due to I need to have all International shipping labels scanned in and accepted by a U.S. postal clerk unlike packages I can easily drop off on packages shipped inside the USA with already printed ship labels.
***WARNING - International Shipping Rates may or may not need to be adjusted.
I might not be charging enough for shipping or if I am charging too much you will get an immediate partial shipping refund back right after I print your shipping label.
If I am not charging enough for International shipping, or if I feel your order needs a better type of shipping upgrade the customer will be notified after purchases and another added invoice for postage cost will be sent to the customer. (This does not apply for orders shipped inside the USA).
WARNING***EXPRESS *INTERNATIONAL shipping rates may need to be adjusted for International customers. I AM NOT CHARGING ENOUGH FOR SHIPPING RATES or I might be charging too much.
Shipping Rates will be updated and adjusted as soon as I get more time to reflect the USPS postage rates and to also include Etsy's % fees and packaging supplies to be able to ship. (This is not for USA customers). International Customers = Please keep reading below on shipping.-> ***************************************************************************************
Most shipping rates have been averaged out and set to include shipping supplies and postage cost rates although they might be different for *International customers (please read below).

****************************************************************************************
U.S.A. CUSTOMERS please read below & scroll down for *INTERNATIONAL shipping ->
****************************************************************************************
All items shipped in the USA using USPS 1st Class shipping will include a delivery package tracking # that will be sent out in an Etsy shipped link message email after package is shipped.

Any items shipped in the U.S.A. (only) that have a value over $50.00 (USD) will get automatic shipping insurance on your package.

If you think you need added shipping insurance on smaller orders with a value *lower than $50.00 shipped in the USA - please contact me to add additional shipping insurance to your order.

I normally use regular (1st) First Class shipping that usually takes 3 - 5 business days to be delivered in the U.S.A., although orders might take a little bit longer during busy holiday seasons and around the month of December.

*If customers in the U.S.A. think you need *Expedited shipping please contact me to add in additional shipping rates for Priority or Next Day shipping if my ship rate upgrades are not already set.

****************************************************************************************
***ALL ***INTERNATIONAL ***CUSTOMERS please read below about shipping details ->
****************************************************************************************
***INTERNATIONAL CUSTOMERS - Most ***LOW COST items are shipped to most (not all) countries (*depending on the country) using - regular 1st class shipping.
*International shipping rates may need to be adjusted depending on the country I ship to and if I feel you need a *Shipping *Upgrade to include better added shipping insurance so I can feel I am shipping your order to you safely.
***NO MORE SHIPPING TO - *SPAIN (your customs and postal system are too incompetent to deliver packages in the past!!!), GREECE, most of AFRICA, MIDDLE EAST (SAUDIA ARABIA, QATAR) OR MEXICO WITHOUT sufficient *SHIP *INSURANCE added to your order ETC. (I may choose to not ship to your country if I feel your countries customs and postal system are too incompetent to deliver packages and you will be sent back a refund on the order - so please contact me before purchases especially on larger or more expensive purchase orders.
Italy's customs has been known to take over 1 month to finally process packages that were also shipped using fast Express International type shipping.
S. Africa's customs is also known for picking through customers packages and they take what ever they want. So as I say I may choose to not want to ship to your country).
PLEASE READ BELOW!!!
***ALL INTERNATIONAL CUSTOMERS -
I have shipped to *over 40 different countries in the past but -
*+*PLEASE CONTACT ME *BEFORE PURCHASES!!! = to make sure I ship to your country and in case I need to check postage cost rates especially if you purchase *multiple *items and if you (or if I) feel you need a shipping upgrade from regular First Class to Express International type shipping to include better added shipping insurance on ORDERS THAT EXCEED $75.00 (USD).
***NO Customer should expect me to put a large expensive purchase order value on an International customs form and then ship with little or no insurance!
***(If I add shipping insurance on all orders shipped *inside the USA with a value of $50.00 what makes you think I would ship orders out of the USA without added insurance?)

Most (***Not all) listings shipping rates for International shipping have been averaged out and set to include added *insurance & delivery package tracking on items that exceed my $50.00 - $75.00 USD limit and have been estimated for world wide shipping using shipping methods listed - please read below.

****************************************************************************************
***INTERNATIONAL CUSTOMERS - SHIPPING OUT OF THE U.S.A. - ***DETAILS on how to add insurance and delivery package tracking on your order ->
****************************************************************************************
PLEASE NOTE: 10-11-2016 - REGISTERD TYPE SHIPPING HAS BEEN *DISCONTINUED FOR *MOST *COUNTRIES - due to Registered type shipping does not cover enough shipping insurance and only goes up to approximately $45.00 insurance coverage for most countries - although if you feel you do want Registered type shipping please contact me.

***An EXPRESS INTERNATIONAL shipping upgrade is required for most orders that exceed $50.00 - $75.00 where I can purchase additional shipping insurance on larger purchase orders.
***I might let international customers put a little over the $50.00 - $75.00 value in a (1st) First Class package (shipping at customer's own risk) but definitely *not by much more or I will require a shipping upgrade to add additional shipping insurance.
*You might be sent an additional PayPal invoice to cover added postage cost.

I use ***EXPRESS INTERNATIONAL ONLY on larger or more expensive purchase orders.
There is only 1 size for EXPRESS INTERNATIONAL (FLAT RATE) shipping which is lower cost than shipping by weight.
*It does not matter how much *weight I put in an Express *Flat Rate 12.5" X 9.5" inch padded envelope package. I usually use another box inside the padded envelopes.
*I normally have to purchase postage for Express International Flat Rate shipping at the USPS - but as I say it *costs *less than printing up a shipping label using PayPal and shipping by weight.
Package Tracking information is sent back in an Etsy shipped link convo or you can also check your PayPal account for package tracking information after I ship.
I HAVE ALSO HAD TOO MANY PROBLEMS TRYING TO PRINT INTERNATIONAL SHIP LABELS (that won't print) FROM PAYPAL - I AM *FIRM ON WHAT TYPE OF SHIPPING I USE!!!.

***EXPRESS INTERNATIONAL SHIPPING cost rates = *Flat Rate (9.5" x 12.5" inch) envelope cost (that always *costs *less than shipping by weight after USPS raised their postage rates) =
* $64.00 postage cost that includes package tracking.
Express International - covers and *automatic $200.00 shipping insurance = although more *added shipping *insurance may be purchased for larger purchase orders.
(I am usually able to fit another shipping box inside the flat rate padded envelopes).

*+*Express International package tracking # will be sent after package is shipped using an Etsy shipped link email message.

*INTERNATIONAL CUSTOMERS - If you need a shipping upgrade - shipping supplies needed to be able to ship (such as low cost shipping boxes / bubble wrap / tape cost + and packaging handling fees to package *additional items) also need to be added in plus (+) PayPal's 4.1% to equal total for postage cost.

***If you do not contact me before purchase and I think you need a shipping upgrade for me to feel that I am shipping your items to you *safely - and postage cost is not enough that was stated in listings after purchases - I will send another PayPal invoice for any additional postage cost.

I am not responsible for any countries International import Duty Tax fees that also may be applied for shipping goods to another country when you get your package.
Where Duty Tax fee rates start at also depends on your country.

****************************************************************************************
***IF YOU NEED TO CONACT ME WITH ANY QUESTIONS PLEASE USE THE ETSY ***CONVO LINK (only) THAT LOOKS LIKE AN ENVELOPE ICON AT THE TOP OF THE PAGE.
*************************************************************************************************
*+*PLEASE NOTE: If I notice you purchase from both of my shops (A.U.1 & A.U.2)*+*
****************************************************************************************
ALL ITEMS WILL BE SHIPPED SEPARATE ***unless you send me an Etsy *convo or a *note with purchase order telling me - you purchased from both shops and would like items shipped together in same package!!!
BOTH ETSY AND PAYPAL NAMES NEED TO MATCH ON THE ORDERS.
A partial shipping refund will be sent by PayPal - *after purchases and orders are reviewed.
I do not have time to make separate invoices. I have 2 shops for a reason.
If for any reason I feel you paid too much for shipping I usually always send back a partial refund.
IF I NOTICE YOU PURCHASE FROM BOTH SHOPS I USUALLY COMBINE YOUR ORDERS AND A PARTIAL SHIPPING REFUND IS SENT BACK BY PAYPAL along with a note.
****************************************************************************************
*****If for any reason you do not get your package please contact me.

***I do not have International Customers purchase large purchase orders and try and tell me to ship with NO insurance! = Your order will most likely be cancelled if customers are not willing to pay for postage cost to include additional shipping insurance for LARGER purchase orders - for the last time PLEASE READ POLICIES!!!

I make sure to ship your items in a *timely manor, *well *protected and as *safely as possible!!!

Have a beautiful day!!
Love & light!!!
K.
Aesthetics Unlimited 1 & AU2 Shops
---
Payments
PLEASE READ BELOW before purchases!
Payment is due immediately after purchases.
I ship using the (USPS) U.S. Post Office Monday Wednesday & Friday only for USA.
I ship 1 (one) time per week for all low cost International orders shipped just using regular First Class type mail - on Fridays ONLY - unless it is an order I ship using Express International Priority type shipping will get next day shipping.
***WARNING - This shop has been temporarily changed to ship inside the *USA ONLY - caused by the incompetent USPS shipping me back international orders.

International Shipping Rates may or may not need to be adjusted.
I might not be charging enough for shipping or if I am charging too much you will get an immediate partial shipping refund back right after I print your shipping label.
If I am not charging enough for International shipping, or if I feel your order needs a better type of shipping upgrade the customer will be notified after purchases and an added invoice for postage cost will be sent to the customer. (This does not apply for orders shipped inside the USA).
All sales are final after purchase - so please be sure you want the item before purchase! This has not changed since I opened!!!
***Please read below about my shipping policies.

Thank you!!!

Have a beautiful day!!!
Love & light!!!
K.
Aesthetics Unlimited 1 & AU2 Shops
---
Returns & exchanges
I don't accept returns, exchanges, or cancellations
But please contact me if you have any problems with your order.
Additional return information
ALL SALES ARE FINAL!!! = so please make sure you want item before purchase!!!

Items are not returnable or refundable UNLESS -

1.There is something wrong with the item when you get it.
2. If item gets damaged during shipping.
3. If I might have accidently shipped the wrong item.
4. If I sent something with your order giving the customer the option to return the item if they did not like it = which is rare because normally ALL SALES ARE FINAL and this has not changed since I opened.

Please contact me immediately and make sure to hang on to your shipping label with insurance #.

I AM THE ONLY PERSON THAT CAN CANCEL YOUR PURCHASE ORDER!!!

I am not responsible for lost or stolen packages but I ship as safely as possible so this does not happen!!!
---
Additional policies
No trades / no soliciting!