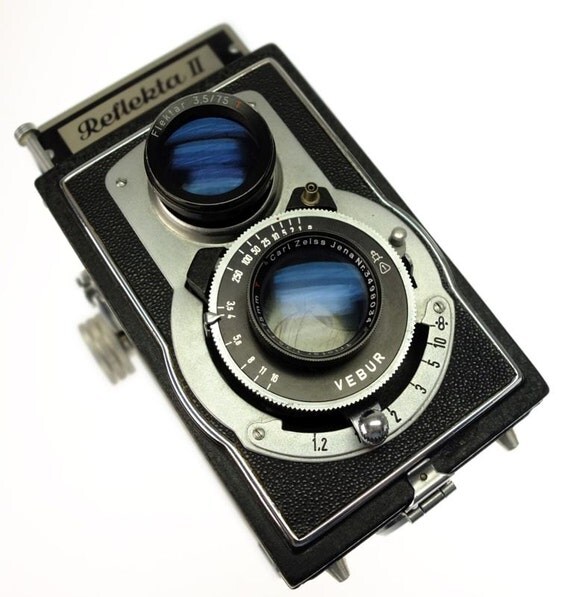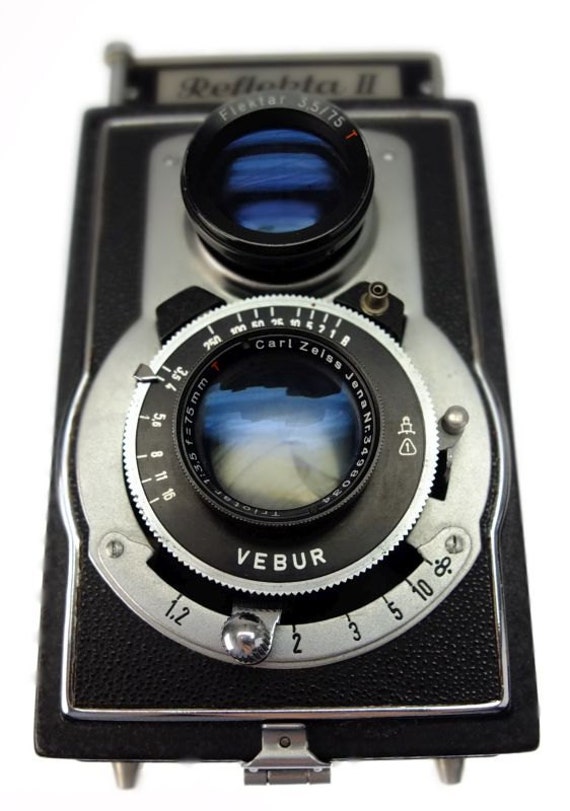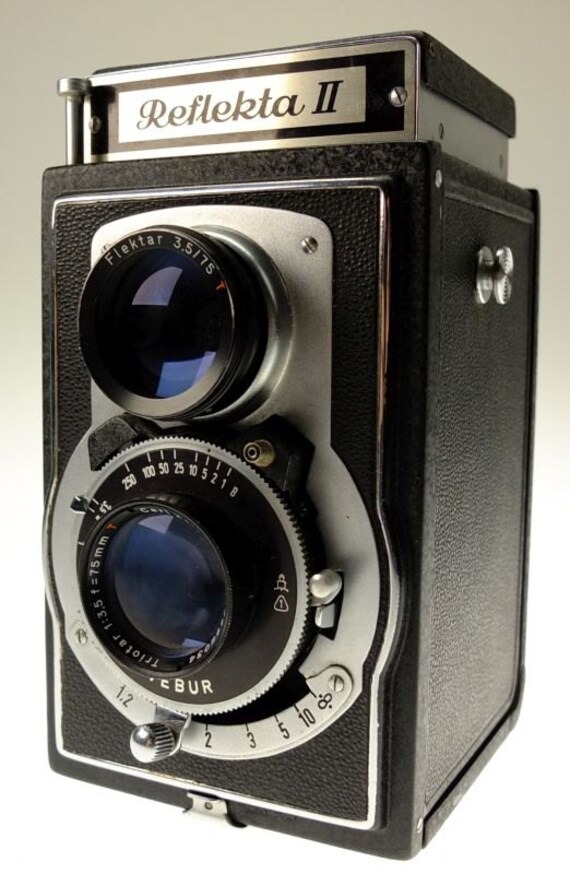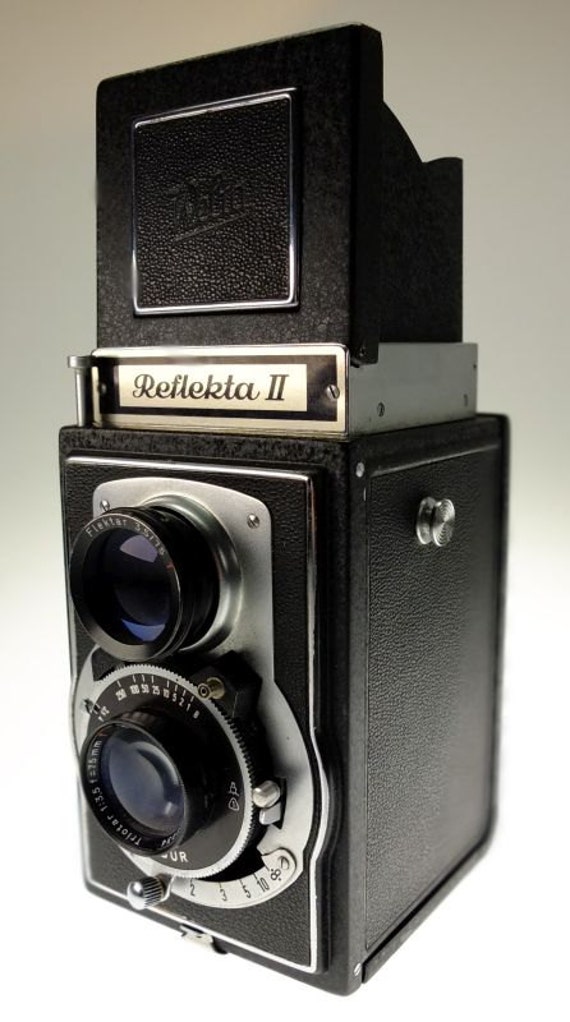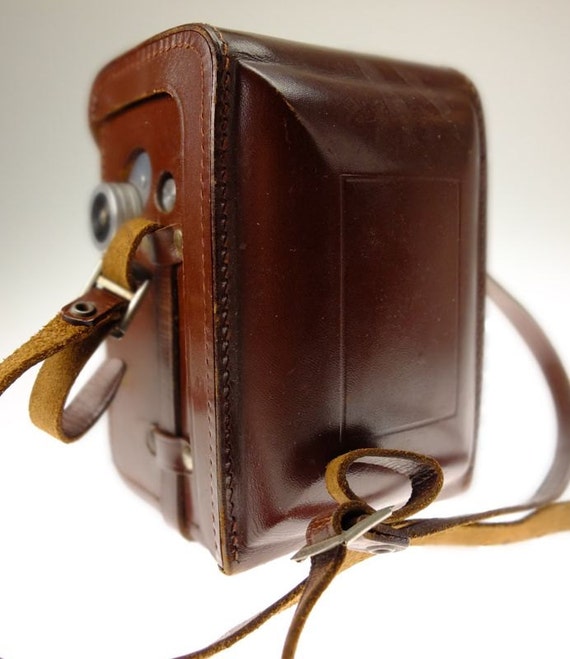 ---
Features
---
Item details
Welta camera

Brand: Welta
Description Camera: TLR Welta Reflekta II with Carl Zeiss Triotar 75 mm f 3,5 T
Camera type: TLR two-lens reflex camera
Description Lens: Carl Zeiss Triotar 75 mm f 3,5 Red T + Flectar 75 mm f 3,5 Red T
Closest focusing distance: 1.2 m
Deadlines: 1 sec-1/250 sec + Bulb
Lens Serial number: Carl Zeiss Triotar: 3498034
Lens type: fixed focal length

Condition camera: Condition very good, see pictures
Searcher: O.K. , Some dust in the viewfinder
Leatherworking: O.K. , Very good without error
Body: very good, with barely visible traces of use
Closure: the shutter works. Only for the times under 1/10 sec the hook

Condition lens: the triotar is clean up on a little dust
State Aperture and focus: the aperture is light. The bezel is not oiled. The focus is somewhat difficult.
Camera function checked: the camera works
Film: 6 x 6 roll film
Bag + camera strap: the original leather case and strap is included
Year of construction: approx. 1950
Camera serial number: 37/3/8/1001
Weight Body + Lens: 838 grams


Comment: very well received analogue TLR camera functional. The camera has been tested for all functions. The condition of the bodysuit is almost like new with very little use traces. See pictures. The leather case has only a few uses for the age.

Dimensions
Height: approx. 14 cm
Width: approx. 7 cm
Depth: approx. 9 cm

If you would like to order more articles from my shop, please contact me before the order, I then look for you the cheapest shipping costs.
---
Shipping & policies
Preparation takes 3-5 business days
Estimated Shipping
Shipping is with german Post.
After sending the goods I send the tracking number of the package.
When purchasing multiple items, I offer combined shipping.
---
Payments
1. These terms and conditions apply to all contracts, deliveries and other services by the shop "oldcamerasandmore" to their customers. Deviating provisions of the Customer do not apply, unless the Seller has expressly confirmed in writing.
2. The business relationship between the seller and the customer are subject to the law of the Federal Republic of Germany, excluding the CISG.
3. Jurisdiction is Frankfurt if the customer is a merchant or a legal entity under public law or public special assets.
4. The contract language is German.
5. In individual cases, with the customer agreements reached (including side agreements, supplements and amendments) shall in any case take precedence over these Terms and Conditions.


Offer and contract conclusion:
°°°°°°°°°°°°°°°°°°°°°°°°°°°°°°°°°°°°°°
The presentation of products in our online shop is not a legally binding offer but an invitation to order, provided that this is desired by the customer. All offers are valid while stocks last, if not stated otherwise in the products. Errors excepted.
The presentations of goods in my shop are not yet a binding offer of "oldcamerasandmore". By clicking the button (in the cart) are each person a binding order for the goods listed on the order side. The purchase contract is concluded when "oldcamerasandmore" accepts the order through an order confirmation via e-mail immediately (1 week) after the receipt of the order. Goods then must be paid within 7 working days, unless there are still further agreed payment dates or opportunities via email at settlement of the sale between the seller and the buyer.

Retention of title:
°°°°°°°°°°°°°°°°°°°°°°°°°°°°°°°°°°°°°°
Until full payment the goods remain the property of
"oldcamerasandmore" / Manuela Rechter.

(End of the Terms and Conditions)

Information and payment:
°°°°°°°°°°°°°°°°°°°°°°°°°°°°°°°°°°°°°°
Payment:
Ordered goods must be paid in "forward" by bank transfer within 7 working days, with the payment options stated there.

Delivery:
Goods which is available is, within the information specified in the order box (1 to 7 business days) AFTER receipt or be sent as it is stated in the shipping box. If the goods are made only after the customer, the customer gets called a delivery date before the binding order.

Prices:
The stated prices are final prices plus shipping and handling. Exact Porto details, please refer to the product description.
Is sent with German Post, DHL or Hermes Versand.
After Kleinunternehmerregelung §19 UStG the VAT. not been shown separately from me.

Delivery, transfer of risk and
Rücksendekosten:
°°°°°°°°°°°°°°°°°°°°°°°°°°°°°°°°°°°°°°
1. The ordered goods are, unless otherwise agreed contractually, delivered to the address specified by the customer. Delivery will be made from the warehouse of the vendor or directly from the manufacturer.

2. Information on the delivery deadline is not binding, unless the date of delivery of the seller was promised. Goods that are in stock, shipped the Seller within 7 working days of receipt of payment by the customer. If not in stock the goods on receipt, the clerk tried to fastest possible delivery. If non-compliance with a delivery or performance period due to force majeure, labor disputes, unforeseen obstacles or other of the Seller due to circumstances beyond the deadline will be extended.

3. A customer has in the case of the exercise of his right of withdrawal in distance contracts to bear the cost of returning the goods if the delivered goods ordered corresponds and if the price returned does not exceed an amount of 40 euros or if the customer at a higher price thing at the time of revocation has not yet paid the consideration or a contractually agreed partial payment.
Just as the goods have been sent abroad + Inland with insurance, the buyer of these goods must send back also to the shop "oldcamerasandmore" again.
If the goods are sent back in uninsured mail delivery, and will be lost by post, no cash return will be reimbursed for the loss of the goods.
For customs duties or other country-specific monetary surcharges on the goods, or the buyer assumes the full cost.
This can not be accepted "oldcamerasandmore" in advance or in retrospect from the shop.
We therefore ask all buyers to be informed before any purchase over customs fees or other monetary premiums in advance to avoid unnecessary additional costs that are not wanted.
-Ends-
---
Returns & exchanges
withdrawal
You have the right to cancel within fourteen days without giving any reason this contract.
The revocation period is fourteen days from the date on which you have taken, or a representative of your third party who is not the carrier, the goods in possession or has.
To exercise your right of cancellation, you need me, (Manuela Rechter, Suder Allee 19, 25524 Itzehoe,Germany, Mobile: 0176/97301516) by means of a clear statement (. Example, a consigned by post mail, fax or email) on your decision to withdraw from this contract, inform.
You can use this to send me by email the withdrawal form, which is not mandatory, however.
You can fill out the cancellation form or any other unequivocal statement by email and send it to me or send me by post to the above address.
Make use of this opportunity, so I will provide immediately (eg. Example, by e-mail) a confirmation of the receipt of such a withdrawal.
In order to observe the revocation period it is sufficient for you to send the message about the right of withdrawal before the withdrawal deadline.

Effects of withdrawal
If you withdraw from this contract, I gave you all the payments that I have received from you, including delivery costs (with the exception of the additional costs arising from the fact that you have chosen a type of delivery other than that offered by me expensive type of standard delivery have), and repay immediately latest within fourteen days from the date on which the notification is received about your cancellation of this contract with me. For this repayment, I use the same method of payment that you used in the original transaction, unless you explicitly agreed otherwise; in any case you will be charged fees for such repayment. I may withhold the reimbursement until I have received the goods back again, or until you have demonstrated that you have returned the goods, whichever is the earlier.
You have the goods promptly and in any event not later than fourteen days from the date on which you notify me of the cancellation of this contract, to me (Manuela Rechter, Suder Allee 19, 25524 Itzehoe,Germany) return or personally handed.
The deadline is met if you send the goods before the deadline of fourteen days!
You bear the direct cost of returning the goods!
You only need to pay for any diminished value of the goods, where the value of the loss on one for testing
The nature, characteristics and functioning of the goods is not necessary to deal with them is due.

(End of cancellation)