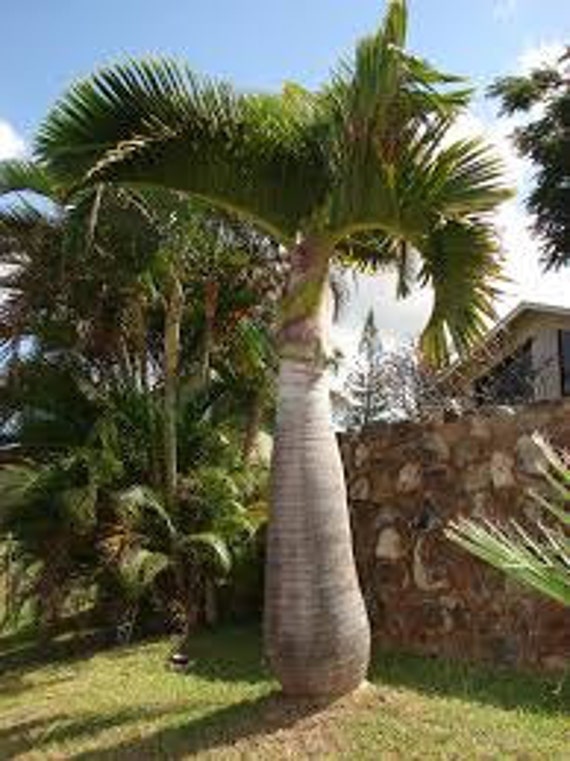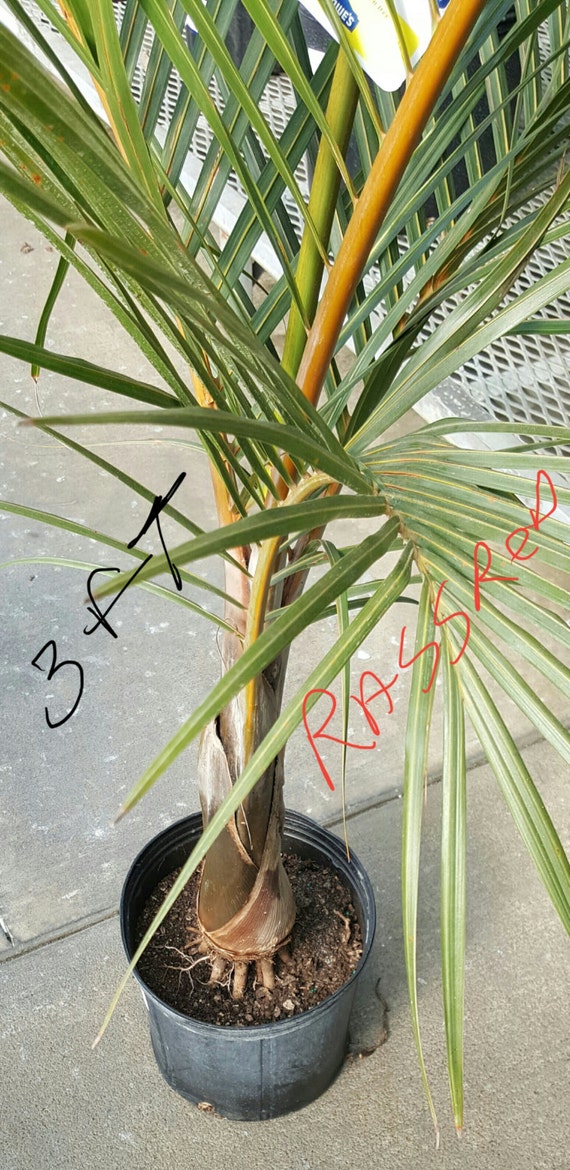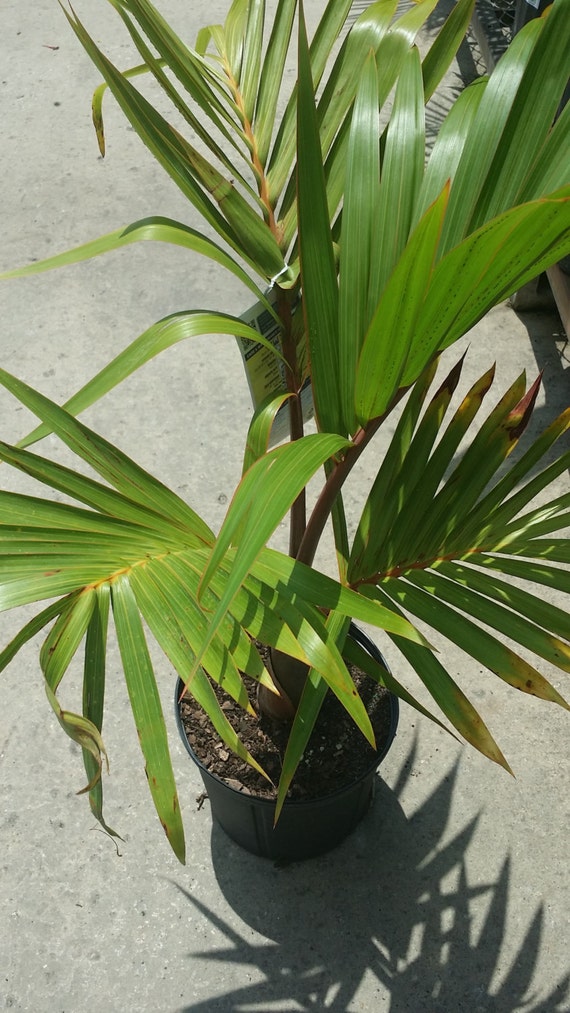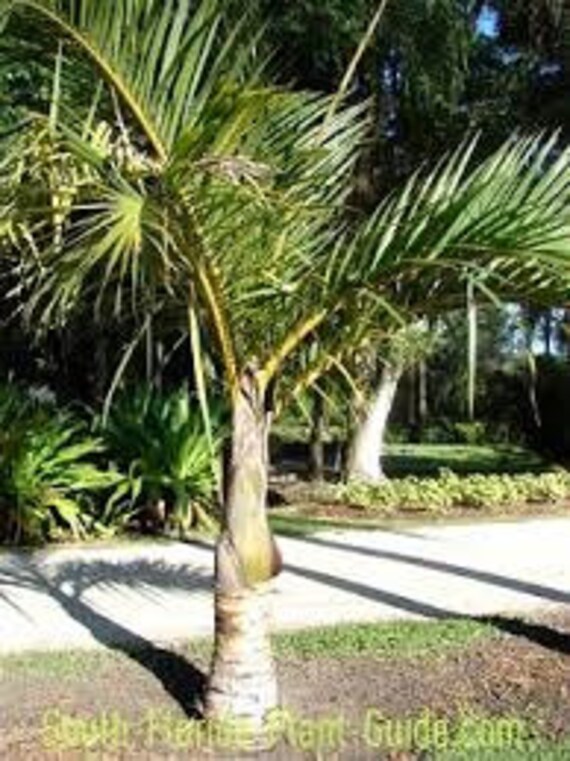 Preparation takes 1-3 business days
Arrives from the United States
---
Features
---
Item details
You will receive one 3 foot tall Spindle palm with each order.

Landscape palms like these make impressive single specimen plants.
They can also act as sentries at the entrance to a property, or as pretty additions to a tropical palm garden.
This palm's trunk, straight and sturdy with ridges resembling a spindle, lends itself to underplantings of shrubs and flowers.
Spindles are some of the easier-care palm trees of Florida...they love a sunny spot, don't need a lot of water, and their high salt-tolerance makes them great beach-side plants.
Plant specs
Spindle palms grow slowly to about 20 feet. They can take full sun to partial shade, though a planting in a sunnier location keeps these palms robust and looking their best.
The spindle is salt-tolerant and drought-tolerant once it's established.
Moderately cold hardy, it does well in Zone 10 or in warmer areas of Zone 9B with protection. Frost will damage the foliage but generally the spindle will live through most brief cold snaps.
Plant care
The spindle palm should be planted with top soil or organic peat moss added to the hole.
Once the palm is established, a good watering once a week throughout the year should be enough to keep it happy.
Though its nutritional requirements are low to moderate, fertilize once a season in spring, summer and fall.
Spindles can be prone to a potassium (K) deficiency, so make sure you use a high potassium granular fertilizer. You'll notice the first signs of this deficiency when you see orange specks on the leaflets of older fronds.

Even in Zone 10 winter protection might be necessary for younger palms. Established ones usually only suffer damage to the foliage.
Trimming off old fronds is only occasionally necessary since this palm is a slow grower. Leaf bases can be left on the trunk or gently removed.


Spindle Palm Houseplant Spindle palm trees are fairly common indoor plants. The tree is endemic to the Mascarene Islands near Madagascar where it thrives in dry, sandy soil. It is only hardy in United States Department of Agriculture zone 11, but it makes an excellent indoor tree and its growth is slow enough to make it perfect for a container. There are a few things to know about growing spindle palm inside, most importantly is the amount of water this pretty palm should receive. In their native environment, spindle palms reach 20 to 25 feet in height and can grow 6- to 10-foot-long fronds. The leaves are made up of numerous leaflets, lending the plant a lacy foliage appearance. Notably, this palm has a spindle shaped stem that widens slightly above the base and then constricts near the crown. The effect is unique and appealing, also decorated with a ringed pattern along the trunk. When planted in a container, the tree will grow slowly and remain relatively short in stature. Indoor trees usually attain a height of 6 feet at maturity. Palm tree houseplants are useful in bright light situations, such as a foyer or brightly lit dining room. Try using a spindle palm houseplant in a sunroom for a tropical feel. Indoor Care for Spindle Palms One of the best things about the spindle palm houseplant is its easy maintenance. The plant does best in full sun but can tolerate lower lighting. The temperature range for this plant is 35 to 80 degrees Fahrenheit (1 to 26 C.). A spindle palm indoors requires consistent moisture but a well-draining planting medium to prevent sogginess. The addition of a little gritty material, such as sand, will enhance drainage and provide loose soil for best root growth. Water deeply when the soil is halfway dry. Watch for pests such as mealybugs and scale. Combat these with alcohol wipes. Occasionally, the plant will shed old leaves. When leaves turn brown, prune them off if you are impatient for the palm to shed the dead foliage on its own. Like all plants, palms, especially those in containers, need supplemental nutrients. A spindle palm indoors will have to rely on its potting soil to provide some of these nutrients. Repot the plant every two years when the soil is depleted and roots become bound. Spindle palms are prone to potassium deficiency. Use a palm food with both magnesium and potassium. Fertilize every 2 to 3 months during the plant's active growing period. Suspend feeding in winter. Water the plant food in well to prevent salt buildup in the soil. Indoor care for spindle palms is very straightforward and they are not terribly fussy trees. Enjoy the statuesque palm in almost any indoor setting and bring it outdoors in summer for a little fresh air and sunshine.
---
---
More from this seller
---
Shipping & policies
Preparation takes 1-3 business days
Arrives from the United States
Estimated Shipping