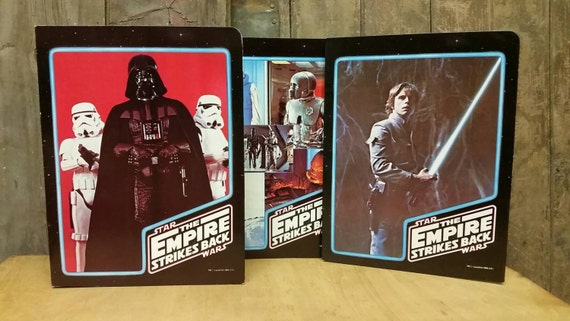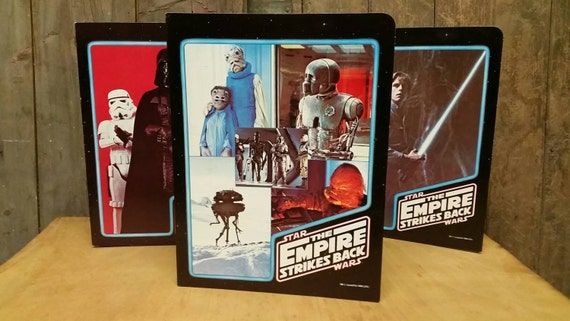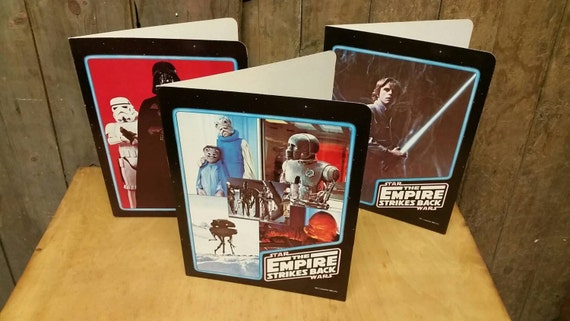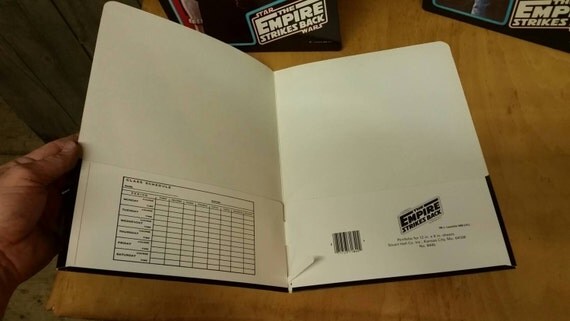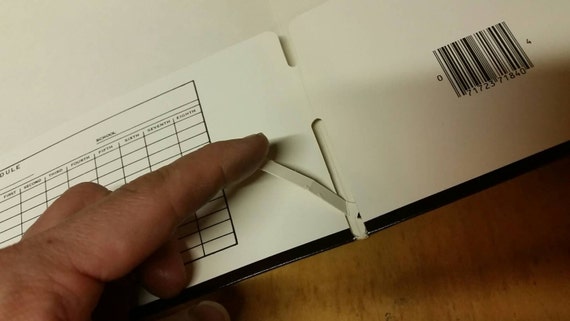 Preparation takes 1-2 business days
Arrives from the United States
---
Features
---
Item details
In 1980 Stuart Hall had the license from lucasfilm to make stationary and school supplies for The Empire Strikes Back.

These are three out of the five portfolio folders that were made for that series.

Darth Vader and Stormtroopers on red background

Bounty Hunter & Creature montage

Luke Skywalker on Dagobah

They are NOS New Old Stock Warehouse leftovers that were never used. They are brand new direct from the shipper boxes.

Some of them may have a price tag on the back side from the chain of stores that originally ordered them. Aside from that they are very fresh and new. Some of them even still have remnants of The Cutting at the factory inside as shown in the last picture.

That said, there is also a range of condition due to being moved and stored in warehouse for several decades. I have divided them by cover and condition to give customers a choice of both style and condition preference with a small discount available for the lesser condition examples.

Grad A examples:
The cleanest, freshest examples with little to no foxing, spider veins, no price tags, residue or price sticker surface tears. They may not be totally out-of-the-factory new, but they are the closest you will get. The cream of the crop. These are the ones that are closest to mint condition.

NOTE: I am sold out of minty Grade A examples of the "creatures" folder, which features the 21-B medical droid as well as Boba Fett and other bounty hunters. I have only a small handful of these left in stock- about 3 or 4- all of which are grade B examples.
I do have plenty of minty Vader folders left and about 10 Luke folders remaining in very clean condition.


Grade B examples:
These are marked a slight discount due to condition flaws which may include one or any number of the following subtle defects:
surface print loss due to price tag loss or removal
tiny ink marks from price tag markdowns at the original retail supplier
spider vein creases to outer cover, usually near edges or corners
price tags still attached in unsightly places on the front cover
Any kind of tiny spots or mild soiled marks from warehouse storage
Any kind of indentations to the outer surface of the cardstock that may have resulted from an impression of a shipping carton, such as box staples or stiff flaps of the original shipper

These Grade B examples will still display wonderfully & were never used but have minor flaws from retail or warehouse storage and price tagging that allow me to offer a discount on them.


Sold individually and priced each. If you wish to purchase more than one style cover you must place them in your shopping cart individually. Etsy will automatically combine your shipping to an economical flat rate combined shipping cost before you check out.
---
---
Fantastic packaging starwarsdan, thank you for keeping it mint!
Jun 25, 2017 by Cody McClure
---
Shipping & policies
Preparation takes 1-2 business days
Arrives from the United States
Estimated Shipping
Small items are usually shipped within 24 hours or one business day.

Larger items, extremely fragile items, or multiple item shipments may require slightly longer to pack safely for transport. If I believe this will be necessary, I will inform the buyer within 24 hours of purchase that it may take longer and provide a dispatch estimate.
---
Payments
I accept and prefer any creditcard that is permitted to be processed through Etsy's checkout system via direct checkout.
I also accept paypal payments of any type from any location.
Checks and money orders are also welcomed but not preferred, as long as they are postmarked within 7 days of completing checkout in Etsy's shopping cart system.
---
Returns & exchanges
Satisfaction is guaranteed. Authenticity is guaranteed.
I HAVE AN OPEN RETURN POLICY.
If your item is not to your satisfaction, simply return it within 7x days for a full refund of the original purchase price and shipping cost.
Return postage is the buyer's responsibility for any buyer-elected return. The buyer is not required to provide a reason for the return, but if you are unhappy with your purchase it helps me to help others if you are specific as possible.
If you find some reason to believe that your item is materially different than I have described it or defective in some substantive way, then I will reimburse your actual postage expense in returning it for a full refund at no cost to you other than the time it takes to give it to your postman or fedex delivery personnel. For large and/or heavy items, I may provide a prepaid Fedex label on my own account with which to send it back. Smaller items may require delivery to your local post office.
---
Additional policies
CONSIGNMENTS ACCEPTED:
I encourage consignments of quality vintage toys and collectibles of at least 20 years of age, one piece or many. I have taken on entire collections as well as childhood lots from estates in the past. I am thorough, careful and meticulous. Your property is safe with me no matter what size it may be. My business name can be found in a few pricing guides, and I have consulted for guides in the past. I have access to thousands of sales records going back many years, and I cross-reference between actual sales history of several sources along with average asking prices of similar items currently available from other professional vendors on the internet. I also have strong connections to the collecting community which I can use to gather insight and opinion from serious collectors and experts the world over!

If you are too far away to bring your items to my location in northern New Jersey, you may ship it to me for a consignment estimate and examination.

To start the process, it helps if you can send a list of your items, values you wish to achieve if you have some idea, and images of your items. I am very selective and will give you an honest appraisal of whether or not I think I can sell the items and what I expect to get for them. If the items you have do not meet my standards, I may reject some items. So photos and specifics are always the best course of action before beginning a consignment.

Consignment split is 35/65, the owner retaining the larger portion of 65% of the item's value. If the sale price prior to shipping expenses exceeds $999.99, my rate is reduced to 25%, the owner retaining 76%.

I do not use one-cent or 5-cent pricing incentives ($9.95 as opposed to $10). My asking prices are always whole dollar amounts.

Consignment duration is 8 months (two revolutions of Etsy's standard 4-month listing period). This does not include processing time however, which may vary depending on the type, condition, and quantity of items you consign.

Consignors receive written contracts with a specific list of items and time-frame.
All expenses related to the advertisement of the items, storage, cleaning, organizing, and other incidental expenses are born by me, the seller consignee. The cost of transporting the items for consignment is born by the owner/consignor.

If you send items for inspection prior to approval or acceptance of consignment, return shipping will be the responsibility of the owner if the items are rejected.
If you send photos and detailed description of consignment items, and I accept them prior to delivery and they do not sell when the contract expires, I will cover the expense of returning them to you by mail or fedex if necessary.

Consignments that are unsold and unclaimed within 3 months of the contract expiration will be considered abandoned and become the absolute property of me and my store, to be disposed of as I see fit with no compensation due the consignor. It is of UTMOST importance that you take your items back after your consignment contract expires in 8 months if they items have not been sold. I cannot be responsible for long-term storage of unsold goods that are not under consignment contract.

I may invite some consignors to renew a contract at the end of the 8x months if unsold for another period of time that I specify to the buyer under certain conditions (heavy traffic such as holiday shoppers, extremely rare and desirable items), at my own discretion.


Any other questions regarding consignment, or if you think you have items which are a good fit for consignment in my virtual toy shop, drop me a line! and as always...

MAY THE FORCE BE WITH YOU!!