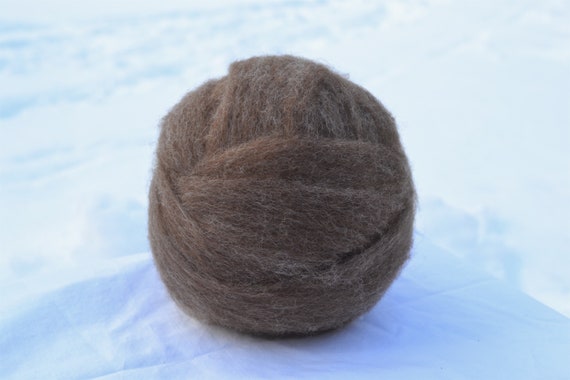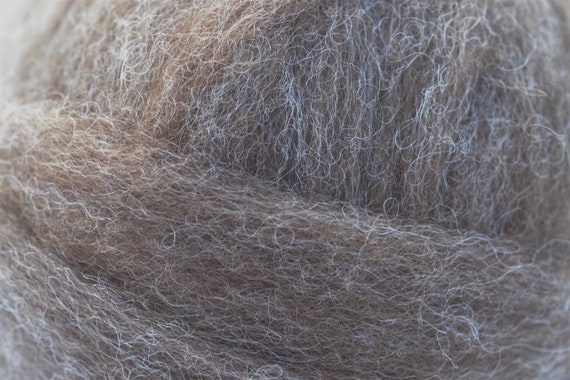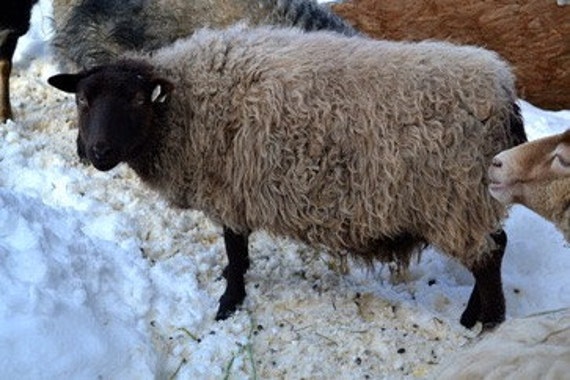 Preparation takes 1-2 business days
Arrives from the United States
---
Features
Made in Bolton, Massachusetts
---
Item details
- This roving was processed by Zeilingers back in 2016
- Each ball is 4oz.

- "Shaniqua" has been producing soft and lustrous, dark brown Shetland fleeces at Freddy's Farm for 7 years.
- This year we decided to make her fleece into roving instead of selling it raw and we are not disappointed in the result. My mom is using it in her felting projects. She really likes the strong felt it makes and the heather color. It will make gorgeous heathery yarn, as well. The heather color comes from her different colored fibers, most are dark brown, and some are lighter from the sun.
- This fleece is technically a double coat, but the two coats blend together seamlessly. The outer coat is not at all rough, so we don't bother to separate it for processing. Since its a double, the staple length is long, like 6 inches long! Which makes the yarn or felt, that much stronger.


* This roving comes from a cat and dog household; neither are allowed in the roving bags.
**Please consider purchasing a sample ( for 1.00) before buying a larger amount. It is very hard to capture the true color of the fiber via picture, so I highly recommend sampling it to see if you like it.

~~~~~~~~~~~~~~~~~~~~~~~~~~~~~~~~~~~~~~~~~~~~~~~~~~~~~~~~~~~~~~~~~~~~~~~~~~~~~~~~~~~~~~~~~~~~~~~~~~~~

Shipping & Returns:
- I ship within 2 business days after receiving payment (via Paypal)
- Free Returns excepted up to 30days after payment
- No more free shipping (sorry friends<3)

About the breed:
Shetlands are a primitive short-tailed breed originating from the Shetland Isles off the coast of Scotland. They are believed to descend from sheep brought to the island by the vikings. They are a member of the Northern-European short tailed breeds, and are used for fiber, and occasionally meat.
They were first imported to the US in the 1980s, and have since spread all over the country. Rams (boys) can range from 95-130lbs, and ewes (girls) between 75-100. Rams typically have 2 spiraling horns, and ewes are typically polled (no horns); but the reverse is also possible. They are known for their incredibly soft and lustrous fleeces, witch can be used for anything from lace shawls, to heavy sweaters. There are 11 main colors, and over 30 markings that Shetlands can have, and several fleece types. There is a long double-coated type, a long and wavy (middle) type, and a short and crimpy beaver coated type. Some people do micron counts to help distinguish between coarse, fine, and super-fine; which I hope to do someday.
---
---
More from this seller
---
Shipping & policies
Preparation takes 1-2 business days
Arrives from the United States
Estimated Shipping
Shipping:
- I ship within 1-2 business days of payment.
- U.S and International shipping are both available, with 7 different classes (prices). So please pick whichever method best fits your means; we aim to please.
- Free U.S shipping is no longer available, except for samples. (It was really cutting into our bottom line)

Insurance:
- If you would like extra insurance for a package, just let me know and I will add it. If a shipment is large (lets say over 2lbs) I will add extra insurance automatically.

International Buyer:
- If you are buying from outside of the U.S, I will check with customs before shipping. If there is an embargo, or hold on an item, then I will notify you and we can proceed from there. *Fingers crossed no such issues occur*
---
Payments
Preferred payment is through PayPal, since it is so secure and reliable.

As for cancellations, just let me know asap. Hopefully before I ship your order.
---
Returns & exchanges
All items are eligible for a refund if they are deemed unsatisfactory, or not what you expected even after asking questions before ordering. Just let me know your reasoning, so it hopefully won't happen again.

If there are any damages or losses, please contact me asap! Then we can work on resolving the problem.

---
Additional policies
Thank you for visiting our ShetlandDelights Etsy site! If you'd like to learn more about where our products come from, feel free to visit our farm website ---> http://www.freddysfarmshetlands.com/

Have a great day!
- Belle