Tektite Meteorite - 1 Medium - Cosmic Connector, Expands Consciousness, Stone of Manifestation, Possibilities and Synchronicities.
(27)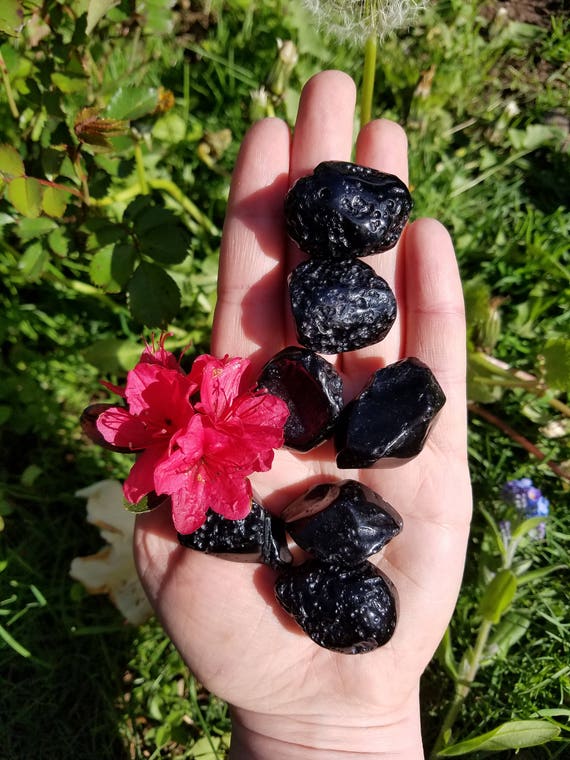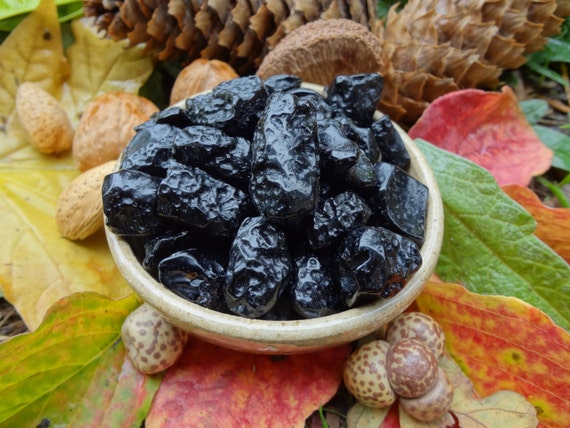 Preparation takes 3-5 business days
Arrives from the United States
---
Features
---
Item details
(Yay! I finally found it! Tektite is an awesome and a wonderful creation which is technically extraterrestrial. Palm sized tektite is soo expensive, and almost unaffordable, so I favored these smaller pieces that are easier to keep on ones self but also to share and gift.)

---Listing Item Description/History/Facts---

-Tektite is a blackish gravel sized natural glass that formed from terrestrial debris that exploded and strewn about during meteorite impact or reentry.

-Tektite gets its name from Greek meaning molten.

-Tektite is 60% silica and is completely void of any microbial traces. Because of its composition and origination Tektites can only be found in a handful of places and are categorized differently than another rocks or crystals. Tektite is characterized based on composition, its content of H2O, its silica glass or non-crystalline mineraloid, content of microscopic crystals and the location it was found.

An article below does a great job at explaining Tektites origin in detail.

"The overwhelming consensus of Earth and planetary scientists is that tektites consist of terrestrial debris that was ejected during the formation of an impact crater. During the extreme conditions created by an hypervelocity meteorite impact, near-surface terrestrial sediments and rocks were either melted, vaporized, or some combination of these and ejected from an impact crater. After ejection from the impact crater, the material formed millimeter- to centimeter-sized bodies of molten material, which as they re-entered the atmosphere, rapidly cooled to form tektites that fell to Earth to create a layer of distal eject hundreds or thousands of kilometers away from the impact site.

The terrestrial source for tektites is supported by well-documented evidence. The chemical and isotopic composition of tektites indicates that they are derived from the melting of silica-rich crustal and sedimentary rocks, which are not found on the Moon. In addition, some tektites contain relict mineral inclusions (quartz, zircon, rutile, chromite, and monazite) that are characteristic of terrestrial sediments and crustal and sedimentary source rocks. Also, three of the four tektite strewnfields have been linked by their age and chemical and isotopic composition to known impact craters. A number of different geochemical studies of tektites from the Australasian strewnfield concluded that these tektites consist of melted Jurassic sediments or sedimentary rocks that were weathered and deposited about 167 Ma ago. Their geochemistry suggests that the source of Australasian tektites is a single sedimentary formation with a narrow range of stratigraphic ages close to 170 Ma more or less. This effectively refutes multiple impact hypotheses.

Although it is widely accepted that the formation of and widespread distribution of tektites requires the intense (superheated) melting of near-surface sediments and rocks at the impact site and the following high-velocity ejection of this material from the impact crater, the exact processes involved remain poorly understood. One possible mechanism for the formation of tektites is by the jetting of highly shocked and superheated melt during the initial contact/compression stage of impact crater formation. Alternatively, various mechanisms involving the dispersal of shock-melted material by an expanding vapor plume, which is created by a hypervelocity impact, have been used to explain the formation of tektites. Any mechanism by which tektites are created must explain chemical data that suggest that parent material from which tektites were created came from near-surface rocks and sediments at an impact site. In addition, the scarcity of known strewn fields relative to the number of identified Impact craters indicate that very special and rarely met circumstances are required in order for tektites to be created by a meteorite impact."

---Metaphysically Attributes & Ancient Wisdom Practices---

-Tektite is commonly known for raising ones vibrations and doing extraordinary work on connecting one with the Cosmos and your purpose.

-Tektite is not a grounding stone, however it does amazingly to strengthen ones aura and make great strides in reaching spiritual heights.

-Tektite is also known for facilitating energy flow between the lower and higher chakras, dissolving any blockages and strengthening the flow.

-Tektite is also used a lot in practice for those who are looking to make advances in everyday aspects of their life. It is used to expand your consciousness, strengthen and deepen your connection while in meditation.

-Tektite is also known as the stone of possibilities and synchronicities thus one is due to experience unusual signs and prosperities if one is open.

-Healers use Tektite in search for the truth. It is said Tektite has an ability to sharpen your senses to discern between fact and fabrication.

-Tektite is also a great encourager and is known as a stone of manifestation.

-Tektite jewelry has been a popular tool for those folks who are on a spiritual journey. It is said one can experience a "thinning of the veil between dimensions" and amplification in their psychic abilities, telepathy, lucid dreaming and astral travels.

-Lastly, Tektite is used by Healers to accelerate physical recovery

---Listing Item Description---

-Listing item includes 1 medium genuine Tektite Meteorite piece. Pieces vary in shapes but are about 1 to 1.5 inches in length and or width.
---
---
Great packaging!! 😗
Jan 6, 2018 by Teri Strandberg
Everything was breathtaking and came carefully packaged in the cutest tissue paper. There was even a lil bag full of extra gifts. I couldnt recommend this shop enough! Thanks so much!
Dec 21, 2017 by Bella
Dec 21, 2017 by gatorchomp28
Such an Amazing seller. She spoils me with the packaging and the wonderful gifts. I have such gratitude for these powerful crystals that are truly blessed with LOVE ❤️
Dec 5, 2017 by Rebecca Nieves
I love my crystals!!!! They are beautiful and powerful ✨
Nov 23, 2017 by jlake91
---
More from this seller
---
Shipping & policies
Preparation takes 3-5 business days
Arrives from the United States
Estimated Shipping
Your parcel will be dispatched within 48 hours of payment, and will be shipped via United States Postal service via Priority mail or First Class mail at my discretion, within 1-5 business days after that, or sooner, permitting my fussy, yogurt covered assistant can move his paws fast enough. Packages take 7-30 days on average to arrive. It is very important that you provide the correct mailing address; I am not financially responsible to redirect your package, or absorb the cost of the buyer's error. Multiple orders may be combined, if inquired in advance of purchase. Please purchase insurance on your orders if you are not willing to run the risk that your order maybe lost or damaged. The Dharma Gild Gems is not responsible for packages that are lost or damaged in transit. However, don't fret, please communicate with me if something goes wrong or if I made a mistake, and I will do my best to help resolve any problems. At this time The Dharma Gild Gems Shop does not offer international shipping.
---
Payments
All items listed require a full payment before dispatching & shipment. Once an order is placed it cannot be cancelled or terminated for any reason. The only form of payment that will be accepted is PayPal, and Credit Cards through Etsy Direct Checkout. Your parcel will be packaged the best way to prevent any breakage, and handled with tender love and care, however, I cannot guarantee what type of day the mailman will be having the day he delivers it to you, so insurance is highly recommended.
---
Returns & exchanges
Because of the nature of my business and in order to provide fair service, affordable and competitive prices, this is an all sales final shop. By placing and making a purchase, you agree to all the policies listed and no other unmentioned assumptions. I'm not able to accept returns, refunds cancellations, or exchanges. All items are described to the best of my ability and are measured with preciseness in millimeters for jewelers' purposes. Some images are enlarged to show detail. Due to the law of relativity and inconsistency of camera lenses, natural lighting, perception, and different display monitors some colors you see, may not be a total representation of the item. But I will strive to show you the best and the most accurate picture of the product. If you are considering a purchase but are unclear about size, color, or anything else listed, shoot me an email first, or consult a ruler, I do this often myself.
---
Additional policies
-The Dharma Gild Gems Shop reserves the right to terminate business with any persons or company, thus resulting in termination of any future transactions. If you find yourself keep purchasing from my shop and report to be very unhappy, your future transactions will be cancelled & refunded. No need for us to be both unhappy. Albert Einstein's definition of insanity is doing the same thing over and over again and expecting different results.

-Some items may not be combined to save on shipping cost due to the safety and preserving of the item. Please take great precaution when unwrapping the parcel to prevent damage, as some pieces hardness levels are fragile and may crack or break under light pressure.

-By Etsy's and cultures requirement for legalese, here is the following mandatory required statement. "The Dharma Gild Gems Shop cannot guarantee of any specific result with the use of crystals that are recommended or listed on this site. Listed crystals are not intended to remedy, prevent or cure any illness. The Dharma Gild Gems Shop recommends consulting your health care provider or FDA approved methods to treat illnesses. The Dharma Gild Gems shop recommends seeking professional advice from an accredited accountant for financial issues and a barred Attorney for legal issues. The information listed on The Dharma Gild Gems Shop is derived from intuitive, ancient and traditional wisdom practices and may not be supported by scientific methods, FDA, or government agencies."

-Some crystals, fossils, & minerals may contain traces of heavy metals or toxic substances. Please refrain from ingesting elixirs made from these crystals and handle with care.

-Any inquiries about the item must be voiced with 10 days of confirmed postal delivery. All items are whole and new, identified correctly and origins carefully confirmed. If you do not agree with the description, picture or policies, please do not make any purchases at this shop.