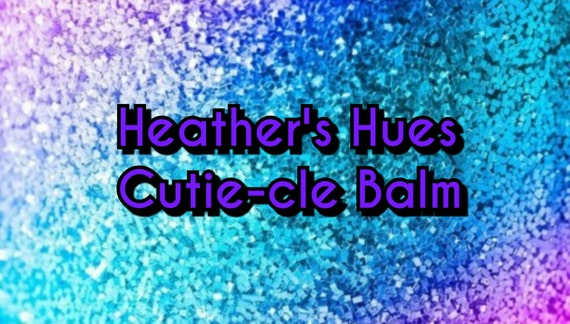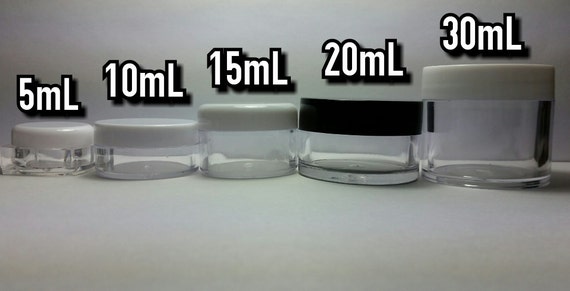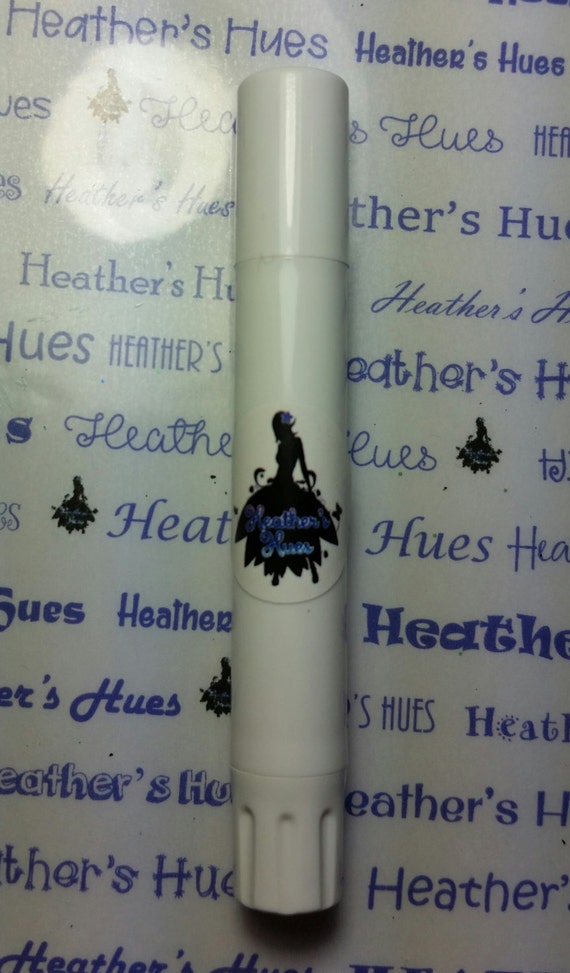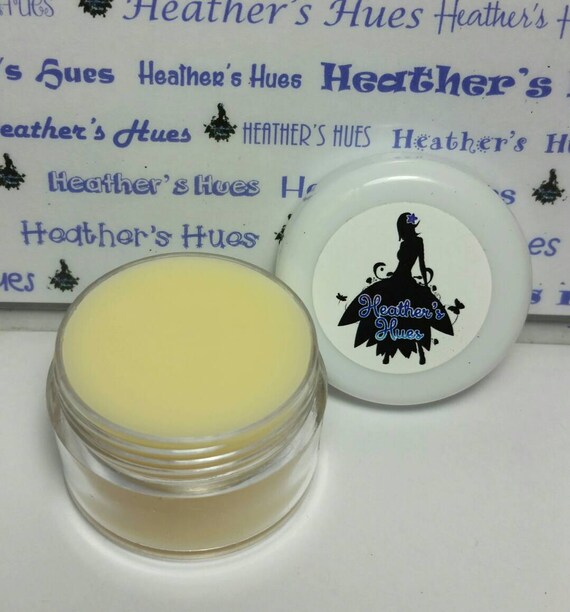 Preparation takes 1-5 business days
Arrives from the United States
---
Features
Made in Franklinton, North Carolina
---
Item details
Please visit our new shop at www.heathershues.com for additional products!

***CONTAINS OILS DERIVED FROM SEEDS/NUTS. PLEASE CONTACT ME IF YOU HAVE ALLERGY CONCERNS OR IF YOU NEED AN INGREDIENT OMITTED/REPLACED***
***SHIPPING ANNOUNCEMENT: PLEASE BE AWARE THAT CUTIE-CLE BALM CAN MELT WHEN EXPOSED TO TEMPERATURES ABOVE 92 DEGREES FARENHEIT. IT WILL SOLIDIFY ONCE IT COOLS OFF SO PLACE IT ON A FLAT SURFACE UNTIL COOL***
Let's face it...nobody likes leaving greasy smudges everywhere when they apply cuticle balm right? I know I don't, but it's totally important to moisturize your nails and cuticles so I just persevered...that is until I developed my own moisturizing, lush, fast-absorbing "cutie-cle" oil, and now I've perfected a Cutie-cle Balm formula that will leave you and your nails happy!! I've used nothing but the best ingredients and like all HH products, Cutie-cle Balm is vegan and cruelty-free. I've experienced amazing results from using Cutie-cle Oil and Balm and know you will too!
Heather's Hues Cutie-cle Balm contains: apricot kernel oil, avocado oil, candelilla wax, chia seed oil, 100% pure coconut oil, fractionated coconut oil, olive oil pomace, rosehip seed oil, sweet almond oil, and vitamin E. The scented options contain essential oils and/or fragrance oils.
In addition to which scent you'd like, please select whether you'd like a 2mL or 15mL twist tube OR a 5mL or 30mL jar. I offer Scent Samples (for Cutie-cle Oil but it'll be the same scent in the balm)...try a bunch and choose your favorites before purchasing a larger quantity!
CORE SCENTS/BEST-SELLERS:
*Baby Powder- a delightfully fresh baby powder scent
*Balance and Glow- delicate honey blossoms kissed with sunny citrus blends, infused with lavender, echinacea blooms, and ribbons of raw vanilla and honeycomb
*Blueberry Tea- A sweet and clean scent; strong and sugary blueberries mixed with freshly brewed tea
*Cake By The Ocean- A scrumptious buttercream and vanilla cake scent that literally makes me drool!
*Cherry Bomb- a black cherry fragrance that is strong and perfectly sweet
*Crazy for Coconut- A sensual blend of sweet coconut, vanilla, and a touch of lily of the valley
*Dragon's Blood- a tantalizing blend of dragon's blood, myrrh, patchouli kissed with jasmine and woody musk
*Fresh Linen- a classic clean and fresh scent
*Maple Leaf- an alluring scent of sweet maple syrup blended with warm vanilla and creamy butter
*Stress Relief- a perfect fragrance to calm your nerves and clear your mind; a blend of eucalyptus, spearmint, lavender, and sage with hints of fresh ozone
*Sugared Jasmine- a sweet, sexy, feminine scent; white floral with top notes of bergamot and orange, middle notes of honey, jasmine, basil, cinnamon, lily of the valley, and violet, with a sugary, patchouli, sandalwood base
*Vanilla Bean Noel- a rich, sweet vanilla sugar cookie with a slightly roasted marshmallow background and a hint of caramel
*Watermelon- sweet and juicy, just like the favorite summertime fruit

***WHY CHIA SEED OIL?*** Chia seeds are rich in essential fatty acids. Bursting with omega-3, chia seeds are also rich in protein, zinc, fiber, and many other vital minerals, antioxidants, and nutrients. I decided to use chia seed oil because it has incredible skin hydrating properties, it heals damaged tissue/skin cells, it has anti-inflammatory properties, and the fatty acids strengthen nails and improve their resistance to breakage and damage.
*Apricot Kernel Oil-absorbs into the skin without leaving that yucky greasy feeling, contains fatty acids and Vitamins A, C, & E which are all great for the skin and nails
*Fractionated coconut oil-easily penetrates and absorbs into the skin, an antioxidant and anti-inflammatory, also high in saturated fats, incredibly hydrating and promotes softer skin
*Avocado oil-naturally hydrating, super moisturizing; penetrates deep into the skin and stimulates production of collagen, improves skin softness and elasticity, high in Vitamins A, D, & E
*Sweet Almond oil-contains a wealth of minerals like zinc, Vitamin E, B-complex vitamins, postassium, proteins, and fatty acids necessary for healthy skin/nails; a mild, light oil that absorbs well
*Rosehip seed oil-rich in essential fatty acids especially Omega-6 and Omega-3, fast-absorbing, perfect for hydrating skin and nourishing, strengthening, and moisturizing brittle nails
*Vitamin E-natural antioxidant and moisturizer, prevents water loss from the skin and helps retain its natural moisture, nourishes nail cuticles, prevents nail breakage and dryness, repairs cuticle damage due to acetone/polish

All of Heather's Hues polishes are vegan, cruelty-free, and 5-free. This means that they do NOT contain 5 of the harsh toxic chemicals that many mainstream polishes do. The 5 nasty chemicals that are NOT in H.H. polishes are DBP, toluene, formaldehyde, formaldehyde resin, and camphor.
The following ingredients are in all Heather's Hues polishes:
Nitrocelluose, ethyl acetate, butyl acetate, isopropyl alcohol, ethyl alcohol. Each bottle also contains two stainless steel mixing balls.
HH polishes may also include FDA approved colorants, PET glitters, mica and/or flakies, silica, calcium sodium silicate, aluminum, tin oxide, iron oxides, FD&C lakes, D&c lakes, iron blue, manganese violet, titanium dioxide, ferric ferrocyanide, ultramarines; Holographic polishes may contain holo dust, a Spectraflair alternative, or Spectraflair.
IF YOU HAVE QUESTIONS ABOUT THE INGREDIENTS OF A SPECIFIC POLISH, PLEASE DO NOT HESITATE TO CONTACT ME! I can be reached by direct message on my Facebook and Instagram as well as by email. My email address is HLW117 [!at] comcast.net.
I always use the highest quality cosmetic-grade ingredients from reputable suppliers for my polishes. Each and every polish is hand-mixed by me personally in a clean and sanitary environment. Almost every polish is made to order. I usually only mix large batches of polish a day or two prior to new collection releases.

Indie polishes are quite different from mainstream polishes. They are made and bottled with love! You'll find there is many more beautiful options when it comes to types of indie polishes. There are also some helpful hints that apply to indie polishes. First, you should always let your bottles of polish reach room temperature before opening them (especially in cold weather months). Next, please ALWAYS use 2 or more coats of a quality basecoat before applying polishes. ***DUE TO THE HIGH PIGMENTATION OF SOME POLISH COLORS, NAIL STAINING MAY OCCUR*** (This is why using a quality basecoat is so important). Also, you may find it helpful to set your bottle of polish upside down for about 10 minutes before use, then roll it around in your hands. ***SOME OF THE HEAVIER GLITTERS MAY SETTLE TO THE BOTTTOM OF THE BOTTLE*** This is why the upside-down trick is helpful...it will reduce the amount of fishing for glitters, especially the heavy glitters. A quality topcoat is also recommended to help deter wear to your polish and smooth out large glitters. Finally, please feel free to offer feedback to me. As an indie maker, I love to hear what my customers love, don't like, would like more/less of!! You can always email me at HLW117 [!at] comcast.net, message me through Etsy, on Facebook at Heather's Hues or my Facebook group Heather's HueTpies, and on Instagram @heathers_hues.....please don't hesitate to contact me with questions or concerns!! Xo
---
---
Smells so amazing! My cuticles look so good because of this balm.
Dec 7, 2017 by Jolene Levadnuk
This is soo amazing I will definitely be buying more!
Dec 7, 2017 by Jolene Levadnuk
Absolutely love these cuticle balms! They smell AMAZING and are so, so, so hydrating! I purchased "Exotic Potions", "Energy", and "Stress Relief", and each one is so lovely! Their scent is very long lasting, and they keep my cuticles moisturized throughout the day :) Definitely going to repurchase!
Nov 2, 2017 by ElizaIsEpic
If you haven't tried this balm, what are you waiting for? My nails have never looked this good, ever!
Oct 19, 2017 by Dee Dawson
Love it!!!
Aug 13, 2017 by Jaime Boehm
---
More from this seller
---
Shipping & policies
Preparation takes 1-5 business days
Arrives from the United States
Estimated Shipping
*DOMESTIC ORDERS* Orders will be shipped within 1 to 5 days after payment is received. Preorders will be shipped within 1 to 5 days after the last date of the preorder (except Mani of the Month box preorders, which ship the last week of every month.) Once shipped most domestic orders take anywhere from 2 to 10 business days to arrive depending on the postal service. All orders will be shipped with tracking information. I ship orders via USPS using first class mail. Shipping upgrades are available upon checkout. Also, signature confirmation is available and highly recommended if you've experienced missing packages, or if your order will be sitting out in the open for an extended period of time.
Once a package is marked as delivered to the address you provided upon checkout, I will not replace or refund your order. Again, I highly recommend adding the signature confirmation to your package to ensure delivery.
USE CODE FREESHIP100 FOR FREE U.S. SHIPPING ON ORDERS $100+

*INTERNATIONAL ORDERS* International orders can take up to siz weeks for delivery. I am not responsible for any international packages once I drop them off at the post office. Please be aware of your country's laws regarding importing goods as I will not assume responsibility, replace, nor refund packages lost due to any customs issues. If you have any questions regarding this policy, please contact me via email at HLW117@COMCAST.NET.
---
Payments
I accept credit card payments, Paypal, and Stripe. Once your order is received, I try to start mixing your polishes immediately, so no cancellations please.
---
Returns & exchanges
No refunds or exchanges. I hope that you love all of your products as they are handmade with love. Please be aware that there may be slight variations in color/glitter due to the polishes being hand-blended, mixed to order, and/or caused by lighting in photos/computer monitor settings. Each and every product has been personally made and checked by me to guarantee top quality, so there are no refunds or exchanges. Before shipping, I wrap each product securely in bubble wrap so I don't expect this to occur, but if your bottle somehow breaks during transit, you must contact me within 24 hours of delivery. You must also e-mail me a picture of the broken polish and packaging. Its obviously not fair to lose a polish due to the package not being "handled with care" so I will replace polish broken during shipping, as long as you follow the procedure stated above. Please feel free to contact me regarding any other issues.
---
Additional policies
*WHAT DOES 5-FREE MEAN? WHAT INGREDIENTS CAN BE FOUND IN HEATHER'S HUES POLISHES?*
All of Heather's Hues polishes are vegan, cruelty-free, and 5-free. This means that they do NOT contain 5 of the harsh, toxic chemicals that many mainstream polishes do. The 5 nasty chemicals that are NOT in H.H. polishes are DBP (dibutyl phthalate), toluene, formaldehyde, formaldehyde resin, and camphor.
The following ingredients are in all Heather's Hues polishes:
Nitrocelluose, ethyl acetate, butyl acetate, isopropyl alcohol, ethyl alcohol, triphenyl phosphate. Each bottle also contains one or two stainless steel mixing balls.
There are also other possible ingredients that I use to create and color my polishes. Heather's Hues may also contain FDA approved synthetic organic colorants, solvent resistant polyester glitters, mica, calcium aluminum borosilicate, titanium dioxide, iron oxide, tin oxides, silica, aluminum powder, alumina. Holographic polishes may contain holo dust, a Spectraflair alternative, or Spectraflair.
IF YOU HAVE QUESTIONS ABOUT THE INGREDIENTS OF A SPECIFIC POLISH, PLEASE DO NOT HESITATE TO CONTACT ME! I can be reached by direct message on my Facebook and Instagram as well as by email. My email address is HLW117@comcast.net.
I always use the highest quality cosmetic-grade ingredients from reputable suppliers for my polishes. Each and every polish is hand-mixed by me personally in a clean and sanitary environment. Almost every polish is made to order, I usually only mix large batches of polish a day or two prior to new collection releases.

*INDIE POLISH 101-DIRECTIONS AND DISCLAIMERS*
Indie polishes are quite different from mainstream polishes. They are made and bottled with love! You'll find there is many more beautiful options when it comes to types of indie polishes. There are also some helpful hints that apply to indie polishes. First, you should always let your bottles of polish reach room temperature before opening them (especially in extreme hot/cold weather months). Next, please ALWAYS use 1 or more coats of a quality basecoat before applying polishes. ***DUE TO THE HIGH PIGMENTATION OF SOME POLISH COLORS, NAIL STAINING MAY OCCUR*** This is why using a quality basecoat is so important. Also, you may find it helpful to set your bottle of polish upside down for about 10 minutes before use, then roll it around in your hands. ***SOME OF THE HEAVIER GLITTERS MAY SETTLE TO THE BOTTTOM OF THE BOTTLE*** This is why the upside-down trick is helpful...it will reduce the amount of fishing for glitters, especially the heavy glitters. A quality topcoat is also recommended to help deter wear to your polish and smooth out large glitters. Finally, please feel free to offer feedback to me. As an indie maker, I love to hear what my customers love, don't like, would like more/less of!! My contact info is everywhere on my Etsy, Facebook, and Instagram so please don't hesitate to contact me with questions or concerns!! Xo