FLOWERS-149 Collection of 210 vintage images Plumiera Miltonia Cunonia Coreopsis Salvia botanical pictures High resolution digital flowers
(1)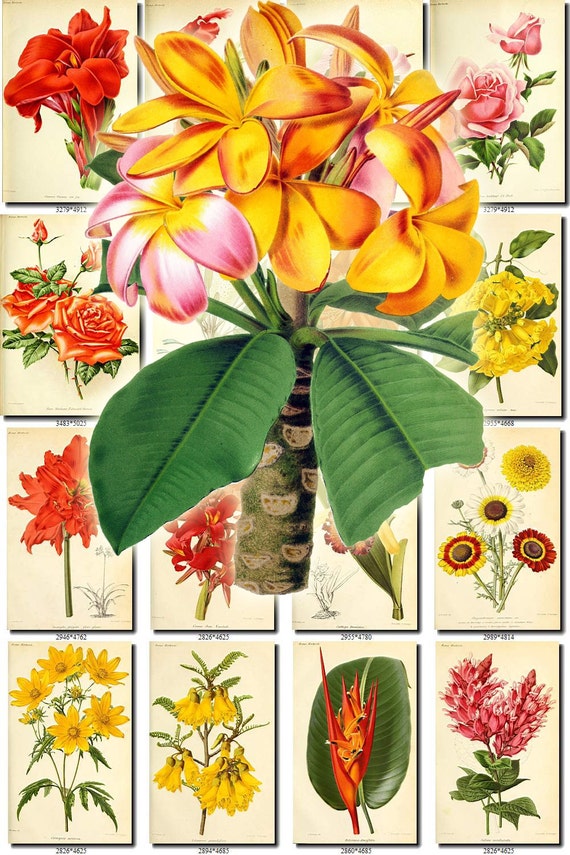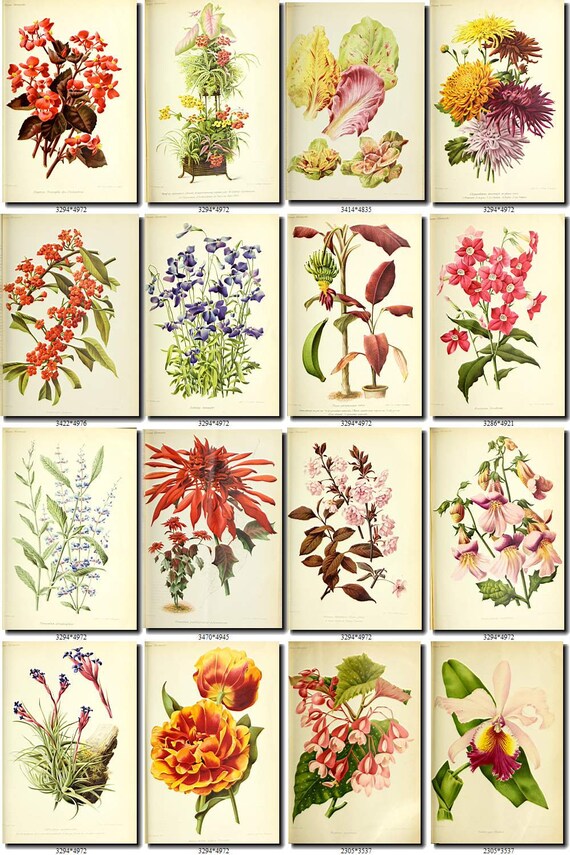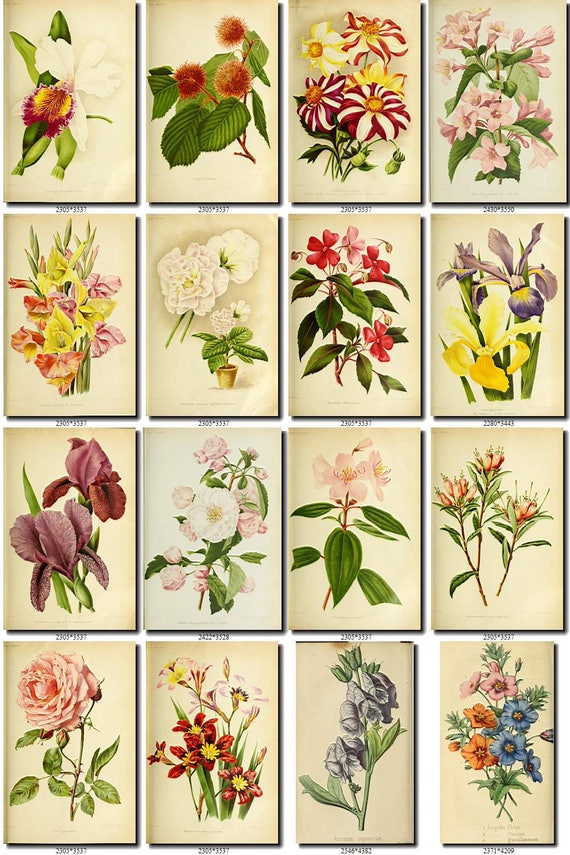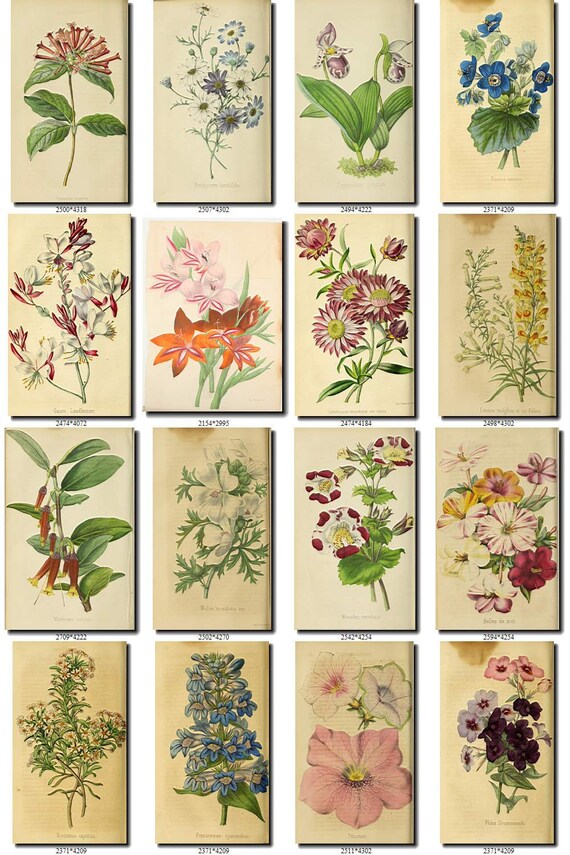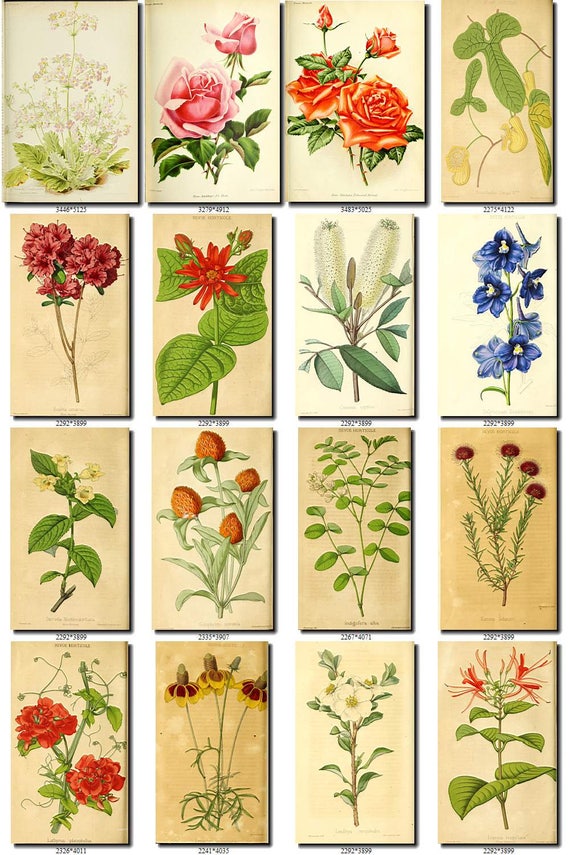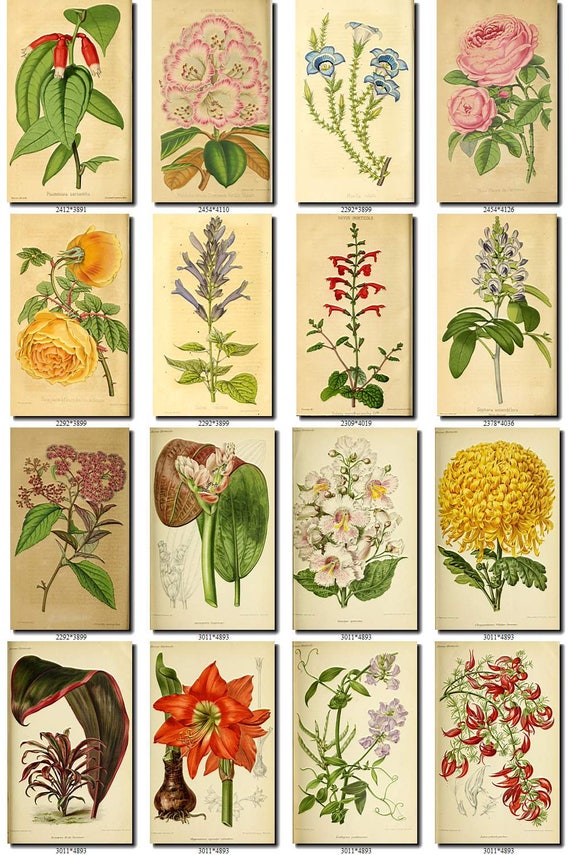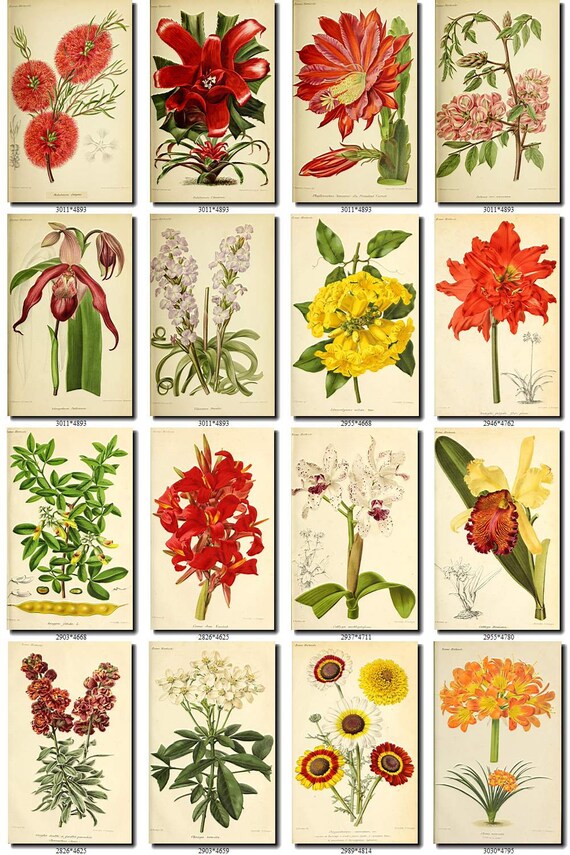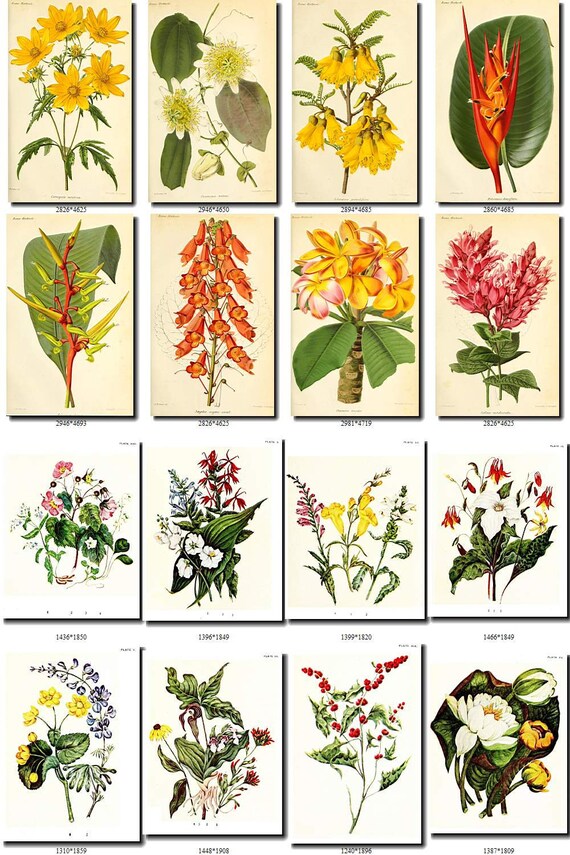 ---
Features
---
Item details
artscult.com - all images from artvintages.com

Instant digital download of 210 vintage pictures of flowers in high resolution (300 dpi, sizes from 1200x1800 px to 3500x5100 px). Look at pictures to see sizes in pixels (click "Zoom", divide size in pixels on 300 - you'll get size of print in inches with high quality, ex. 2400/300=8''). Total size of the collection is 250 Mb.

Each file has a name of shown plant (ex. "Day Lily.jpg" or "Magnolia Grandiflora.jpg"). Names of shown plants are listed below, at the end of description.

All images are in JPG format, separate files. Perfect for use in crafting, decoupage, collage, altered art, prints, etc. Images are in public domain in USA and may be used for any personal or commercial purposes. Information about source books is included.

Look at my other FLOWERS collections:
https://www.etsy.com/shop/ArtVintages?section_id=13682395

All-in-one FLOWERS collections:
https://www.etsy.com/shop/ArtVintages/search?search_query=all+flowers

DISCOUNTS:
Save money - Use coupons shown here:
https://www.etsystudio.com/listing/168468869/

SHIPPING DETAILS:
Digital download (TXT file with link on file in zip format on dropbox and google drive, and gallery view). Before purchase, please, make sure that you are able to download large size files. Download may take long time some cases.

NAMES of shown plants:
Begonia; Calceolaria; chicoree venitienne; Chrysanthemum; euphorbia fulgens; lobelia tenuior; musa paradisiaca rubra; nicotiana sanderae; perowskia atriplacifolia; poinsettia pulcherrima plenissima; prunus blireiana flore pleno; rehmannia angulata; tillandsia dianthoides; Tulips; begonia lucerna; cattleya fabia; cattleya princesse ulika; corylus tibetica; Dahlia; diervilla praecox floreal; gladiolus; Gloxinia; impatiens petersiana; iris monspur, iris ochraurea; iris regeliocyclus; malus angustifolia flore pleno; melastoma normale; rhododendron spinuliferum; Rose Lyon-Rose; sparaxis tricolor; aconitum japonica; anagallis philipsi, anagallis fruticosa, anagallis grandiflora rosea; bouvardia iciantha; brachycome iberidifolia; cypripedium guttatum; eutoca viscida; gaura lendhemeri; gladiolus; helichrysum bracteatum rosea; linaria vulgaris; macleania coccinea; malva moschata; mimulus variegatus; mirabilis jalapa; nycterinia capensis; pentstemon cyananthus; Petunia; phlox drummondii; Rose Salvandy; saponaria calabrica; schizanthus retusus; viscaria oculata; abelia floribunda; anthemis; begonia ricinifolia grandifolia; caesalpinia japonica; Canna; Carnation; echinopsis minuscula; Erysimum; Gloxinia; hippeastrum reticulatum; leptospermum scoparium; miltonia vexillaria vuylstekeana optima; primula malacoides; Rose Jonkheer JL Mock; Rose Madame Edouard Herriot; aristolochia lineata; azalea amaena; calycanthus occidentalis; cunonia capensis; delphinium hendersoni; diervilla middendorfiana; gomphrena coccinea; indigofera alba; kunzea schaueri; lathyrus platyphyllus; lepachys columnaris; lindleya mespiloides; lopezia longiflora; psammisia penduliflora; psammisia sarcantha; rhododendron comtesse ferdin visart; roella ciliata; Rose Gloire de Parthenay; Rose; salvia ianthina; salvia porphyrantha; sophora secundiflora; spiraea fortunei; aponogeton lagrangei; catalpa speciosa; Chrysanthemum Walter Seaman; dracaena m de tavernier; hippeastrum equestre splendens; lathyrus pubescens; lotus peliorhynchus; melaleuca fulgens; nidularium chantrieri; nymphaea seignoureti, nymphaea laydekeri fulgens, nymphaea laydekeri lilacea; phyllocactus souvenir du president carnot; robinia neo-mexicana; selenipedium dalleanum; tillandsia duratii; adenocalymna nitida; amaryllis fulgida flore pleno; anagyris foetida; canna jean vandael; cattleya amethysteglossa; cattleya dowiana; cheiranthus cheiri; choisya ternata; chrysanthemum carinatum; clivia miniata; coreopsis aristosa; disemma hahnii; edwarsia grandiflora; heliconia densiflora; heliconia glauca; naegelia sceptre corail; plumiera tricolor; salvia involucrata; American Brooklime, veronica americana, Purple Scented Raspberry, rubus odoratus, One-flowered Pyrola, moneses uniflora, Shin-leaf, pyrola elliptica; Arrow-head, sagittaria variabilis, Great Lobelia, lobelia syphilitica, Cardinal Flower, lobelia cardinalis; False Fox-glove, gerardia quercifolia, Turtle-head, chelone glabra, Dragon-head, physostigia virginiana; Large White Trillium, trillium grandiflorum, Rock Columbine, aquilegia canadensis, Yellow Adder's Tongue, erythronium americanum; Marsh Marigold, caltha palustris, Wild Lupine, lupinus perennis; Scarlet Painted Cup, castilleia coccinea, Showy Orchis, orchis spectabilis, Indian Turnip, arisaema triphyllum, Coneflower, rudbeckia hirta; Strawberry Blite, blitum capitatum; Sweet-scented Water-Lily, nymphaea odorata, Yellow Pond Lily, nuphar advena; Biting Stonecrop, sedum acre; Bitter Candy-tuft, iberis amara; Black Henbane, hoscyamus niger; Black Mustard, sinapis nigra; Bog Orchis, malaxis paludosa; Broad-leaved Pond-weed, potamogeton natans; Cat-mint, nepeta cataria; Chickweed Winter-green, trientalis europaea; Common Ash, fraxinus excelsior; Common Beech, fagus sylvatica; Common Bird's-foot, ornithopus perpusillus; Common Bird's-nest, listera nidus-avis; Common Blackberry, rubus fruticosus; Common Burdock, arctium lappa; Common Centaury, erythraea centaurium; Common Currant, ribes rubrum; Common Flax, linum usitatissimum; Common Hop, humulus lupulus; Common Kidney-vetch, anthyllis vulneraria; Common Marjoram, origanum vulgare; Common Melilot, melilotus officinalis; Common Oak, quercus robur; Common Reed, arundo phragmites; Common Roch-rose, helianthemum vulgare; Common Scurvy-grass, cochlearia officinalis; Common Tormentil, tormentilla officinalis; Common Wormwood, artemisia absinthium; Corn Parsley, petroselinum segetum; Corn Spurrey, spergula arvensis; Cowbane, cicuta virosa; Field Wood-rush, luzula campestris; Great Masterwort, imperatoria ostruthium; Greater Bladderwort, utricularia vulgaris; Greater Tooth-wort, lathraea squamaria; Hairy Finger grass, digitaria sanguinalis; Hairy Mint, mentha hirsuta; Hairy Tare, ervum hirsutum; Hairy Thrincia, thrincia hirta; Hase-nut, corylus avellana; Knotted Figwort, scrophularia nodosa; Least Gentianella, exacum filiforme; Lesser Broom-rape, orobanche minor; Maple-leaved Goosefoot, chenopodium hybridum; Marsh Andromeda, andromeda polifolia; Meadow Fescue-grass, festuca pratensis; Mossy Tillaea, tillaea muscosa; Musky Stork's-bill, erodium moschatum; Narrow-leaved Reed-mace, typha angustifolia; Northern Linnaea, linnae borealis; Purple Medick, medicago sativa; Red Whortle-berry, vaccinium vitis idaea; Rose-root, rhodiola rosea; Scotch Fir, pinus sylvestris; Sea-side Koniga, koniga maritima; Sheep's Scabious, jasione montana; Shining-fruited jointed Rush, juncus lampocarpus; Smooth Hawk's-beard, crepis virens; Soft Brome-grass, bromus mollis; Spreading Halbert-leaved Orache, atriplex patula; Spring Water-starwort, callitriche verna; Stinking Chamomile, anthemis cotula; Sun Spurge, euphorbia helioscopia; Sweet Cicely, myrrhis odorata; Sweet Sedge, acorus calamus; Trailing Dog-rose, rosa arvensis; Tufted Horseshoe-vetch, hippocrepis comosa; Upright Hedge-Parsley, torilis anthriscus; Vernal Sandwort, arenaria verna; Wall Barley, hordeum murinum; Water Plantain, alisma plantago; White Beak-rush, rhynchospora alba; White Birch, betula alba; White Peristylus, peristylus albidus; Whorled Water-Milfoil, myriophyllum verticillatum; Wild Basil, clinopodium vulgare; Wild Chamomile, matricaria chamomilla; Wild Radish, raphanus raphanistrum; Wood-Sorrel, oxalis acetosella; Wych Elm, ulmus montana; Yellow Goat's-beard, tragopogon pratensis.
---
---

I love these vintage flowers. Also thank you for including a tutorial on how best to download them, that was very helpful. I will be back again.

Dec 6, 2016 by Nancy Ratte'
---
More from this seller
---
Digital downloads
---
Payments
PayPal payment only accepted (including payment with a credit card via PayPal without having PayPal account)
---
Returns & exchanges
I gladly accept returns and exchanges
Contact me within:
14 days of delivery
Ship items back within:
30 days of delivery
I don't accept cancellations
But please contact me if you have any problems with your order.
The following items can't be returned or exchanged
Because of the nature of these items, unless they arrive damaged or defective, I can't accept returns for:
Custom or personalized orders
Perishable products (like food or flowers)
Digital downloads
Intimate items (for health/hygiene reasons)
Conditions of return
Buyers are responsible for return shipping costs. If the item is not returned in its original condition, the buyer is responsible for any loss in value.
Additional return information
Full refund available if you are not satisfied with your item. Please feel free to email me. Thanks
---
Additional policies
Images from my collections are in public domain in the US.