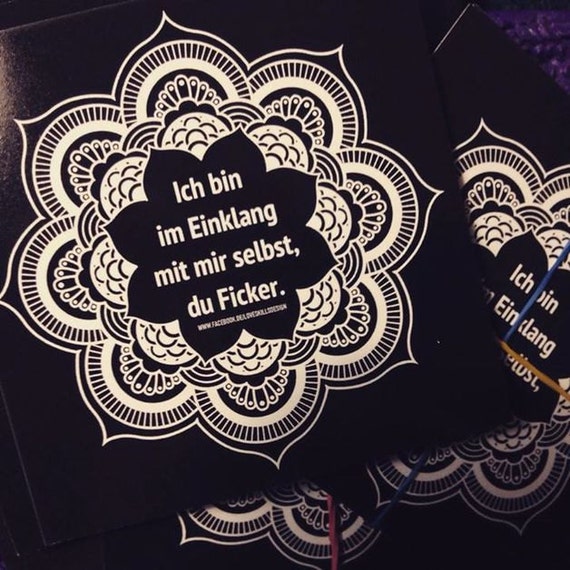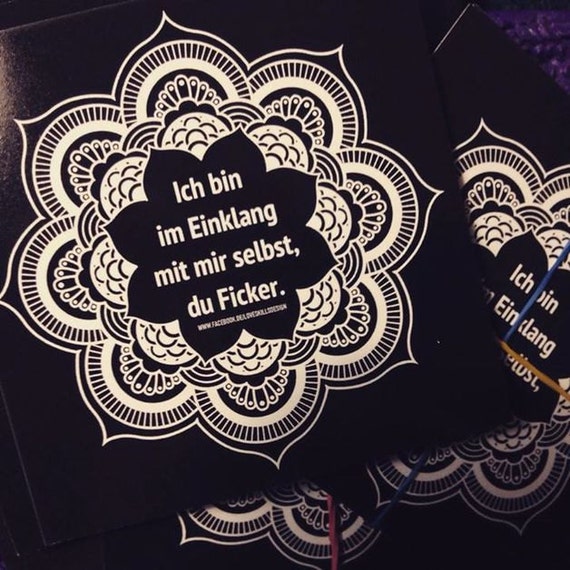 Preparation takes 3-5 business days
---
Features
Made in Dortmund, Germany
---
Item details
Sorry, we couldn't translate this to English.
I'm in line with my own, you fucker - sticker package 20 PCs
---
---
More from this seller
---
Shipping & policies
Preparation takes 3-5 business days
Estimated Shipping
---
Payments
AGB

Allgemeine Geschäftsbedingungen
1. Geltungsbereich
Für alle Lieferungen von LoveSkillsDesign an den Verbraucher (§ 13 BGB) gelten diese Allgemeinen Geschäftsbedingungen (AGB).

2. Vertragspartner
Der Kaufvertrag kommt zustande mit: LoveSkillsDesign, Geschäftsführer: Stephanie Zöphel,Fritz-Reuter-str 11, 44147 Dortmund

3. Angebot und Vertragsschluss
3.1 Die Darstellung der Produkte im Online-Shop stellt kein rechtlich bindendes Angebot, sondern eine Aufforderung zur Bestellung dar. Alle Angebote gelten "solange der Vorrat reicht", wenn nicht bei den Produkten etwas anderes vermerkt ist. Irrtümer vorbehalten.

3.2 Durch Anklicken des Buttons 'Bestellung abschicken' im abschließenden Schritt des Bestellprozesses geben Sie eine verbindliche Bestellung der im Warenkorb enthaltenen Waren ab. Der Kaufvertrag kommt zustande, wenn wir Ihre Bestellung durch eine Auftragsbestätigung per E-Mail nach dem Erhalt Ihrer Bestellung annehmen.
---
Returns & exchanges
4. Widerrufsrecht
4.1 Verbraucher (§ 13 BGB) haben ein gesetzliches Widerrufsrecht.

Widerrufsbelehrung

Widerrufsrecht
Sie können Ihre Vertragserklärung innerhalb von zwei Wochen ohne Angabe von Gründen in Textform (z.B. Brief, Fax, E-Mail) oder durch Rücksendung der Sache widerrufen. Die Frist beginnt frühestens mit Erhalt dieser Belehrung. Zur Wahrung der Widerrufsfrist genügt die rechtzeitige Absendung des Widerrufs oder der Sache. Der Widerruf ist zu richten an:

LoveSkillsDesign, Stephanie Zöphel,Fritz-Reuter-str 11, 44147 Dortmund, steffi(at)noiseconspiracyclub.de

Widerrufsfolgen
Im Falle eines wirksamen Widerrufs sind die beiderseits empfangenen Leistungen zurückzugewähren und ggf. gezogene Nutzungen (z.B. Zinsen) herauszugeben. Können Sie uns die empfangene Leistung ganz oder teilweise nicht oder nur in verschlechtertem Zustand zurückgewähren, müssen Sie uns insoweit ggf. Wertersatz leisten. Bei der Überlassung von Sachen gilt dies nicht, wenn die Verschlechterung der Ware ausschließlich auf deren Prüfung - wie sie Ihnen etwa im Ladengeschäft möglich gewesen wäre - zurückzuführen ist. Im Übrigen können Sie die Wertersatzpflicht vermeiden, indem Sie die Sache nicht wie ihr Eigentum in Gebrauch nehmen und alles unterlassen, was deren Wert beeinträchtigt. Paketversandfähige Sachen sind zurückzusenden. Nicht paketversandfähige Sachen werden bei Ihnen abgeholt. Sie haben die Kosten der Rücksendung zu tragen, wenn die gelieferte Ware der bestellten entspricht und wenn der Preis der zurückzusendenden Sache einen Betrag von 40 Euro nicht übersteigt oder wenn Sie bei einem höheren Preis der Sache zum Zeitpunkt des Widerrufs noch nicht die Gegenleistung oder eine vertraglich vereinbarte Teilzahlung erbracht haben. Verpflichtungen zur Erstattung von Zahlungen müssen Sie innerhalb von 30 Tagen nach Absendung ihrer Widerrufserklärung erfüllen.

Besondere Hinweise
Ihr Widerrufsrecht erlischt vorzeitig, wenn Ihr Vertragspartner mit der Ausführung der Dienstleistung mit Ihrer ausdrücklichen Zustimmung vor Ende der Widerrufsfrist begonnen hat oder Sie diese selbst veranlasst haben (z.B. durch Download etc.).

Ende der Widerrufsbelehrung

5. Preise und Versandkosten
5.1 Die auf den Produktseiten genannten Preise enthalten die gesetzliche Mehrwertsteuer und sonstige Preisbestandteile.

5.2 Die Versandkosten werden Ihnen auf den Produktseiten, im Warenkorbsystem und auf der Bestellseite nochmals deutlich mitgeteilt.

5.3 Bei Zahlung per Nachnahme wird eine zusätzliche Gebühr in Höhe von 2 EUR fällig, die der Zusteller vor Ort erhebt. Weitere Steuern oder Kosten fallen nicht an.

6. Lieferung
6.1 Die Lieferung erfolgt nur innerhalb Deutschlands.

6.2 Die Lieferzeit beträgt im Regelfall 3 Werktage. Auf evtl. abweichende Lieferzeiten weisen wir auf der jeweiligen Produktseite hin.

6.3 Sollte das bestellte Produkt nicht rechtzeitig lieferbar sein, weil wir mit diesem Produkt durch unseren Lieferanten nicht rechtzeitig beliefert werden, informieren wir Sie unverzüglich. Es steht Ihnen in einem solchen Fall frei, auf das bestellte Produkt zu warten oder Ihre Bestellung zu stornieren. Bei einer Stornierung werden ggf. bereits erbrachte Gegenleistungen unverzüglich erstattet.

7. Zahlung
7.1 Die Zahlung erfolgt wahlweise per Vorkasse oder Paypal.

7.2 Bei Auswahl der Zahlungsart Vorkasse nennen wir Ihnen unsere Bankverbindung in der Auftragsbestätigung und liefern die Ware nach Zahlungseingang.

7.3 Ein Recht zur Aufrechnung steht Ihnen nur dann zu, wenn Ihre Gegenansprüche rechtskräftig gerichtlich festgestellt oder schriftlich durch uns anerkannt wurden.

7.4 Sie können ein Zurückbehaltungsrecht nur ausüben, soweit die Ansprüche aus dem gleichen Vertragsverhältnis resultieren.

8. Eigentumsvorbehalt
Bis zur vollständigen Zahlung bleibt die Ware unser Eigentum.

9. Gewährleistung
Die Gewährleistung erfolgt nach den gesetzlichen Bestimmungen. Bei allen während der gesetzlichen Gewährleistungsfrist von zwei Jahren ab Lieferung auftretenden Mängeln haben Sie das gesetzliche Recht auf Nacherfüllung (nach Ihrer Wahl: Mangelbeseitigung oder Neulieferung) und - bei Vorliegen der gesetzlichen Voraussetzungen - die gesetzlichen Rechte auf Minderung oder Rücktritt sowie daneben auf Schadensersatz. Sie müssen uns insgesamt zwei Nachbesserungsversuche einräumen. Ist die von Ihnen gewünschte Art der Nacherfüllung nur mit unverhältnismäßigen Kosten möglich, beschränkt sich Ihr Anspruch auf die andere Art der Nacherfüllung.

Widerrufs- oder Rückgabebelehrung

Widerrufsrecht

Widerrufsbelehrung

Widerrufsrecht
Sie können Ihre Vertragserklärung innerhalb von zwei Wochen ohne Angabe von Gründen in Textform (z.B. Brief, Fax, E-Mail) oder durch Rücksendung der Sache widerrufen. Die Frist beginnt frühestens mit Erhalt dieser Belehrung. Zur Wahrung der Widerrufsfrist genügt die rechtzeitige Absendung des Widerrufs oder der Sache. Der Widerruf ist zu richten an:

LoveSkillsDesign, Stephanie Zöphel,Fritz-Reuter-str 11, 44147 Dortmund, steffi(at)noiseconspiracyclub.de

Widerrufsfolgen
Im Falle eines wirksamen Widerrufs sind die beiderseits empfangenen Leistungen zurückzugewähren und ggf. gezogene Nutzungen (z.B. Zinsen) herauszugeben. Können Sie uns die empfangene Leistung ganz oder teilweise nicht oder nur in verschlechtertem Zustand zurückgewähren, müssen Sie uns insoweit ggf. Wertersatz leisten. Bei der Überlassung von Sachen gilt dies nicht, wenn die Verschlechterung der Ware ausschließlich auf deren Prüfung - wie sie Ihnen etwa im Ladengeschäft möglich gewesen wäre - zurückzuführen ist. Im Übrigen können Sie die Wertersatzpflicht vermeiden, indem Sie die Sache nicht wie ihr Eigentum in Gebrauch nehmen und alles unterlassen, was deren Wert beeinträchtigt. Paketversandfähige Sachen sind zurückzusenden. Nicht paketversandfähige Sachen werden bei Ihnen abgeholt. Sie haben die Kosten der Rücksendung zu tragen, wenn die gelieferte Ware der bestellten entspricht und wenn der Preis der zurückzusendenden Sache einen Betrag von 40 Euro nicht übersteigt oder wenn Sie bei einem höheren Preis der Sache zum Zeitpunkt des Widerrufs noch nicht die Gegenleistung oder eine vertraglich vereinbarte Teilzahlung erbracht haben. Verpflichtungen zur Erstattung von Zahlungen müssen Sie innerhalb von 30 Tagen nach Absendung ihrer Widerrufserklärung erfüllen.

Besondere Hinweise
Ihr Widerrufsrecht erlischt vorzeitig, wenn Ihr Vertragspartner mit der Ausführung der Dienstleistung mit Ihrer ausdrücklichen Zustimmung vor Ende der Widerrufsfrist begonnen hat oder Sie diese selbst veranlasst haben (z.B. durch Download etc.).

Ende der Widerrufsbelehrung