200pc Single Earrings Detash Lot Mixed Metals Gold Filled Vintage Craft Upcycle Jewelry Collection Repurposing Supplies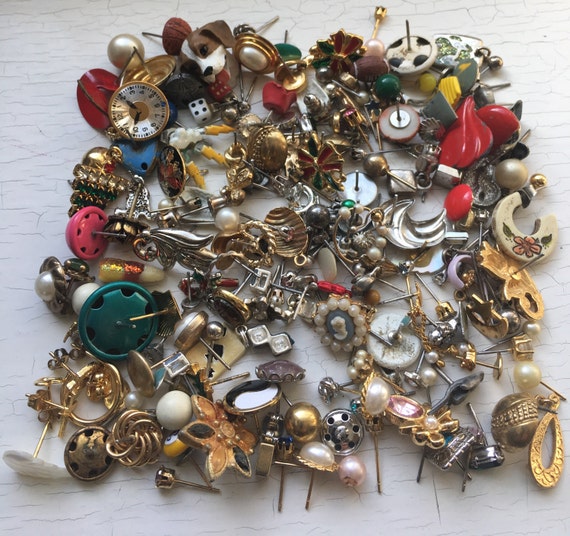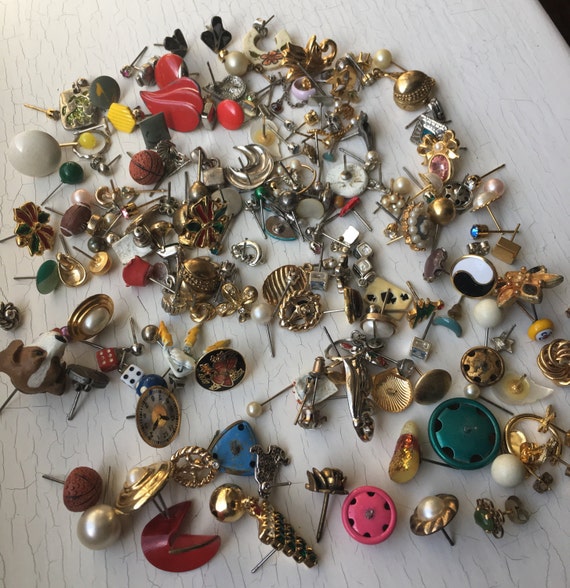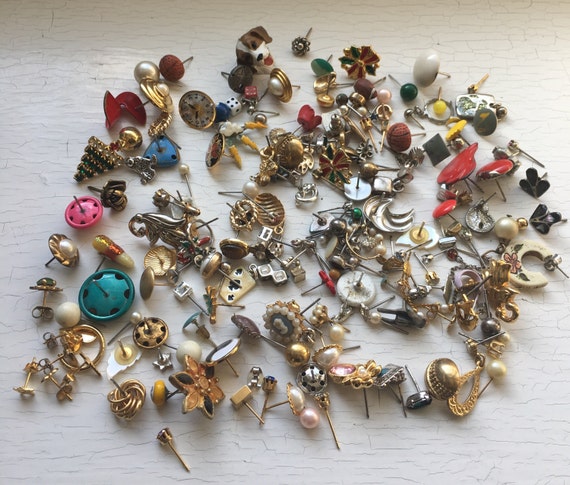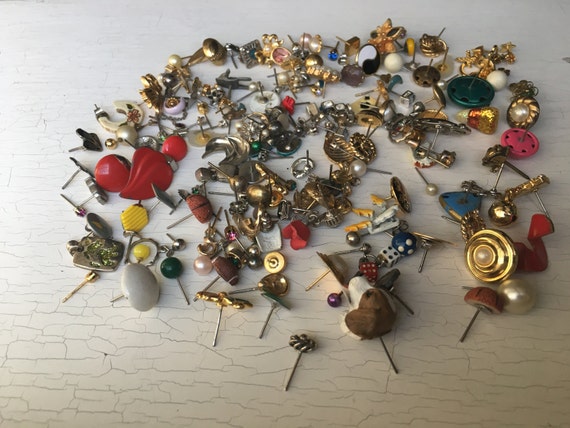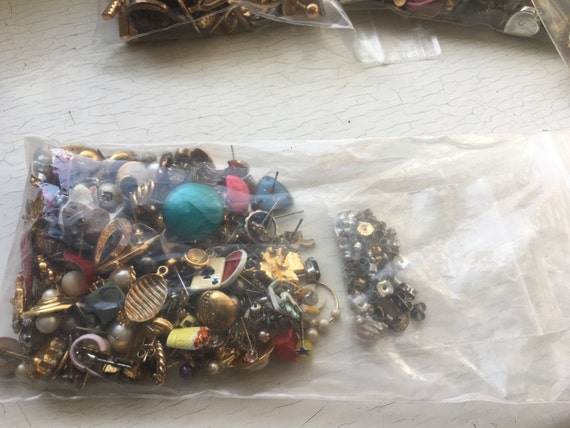 Preparation takes 1-2 business days
Arrives from the United States
---
Features
---
Item details
200++ single earrings for you to do as you please.
There are several paired pairs, very cute stuff here. Included are some earring backs too.
All from vintage costume jewelry lots I saved for repair or recreation.
Just have too much and no time to create.
All vintage predate the 1980's.
4.8oz. First Class Mail.
See other detash lots I'm offering :)
Happily combine shipping.

All my items for sale come from a non smoking home.

Back to my Etsy Front Page for more unusual vintage obsessions:
http://www.etsy.com/shop/BackThennishVintage?ref=pr_shop

I'm all over the place.
It's all good. Follow me:

Instagram.com/eyewearwhore
http://www.etsy.com/shop/BackThennishVintage
http://www.retrofocuseyewear.com/
https://twitter.com/EyeglassWhore
http://pinterest.com/eyeglasswhore/
https://www.facebook.com/RetroFocusEyewear
Tumblr/eyewearwhore/no-regrets

Kindly read my shop policies, as there may be information pertaining to your order.
Shipping includes insurance/delivery confirmation.
Payment through PAYPAL, or United States Post Office Money order.
Will ship to certain international countries.
Convo me for a shipping quote to your country.
---
---
More from this seller
---
Shipping & policies
Preparation takes 1-2 business days
Arrives from the United States
Estimated Shipping
Domestic items are shipped either First Class MAil, Parcel Post, or Priority Mail, or Fed Ex Home Delivery and will include delivery confirmation. I do ship internationally. If I do not have any rates listed for your country, convo me, and I will let you know what it is.
---
Payments
Orders are shipped within 1-4 business days (depending on whether your purchase is in my home or at Rosie's Vintage shop, after receiving payment. NEED IT SOONER? Contact me thru the Etsy System. We ship 2-4 times a week. Payment within 7 days from purchase. I only ship to the address which is the one on you've provided to Etsy. If your PAYPAL address is not the one you want me to ship to, please take a few moments to add this new address to your PAYPAL account. You can have many 'SHIP TO' addresses, registered with them. This provides seller/buyer protection for the both of us, when shipping to the address on the PAYPAL payment.
---
Returns & exchanges
Only eyewear is returnable for a purchase price refund within 14 days of receipt unless specified in the listing. All other vintage items are final sale.

I include approximate measurements for everything I sell. Do your homework, and never assume something will fit, without measuring first. If it's about color? Monitors display differently from one household to the next, and when I color proof, the photos uploaded onto the ETSY website, are close to accurate. If color is crucial to your purchase, please email me. I describe to the best of my knowledge, and what I think is important to make the sale a successful one for both parties. If I have missed something that you need to know, PLEASE email me prior to placing your purchase. My observations, and opinions on the same item, may or may not differ from what you would expect. Need more pictures? CONVO me, and I will get them right out to you when I can get the oportunity to do so. If a week goes by, and you do not get any, ask me again, I probably forgot ;-)

I guarantee my descriptions to be as close to accurate as possible. If I leave out a significant fault, I will pay all shipping fees, upon the item's safe return to me. In regards to vintage clothing, a small spot, snag, hole, wrinkle, or pull, does not constitute misrepresentation. I mainly sell vintage, previously owned items, that may not be perfect, ( unless I am sure that they are), and have had a life before ETSY, whether it was in someone's closet, or on someone else's body, or in someone else's SMOKING household. Do not buy vintage, if you are not flexible with it's stated condition. I do look over each item, as carefully as possible. My home is a non smoking home. All items I purchase from estate sales, having an odor, are deodorized, or drycleaned. If there is an odor, I will say so. Though it is hardly my intention, we all make mistakes. I make every attempt to resolve all issues, as happy customers are returning one.
---
Additional policies
Some answers to common questions about eyewear purchases made online.

How do you measure your specs?

https://www.retrofocuseyewear.com/frequently-asked-questions

The above link is a diagram I constructed for my Eyewear site, showing you where I take my measurements so you can compare my specs to yours for a good fitting pair. The temples, also referred to by some as the 'stems' are generally measured from the hinge to the ear tip. The bridge and lens width are measured across the center of the frame. Pupil distance (PD or P2P) is the distance between each of your pupils and ideally you'd like a pair of frames where your eyes are centered within the width of the lenses.

Are these frames suitable for my own prescription?

Many buyers wonder if my vintage frames are suitable for their RX. Simply said, all of my products are unless noted in the 'SPECS' list. Most optical boutiques and opticians will turn down frames that you walk into their establishment with. They will most likely give you reasons that may sound legit to you, but they're really just trying to intimidate you into buying a pair from their selection, saying my frames are not suitable because of a variety of bullshit excuses.

We always recommend ReplaceALens.com. We are not affiliated with them in any way, other than we are a customer of theirs, and a very satisfied one at that. Their prices are fantastic and service impeccable. They never turn down any of the frames we sell and our buyers have emailed us telling us how pleased they were with ReplaceALens and their services. Our frames are guaranteed with a replacement or refund if ReplaceALens damages your frame while they put your lenses into them. No other optician would dare offer such a guarantee.

How do I measure my PD? My optician won't give it to me (or) wants to charge me $50 for it (or) I'm sending my frames to ReplaceALens and they need my PD. How do I get that?

Pupil to Pupil distance, or in ophthalmic terms the 'PD' measurement is the distance between both your pupils. Technicians need this measurement in order to center your prescription within each lens. It is usually referred as a millimeter measurement rather than inches. It can be easily measured at home with a ruler and a second person holding the ruler up to your face resting it on the bridge of your nose with one end of the ruler at the point of one pupil and then measure across to the other pupil. PD measurements are generally in the 58-67mm range (2 1/2" to 2 5/8") and sometimes even at about 70mm (2 3/4"). Despite what your optician would tell you if you do it yourself, being off by a millimeter or 2 will not give you a headache.

When sending in your frames to an online lab, what you would do is put the frames on as you would normally wear them and have a second person mark the existing lenses with a permanent marker making a dot where each pupil lands when that person is looking head on with you. If your frames do not have lenses, place a piece of scotch tape across the entire front of the frame and have that person mark the tape with the dots. Simple. Questions? Just hollar at me :)

How will these look on me if I can't try them on?

Generally, opposites attract :) As a rule, full frames/large lenses look great on long, oval faces, triangular, or pear shaped faces. Horizontal, rectangular frames look best on round or square faces. If the frame has nose pads (95% of the time found on metal frames), those can be gently pried close or further apart which will allow the frame to sit where you want it to on your bridge. Another indicator of how high or low a pair of specs sit on your face, is to note where the bridge is positioned on the frame. If it is towards the middle of the frame, then the glasses will likely cover your eyebrows and sit high on your face. If the bridge is pretty much in line with the top of the frame, the glasses will sit below your eyebrows.

I have big head! .....or.... my head is small/narrow....will these fit me?

It helps if you measure your favorite specs hinge to hinge, and then compare that measurement to the item you have your eyes set on... the hinge to hinge measurement is a good indicator if the frame is the right width for you. The temples (ear piece/stems) should not touch the sides of your head. Then you should measure the length of the ear piece, or 'temple' as it's called in the ophthalmic industry. Average temples measure 140 mm (5 1/2") from hinge to end, including ear curve. Some are 133mm, (5 1/4" long). There are some that are 5 3/4" to 6", but rarely found in over the counter ready made readers. It all depends on the look you want, and what is comfortable for you. But to know these details ahead of time may save you the trouble of future disappointments and returns.

Please read the inside 'hinge to hinge' widths that are provided for the style you like. Make sure you know the hinge to hinge measurement of your OWN glasses when making your decision. Toss me an email if you have any questions.

Desi