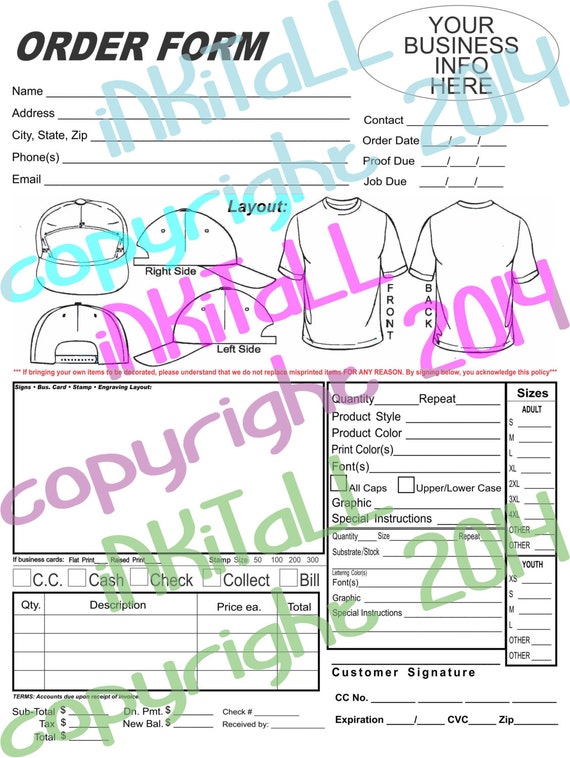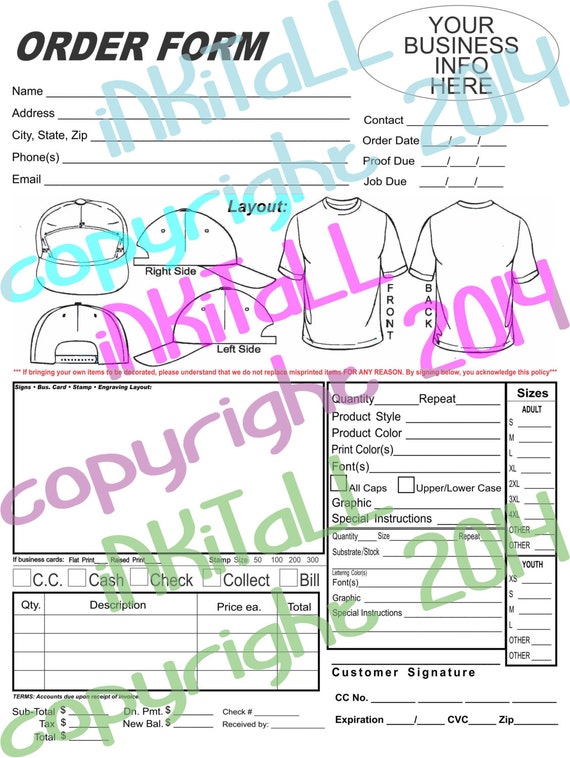 ---
Features
---
Item details
You are not receiving a tangible item, nothing will be shipped to you.
This is a file for for small business owners who decorate apparel with vinyl, embroidery, screen printing, etc. and it also has space available to take order for other items such as decals, signs, etc.
It is a standard order form that has everything you need including:

CUSTOMER INFO
APPAREL INFO
SIZING
A RECEIPT
LIABILITY WAIVER
PLACEMENT INFORMATION
AND MUCH MORE!!!

This file is fully customizable by you with a little bit of knowledge. The file comes without any logo or wording in the top right hand corner. It is blank for you to add your information. Since I do not know what type of work you do, the top left just says ORDER FORM. It is a zipped file. You will need a program that will unzip the file for you.
I cannot email you the file because you don't have a program to unzip files. They are free on the internet, you can easily download one. An example of an unzip program is WinZip.

This version is available to you for personal or commercial use. The downloadable file is available in .pdf, .dxf, .svg, .jpg, .doc (word)

If you are using Silhouette software, you will need to use the DXF version. Go to File > Add to library. Then view your library and open it from there. You will print it to your printer instead of cutting it as a file.

If you are using Corel, Photoshop, Illustrator, or another vector graphic arts program, use the import feature and import the version that your software will open.

If you have any trouble and are not familiar with how vector software works, I ask that you try some youtube videos before contacting me. I am unable to teach you how to use your software.

If you have any questions feel free to message me.
All sales are final on instant download items.

This file is for personal use only. You may not re-sell, share, or give away the file itself or print copies and sell them. Copy and pasting to trace it is the same thing as stealing it and you will be reported.

CUSTOMIZED FORM IS AVAILABLE:
If this document will not work for you as is, you may request for me to customize it for you which will include taking away or adding information, adding your business information or logos and/or changing any colors. All simple changes. Complete layout changes are not included at this price. Completely customized order forms are also available but you will need to contact me for pricing.

There are no REFUNDS OR EXCHANGES ON INSTANT DOWNLOADS NO EXCEPTIONS
---
Digital downloads
---
Payments
Taxes will be added at the rate of 6.75% on all purchases made inside Texas.
Cancellations cannot be made on any order that has been processed. In the event that it is agreed upon to let you cancel an order, a $3 fee may be applied.
---
Returns & exchanges
There are no refunds or returns on any items you purchase. I do not accept cancellations after work has begun. Exchanges can be made under the following conditions:
Exchanges must be equal to or greater in value than the original purchase.
Buyer pays return shipping.
Items must be received by me and undamaged and in their original condition.
Buyer pays any additional charges, difference in the price.
Buyer pays for shipping.
If items are damaged during shipping, see shipping policies under "Additional Information".
If items are defected, please see the "Damaged Items" section below under "Additional Information"
---
Additional policies
FAQ's

1. Why has my order not shipped when my invoice says it should have shipped already?

Orders placed from an ad on facebook, or other media, or if you have used a coupon code found on these sites, these will cause us to experience high volumes and orders will take a bit longer. If you have any questions as to how long the wait may be, please message us here on etsy BEFORE you place your order. Do keep in mind that if we cannot get to your questions before the end of the sale, we will not extend the sale for you.

2. If my order is shipping First Class, then why am I paying more for shipping?

We have to take great care in packaging your items due to the fact that they are fragile. We have to purchase extra materials, bubble wrap, padding, packaging, tape, etc. and not to mention it just takes us longer when we are taking that much care in packaging your items. If you want us to ship the cheapest route, we will be happy to, but you will not be able to get replacement items when they arrive broken.

3. Do you do custom orders?

Yes, please read the information below on CUSTOM ORDERS.

4. Do you have the hardware for the acrylic blanks?

No, I do not have them at this time. There is a possibility that I will have them at a later date, but for now, you can order them from etsy, amazon, hobby lobby, michaels, walmart, and any other craft or hobby store that may carry them.

5. When will you be posting another sale because I will wait for your sale?

I may or may not ever post another sale on the particular item you are wanting. If you follow me on facebook or etsy, that is where you will find my sales and coupon codes. My sales are never scheduled for a particular day or time and I begin and end them when I feel the urge to do so.

6. I just purchased items from you recently and now they are on sale. Can I get the sale price now or cancel my order and redo it?

No. Sorry, we do not retroact any sales, special, or coupon codes. You are more than welcome to place a second order to take advantage of any sales or specials we have going on.

7. Do you have any current coupons or discounts I can use to purchase items to save money?

Giving them to you would defeat the purpose of how I reach people. That is how I keep up with how people find me. If you need coupon codes, you will need to find them where they have been posted. I will not give them upon request.

8. My package tracking shows a label has been printed but there is no further activity, have you shipped it?

Yes, I either drop them off at the post office the day I print it, or the next morning if I printed the label after hours. If the post office does not show any new activity, then they have just failed to scan it at the current location. If it has been stuck at another location other than where I dropped it off, then the place they sent it to next has failed to scan it. Post office tracking is far from perfect so please do not file a claim against me, or rate me with less stars based on the activity of the post office or other shipper.
The best solution would be for you to call the post office in the last known place it was scanned and give them the tracking information and see why it is stuck there or where they sent it to next.


9. If I live close to you, can I pick up my items I purchase on etsy without paying shipping?

Yes, you will need to message me here on etsy in advance to obtain a coupon code that will remove shipping at checkout.

10. Can I order from you without going through etsy?

No, not unless you walk into my store and pick out your items in person. I keep up with how many I have in stock at all times, if I let you order through facebook or paypal, I could not keep up with how many I have in stock on etsy.

CUSTOM ORDERS
Custom orders are accepted. Please make a proper "custom order request". Custom orders are not priced the same as other items so if you place an order for an item listed, then in the message box write a note for a custom shape, it will delay your order and the price will be incorrect. All custom orders must be placed properly. They require a purchase of 12 or more of the same item, same size and material. Even if I already stock a shape, but you want it in a different size other than what I already carry, it is still considered a custom order. Custom orders take a considerable amount of time to make, since they are obviously not a stock item. Please keep that in mind when ordering. Depending on the size of the order and the amount of different shapes, it can 2-6 weeks to process a custom order.
There are no refunds, exchanges or returns on any custom orders period and orders containing custom items cannot be cancelled for any reason, even if a claim is filed.


POLICIES

Claims:
If you file a claim, we will not process your order any further until the claim is handled. Please do not file a claim thinking it will make us ship your item faster.

Messaging:
Please make contact with us and give us at least 72 hours to respond. Just because we didn't answer a message right away doesn't mean we aren't working on your order. We do our best to answer questions in a timely manner but due to the amount of messages and orders we get in 1 day, it does take a bit to get through all of them.

Damaged Items:
You are purchasing acrylic cut by a laser. Some defects are to be expected. If you find your items to have major defects, please send us photos immediately. If the defects are outside normal laser defects, we will replace them free of charge. If your items have normal laser defects and you wish for them to be replaced, please send them back to us at your expense, and we will replace them with a small shipping charge.
Normal defects usually consist of:
Small chips on the backside, very slight raised bubbling on the backside, very slight ridges around the edges, minor haze or scratching, small overhanging chip that we failed to remove (they can easily be removed by snipping them off with jewelry pliers or your fingers.
Abnormal defects that we will replace are:
Burn marks, cracks, overcuts, mis-shapen, melting, uneven, broken before or during transit. Please do not just give is a bad review if items are damaged. It is impossible for us to cull every single bad piece even though we try very hard to do so. Let us know that something is wrong and let us fix it. Once a bad review is given with no attempt at resolving the issue or a claim is filed, it will delay our ability to work with you easily.

Sales and Coupon Codes:
If you place an order during a sale or use a coupon code, then you should assume we are experiencing high volumes of orders and your order will take longer than expected. Through our policies, and the place where you obtained the info for the sale or coupon code, you know this in advance. Please do not rate us with fewer stars, or file a claim because we are taking a bit longer to ship, you were fore-warned. If you have any questions as to how far out shipping will be, please ask BEFORE you place your order at a sale price or use a coupon code.

Wholesale and Buy-in:
I will wholesale items to you and I will also be glad to help you host a buy-in. If you'd like information on either please message me here on etsy and we will work it out in advance.