Nature gifts, Texas Treasures, TX Outdoors, Western decor, Supplies, Oak Tree Oddities, Wild Turkey feather, Wasp nests, Goat Heads, Antler
(1)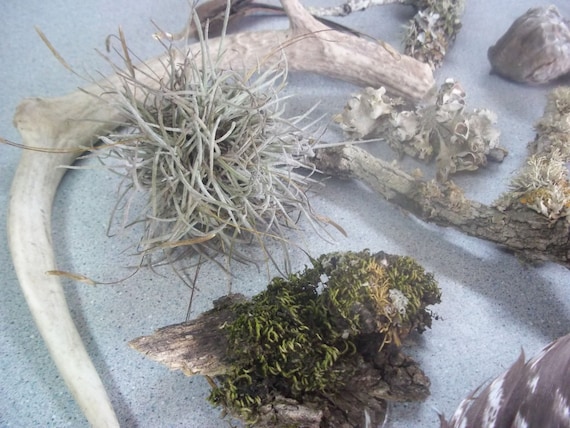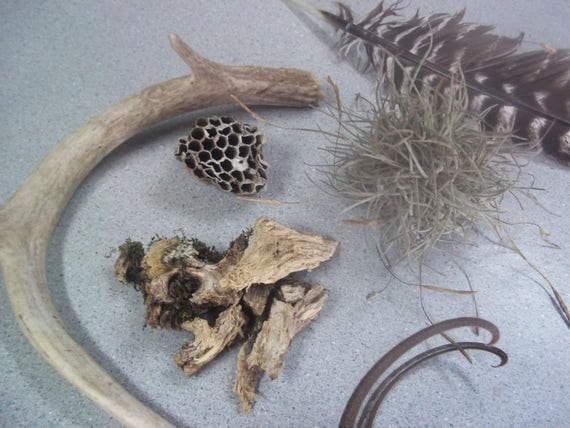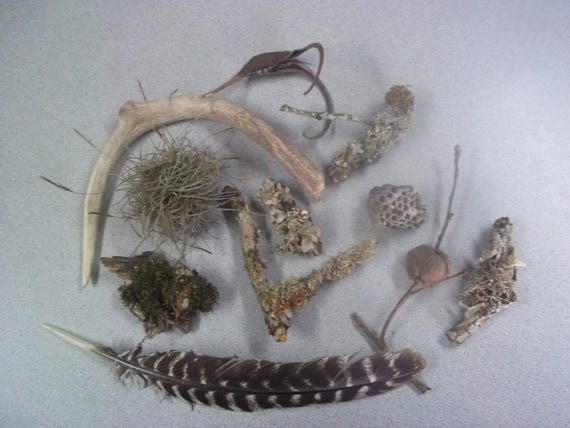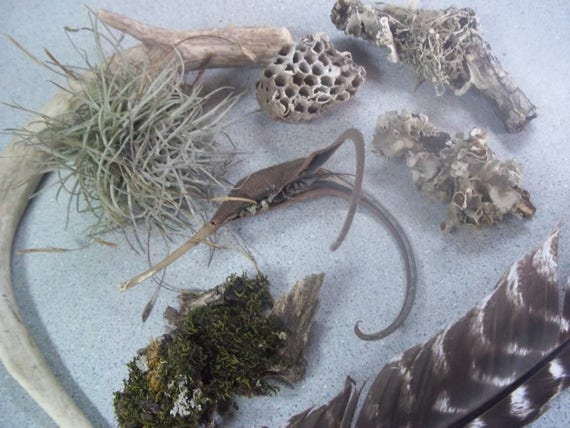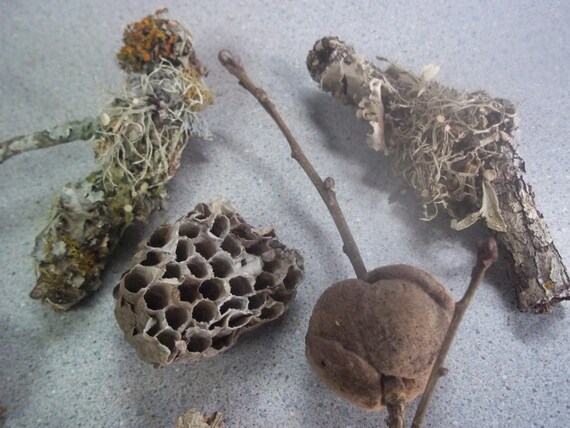 ---
Item details
Little gifts from nature! This is mixture of items that I gathered while out on a walk on our Texas ranch.....pieces are all natural and found as is.

This mixture of nature's gifts consist of a wasp nest, a small deer antler, some oak tree oddities, a Rio Grande Turkey feather and one goat head. The wasp nest measures roughly 1 1/2" X 2". The antler measures 14" long from the tip of the tallest point to the horn's base and is 6" across from the top of the arch to the lower tine. The goat head's part that resembles the head is about 4 1/2" long to the tip of the "nose"......the horns are about 2 3/4" wide at the widest part. The wild turkey wing feather is 2 1/2" wide, 14" in length from tip of quill to tip of the feather. The oak tree wood pieces range from 3 1/2" to 6" in length......the twig that holds the "ball" is about 9" long. There is a Moss ball that is about 4" in diameter, not counting the little spiky arms. Also is a growth of green moss on pieces of bark that is about 4" wide.

Unfortunately we have lots of wasps and yellow jackets around here, but when they all hatch out and vacate their nests, these beauties stay behind! I've used WASP NESTS in a lot of my Western decorating......I put them in wreaths, floral arrangements and have a huge one in a grapevine basket along with a deer skull, Spanish moss, dried flowers and a pretty green spiky plant. They are just the right addition to many projects!

Long time ago, we used to have GOAT HEADS in abundance......you'd have a hard time walking through pastures without these things attaching to your ankles or legs.....ouch! Over recent years I've noticed that they seem to be dying out, not as many as there used to be. When you find them now, it's considered a rarity. This odd looking little gift from nature was found while it was still in its "velvet" and just starting the drying out process. Once it is dried out, the "horns" usually spread to a width of at least 4". This little gem of nature is sure to catch your eye when it's included in a wreath or other crafting projects......just be careful where you put them.....their horns are very sharp!

Our ranch is full of large OAK TREES that adds not only beauty to the land but also serves as a great sun blocker for our cattle and horses! It always amazes me what I find on the ground under these beautiful trees....they're like small little nature gems that can be used for an abundance of things, just perfect for crafting and art projects. The small pieces of limbs are full of eye catching "attachments" that really adds some interest! Some of these attachments on the pieces of wood are a soft sage green/grayish color.....some have lovely ruffled edges or golden mossy areas....some look like dried grass.....some are covered with tiny round attachments to the pointy growths and there are even orange colored "flowers" that are resting on the pieces. They actually remind me of plants that grow underwater that sway back and forth.......beautiful and interesting!! I have no idea what the "ball" that is attached to the small twig is.....your guess is as good as mine! I will say though, it is very odd looking and an eye catcher!

Another piece of associated with the oak tree is the MOSSY BALL......this beautiful piece is so interesting. The soft sage green color is mixed with gray and brown......and to top it all off, there are these little grassy tentacles that shoot out of the ball about 3" long. This very unique piece will surely add interest to your display.

There is also a piece of GREEN MOSS that is attached to some pieces of tree bark. The piece is very fragile and I'll ship it enclosed in a baggie to keep the piece together. If by chance some of the bark falls off the moss, there is a photo where you can see the backside of the moss piece.......that will let you see where you might need to re-attach it with some clear glue.

The DEER ANTLER must have sat out in the elements for some time......it appears to be a little sun bleached and is starting to become dried out, but still a wonderful find! Nothing says Western or Texas wildlife than a deer antler.....I love working with them.....they can be added to floral arrangements and wreaths. I even have an old wire basket filled with other larger antlers from previous walks. This small half rack could be the beginning of a collection......or it could be that one little touch of something needed to complete a craft project. One of my customers said she was going to put the Texas Nature Gifts that she purchased inside a display case to help showcase her beautiful handmade jewelry......what a great idea!!

And lastly is the WILD TURKEY FEATHER.....we have lots of wild Rio Grande Turkeys that roam free on our ranch and this is one of the feathers that I found. I have many listings for feathers in my shop if you are interested in purchasing more of them.....they are all natural with no dyes and haven't been cleaned or chemically treated, sold exactly the way I found them. All the feathers that I sell, including this beautiful full wing feather, are gathered as a result of the natural molting process, from free roam birds.

All these pieces reflect the fact that nature is around us, gifting us with little surprises! Use them separately in projects of your choice......or make a special wreath to hang in honor of Texas wildlife.

****Being that these items are very fragile, I plan to wrap them extra carefully so that they arrive to you in perfect condition. Just in case some of the attachments do break off of the limb pieces during shipping, I am sure that you could re-attach them with some clear glue......and just in case this does happen, I plan to include an extra limb with similar looks for you at no charge! :)
---
---

Your items made everything picture perfect! 🖤

May 28, 2018 by Merry
---
More from this seller
---
Shipping & policies
Preparation takes 1-3 business days
Arrives from the United States
Estimated Shipping
*I'll be happy to ship internationally. Feel free to send me a message and I can get you the shipping cost.
*My shipping charges consist of the POSTAGE (which includes a delivery confirmation fee or insured fee so that both you and I can track your package), AS WELL AS THE COST OF PACKING MATERIALS.
*Any overcharges on shipping over $2.00 will be promptly refunded.
*Packages weighing 13 oz. and UNDER usually ship Priority.
*Packages weighing OVER 13 oz. usually ship Parcel Select or Flat Rate.
*ALL METHODS OF SHIPPING ARE AT MY DISCRETION. If I see that a pkg. can be mailed at a lower price and still arrive within the same projected time as at a higher rate, I will use my better judgement and make decisions accordingly.
*Upgraded shipping services and optional Insurance is available at extra costs.
*I am not responsible for items not received due to an incorrect address, unless through my error.
*I can not accept responsibility for items lost, stolen or misdireted in the mail.
*Please make sure that your Etsy and PayPal addresses are correct. If they differ, please send me a message to let me know which address you want your items to be shipped to.
*I try my best to get all my orders shipped within 3 days. If there is a rush on a purchase, please contact me and I will do everything I can to assure you get your order on time. Unfortunately, orders placed on Saturdays and Sundays will not be able to be mailed until Monday.
---
Payments
*Payment is accepted through PayPal only.
*PayPal accepts Visa, Mastercard, American Express, Discover & Echeck even if you don't have an account with them. Make that selection at their log-in section.
*I absorb all sales tax to my Texas buyers.
*All items are paid for at check out, no delayed payments.
---
Returns & exchanges
*Refunds will be made at seller's discretion.
*Please open and inspect your order immediately after receiving it.
*If you receive your order and are not happy with it, you need to contact me within 3 days after receipt.
*In order to receive a refund, the order must be returned to me in the condition in which I sent it.
*Refunds or exchanges for another item will be based on the purchase price.
*No refunds on custom or personalized orders, unless through my error.
*Postage and Handling fees will NOT be refunded on returned orders and the cost of returning the order is the buyer's responsibility.
---
Additional policies
*All items are sold "as is" and I suggest that you take time to go over the pictures and description of your item so that you are aware of its condition.
*It is not my intent to mislead anyone in any of my listings. However, please note that sizes and actual color of items may slightly vary from what it appears. I take every precaution to make sure photos and descriptions reflect them as close as possible to the actual item.
*Only items described in the listing are included in the selling price. If by chance, you are interested in a "prop item" in the listing, please message me.
*I want my buyers to be happy with their purchases and if there is something wrong, please contact me as quickly as possible and I will see what I can do to make things right.
*Feel free to email me for any requests or questions that you may have.