1896 Victorian Pattern for English-style dress in drap moire - sized for you from antique original. Bonus pattern of lingerie! #221
(1)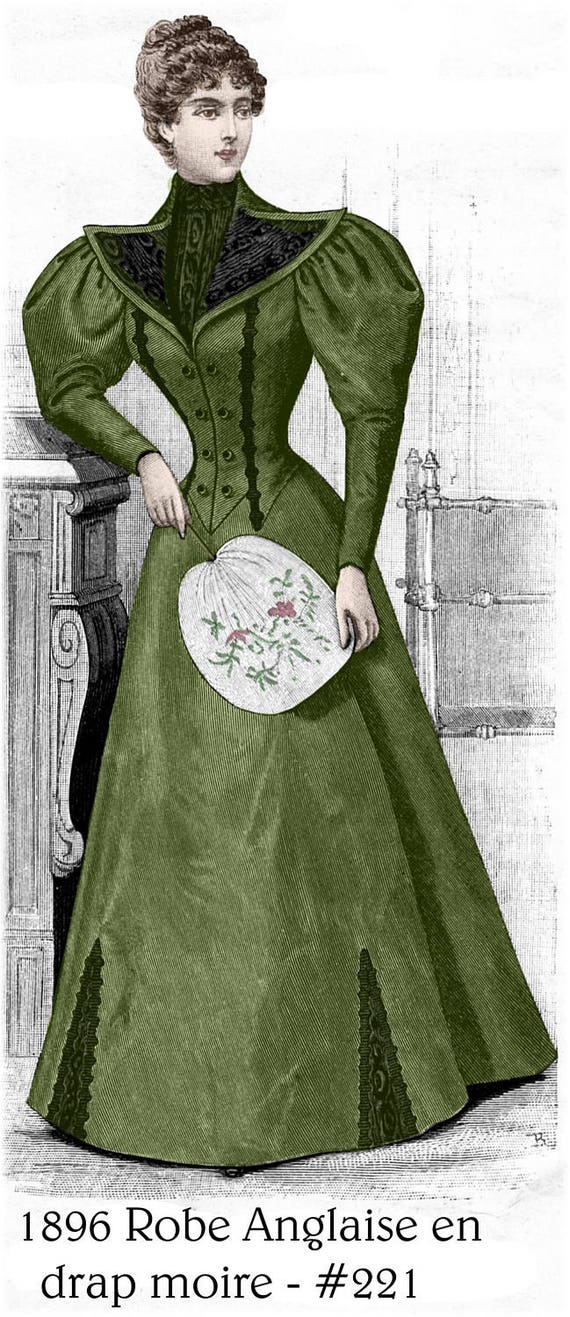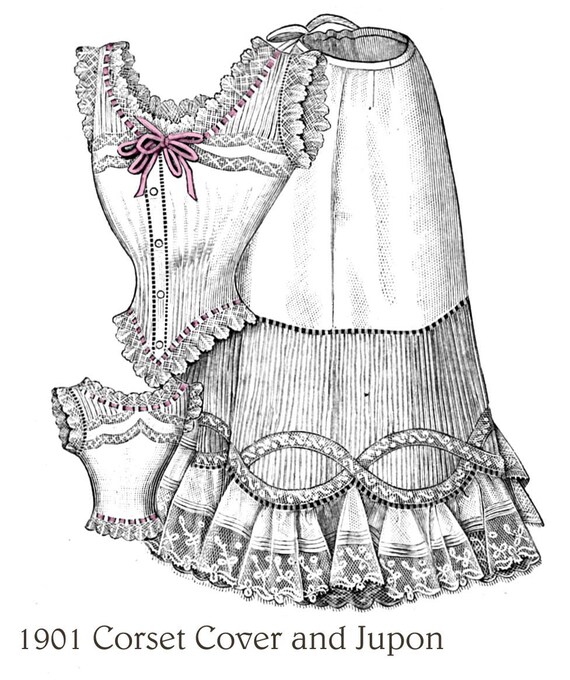 Preparation takes 3-5 business days
Arrives from the United States
---
Features
---
Item details
From original description: This dress, made of olive cloth, is adorned with black moire and braids in black. On the seams of the skirt front are pointed pieces in moire. The edges of these pieces are covered with strips of fabric. The bodice, which may be open or shaped, is covered in the form of a breastplate with moire that is adorned with a hollow pleat, and is lined with moire. There is a folded collar covered with moire. The front and back seams are covered with lace. The bodice closes with hooks and there are two rows of decorative buttons. The sleeves are fairly wide.

To help add to your historic wardrobe, I am offering this customized reproduction of an antique pattern - but with a big difference - it is sized for your bust, waist and back length measurements. The top/bodice is adjusted to your high bust measurement and the waist on the bodice pattern will most likely need to be adjusted. The waist measurement you send will be used on the skirt. If you prefer, the pattern can be sent in the original size - no adjustments. Just let me know.
This is taken from the original antique pattern and includes the markings that were on each piece. Note the sale is for reproductions on disk, not the antique paper originals. You will receive a computer disk with the patterns as a PDF file.
A paper pattern option is now available! In addition to the PDF file on the disk, you can save even more time and effort with your customized pattern printed on large sheets of paper. No printing out many small sheets to tape together. You are ready to start your first fitting! See below for details.

What is included on the disk: Patterns will include a translation into English as well as the original language. The instructions are generally very brief and assume the seamstress would be knowledgeable in advanced techniques.
The pattern markings clearly show which pieces are joined together. To further assist you, there are complete copies of both the 1911 and 1921 edition of "The Dressmaker by Butterick" on the disk which have extensive information on making dresses, skirts and waists/blouses. There are also several other period sewing and fashion books and articles in PDF form included.

In addition to the many reference materials, there are bonus patterns for such items as bustles, lingerie, cuff and collar sets. Lingerie patterns from the same time period, such as corset covers, pantaloons, petticoats, and accessories are an additional bonus!

These patterns are taken from original Victorian and Edwardian publications (generally Mode Illustree and Harper's Bazar) and will save you hours of work and frustration. The publications of this time period offered sewing patterns that were over-printed on one large sheet. The user had to laboriously trace out each piece with a tracing wheel, carefully following its unique lines, transfer any markings and then adjust it to her particular size. These steps are done for you. Even if you owned an original publication with patterns, it is unlikely you would wish to use it with a tracing wheel as 100 year old paper is generally quite fragile. With Ada Rose Patterns, the size has been adjusted to your high bust measurement, waist (for skirts) and back length.

You will need to send your high bust size (taken at the level of the underarm), waist and your back length (from base of neck to waist). Please note that if you are going to wear a corset, it should be worn during these measurements for more accurate sizing.

- - - - - - - - - - - - - - - - - - - - - - - - - - - - - - -
Two options for patterns:
• You can print the pattern pieces out from the disk: You may print out the pattern pieces on your computer. Adobe Reader DC is a free program for PDF files and it is very easy to use to print out your pattern. It is labor intensive as you must tape all the pieces together when you print on 8-1/2" x 11" paper. Less expensive but time-consuming and you still pay for all the paper and tape needed.
• I can supply you with the patterns printed on large sheets of paper (36 inches by 48 to 60 inches) for an additional cost that would be added to your invoice. Enjoy the luxury of Ada Rose Patterns that are customized to your measurements and allow you to start a fitting much sooner.
- - - - - - - - - - - - - - - - - - - - - - - - - - - - - - -

Please note, the original patterns did not have seam allowances and neither do the reprints - you will need to draw them in once you have done a paper or initial fitting. Be sure to leave room on your pattern to do this when you cut them out.
Instructions are included on the disk for preparing and using the pattern. These patterns are generally not for the beginning seamstress. They could be mastered with the reference material and a willingness to put in some study by a beginner well versed in basic sewing skills. The library on the disk would allow most people to do this. Many of the skirts and blouses would be within the capabilities of an advanced beginner.

Each disk contains the instructions that came with the patterns as well as reference material to help you better understand and enjoy period garments. A file of the color print (if done) is included as well as B&W prints; these may be printed out and used to try color schemes or for whatever personal purpose you like. A file of the back view will be included if it was in the original publication - not all will have them.
The Library folder of reference materials includes several Victorian and Edwardian books (copyright free PDF files) on dressmaking, sewing, period techniques and manuals of taste plus a book list of modern guides.

Paper Patterns: Paper patterns of your customized pattern can now be ordered. They are printed on 36" wide paper that is 48" to 60" long. You have the option of having the patterns shipped in a 37" tube - rolled up or shipped in a large envelope - folded. Since the patterns are printed and mailed from a different location, there is a minimum order plus a separate shipping charge - either media mail or whatever you choose (UPS or different types of Post Office such as Priority or Express). The printer charges a minimum of $15. for a two sheet order; a two sheet order will generally be enough for a blouse and Edwardian (non-bustle) skirt.
If there is space left on the sheets, I will add some of the patterns for the bonus patterns (lingerie, collars, accessories, etc.) If you definitely want me to print out a specific bonus paper pattern for any of the bonus items, let me know so I can add them in. When you order several patterns, the cost will be $2.50 for each extra sheet needed (above the $15 minimum sheet order of two); so an order of 12 sheets would cost $40 plus shipping. This would cover several more patterns. International orders can be done, but shipping is expensive as there is no media rate available.
If you have ordered patterns from me previously and want a paper pattern of it now, let me know and I will set up a separate listing for you on Etsy.

Shipping: The disk can be mailed either Media Mail, Priority or First Class Mail (all with tracking). International shipping is available. I am not able to e-mail files due to the size and number of files involved.
Patterns Not Yet Listed: Please let me know if there are specific items of clothing you are interested in - I have patterns from approx. 1868 to the 1910s. Thanks for looking and please feel free to ask questions.

The measurements needed to customize are: high bust (not the full bust) - chest measurement at the level of the underarm - waist and back length (neck to waist). If these measurements are not received within 4 business days, I will send a few reminders but please keep in mind that Etsy has time limits on order processing, so your order may be cancelled and refunded if measurements are not received within their rules.
---
---

I was originally going to make an ensemble like this with the light blue wool I have, but I've changed my mind about the project and will be using the fabric for something else. However, I can't wait to one day use this pattern and make a poufy-sleeved outfit of my very own.

4 days ago by Elena Burger
---
More from this seller
---
Shipping & policies
Preparation takes 3-5 business days
Arrives from the United States
Estimated Shipping