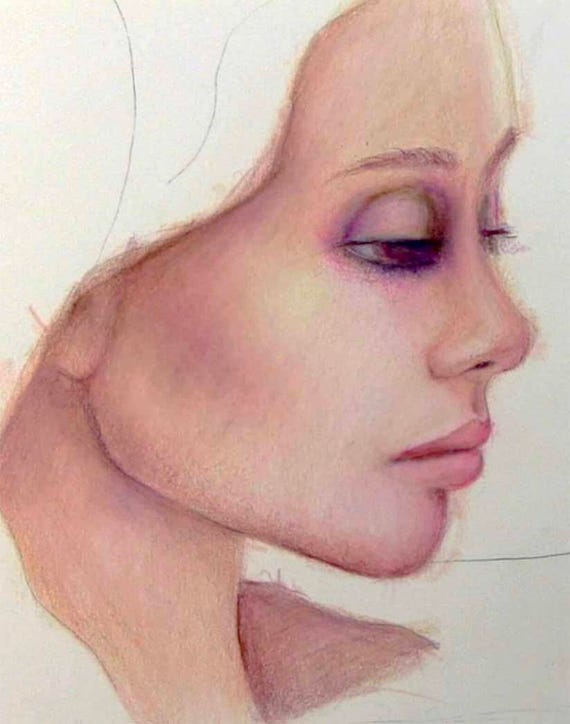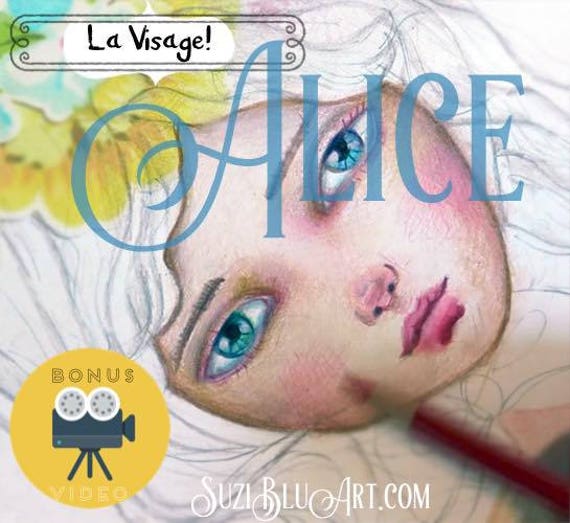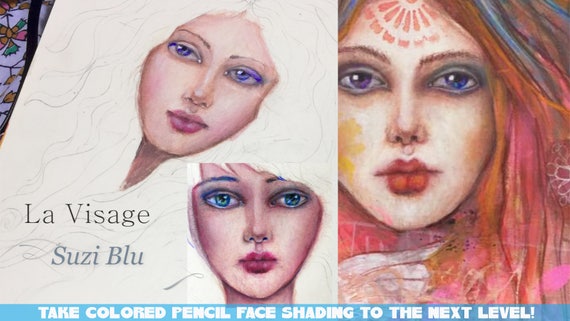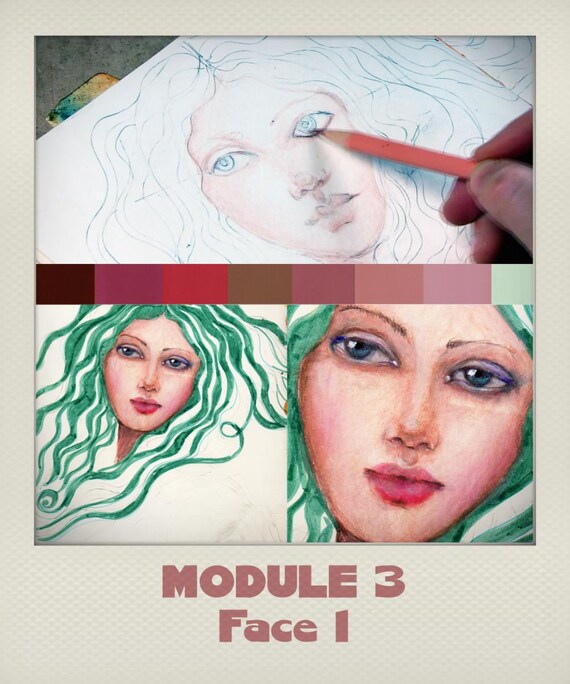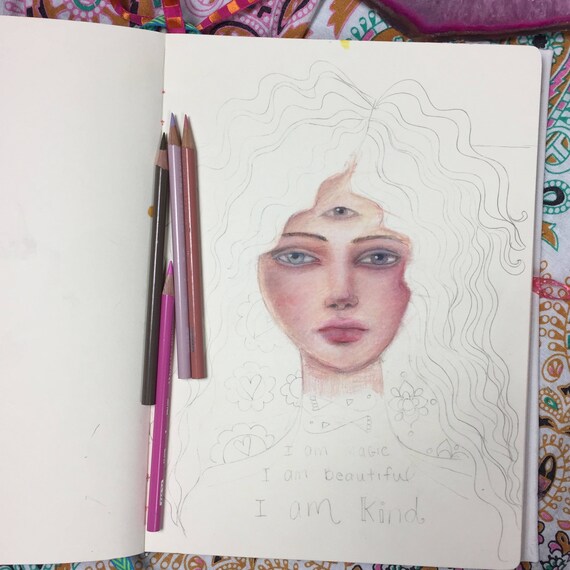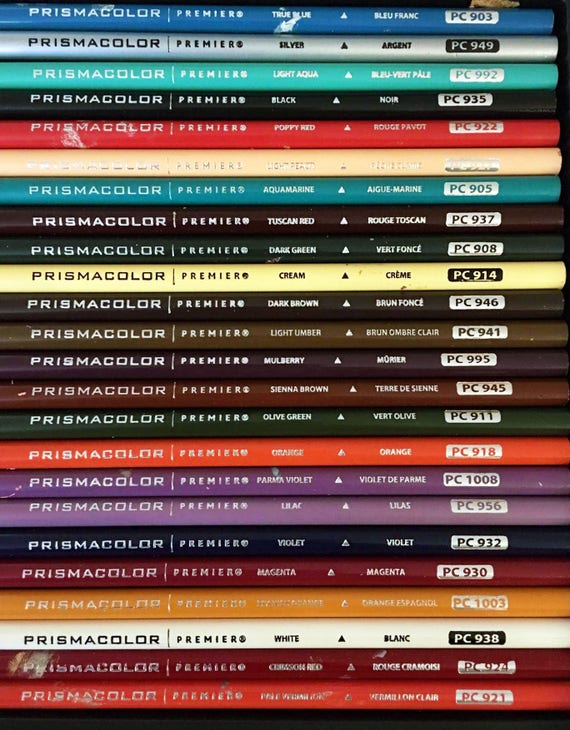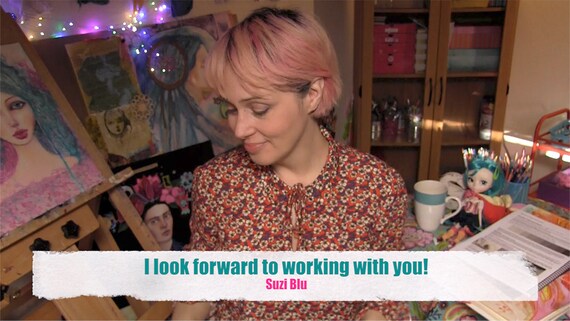 ---
Features
Made in East Brunswick, New Jersey
---
Item details
This workshop includes FORTY FIVE (45) downloadable videos. Please download them to your own device as soon as possible, since they will only be up on Vimeo for a year. Once you download them, they are yours forever.

In this comprehensive colored pencil workshop, Suzi Blu will both show and tell you what you need to know to take your colored pencil skills to the next level - no matter if you are a true beginner or an accomplished artist. You will learn everything - from how to hold your pencils, different stroke techniques and what they achieve, blending techniques, and the basic building blocks of colored pencil shading. Special focus will be given to turning flat faces on the page into three-dimensional portraits. Beginners will find a nurturing learning environment, and continuing Suzi Blu students will definitely hone and improve their skills.

This workshop is comprised of 45 videos containing hours and hours of instruction (much of which is in real time and includes step-by-step instruction done in the moment) and a very detailed PDF. And while this workshop isn't technically a drawing class, you will learn how to use a reference photo for feature placement but also how to make it your own, in addition to how to use a reference photo of a family member or friend and turn it into a more realistic portrait, how to use the grid method to duplicate a reference photo, how to use a face stamp (such as Suzi Blu's Gypsy Face stamp from Unity or Suzi's digital face stamp in her Etsy shop) to begin a portrait if you don't want to have to worry about perfect placement of facial features, and also how to take a face that you've already shaded that is the wrong size and turn it into an original portrait that *is* the right size for your composition. You'll also learn how to alter the features of a face if you are unhappy with their appearance - just one of the beauties of working with colored pencils.

Suzi Blu will explain the differences between colored pencils and why she uses the brands that she does and why she uses them when she does. You will also receive a PDF with a list of Suzi's go-to portrait colors. She lets you know the intensity of each color and whether that color is warm or cool, why this information is important, and how to use this knowledge to guarantee that your portrait ends up with a rich and vibrant complexion.

The following videos are either recorded entirely in real-time or nearly so, with primarily step-by-step, in-the-moment commentary by Suzi Blu, so that you will see and understand the reasoning behind what pencils she decides to use.

La Visage, Introduction — (one video)

La Visage — Side One through Side Five (five videos)

Animale Face — Introduction plus A through F (seven videos)

Module 2 — Videos A and B (two videos)

Module 3 — Face One and Face Two. Parts 1-3 (five videos)

Into the Light — Part 1 and Part 2 (two videos)

Starry Night — (two videos)

Gypsy Girl — Videos 1-3 (three videos)

Color and Composition, Introduction — (one video)

Color and Composition, Colored Pencil Basics — (one video)

Love Song — (two videos , one real time and one time lapse)

Viva La Frida — (two videos, one time lapse and one real time with voice-over instruction)

The following videos are primarily time-lapse (but sped up only slightly)

Piety and Passion — Videos 1-3 (three videos, which includes two separate faces)

Still I Rise — (one video, with voice-over instructions)

Riot Girl - (one video with voice-over instructions)

Mourning Worlds — (two videos, with voice-over instructions)

Kindness Angel - (one video, with voice-over instructions)

and

In the Heart of the Sun — Part 1 (one video). This video demonstrates how you can use unconventional portrait colors yet still end up with a gorgeous face. This girl is incorporated into the sun and is meant to appear as if she is radiating sunlight.

New Bonus Video - ALICE!

*IMPORTANT: Colored pencil techniques taught in this class are the intellectual property of Suzi Blu and demonstration by anyone other than Suzi Blu for non-Suzi Blu-class participants is strictly prohibited. You are prohibited from sharing, either by written word, recording, video, any other electronic device, or even in person, *any* of the techniques or information you've received in this class. I wish I didn't have to say this, but since many of my former students are now teaching the exact techniques (some of which took me years to perfect) and other things they learned from me in my workshops previously, I will do everything in my power to protect my intellectual property from anyone who lacks integrity.

**Note: you absolutely may sell the artwork that you make in this class, but if you sell it online, post a link back to this Etsy listing. If you sell the artwork in person, make a note that Suzi Blu was your teacher and inspiration, and include the URL to my Etsy shop. Let's share the love! Of course I want you to be able to sell your creations, but give credit where credit is due. You can help me reach new students so we can both continue this amazing art journey!
---
---

If you want to learn how to shade or use colored pencils in general, then this is the class for you. I am still enjoying all the classes and have learned so much! Thank you., Suzi!

Apr 5, 2018 by Bev Sparks

Suzi is a natural when it comes to teaching. She explains everything clearly and genuinely cares about each of her students. She is generous with her time and knowledge. Highly recommend!

Nov 3, 2017 by Poling Lau

so so so effing good!

Oct 19, 2017 by emilyschmemily

Very happy with my purchase 👏🏻👏🏻

Jul 3, 2017 by First Name Last Name
---
More from this seller
---
Digital downloads
---
Payments
Buyers in New Jersey will have to pay New Jersey state sales tax.