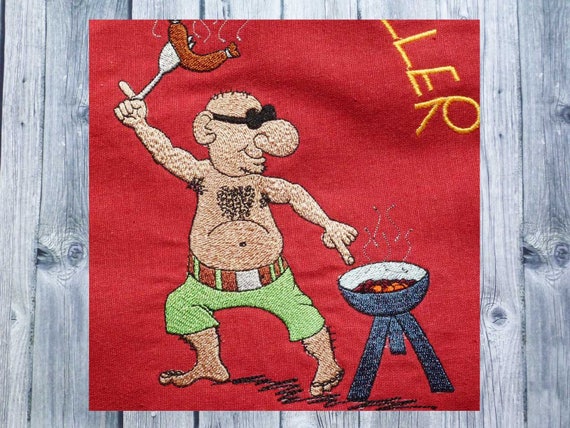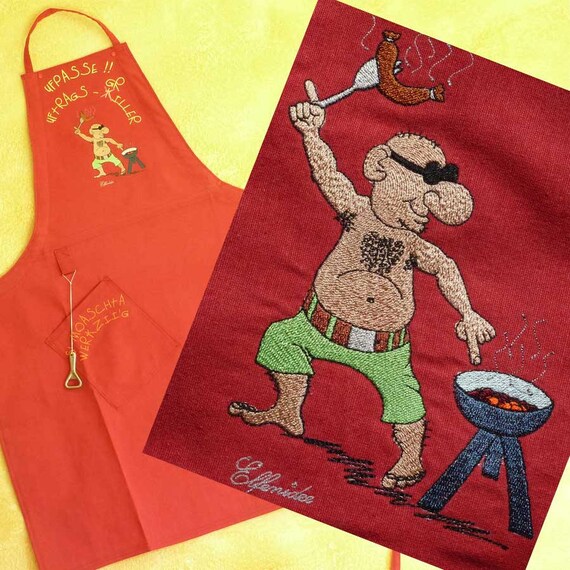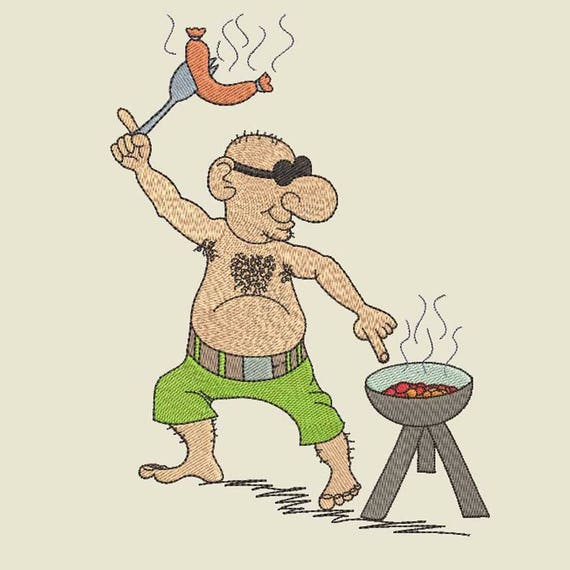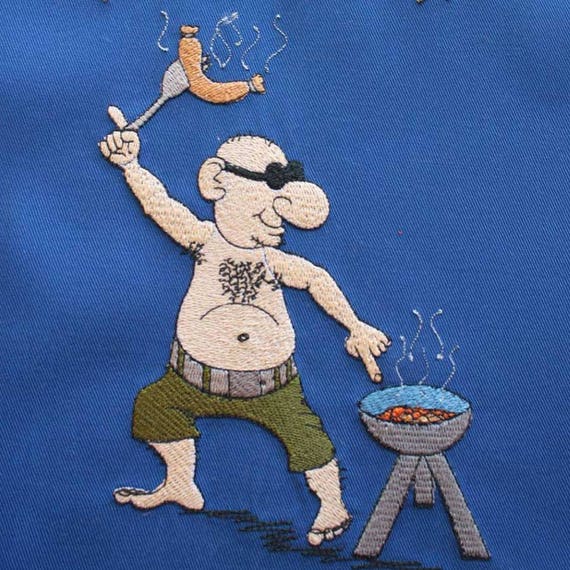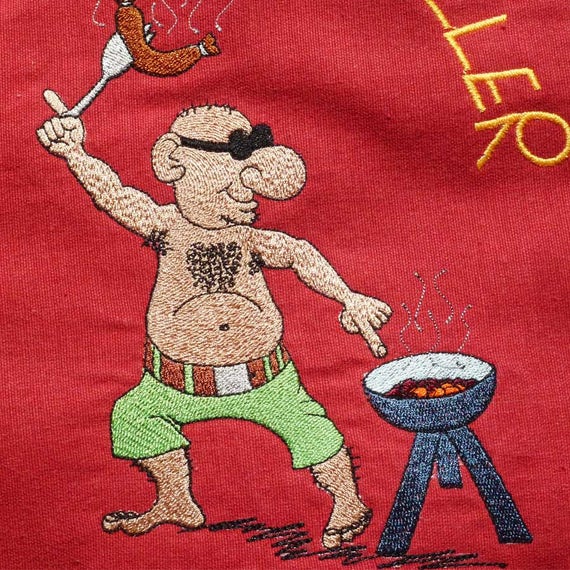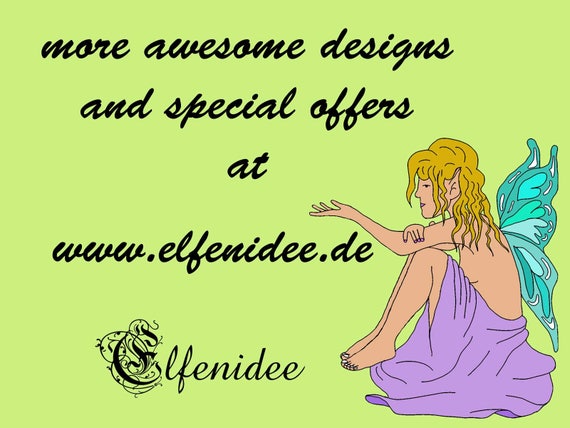 ---
Features
Made in Tübingen, Germany
---
Item details
Sorry, we couldn't translate this to English.
A witty embroidery design for the 13x18 frame, which also inspires men... The Master Griller is a witty, embroidered cartoon and on e.g. a barbecue apron an ideal gift for men-not only for Father's day. Grill Accessories embroidered with this failed embroidery are very popular at every barbecue party.

Suitable for the 13 x 18 cm (6 "x 10", or 8 "x 8"!!) Framework

Size: 12.5 x 17.9 cm (4.92 "x 7.04")

Colours: 12

Stitches: ca. 20755

Additional information about file formats and download options can be read in the FAQs.
---
---

Ein tolles Motiv, das jetzt eine Grillschürze ziert.

Jul 18, 2017 by SchneidereiSchneider

Translate to English

You're viewing an automatic translation provided by Etsy (not the official version)

There was a problem fetching the translation.
---
More from this seller
---
Digital downloads
---
Payments
Secure options
Etsy Studio keeps your payment information secure. Etsy Studio shops never receive your credit card information.
---
Terms & conditions
ALLGEMEINE GESCHÄFTSBEDINGUNGEN


§ 1 Geltungsbereich, Kundeninformationen

Die folgenden allgemeinen Geschäftsbedingungen (AGB) regeln das Vertragsverhältnis zwischen Einzelunternehmen (Beate Demhold – Elfenidee, Biesingerstr. 33, 72070 Tübingen, Tel.: 070718595681) und den Verbrauchern und Unternehmern, die über unseren Etsy-Shop Waren kaufen. Entgegenstehende oder von unseren Geschäftsbedingungen abweichende Bedingungen werden von uns nicht anerkannt. Die Vertragssprache ist Deutsch.


§ 2 Vertragsschluss

(1) Die Angebote im Internet stellen eine unverbindliche Aufforderung an dich dar, Waren zu kaufen.

(2) Wegen der Details des jeweiligen Angebotes wird auf die Produktbeschreibung der Angebotsseite verwiesen.

Du kannst ein oder mehrere Produkte in den Warenkorb legen. Im Laufe des Bestellprozesses gibst du deine Daten und Wünsche bzgl. Zahlungsart, Liefermodalitäten etc. ein. Erst mit dem Anklicken des Bestellbuttons gibst du ein verbindliches Angebot auf Abschluss eines Kaufvertrags ab.

(3) Mit der unverzüglich per E-Mail versandten Zugangsbestätigung wird gleichzeitig auch die Annahme des Angebots erklärt und der Kaufvertrag damit abgeschlossen.

(4) Stickdateien sind Daten für Stickmaschinen und werden als sogenannte ZIP-Dateien zum Download angeboten. Es handelt sich hier nicht um fertig gestickte Produkte/ Applikationen. In den ZIP-Dateien sind die Stickdateien in gängigen Maschinenformaten (pes, dst, hus, exp, sew, xxx, jef, vp3, abweichende Formate können gerne über das Kontaktformular erfragt werden), sowie die nötigen Informationen zur Stickdatei oder auch Arbeitsanleitungen im PDF Format enthalten. Um diese zu öffnen wird ein aktueller PDF-Reader und ein ZIP-Programm benötigt.


§ 3 Artikelabweichungen

Die angebotenen Upcycling Produkte werden alle in Handarbeit hergestellt und können so von Grösse und Form minimal abweichen. Dies stellt jedoch keinen Mangel, sondern Zeugnis echter Handarbeit dar. Daher bemühen wir uns, alle angebotenen Artikel so detailgetreu wie möglich abzubilden.


§ 4 Urheberrecht

Die von Elfenidee bereitgestellten Stickdateien sind urheberrechtlich geschützt, eine Nutzung ist nur zu privaten Zwecken und für den kleingewerblichen Rahmen, maximal 10 Stück pro Motiv, zulässig. Sofern du größere Mengen (> 10 Stk.) von Waren zum Verkauf besticken möchtest, kannst du eine erweiterte Lizenz erwerben. Hierzu kontaktiere die Elfenidee bitte über das Kontaktformular.
Einzelne Motive mit Designschutz durch die Elfenidee dürfen nur privat verwendet werden.
Dies ist immer in der Artikelbeschreibung gesondert vermerkt!
Solltest du diese Designs gewerblich nutzen wollen, wende dich bitte über das Kontaktformular an uns, um Sondernutzungsrechte vereinbaren zu können (dabei entstehen zusätzliche Kosten).

Freebies der Elfenidee dürfen immer nur privat verwendet werden!

Solltest du gefertigte Artikel mit Designs der Elfenidee verkaufen wollen, ist der Zusatz "design by Elfenidee" / "Stickdateidesign von Elfenidee" anzugeben.
Dieser Hinweis (Stickdesign von Elfenidee) ist ebenfalls anzugeben, wenn du Bilder von gestickten Werken mit Dateien von Elfenidee im Internet zeigst/abbildest.
Du erwirbst an den Download-Dateien kein Eigentum. Du erhältst ein einfaches, nicht übertragbares Recht zur Nutzung der Stickdateien.

Eine Weitergabe oder ein Weiterverkauf, sowie das Tauschen oder Kopieren ist ausdrücklich untersagt.
Ferner ist es nicht gestattet die Dateien zu Verändern, Teile zu entnehmen oder zu entfernen und als eigene Werke auszugeben.
Eine Änderung der Größe stellt eine Veränderung dar und ist somit nicht gestattet.
Ebenso ist es untersagt, die Dateien nur teilweise zu sticken oder Teile wegzulassen.
Desweiteren ist eine andere Verwendung, als die Dateien auf einer Stickmaschine abzusticken generell untersagt.
Die Dateien dürfen nicht in andere Dateiformate konvertiert werden – insbesondere darfst du KEINE Plotter-Dateien oder Dateien für Druckerzeugnisse (auch Sublimationsdruck) daraus erstellen.

Desweiteren darfst du die Inhalte Dritten nicht zur Verfügung stellen, insbesondere nicht durch öffentliche Zugänglichmachung.
Rechtswidrige Nutzungs- und Verwertungshandlungen werden zivil- und strafrechtlich verfolgt.

Die Stickdateien der Elfenidee dürfen jederzeit mit anderen Stickdateien kombiniert werden.


§ 5 Kundeninformation: Speicherung Ihrer Bestelldaten

Deine Bestellung mit Einzelheiten zum geschlossenen Vertrag (z.B. Art des Produkts, Preis etc.) wird von uns gespeichert. Die AGB schicken wir dir zu, du kannst die AGB aber auch nach Vertragsschluss jederzeit über den Etsy-Shop aufrufen. Als registrierter Kunde kannst du auf deine vergangenen Bestellungen über den Kunden LogIn-Bereich ( Mein Konto) zugreifen.


§ 6 Kundeninformation: Korrekturhinweis

Du kannst deine Eingaben vor Abgabe der Bestellung jederzeit mit der Löschtaste berichtigen. Wir informieren dich auf dem Weg durch den Bestellprozess über weitere Korrekturmöglichkeiten.
Den Bestellprozess kannst du auch jederzeit durch Schließen des Browser-Fensters komplett beenden.


§ 7 Eigentumsvorbehalt

Der Kaufgegenstand bleibt bis zur vollständigen Bezahlung unser Eigentum.


§ 8 Verjährung Ihrer Gewährleistungsansprüche

(1) Für unsere Waren bestehen gesetzliche Mängelhaftungsrechte.

(2) Gewährleistung gegenüber Verbrauchern bei Gebrauchtware
Ihre Ansprüche wegen Mängeln bei gebrauchten Sachen verjähren in einem Jahr ab Übergabe der verkauften Sache an Sie. Von dieser Regelung ausgenommen sind Schadensersatzansprüche, Ansprüche wegen Mängel, die wir arglistig verschwiegen, und Ansprüche aus einer Garantie, die wir für die Beschaffenheit der Sache übernommen haben. Für diese ausgenommenen Ansprüche gelten die gesetzlichen Verjährungsfristen.

(3) Gewährleistung gegenüber Unternehmern
Ihre Gewährleistungsansprüche wegen Mängel der Kaufsache verjähren in einem Jahr ab Gefahrübergang. Von dieser Regelung ausgenommen sind Schadensersatzansprüche, Ansprüche wegen Mängel, die wir arglistig verschwiegen, und Ansprüche aus einer Garantie, die wir für die Beschaffenheit der Sache übernommen haben. Ebenfalls ausgenommen ist der Rückgriffsanspruch nach § 478 BGB. Für diese ausgenommenen Ansprüche gelten die gesetzlichen Verjährungsfristen.


§ 9 Haftungsbeschränkung

Wir schließen die Haftung für leicht fahrlässige Pflichtverletzungen aus, sofern diese keine vertragswesentlichen Pflichten, Schäden aus der Verletzung des Lebens, des Körpers oder der Gesundheit, Garantien oder Ansprüche nach dem Produkthaftungsgesetz (ProdHaftG) betreffen. Gleiches gilt für Pflichtverletzungen unserer Erfüllungsgehilfen und unserer gesetzlichen Vertreter. Zu den vertragswesentlichen Pflichten gehört insbesondere die Pflicht, dir die Sache zu übergeben und dir das Eigentum daran zu verschaffen. Weiterhin haben wir dir die Sache frei von Sach- und Rechtsmängeln zu verschaffen.


§ 10 Verbraucherinformation: Nichtteilnahme an einem Streitbeilegungsverfahren

Wir sind weder bereit noch verpflichtet, an einem Streitbeilegungsverfahren vor einer Verbraucherschlichtungsstelle teilzunehmen.




Widerrufsrecht und Kundendienst

Du hast das Recht, binnen vierzehn Tagen ohne Angabe von Gründen den Kauf zu widerrufen.

Um Dein Widerrufsrecht auszuüben, musst du uns

Elfenidee
Beate Demhold
Biesingerstr. 33
72070 Tübingen
Email: info[at]elfenidee.de

mittels einer eindeutigen Erklärung (z.B. ein mit der Post versandter Brief, oder E-Mail) über deinen Entschluss, diesen Vertrag zu widerrufen, informieren.
Du hast die Waren unverzüglich und in jedem Fall spätestens binnen vierzehn Tagen ab dem Tag, an dem du uns über den Widerruf dieses Vertrags unterrichtetest, zurückzusenden oder zu übergeben. Die Frist ist gewahrt, wenn du die Waren vor Ablauf der Frist von vierzehn Tagen absendest.

Folgen des Widerrufs

Wenn du diesen Vertag widerrufst, haben wir dir alle Zahlungen, die wir von dir erhalten haben, unverzüglich und spätestens binnen vierzehn Tagen ab dem Tag zurückzuzahlen, an dem die Mitteilung über deinen Widerruf dieses Vertrags bei uns eingegangen ist. Für diese Rückzahlung verwenden wir dasselbe Zahlungsmittel, das du bei der ursprünglichen Transaktion eingesetzt hast, es sei denn, mit dir wurde ausdrücklich etwas anderes vereinbart; in keinem Fall werden dir wegen dieser Rückzahlung Entgelte berechnet. Wir können die Rückzahlung verweigern, bis wir die Waren wieder zurückerhalten haben oder bis du den Nachweis erbracht hast, dass du die Waren zurückgesandt hast, je nachdem, welches der frühere Zeitpunkt ist.
Du trägst die unmittelbaren Kosten der Rücksendung der Waren. Du musst für einen etwaigen Wertverlust der Waren nur aufkommen, wenn dieser Wertverlust auf einen zur Prüfung der Beschaffenheit, Eigenschaften und Funktionsweise der Waren nicht notwendigen Umgang mit dir zurückzuführen ist.

Wichtiger Hinweis: Zustimmung zum Erlöschen des Widerrufsrechts von Stickdateien!!

Stickdateien sind vom Rückgabe- und Umtauschrecht ausgeschlossen.
Mit der Zustimmung zu den AGB durch Anklicken der Checkbox im Bestellvorgang, hast du, im Falle des Kaufs von Digitalen Gütern, ausdrücklich zugestimmt, dass die Ausführung des Vertrages vor Ablauf der Widerrufsfrist beginnt und das Widerrufsrecht erlischt.

Beschwerdeverfahren
Die Europäische Kommission stellt eine Plattform zur Online-Streitbeilegung (OS) bereit:
https://webgate.ec.europa.eu/odr/main/index.cfm