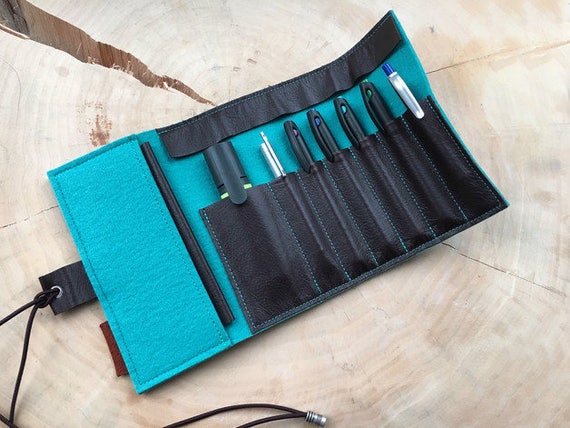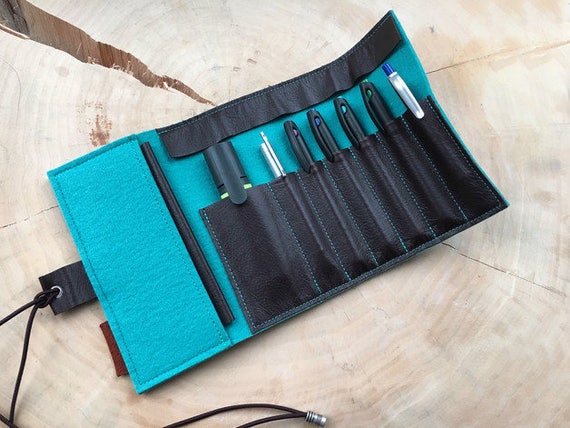 Preparation takes 1-3 business days
---
Features
---
Item details
Sorry, we couldn't translate this to English.
Our pin roll out of felt and leather offers pockets for pencils and pens with extra pocket for pens.
Is being closed by a rubber band, that you can change at any time.

We customize these pen role in different colour combinations – if you are interested in this respect we are pleased about every request.

° ° ° ☆ · · ° ° ° ¨¨¨ ° ° ° Copyright © Chiquita Jo 2017°° ° ¨¨¨ ° ° ° ☆ · · ° ° °
Size/dimensions:
Open dimensions: 35 cm x 20 cm

Materials used:
Leather, 3mm felt (100% wool), Ribbon, eyelet, or metal finish.

Method of production:
Designed by me even with Adams and produced!
---
---
More from this seller
---
Shipping & policies
Preparation takes 1-3 business days
Estimated Shipping
Der Versand erfolgt innerhalb von 2-10 Werktagen nach Zahlungseingang.
Gerne liefern wir das Paket gegen Aufpreis versichert. Bei der Bestellung bitte angeben!

Alle Artikel werden in professionellen Klarsichtschutzhüllen geliefert und in stabiler Versandtasche verschickt.

Versicherter Versand gegen Aufpreis möglich, bitte bei Bestellung angeben!(Ausnahmen, die als Päckchen oder Paket verschickt werden müssen, sind in der Artikelbeschreibung angegeben)

---
Payments
Alle Bestellungen sind zahlbar innerhalb von 7 Tagen, ansonsten behalte ich mir das Recht vor, die Bestellung zu stornieren.
Bestellungen unter 20 Euro bitte nach Möglichkeit nicht mit PayPal zahlen (Aufgrund der teuren PayPal-Gebühren)
---
Returns & exchanges
Widerrufs- oder Rückgabebelehrung
Widerrufsrecht
Sie können Ihre Vertragserklärung innerhalb von einem Monat ohne Angabe von Gründen in Textform (z. B. Brief,
E-Mail) oder - wenn Ihnen die Sache vor Fristablauf überlassen wird - durch Rücksendung der Sache widerrufen. Die Frist beginnt nach Erhalt dieser Belehrung in Textform, jedoch nicht vor Eingang der Ware beim Empfänger (bei der wiederkehrenden Lieferung gleichartiger Waren nicht vor Eingang der ersten Teillieferung) und auch nicht vor Erfüllung unserer Informationspflichten gemäß § 312c Abs. 2 BGB in Verbindung mit § 1 Abs. 1, 2 und 4 BGB-InfoV sowie unserer Pflichten gemäß § 312e Abs. 1 Satz 1 BGB in Verbindung mit § 3 BGB-InfoV. Zur Wahrung der Widerrufsfrist genügt die rechtzeitige Absendung des Widerrufs oder der Sache.
Der Widerruf ist zu richten an:
Gabriela Matamoros
Jochen-Klepper Str.64
25436 Uetersen

Widerrufsfolgen
Im Falle eines wirksamen Widerrufs sind die beiderseits empfangenen Leistungen zurückzugewähren und ggf. gezogene Nutzungen (z. B. Zinsen) herauszugeben. Können Sie uns die empfangene Leistung ganz oder teilweise nicht oder nur in verschlechtertem Zustand zurückgewähren, müssen Sie uns insoweit ggf. Wertersatz leisten. Bei der Überlassung von Sachen gilt dies nicht, wenn die Verschlechterung der Sache ausschließlich auf deren Prüfung - wie sie Ihnen etwa im Ladengeschäft möglich gewesen wäre - zurückzuführen ist. Für eine durch die bestimmungsgemäße Ingebrauchnahme der Sache entstandene Verschlechterung müssen Sie keinen Wertersatz leisten.

Beschädigte/gebrauchte Artikel, sowie Sonderanfertigungen sind von der Rücknahme ausgeschlossen.

Paketversandfähige Sachen sind auf unsere Gefahr zurückzusenden. Sie haben die Kosten der Rücksendung zu tragen, wenn die gelieferte Ware der bestellten entspricht und wenn der Preis der zurückzusendenden Sache einen Betrag von 40 Euro nicht übersteigt oder wenn Sie bei einem höheren Preis der Sache zum Zeitpunkt des Widerrufs noch nicht die Gegenleistung oder eine vertraglich vereinbarte Teilzahlung erbracht haben. Anderenfalls ist die Rücksendung für Sie kostenfrei. Nicht paketversandfähige Sachen werden bei Ihnen abgeholt. Verpflichtungen zur Erstattung von Zahlungen müssen innerhalb von 30 Tagen erfüllt werden. Die Frist beginnt für Sie mit der Absendung Ihrer Widerrufserklärung oder der Sache, für uns mit deren Empfang.

Ausnahme:
Für Waren, die nach Kundenspezifikation angefertigt wurden,entfällt
gemäß § 312d Abs.4 BGB das Widerrufsrecht.

Ende der Widerrufsbelehrung
---
Additional policies
AGB
Sämtliche Produkte und Arbeiten unterliegen dem Urheberschutz und dürfen nicht ohne Zustimmung von Gabriela Labudda kopiert, vervielfältigt oder veröffentlicht werden, auch nicht in Teilen.

Leichte Abweichungen von der Bildschirmdarstellung sind durch die individuelle Fertigung bedingt und kein Reklamationsgrund.
Sollte es Grund zur Beschwerde geben, werde ich mich selbstverständlich umgehend bemühen, das Problem soweit möglich zu beheben.
Shop-FAQ
Mögliche Fragen und ihre Antworten

1. Individualisierung bei Bestellungen / Maßanfertigungen

Wenn ihr euch individuelle Änderungen bei den favorisierten Produkten wünscht, brauchen wir genaue Angaben, um diese fehlerfrei umsetzen zu können. Das ist für euch besonders wichtig, weil individualisierte Bestellungen vom Umtausch ausgeschlossen sind. Erheblich ist in diesem Zusammenhang auch, das sich bei Maßanfertigungen häufig die Lieferzeit erhöht (7-10 Werktage!) - bitte bedenkt das bei Euren Bestellungen oder erfragt vorab die aktuellen Lieferzeiten. Ebenfalls wichtig ist, das sich der Preis je nach Aufwand bei Maßanfertigungen ändert - auch hier fragt bitte vorab bei uns an.

Wir brauchen bei Maßanfertigungen dringend von euch:

- Maße des Gerätes : Bitte gebt uns die genauen Maße des Gerätes an und nicht das Produkt.

- Stoffänderungen : Bitte erfragt vorab die Verfügbarkeit / Machbarkeit bei Stoff - Sonderwünschen.

- Namensbestickungen : Diese werden grundsätzlich auf Filz gestickt und dann auf dem Produkt angebracht. Das machen wir aus dem Grunde so, um den Stoff / das Leder durch das enge Lochmaß der Stickerei nicht zu perforieren, da es an diesen Stellen häufig zum Reißen führt. Hierfür haben wir verschiedene Farben beim Filz und unterschiedliche Farben beim Garn, was dann individuell optimal angepasst wird. Weiterhin benötigen wir von euch die Angabe des Platzes, wo ihr gerne die Bestickung platzieren lassen wollt, um vorher entscheiden zu können, ob das machbar ist!

- Design - Serien : Wir können unterschiedliche Produkte im gleichen Design anfertigen, um eine Design-Serie zu erhalten.

2. Material

- Eigengeruch der Stoffe : Je nach Hersteller können bestimmte Stoffe einen Eigengeruch aufweisen.

- Designfilz: Wir verwenden reiner Wollfilz aus 100 % karbonisierter Wolle. Wasser- und schmutzabweisend ausgerüstet. Hochwertiges Naturprodukt aus Schafwolle!

-Leder: Wir verwenden pflanzlich gegerbtes Leder.

3. Allgemeines

- Textilhinweis : Sensiblen Stoffen haben wir zum richtigen Umgang beim Versand einen Textilhinweis beigelegt.

- Verpackung : Alle Produkte werden sorgfältig in Klarsichttüten verpackt und danach in gepolsterten Versandtaschen oder Kartons verschickt.

- Versand/ Lieferzeiten :Unsere Lieferzeiten beziehen sich auf Werktage. Grundsätzlich arbeiten wir nicht an Wochenenden und beantworten daher Anfragen immer erst am Wochenanfang. Je nach Produkt variiert die Lieferzeit, besonders bei Maßanfertigungen.

- Versandkosten : Die Versandkosten setzen sich aus dem Verpackungsaufwand, dem Verpackungsmaterial, dem Transport und dem Porto zusammen.