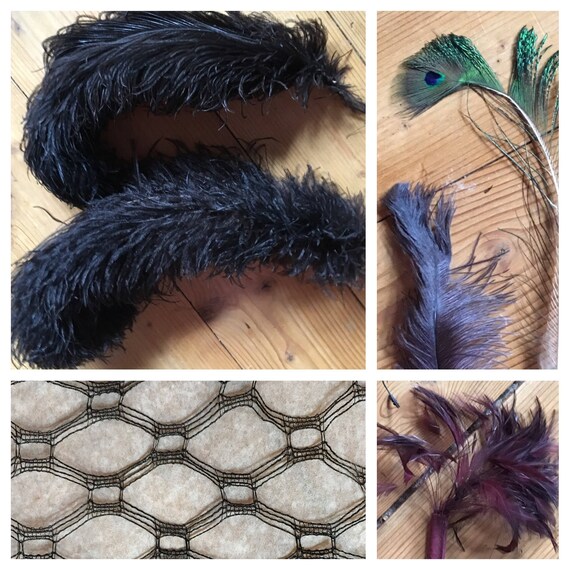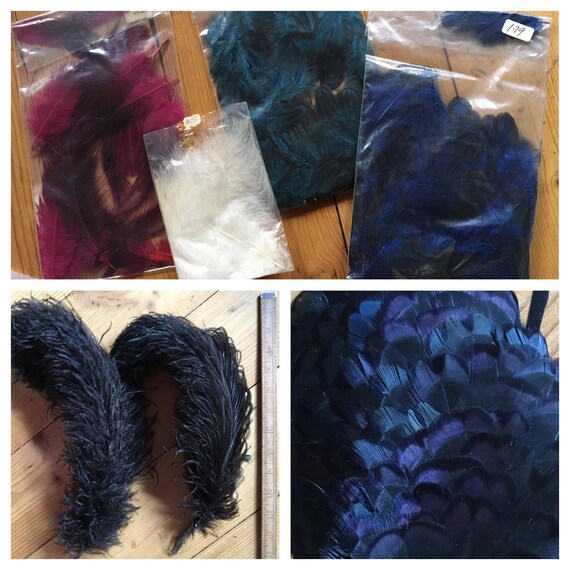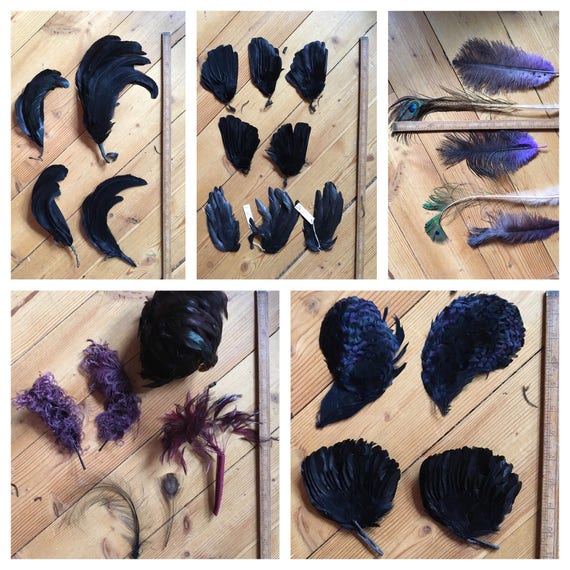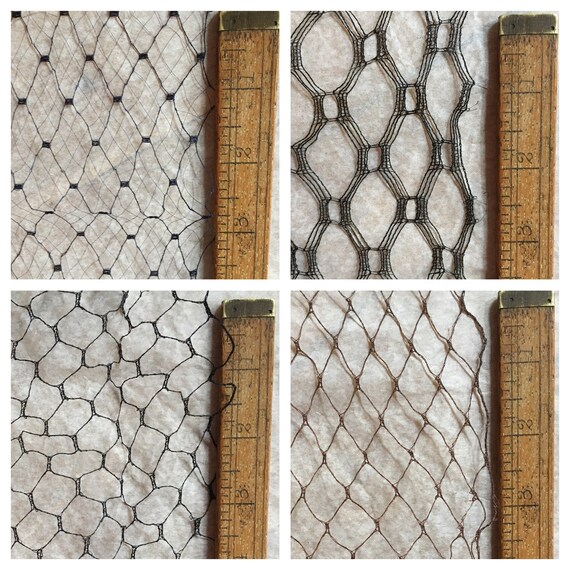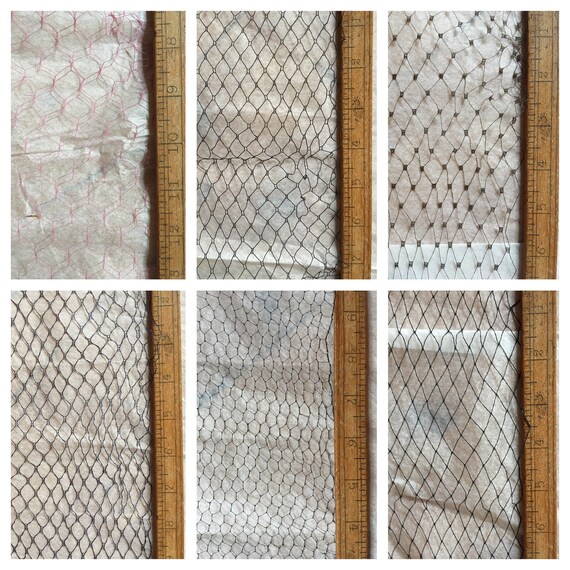 Preparation takes 1-2 business days
Arrives from the United States
---
Features
---
Item details
Wonderful selection of vintage and antique millinery supplies for hat-making; costuming; re-enactments or restoration work! The majority of the feathers just came from a house call where the previous owner had been a milliner and the subsequent owner kept anything she left in the house! The selection of nettings I believe I obtained on a previous house call & decided to combine with the feathers for a fab lot! (Excuse my layman's terms in the description)

Includes:

29 Feathers
(5) Peacock. These are the ONLY I added from my own stash. One of the longer pieces is broken near the top but still attached. One of the shorter has holes near the base. The other feathers are all in terrific condition.
(2) lightweight delicate
(3) soft shimmery black (two with tags)
(5) Deep black bundles
(2) fancy dense iridescent black with scalloped layers (see detail)
(2) very dense deep black fancy bundles. Could possibly be broken apart?
(2) soft fuschia dusky purple
(1) felt wrapped purple/burgundy airy flourish
(2) large dark brown ostrich plumes
(3) long curved deep black bundles
(1) extra long deep black bundled flourish
(1) large deep cocoa piece that seems to be its own swirled centerpiece? Does not unroll

Each photo includes a yardstick for size

Lot also includes the four bags of smaller accent feathers in fuschia, teal, indigo and white

10 Netting pieces (in inches)
Deep pink 15x40
Deep gray diamond with open pane between 8x30
Black diamond with filled pane 7x18
Navy blue diamond 6x40
Mini black 6x60
Simple charcoal diamond 8x52
Large navy diamond with fill 8x40
Large fancy open black 8x60
Medium fancy open black 15x30
Large open brown diamond 18x30

Most of this yardage is in excellent condition. There ARE some breaks here and there but it is truthfully impossible for me to list all and I risk damaging it the more I try to pull them apart and inspect. I only noticed two or three breaks while taking all the photos. Most are excellent and there is plenty to work with of each section.
---
---
More from this seller
---
Shipping & policies
Preparation takes 1-2 business days
Arrives from the United States
Estimated Shipping
How I calculate shipping:
Etsy asks for a flat shipping rate, and does not calculate. Therefore, to determine shipping, I put the item on my postal scale, weigh it, add in the weight of the box or the envelope then check USPS.com to see what the rate is for me to send from the East Coast to the West Coast. I typically round up to the closest dollar to cover the cost of my envelopes, paper, tags, tape, bubble wrap, boxes and trip to the PO. When I undercalculate I cover the cost. When I overcalculate I typically send a partial shipping refund back to the buyer through Paypal if the difference is greater than $1. I do not purposely inflate shipping nor look to "make" money from shipping. I simply try to not lose money through shipping and I still often fail at this.

International Shipping Costs
While I am happy to ship outside the US, please keep in mind that costs vary greatly once an item weighs over just a few ounces. This is why I list an "everywhere else" option for lightweight and non-bulky items, but, not for other items. I list a FIRST CLASS International Shipping Option as standard for overseas shipments. The US Post Office does not allow insurance on this option, or, on small flat rate parcels. Insurance can only be included for Priority Standard Rate, Priority Medium or Large Flat Rate or Global Express Purchases. Also, tracking or expedited shipment is only an option at Express services which are quite costly. I am happy to invoice you for these additional shipping options or services if you wish. Please note that the US Postal Service requires a "Priority Rate" fee be assessed for any item that weighs over 4 lbs. This greatly increases shipping costs from the first class rate. Please also note that the US Postal Service requires this same rate apply if an item is over 36" in total dimension. This means that if a package is 18" wide x 12" tall x 8" deep it MUST ship at the higher rate. I have no control over this; I simply calculate actual shipping costs for you. You can get an idea of what the shipping rates to your country will be by visiting www.usps.com.

Sample International Shipping Fees to the UK (Based on Actual Rates to the UK from the US February, 2010)
8 oz package: $7.32 (First Class; least expensive rate.)
1lb 8oz package: $14.20 (First Class; least expensive rate.)
2lb 8oz package: $21.08 (First Class; least expensive rate.)
3lb 8oz package: $27.96 (First Class; least expensive rate.)
4lb 8oz package: $40.20 (Priority Mail; least expensive rate.)

For that same 8oz package, here are the breakdowns in service:
8 oz First Class International: $7.32
8 oz. Priority Flat Rate Small Box or Envelope (item must fit): 13.95
8 oz. Priority Rate: $29.50 (Can include insurance for additional fee)
8 oz Express Mail International: $29.50 (can include insurance for additional fee)
8 oz Global Express (in GXS Envelope) $44.75 plus insurance fee. Includes tracking and usually 3 days or less shipping.
8oz Global Express Package Starts at $94.75 plus insurance fee. Includes tracking and usually 3 days or less shipping.


If you need me to calculate shipment outside the US please convo me for the total and I will update the listing for you.


International Shipping Restrictions:
I was recently turned away at the Post Office for attempting to ship jewelry to Estonia. I was unaware of such restrictions and apologize to any residents of Estonia. If I encounter any such unexpected restrictions, a full refund will be made to the purchaser. Please familiarize yourself with any restrictions on items to be sent to your country and please do not ask me to ship anything that is restricted, thank you.

Shipping Service
I ship USPS to everyone. I use the address in your Etsy receipt. If there is anything I need to know about your address please tell me at checkout. Buyers must pay the full amount of re-shipping for a returned item if it was shipped to an undeliverable address.

Because times are tough for everyone, I have started to quote the lowest possible shipping cost - typically 1st class or Parcel Post. Sometimes I upgrade to Priority if a buyer is closer to the East Coast and the payment will cover it. If you prefer to NOT have the upgrade, please drop me a note at checkout.

We typically ship early morning each Tuesday and Friday, EST. Purchases made and paid for by 5:00 pm the night before will be included.
---
Payments
Domestic Buyers: I accept Paypal, money orders and personal checks. Received Paypal payments and money orders will be shipped within 3 business days; items paid by personal check will ship as soon as the check clears for payment.

International Buyers - Payment should be made through Paypal.

Non-Payment
Items paid for with Paypal must be purchased immediately. Placing an item in your cart simply allows you to organize items that are to be purchased. It does not "hold" an item nor can I see items that are in your cart. I do accept check and money order payment from domestic purchasers and expect the payment to arrive within a week of the purchase.

Reserve Policy:
Please do not ask me to hold or "reserve" an item for you. I have reserved items in the past and found that those who make the request often never follow-through with the purchase. I lose followers of the item and momentum for sales. The items in the shop are all for sale. If you like something and it is in your budget and you know you want it, please purchase it. If you are not sure if you want something or are unsure if you can afford it, please mark it as a favorite and reconsider the purchase later. If you are anxious to make a purchase, and, end up with several items as separate orders, I am more than happy to recalculate shipping for you and send a custom invoice with proper combined shipping to your location. I may, at times, use the term "reserved" in a title as I create a custom order for someone or update shipping for an buyer from outside the US. This is my option to do as a seller. The fact that I will not reserve or hold an item upon request should not be taken personally. This is a retail shop, and, as with most other retail shops, that it how I manage the business. A review of my feedback will show me to be helpful and to have many happy customers.
---
Returns & exchanges
Insurance:
To keep costs low I do not automatically insure each purchase. If you wish to have insurance added to a purchase please let me know and I will invoice you for the service. Occasionally I will add insurance if an item is delicate or easily damaged.

Return Policy:
If you are not satisfied with your purchase for any reason I offer returns.
1. I must receive a note from you regarding your dissatisfaction as soon as you receive the item.
2. Item(s) must be returned & received by Carmen & Ginger within 10 days after you received your purchase. It must be in the same condition as when it was shipped to you.
3. If contact is made upon receipt, the reason valid, and the item returned in the time defined above, a refund for the cost of the item will be made via Paypal.
4. Original Shipping Costs will be subtracted from your refund and/or exchange. You are responsible for return shipping.

A Special Note about Vintage Clothing, Accessories and Jewelry:
All vintage items are at least 20 years old. They are sold in good condition with any issues noted. Once you receive an item, and review it, you must either accept it or contact me immediately if there is any situation I may have missed. If I missed any damage to the item, mis-described anything, or otherwise missed something in my description that prevents you from wearing/using/keeping the item, I will of course accept a return. If you wish to review or try on an item to make a decision that is fine provided you agree to meet the conditions above regarding timing, shipments and condition. It is NOT OK to contact me after already owning and wearing a vintage item to let me know of issues that have subsequently developed. I have no way to control who wears something and under what conditions. If you purchase vintage you must accept the risk that comes with anything that is 20, 30, 40, or 100 years old! Thank you for your understanding and please convo me before purchasing if you have any questions.

Customs Charges & Cost of Goods:
I am very grateful to those from all over the world who support Carmen & Ginger! Please note that many countries charge a customs fee for goods received. This charge is imposed by the country of the purchaser, and, is not the responsibility of Carmen & Ginger. Please familiarize yourself with any and all fees that may be applied by your country. Please do not ask me to note costs that are less than what you have paid for items on the customs form that must be completed for shipment as it is considered customs fraud by the US Government. Thank you for your understanding.
---
Additional policies
Please visit our sister shop of handmade items at

www.hangoutashingle.etsy.com

An assortment of handmade jewelry, goodies and artwork; all including antique and vintage materials!