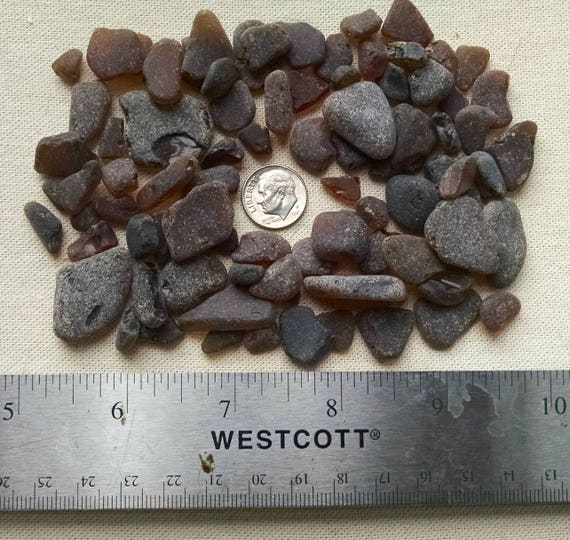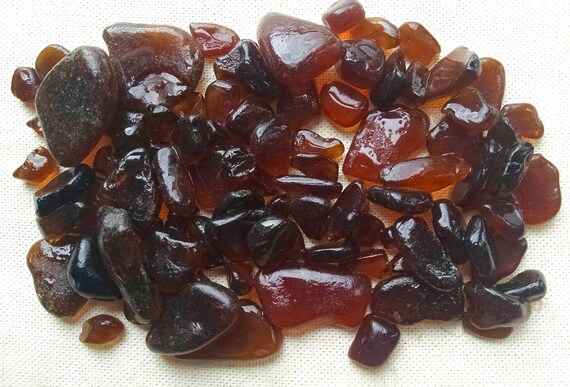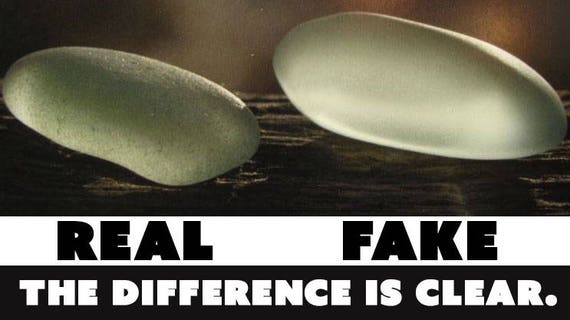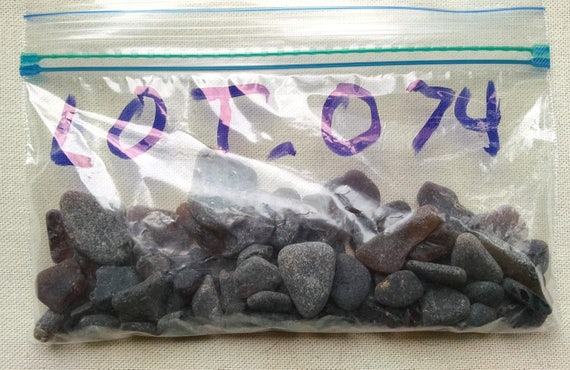 Arrives from the United States
---
Features
---
Item details
No fancy label- just quality, natural, hand-collected sea glass from the shores of Casco Bay, Maine.

Package is four ounces of hand-sorted and inspected quality sea glass that is ideal for crafting, jewelry, sculpture, mosaics, and art.

This is medium-to-large-size sea glass- contains pieces ranging from 5/16"-1"

SOME PIECES ARE NEAR-FLAWLESS - perfect for jewelry!

WHERE DID I GET ALL OF THIS GLASS?

Between 2011, and 2013, I had a pretty good full-time job. I had just moved to Portland, Maine a few years earlier, and one of the things I enjoyed most was taking long strolls on the islands of Casco Bay.

Away from the noise and bustle of the city, I could hike the hardscrabble roads of Peaks Island, Long Island, Cliff Island, and even the distant shores of Chebeague Island. One evening, while enjoying the sunset, I met a woman who proudly showed off her find:

A smoothly-worn, golf-ball-sized piece of red sea glass. Judging from its shape, and the beauty of the wear, it was the remnant of a champagne bottle from a vintage and age that expired long before either of us had been born.

I had always loved sea glass- but had never the time nor opportunity to collect it...

Until (I realized) that moment.

I looked down, and saw a glint of brilliant green in the waning light- then another, smooth white piece, then two pieces of amber...

In those twenty minutes, I lost all interest in the sunset, as I collected a pocketful of brilliant, shiny gems. I cursed the fall of night, and he next day, I came back - and then the next Friday - and after work on Monday- and on, and on, and on.

I found the nooks and coves that offered the best possibilities. I knew: the north side of one particular beach was good for violet, while the southern side was dependable for a steady supply of white, brown, and green. Blue could be found a mile north- but it was too jagged to bother with.

Pocketful by pocketful, I collected. It wasn't so much about the accumulation, as it was just enjoyable to sit beneath a blue sky with the sea air in my lungs and the waves pounding in my ears.

Each time I swept my hand, there were new, tiny jewels to see.

Over two years, I collected 35 pounds of sea glass- handful by handful, hour by hour.

On the last day that I collected sea glass, I found my own two prizes:

Gorgeous pieces of forest green the size of tangerine slices- just like the one shown to me by that stranger I had met on that shore, years before. It was such a rare find, I honestly believed I was dreaming.

That evening, I sent pictures of my find to my father. He made his living on Ebay, and would appreciate their rarity.

I never heard back, because, as I learned the next day:

He had passed away the previous night.

I have not collected much, since then. I spent a long Maine winter sorting my collection into colors, and then put it away in a closet.

I have now lost that pretty good full-time job. Times are tough, and while I am keeping those two pieces, and the other choicest pieces of my collection, I am parting with the rest.

There are a lot of people selling jagged, or fake sea glass on Etsy. I am not one of them.

These pieces have been cleaned, and repeatedly inspected and sorted by one person- myself.

I guarantee your satisfaction.
---
---
More from this seller
---
Shipping & policies
Arrives from the United States
Estimated Shipping