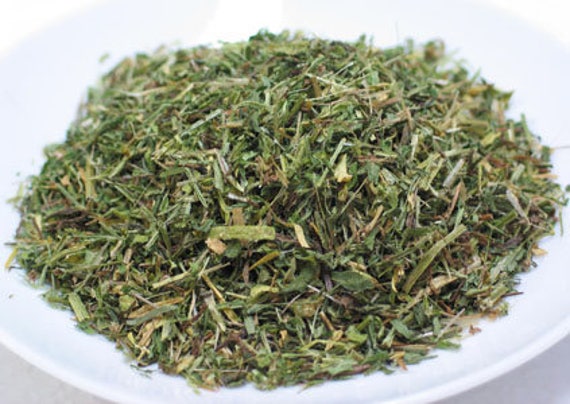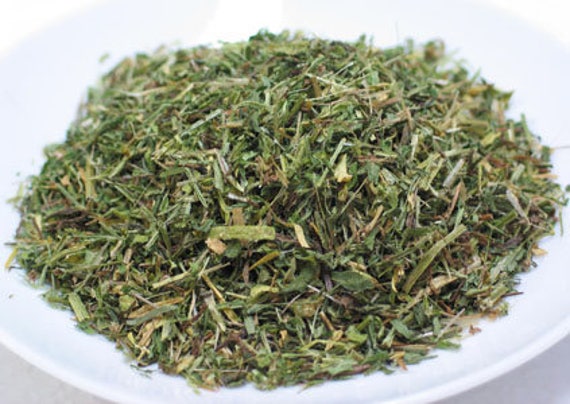 ---
Features
Made in New York, United States
---
Item details
Cleavers has a long history of use as an alternative medicine and is still used widely by modern herbalists. It is used both internally and externally in the treatment of a wide range of ailments. . A valuable diuretic, it is often taken to treat skin problems such as seborrhoea, eczema and psoriasis, and as a general detoxifying agent in serious illnesses such as cancer. It has a mild laxative effect and stimulates the lymphatic system and has shown benefit in skin related problems. The fresh plant or juice of Cleavers herb is used as a medicinal poultice for wounds, ulcers and many other skin problems. An infusion has shown of benefit in the treatment of glandular fever, tonsilitis, hepatitis and cystitis. The infusion is also used to treat liver, bladder and urinary problems.



The dried or fresh herb is alterative, anti-inflammatory, antiphlogistic, aperient, astringent, depurative, diaphoretic, diuretic, febrifuge, tonic and vulnerary. The plant contains the valuable constituent asperuloside, a substance that is converted into prostaglandins by the body. Prostaglandins are hormone-like compounds that stimulate the uterus and affect blood vessels. Much more scientific research is being done on the plant it is of great interest to the pharmaceutical industry.

Quality: We source our bulk supply from organic and pharmaceutical grade manufactures. Our bulk herbs, spices and nutraceutical products are free from chemicals and pesticides and are never irradiated or fumigated. In addition, our products are dried using low heat under 120 degrees
Our products do not contain maltodextrin or added ingredients such as sugars or fillers. We sell 100% pure, safe, and effective products.

Secure Packaging: Our bulk products are packaged using a re-sealable food grade bag that blocks UV light and moisture. All our products are safety sealed for our customer's safety. Our dark colored bags are specially designed to ensure the freshest product possible.

Lab Tested: The products we sell are lab tested for pesticides, metals, and microbiological agents. If a product doesn't meet our quality standard it is rejected or sent back to the manufacturer. At our customer's request, we can supply lab analysis and testing results for all our products.

Shelf Life: Our products will maintain their freshness and integrity for up to 18 months after purchase in our sealed bags or 6-9 months after seal is broken. Customers should store products in a cool dark place to ensure full shelf-life. Bulk products are sourced on a weekly basis to ensure our supply is always fresh.

Bulk Packaging: Orders of 10 or more of a single item will be packaged in a food grade bag with twist tie. Bulk capsules do not apply.

Disclaimer: This product is not for use by pregnant or lactating women. Consult your healthcare practitioner before use if you have or if you had any previous health condition that you are taking any medications for including OTC medications or if you are planning a medical procedure. Discontinue use immediately and contact your healthcare provider if any adverse reactions occur. This product is not intended to diagnose, treat, cure, or prevent any disease. Not intended for persons under age 18

The Cleavers plant contains organic acids, flavonoids, tannins, fatty acids, glycoside asperuloside, gallotannic acid and citric acid.

Also Know As - Galium aparine, clivers, goosegrass. Barweed, Bedstraw, Catchweed, Cleaverwort, Coachweed, Eriffe, Everlasting Friendship, Galium aparine, Goosebill, Gosling Weed, Grip Grass, Hayriffe, Hayruff, Hedge-Burs, Hedgeheriff, Love-Man, Mutton Chops, Robin-Run-in-the-Grass, Scratchweed, Stick-a-Back, Sweethearts.

A popular herb in folk medicines throughout the centuries, cleavers or goosegrass is a vigorously growing weed that twines through hedges or garden shrubberies producing long sticky stems. The young shoots are some of the first weeds to appear in spring and make an excellent cleansing tonic, a remedy widely used in central Europe and the Balkans. Also cooked as a vegetable, like spinach.

The ancient Greeks matted it together to make a natural, rough sieve, supposedly for straining milk.

Preparations - Usually taken as a tea, but can be eaten or ground fresh.
---
---

EXCELLENT SELLER!!! ITEM SHIPPED PROMPTLY!!!

Jun 7, 2017 by Ron Boyle

... \m/ (><) \m/ ...

May 31, 2017 by Ron Boyle
---
More from this seller
---
Shipping & policies
Preparation takes 1-2 business days
Arrives from the United States
Estimated Shipping