Good Shepherd Crucifix Medal Pope Francis' Silver Pectoral Cross, Religious Medallion, Catholic Gift, Original By Vedele Made In Italy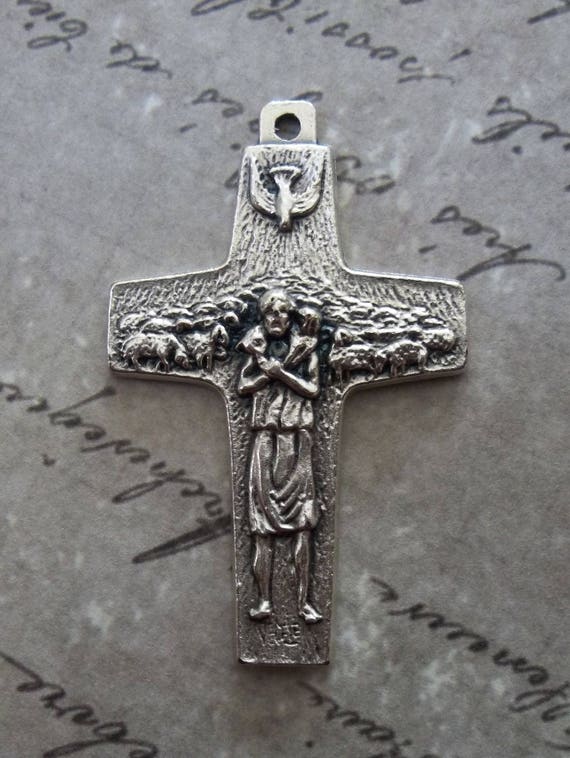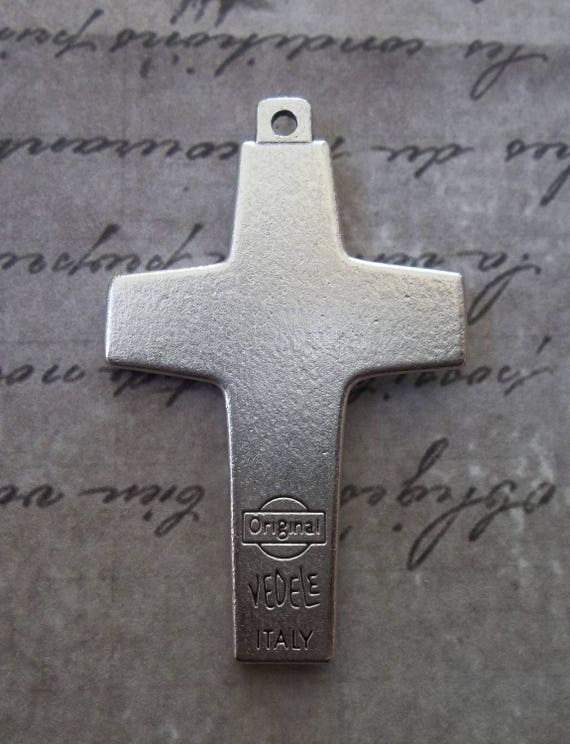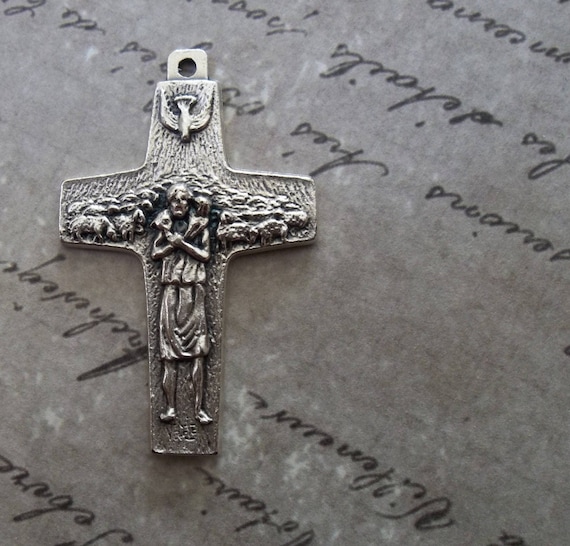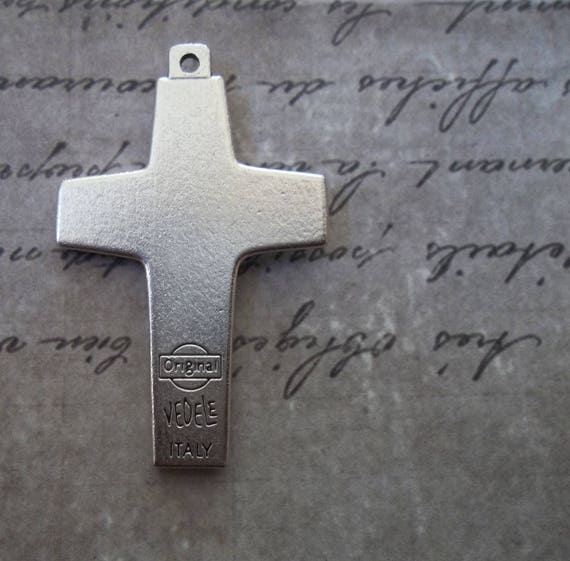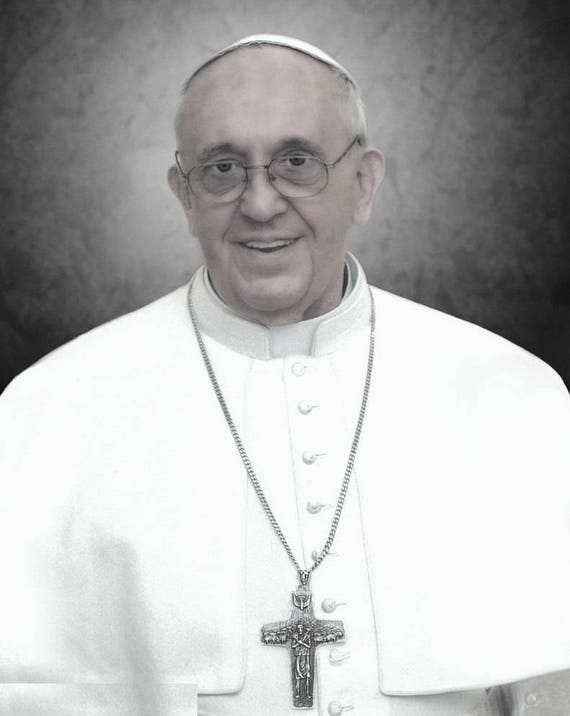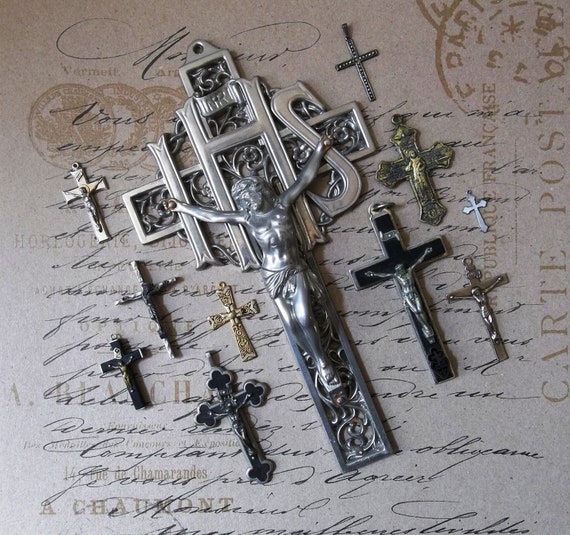 Arrives from the United States
---
Item details
Up for your consideration is this wonderful replica cross of Pope Francis' Silver Pectoral Cross, Featuring Christ As The Good Shepherd. A gorgeous heavy silver metal casting that contains a pious image of Jesus as The Good Shepherd tending to his sheep. Amazingly deep details prevail like the folds of fabric, and winged Holy Spirit from above. Beautiful large piece! This cross is made of a silver alloy and has a lovely patina, yet is tarnish resistant. The reverse shows the hallmark of the creator VEDELE along with the stamp that is was Made In Italy! Own a gorgeous reproduction of the actual cross worn by Our Holy Father today!!!

WHEN POPE Francis appeared on the balcony of St. Peter's Basilica for the first time, it was immediately apparent to Vatican watchers that the 266th pontiff was different. He wore a simple cassock and was adorned only by a plain pectoral cross.
A year has now passed since that moment, and because so many people have written to me asking for information on that cross, I have finally decided to dedicate an article to the story behind this intriguing devotional object which the Holy Father always keeps close to his heart.

A pectoral cross (from the Latin pectoralis, 'of the chest') is a cross that is worn on the chest, usually suspended from the neck by a cord or a chain. One of the earliest mentions of a pectoral cross is that of Pope Hilarius in 461. A few centuries later, in 811, we hear that Nicephorus, the Patriarch of Constantinople, sent Pope Leo III a gold pectoral cross, and in the course of time it became customary for the Roman pontiff to wear this type of cross on the most solemn occasions.

The pectoral cross Pope Francis wears is not made from gold, but rather from silver. This much humbler emblem of spiritual authority has become symbolic of the Pope's apostolic mission, which is inspired by the Franciscan ideal of evangelical poverty.

For centuries the pectoral cross worn by popes, cardinals and bishops has been the symbol of their prestige and temporal power. To highlight their high rank and prestige, crosses was made from gold and were sometimes embellished with gems and precious stones. We can still see some of these pectoral crosses in museums, and we certainly can admire them for their great beauty and fine craftsmanship.
However, on the day of his election, March 13, 2013, during his vesting prior to being presented to the world from the balcony of St. Peter's Basilica, Pope Francis decided to do without the gold pectoral cross. When Monsignor Guido Marini, Master of Ceremonies, presented him with the papal vestments, the Pope put on the simple traditional white attire, but refused the red velvet mozzetta trimmed with white ermine fur, a symbol of regality. In the same way, Francis turned down the gold pectoral cross, explaining that he wanted to keep the one he had always worn as a bishop and cardinal in his native Argentina.

Francis' pectoral cross is made from silver; however, when he first spoke to the world from the balcony of St. Peter's Basilica it appeared dark, having an almost rusty hue, leading some journalists to the erroneous conclusion that it was made of iron. How did this come about?

When he became the Archbishop of Buenos Aires and later a cardinal and Primate of the Argentine Church, Archbishop Bergoglio continued to lead the lifestyle of a simple parish priest. He refused to reside at the Archbishop's House, preferring instead to live in a small flat with a retired priest, and he cooked his own meals. Whenever he had any free time available from his numerous duties as Archbishop, he went to the slums of Buenos Aires (favelas). At that time Archbishop Bergoglio did not even have a car. He just used the buses or the subway. During the trip from the Archbishop's House to the favelas, located on the outskirts of the city, he would often clutch his pectoral cross – the symbol of his desire to shepherd the poor. The cross had more than a sentimental value for the man who wore it; it also meant something for those he visited. The outcasts of society in the favelas touched it too; they kissed it and bathed it with their tears while the Archbishop listened to their stories.

Now it is well-known that silver turns dark when it comes into contact with humidity, and it is therefore little wonder if that cross, clenched by so many hands, kissed by so many lips, and bathed by so many tears, would eventually become dark. It is as if the world's suffering had been impressed on it, darkening it.

On his way home, the Archbishop would hold the cross tightly and ask God to lift all the enormous weight of suffering afflicting the people he had visited, and transfer it onto the cross in his hands, asking Christ for help and solace.

The pectoral cross we see on the Pope, therefore, gradually became his inseparable companion during these journeys of his into the hell and suffering of the favelas. We need not be surprised, therefore, that he was determined to keep it, against tradition and protocol, once he became Pope.

This cross portrays the Good Shepherd. Jesus is in the foreground, a lamb on his shoulders; behind, and following him, there is the herd of sheep. A dove flies above, recalling the presence of the Holy Spirit. The Good Shepherd is a good image for Pope Francis because he is a model of joy, forgiveness and the love that Jesus has for the entire Church and the world.

Also, please visit our shop to browse our vast collection of Rare & Precious Holy Medals, Sacred Statuary, Handmade Jewelry, And Heavenly Vintage:

http://www.etsy.com/shop/AveImmaculata?ref=si_shop

Size: 1 5/8" long x just under 1 1/8" wide
---
---
More from this seller
---
Shipping & policies
Arrives from the United States
Estimated Shipping
► Winnings are shipped within 24 to 48 hours AFTER your payment is received and has CLEARED - We know how important your purchase is, and we strive to get it to you as quickly as possible!

► We take pride in the fact that we have safely shipped over 2000 items to our customers this year!!!

► Your purchase will be shipped to the PayPal address provided with payment, so please check that it conforms with any address you submit via check-out. Discrepancies between the two might delay shipping until we are able to confirm the shipping address with you.

► We are not responsible for service transit time. Transit times are provided by the carrier, exclude weekends and holidays, and vary with package origin and destination, particularly during peak periods. For reasons aforementioned, We can only give ESTIMATED time to receive shipment, not a guaranteed date to receive shipment.

► We pack all our items carefully and professionally! We do NOT haggle over shipping and handling methods or rates. We package our items very well! Thick cardboard boxes, and premium packing materials! We package and ship all items securely with electronic postage and labels! We Believe in getting your package to the Post Office QUICKLY and PROMPTLY! WE DO NOT MAKE A PROFIT OFF OF THE SHIPPING + HANDLING THAT WE CHARGE YOU!!! Please keep ALL of these factors in mind when considering the overall cost that we offer for Shipping + Handling and PLEASE LEAVE NOTHING OTHER THAN POSITIVE FEEDBACK FOR US!!! Delivery Confirmation with USPS or UPS tracking number is included FREE with your shipping and handling charge and is automatically emailed to you by PayPal when we purchase the postage online and print the label. INSURANCE is optional and will raise the rate of shipping should you choose to add it. Please notify us at the time of purchase if you would like insurance and we will give you a quote. If you choose to purchase insurance, please wait for a revised invoice before paying. We are not responsible for lost or damaged packages, so for the protection of both parties insurance is highly recommended!

► For limited tracking Internationally, Priority Mail International is available. Priority International tracks the package to the point the package leaves the U.S, and is then only provided as a courtesy service by USPS and its partners. First Class International method does not include a tracking number, but we do, however, retain proof of mailing from the post office. DUTIES & TAXES - these are not included in the purchase price and are buyer's responsibility. ALL packages will be marked "commercial sample" on the customs form. We will not commit an US federal offense by marking "gift" instead, so please don't ask.

► We offer $1.00 off Shipping and Handling for each additional item when multiple items are paid for on one single combined notice. Please do not ask for a different discount than is offered. If you purchase multiple items the combined shipping total is automatically calculated for you when you proceed to check out.
---
Payments
► We prefer PayPal payments, but will also accept money orders, cashier's checks, and personal checks - Please note that checks and money orders require a 7 day hold after deposit to our bank. What?!!! You don't have a PayPal account yet? OPEN ONE TODAY! It's quick and easy. Payment must be received within 3 days of your purchase or the item will be re-listed, your transaction cancelled, and buyer reported for non-payment.
---
Returns & exchanges
► Returns - In the unlikely event, should the item not meet your expectations, we offer a 100% Satisfaction Guarantee of the purchase price. Buyer must return item in same condition within 5 days of delivery. Seller is not responsible for damage or loss during return shipment or delivery, optional insurance for damage or loss is available and is recommended. Buyer is responsible for all return shipping and handling costs.

► Novice Etsyers - PLEASE consider Etsy guidelines and do not leave anything other than POSITIVE FEEDBACK without contacting your seller first to resolve an issue. Contacting your seller first is standard Etsy policy. As a seller, we are not satisfied until you are, so please take the time and courtesy to tell us if any problem arises with your order. We will do everything we can to make it right. Please leave us Positive Feedback, doing so will ensure our future SUCCESS on Etsy, and GUARANTEES Low Prices and Superb Quality for YOU - WE BOTH WIN!!! POSITIVE FEEDBACK will ALWAYS be left for you as soon as your payment has been received and has cleared.

Thank You for Shopping, Thank You for Buying, & Please Visit "Ave Immaculata" Again!!!