ALGAE-3 Collection of 249 vintage images botanical pictures High resolution digital download printable alga seaware 300 dpi seaweeds sea
(1)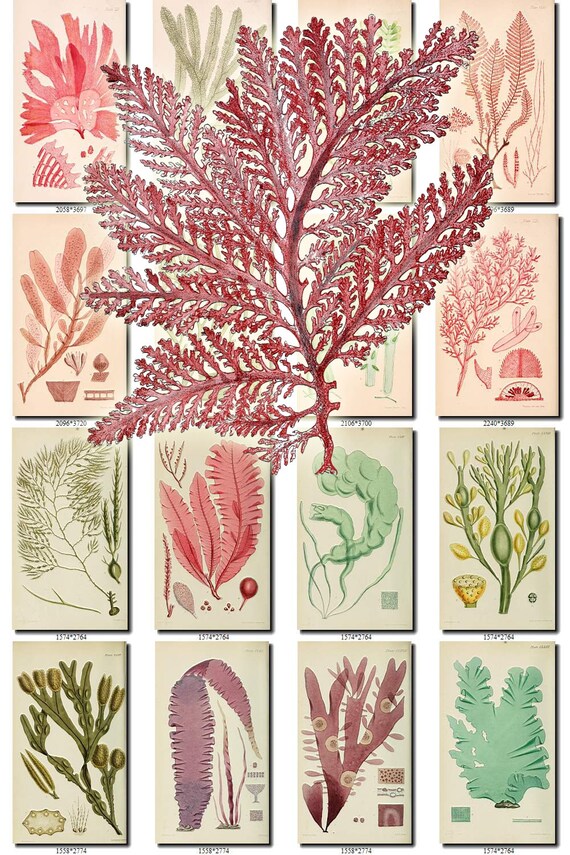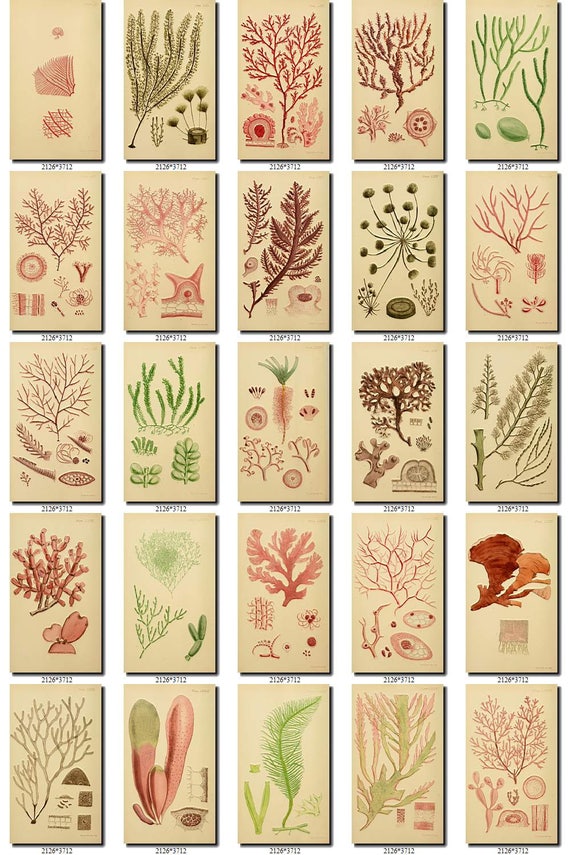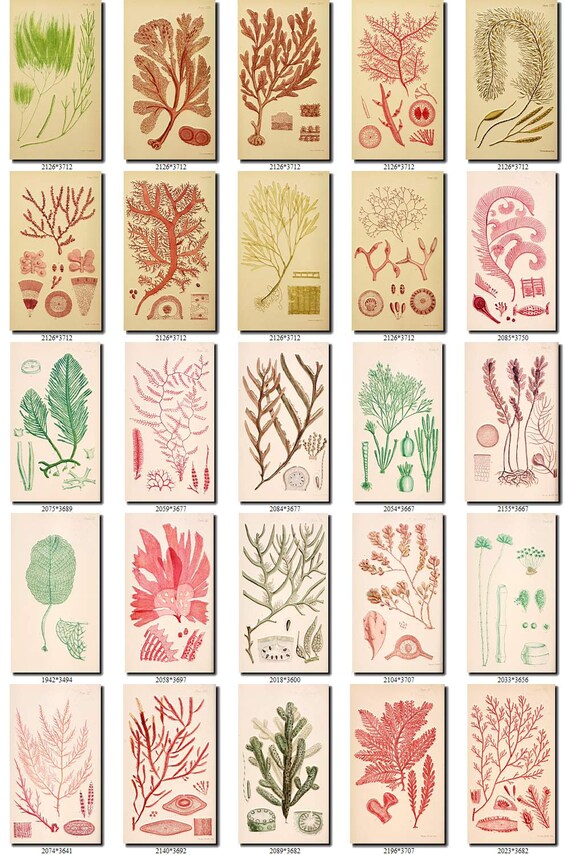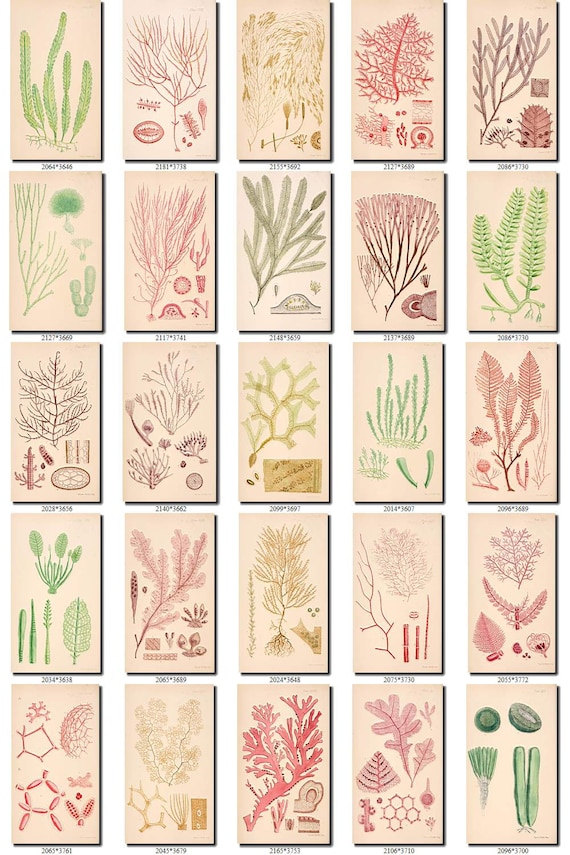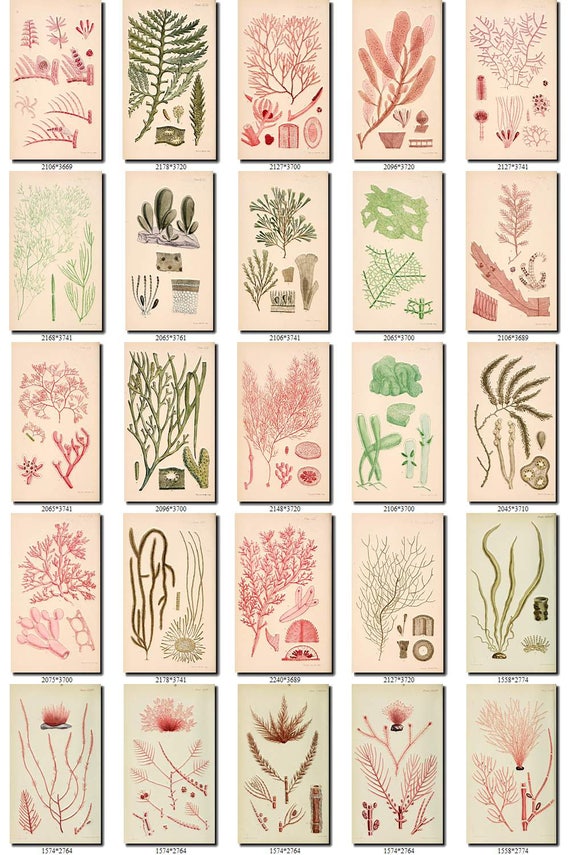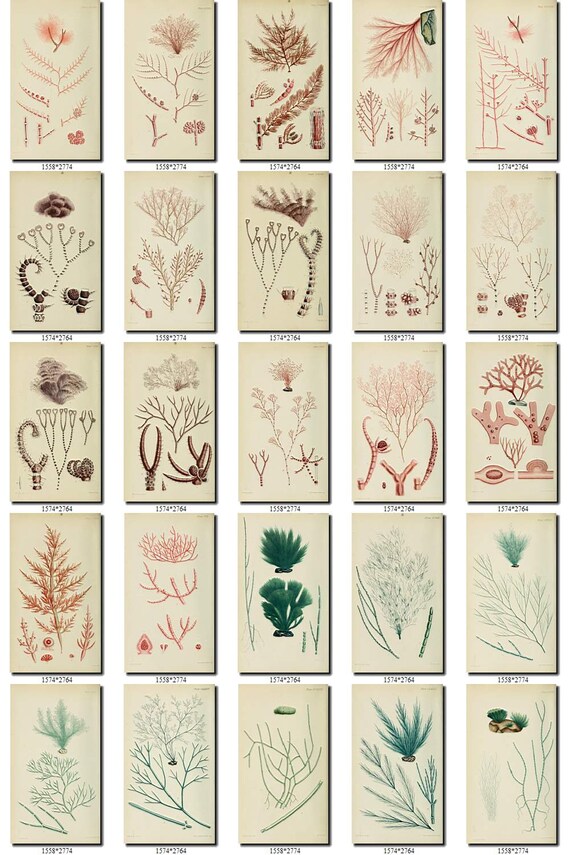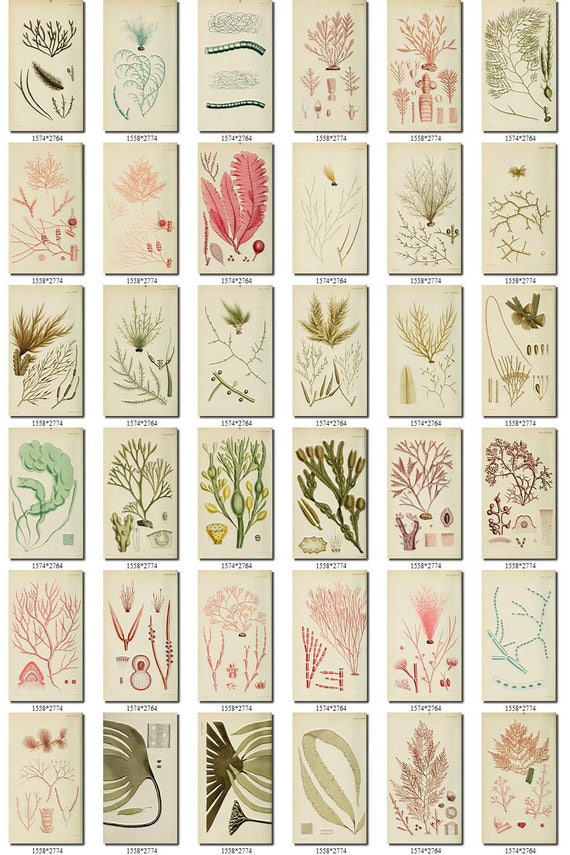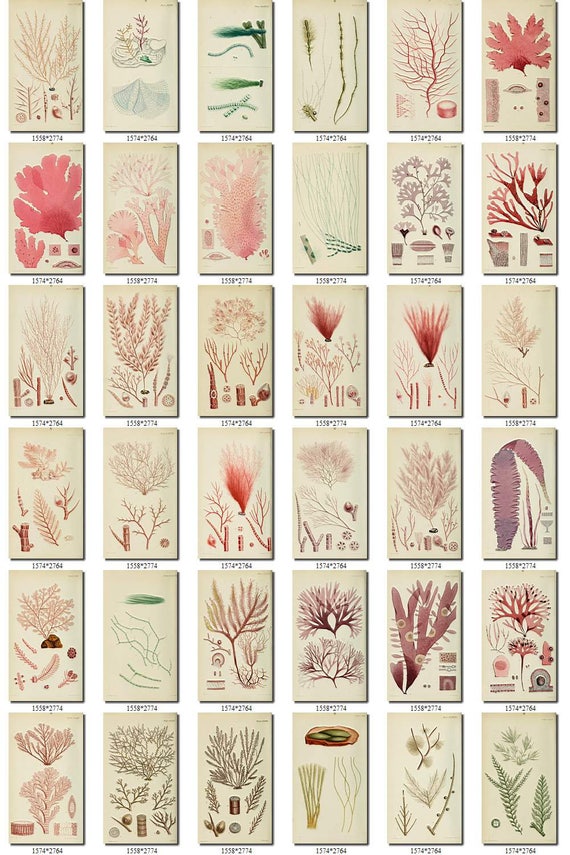 ---
Features
---
Item details
artscult.com - all images from artvintages.com

Instant digital download of 249 vintage pictures of algae seaweeds, in high resolution (300 dpi, sizes from 1500x2700 px to 3500x4600 px). Look at pictures to see sizes in pixels (click "Zoom", divide size in pixels on 300 - you'll get size of print in inches with high quality, ex. 2400/300=8''). Total size of the collection is 212 Mb.

Each file has a name of shown plant in Latin (ex. "fucus cartilagineus.jpg"). Names of shown plants are listed below, at the end of description.

All images are in JPG format, separate files. Perfect for use in crafting, decoupage, collage, altered art, prints, etc. Images are in public domain in USA and may be used for any personal or commercial purposes. Information about source books is included.

Look at my other ALGAE collections:
https://www.etsy.com/shop/ArtVintages/search?search_query=Algae+label

DISCOUNTS:
Save money - Use coupons shown here:
https://www.etsystudio.com/listing/168468869/

SHIPPING DETAILS:
Digital download (TXT file with link on file in zip format on dropbox and google drive, and gallery view). Before purchase, please, make sure that you are able to download large size files. Download may take long time some cases.

NAMES of shown plants:
Acrotylus Australis, Actinia Chiococca, Actinia Mesembryanthemum, Actinoloba Dianthus, Adamsia Palliata, Adenocystis Lessonii, Aiptasia Coochii, Amansia Kuetzingioides, Amansia Linearis, Amphiroa Australis, Anthea Cereus, Apjohnia Laetevirens, Areschougia Australis, Areschougia Sedoides, Asparagopsis Sanfordiana, Asperococcus Echinatus, Ballia Robertiana, Bangia Pulchella, Bellotia Eriophorum, Bindera Splachnoides, Bolocera Tuediae, Bunodes Ballii, Bunodes Coronata, Bunodes Gemmacea, Bunodes Thallia, Calliblepharis Preissianum, Callithamnion Barbatum, Callithamnion Borreri, Callithamnion Brachiatum, Callithamnion Cruciatum, Callithamnion Licmophorum, Callithamnion Pedicellatum, Callithamnion Polyspermum, Callithamnion Roseum, Callithamnion Tetragonum, Callithamnion Tetricum, Callithamnion Turneri, Callophyllis Coronata, Carpoglossum Quercifolium, Caulerpa Cactoides, Caulerpa Cylindracea, Caulerpa Harveyi, Caulerpa Hypnoides, Caulerpa Muelleri, Caulerpa Remotifolia, Caulerpa Scalpelliformis, Caulerpa Sedoides, Caulerpa Simpliciuscula, Ceramium Acanthonotum, Ceramium Botryocarpum, Ceramium Ciliatum, Ceramium Deslongchampii, Ceramium Diaphanum, Ceramium Echionotum, Ceramium Flabelligerum, Ceramium Gracillimum, Ceramium Rubrum, Cerianthus Lloydii, Chondria Opuntioides, Chondria Verticillata, Chondrus Norvegicus, Chrysymenia Obovata, Chylocladia Cliftoni, Chylocladia Kaliformis, Chylocladia Parvula, Cladophora Anastomosans, Cladophora Arcta, Cladophora Bainesii, Cladophora Diffusa, Cladophora Feredayi, Cladophora Glaucescens, Cladophora Laetevirens, Cladophora Pellucida, Cladophora Repens, Cladophora Rupestris, Cladophora Uncialis, Cladophora Valonioides, Cladosiphon Chordaria, Cladostephus Spongiosus, Claudea Bennettiana, Claudea Elegans, Cldophora Falcata, Cliftonia Pectinata, Codium Mamillosum, Codium Spongiosum, Conferva Linum, Corallina Officinalis, Corallina Squamata, Crouania Insignis, Curdiea Laciniata, Cystophora Botryocystis, Cystophora Cephalornithos, Cystophora Spartioides, Cystophora Xiphocarpa, Cystoseira Fibrosa, Dasya Arbuscula, Dasya Cliftoni, Dasya Hapalathrix, Dasya Muelleri, Dasya Venusta, Dasyphila Preissii, Dasyphloea Tasmanica, Delesseria Hypoglossoides, Delesseria Sanguinea, Delesseria Serrulata, Delesseria Tasmanica, Delisia Pulchra, Dicranema Grevillei, Dicranema Revolutum, Dictymenia Sonderi, Dictyota Fastigiata, Dictyota Furcellata, Dictyota Radicans, Ectocarpus Amphibius, Ectocarpus Granulosus, Ectocarpus Landsburgii, Ectocarpus Litoralis, Ectocarpus Mertensii, Ectocarpus Pusillus, Ectocarpus Siliculosus, Ectocarpus Tomentosus, Edwardsia Callimorpha, Edwardsia Carnea, Elachistea Fucicola, Encyothalia Cliftoni, Enteromorpha Intestinalis, Epymenia Membranacea, Erythroclonium Sonderi, Eucheuma Speciosum, Fucodium Gladiatum, Fucus Calaniculatus, Fucus Nodosus, Fucus Vesiculosus, Gattya Pinnella, Gelidium Glandulaefolium, Gelinaria Ulvoidea, Gigartina Mamillosa, Gigartina Pinnata, Gigartina Pistillata, Gloiosaccion Brownii, Gracilaria Compressa, Gracilaria Dactyloides, Gracilaria Erecta, Gregoria Fenestrata, Griffithsia Binderiana, Griffithsia Corallina, Griffithsia Monilis, Griffithsia Secundiflora, Griffithsia Setacea, Gulsonia Annulata, Halcampa Chryssanthellum, Halcampa Microps, Haliseris Pardalis, Halodictyon Arachnoideum, Halodictyon Australe, Halodictyon Robustum, Haloplegma Preissii, Halymenia Cliftoni, Hennedya Crispa, Horea Halymenioides, Horea Polycarpa, Horea Speciosa, Hormathia Margaritae, Hormospora Ramosa, Hydroclathrus Cancellatus, Hymenocladia Divaricata, Hymenocladia Usnea, Hypnea Episcopalis, Ilyanthus Mitchellii, Jania Corniculata, Jeannerettia Lobata, Kallymenia Cribrosa, Laminaria Digitata, Laminaria Phyllitis, Laurencia Dasyphylla, Laurencia Grevilleana, Laurencia Obtusa, Laurencia Tenuissima, Lenormandia Muelleri, Lithocystis Allmanni, Lobospira Bicuspidata, Lyngbya Carmichaelii, Martensia Australis, Melanthalia Obtusata, Microdictyon Agardhianum, Mychodea Disticha, Myriocladia Sciurus, Myriodesma Integrifolia, Myriodesma Latifolia, Myriotrichia Filiformis, Nemaleon Purpureum, Nemastoma Comosa, Nemastoma Feredayae, Nereia Australis, Nitophyllum Erosum, Nitophyllum Gmelini, Nitophyllum Hilliae, Nitophyllum Punctatum, Ochlochaete Hystrix, Peachia Hstata, Peachia Undata, Penicillus Arbuscula, Peyssonnelia Australis, Phellia Brodricii, Phyllophora Membranifolia, Phyllophora Rubens, Plocamium Preissianum, Polycoelia Fastigiata, Polyphysa Peniculus, Polysiphonia Atro-Rubescens, Polysiphonia Brodiaei, Polysiphonia Elongella, Polysiphonia Fibrata, Polysiphonia Forfex, Polysiphonia Formosa, Polysiphonia Griffithsiana, Polysiphonia Parasitica, Polysiphonia Roeana, Polysiphonia Subulifera, Polysiphonia Urceolata, Polysiphonia Variegata, Polysiphonia Violacea, Polyzonia Flaccida, Polyzonia Incisa, Porphyra Vulgaris, Ptilota Rhodocallis, Ptilota Sericea, Ptilota Striata, Rhabdonia Coccinea, Rhellia Gausapata, Rhellia Murocincta, Rhizoclonium Riparium, Rhodomela Periclados, Rhodymenia Jubata, Rhodymenia Palmata, Rhodymenia Palmetta, Rytiphlaea Complanata, Rytiphlaea Fruticulosa, Rytiphlaea Thuyoides, Rytiphloea Australasica, Sagartia Bellis, Sagartia Chrysosplenium, Sagartia Coccinea, Sagartia Icthystoma, Sagartia Miniata, Sagartia Nivea, Sagartia Ornata, Sagartia Pallida, Sagartia Parasitica, Sagartia Pura, Sagartia Rosea, Sagartia Sphyrodeta, Sagartia Troglodytes, Sagartia Venusta, Sagartia Viduata, Sarcomenia Hypneoides, Sargassum Raoulii, Schizothrix Cresswellii, Scytothalia Dorycarpa, Seirococcus Axillaris, Sphacelaria Cirrhosa, Sphacelaria Filicina, Sphacelaria Fusca, Sphacelaria Radicans, Sphacelaria Sertularia, Sphaerozyga Broomei, Splachnidium Rugosum, Sporochnus Apodus, Sporochnus Comosus, Sporochnus Moorei, Stenogramme Interrupta, Stilophora Lyngbyaei, Stomphia Churchiae, Struvea Macrophylla, Struvea Plumosa, Tealia Crassicornis, Tealia Digitata, Thamnoclonium Flabelliforme, Thamnoclonium Lemannianum, Thuretia Quercifolia, Ulva Latissima, Wrangelia Halurus, Wrangelia Mucronata, Wrangelia Nitella, Wrangelia Setigera, Wrangelia Velutina, Zonaria Sinclairii.
---
---
As usual great images.Thank you!
Feb 15, 2018 by Sofia Perina-Miller
---
More from this seller
---
Digital downloads
---
Payments
PayPal payment only accepted (including payment with a credit card via PayPal without having PayPal account)
---
Returns & exchanges
I gladly accept returns and exchanges
Contact me within:
14 days of delivery
Ship items back within:
30 days of delivery
I don't accept cancellations
But please contact me if you have any problems with your order.
The following items can't be returned or exchanged
Because of the nature of these items, unless they arrive damaged or defective, I can't accept returns for:
Custom or personalized orders
Perishable products (like food or flowers)
Digital downloads
Intimate items (for health/hygiene reasons)
Conditions of return
Buyers are responsible for return shipping costs. If the item is not returned in its original condition, the buyer is responsible for any loss in value.
Additional return information
Full refund available if you are not satisfied with your item. Please feel free to email me. Thanks
---
Additional policies
Images from my collections are in public domain in the US.