39 Pages Art Deco STENCIL PATTERNS Rare 1927 Designs For All Crafting Hobbies Scrapbooking Decoupage Embroidery Printable Instant Download
(1)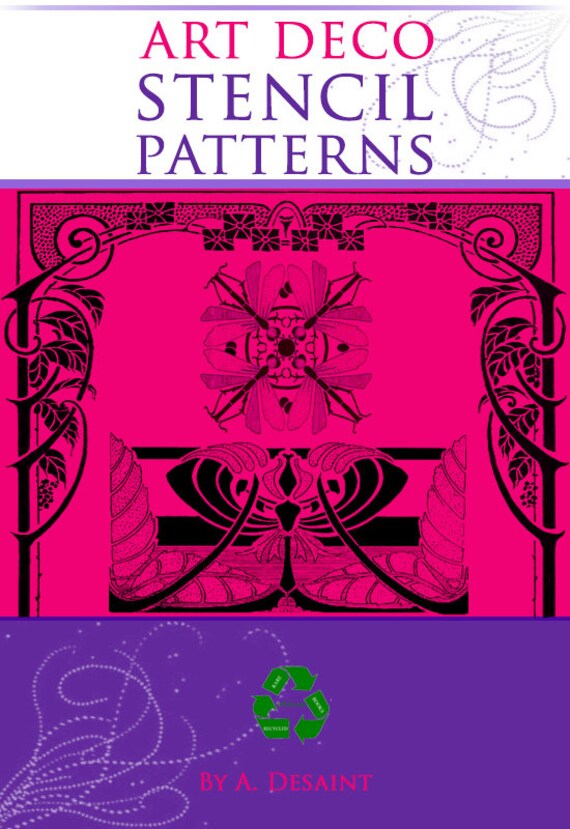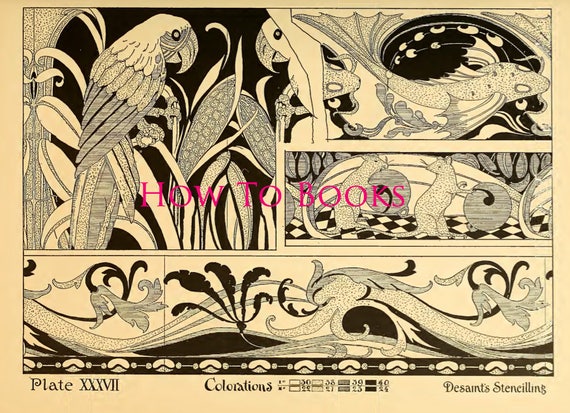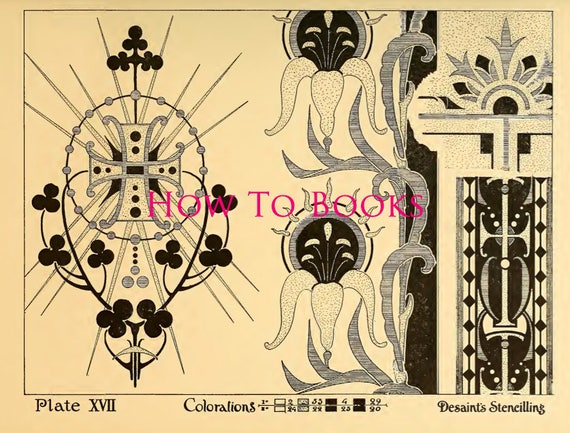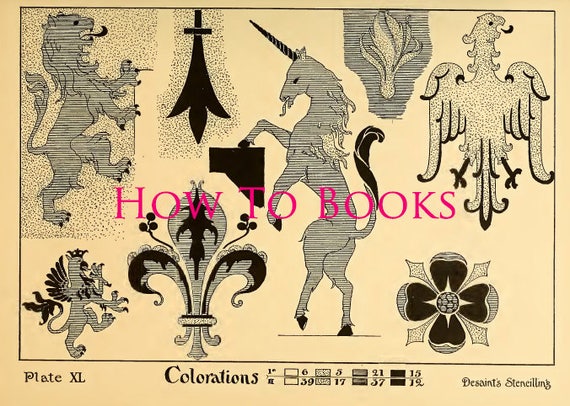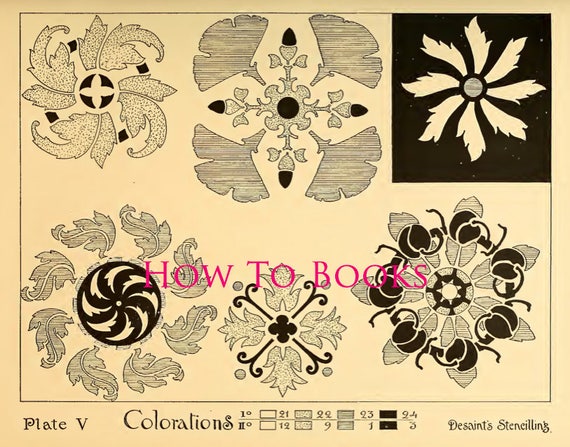 ---
Features
---
Item details
Only $3.99 ~ PDF Book ~ Instant Digital Download.

Download it direct to your iPad, tablet or computer for instant reading or printing.

Art Deco STENCIL PATTERNS

By A. Desaint

If you have any interest in Stencil Designs for your crafting projects

then this is a great design ideas book to have in your collection.

The original edition of this Rare Stencil Book was printed in 1927

66 Pages with 39 pages of Stencil Designs

illustrations in black and white with color chart, great for your handmade projects

Fantastic to print out and use as is or for ideas or projects.

****====================================================****

My Personal 100% Guarantee To You

If you Buy this Book and after reading it,

You feel that You did not get Your Money's worth from it,

Message me and I will cancel your purchase and Refund Your Money.

And You Can Keep The Book as My Personal Gift To You.

****====================================================****

Ideas in Stencilling & Decorating.

Preface
Material for Stencil Plates
Preparation of the Paper
Stencil Cutting
Ties
The use of Stencil Plates
Care of Stencils
Stencilling in Distemper
Stencilling on Washable Distemper
Stencilling on New Plaster
Stencilling on Canvas, Velvet, Silk, and other Textile Fabrics
Stencilling with Aerograph
COLOURS.
MIXING TINTS TO THE KEY PLATE.
DYADS or PAIRS OF COLOURS AFFORDING AGREEABLE COMBINATIONS.
TRIADS OR THREE COLOURS AFFORDING AGREEABLE COMBINATIONS.
TETRADS OR FOUR COLOURS AFFORDING AGREEABLE COMBINATIONS.
TABLE OF AGREEABLE CONTRASTS.





PREFACE.

Stencilling for decorative purposes has a fascination and a charm peculiarly its own and appeals strongly to the craftsman of artistic temperament. It admits of individuality of treatment and of endless variety of design suitable in its application to unpretentious dwelling-houses as well as to stately mansions with large and lofty rooms ; to spacious business premises with boardrooms and suites of offices ; to large hotels with splendid halls for banquets and dances ; to the magnificent buildings of "Clubland," or the princely saloons of Ocean Liners. It serves also most admirably for the delicate manipulation necessary to the chaste requirements in interiors of ecclesiastical edifices.

Stencilling has gained for itself a large place in the education of every good craftsman and its technique is part of his stock in trade. The standard work on " Painting and Decorating " by Walter J. Pearce gives precise and clear instructions in regard to the cutting of stencils, the manipulation of tools and application of Colours, whilst in regard to the scientific principles of colour work Hurst's " Painter's Colours, Oils and Varnishes"* is part of every house-decorator's upmake.

The Author's intention in this present work is to supply Ideas in Stencilling, the outcome of many years' experience of work upon a variety of buildings in Great Britain and in France. The success of stencilled ornament depends largely upon the combination of colourings in the design, and it is often in this particular that the skilled artisan is deficient.

Effects are not infrequently robbed of their beauty by the use of colours which offend the eye, and it is to safeguard this and the consequent disappointment that the author has carefully elaborated the KEY-PLATE of colourings which form the basis of this work.

This Key-plate contains Forty Tints which have been selected with the utmost care from numerous effects and the tints are numbered. Many choice designs are included in the book and numbers indicate the colours to be used in agreement with the Key-plate, By the application of colours corresponding with the tints shown the most charming effects will be secured. All the combinations of "Colorations" are the results of the most exacting tests and are submitted with confidence to craftsmen whose experience in harmonising colours is limited. They may be quite sure of achieving success.

Other handicraftsmen besides those engaged in house decorating will find this colour Key-plate and its application of the greatest service. It will prove useful in the ceramic industry for ornamental pottery and tiles, to glass embossers, bookbinders, and others who apply the decorative art to fabrics, silk, velvet, satin, and to paper, as well as to many domestic articles.

The author is gratified that Charles Griffin & Company, Ltd., who have gained international fame as publishers of technical books, have added this to their catalogue.

A. DESAINT.

Paris, March, 1927.


LIST OF PLATES.

1. Key plate, containing forty tints for "coloration."
2. Coloured plate, giving an example of "coloration" (frieze, full size).
3. Same plate, giving a second example of "coloration" (frieze, full size).
4. Same plate as the preceding, but in black and white, showing in margin how the two coloured designs have been coloured; all subsequent designs will bear in margin different devices of suitable "coloration."
5. Powderings for ceilings and horizontal surfaces.
6. Ornamental corners for halls and smoking-room ceilings.
7. Modern ornamental corners for small panels and ceilings.
8. Classical powderings for billiard-rooms, and modern powderings for restaurants and dining-rooms.
g. Large corners for dining- and billiard-rooms.
10. Small useful borders for different uses.
11. Small borders for halls, passages, and staircases.
12. Friezes for a picture gallery and a staircase ceiling.
13. Classical and modern festoons.
14. Two modern friezes for bath-rooms.
15. Two dining-room borders.
16. Three staircase dado borders.
17. Different suggestions for church decoration.
18. Two mediaeval all-over continuous patterns for church decoration.
19. Suggestions, such as lunettes, columns, and pilasters for church decoration.
20. Three nursery friezes (children, animals, and birds).
21. Four small panels in different styles.
22. Three ceiling compartments for drawing- and dining-rooms.
23. Two large panels for a hall and gallery.
24. Endings for interjoists, two in Renaissance style and two in modern style.
25. Ornamented binding joists and bridging joists, i6th century.
26. Several useful designs.
27. Four ornamental corners with breaks.
28. Powderings for different uses.
29. All-over continuous patterns for drawing- and music-rooms.
30. Extending panels.
31. Rosettes and powderings for ceilings.
32. Mural all-over fillings.
33. Staircase dadoes with pilaster for a private mansion.
34. Dadoes for a gallery and summer-house.
35. Wall powderings for a conference-room and a loggia.
36. Modern all-over continuous pattern for staircase walls.
37. Different friezes of birds, animals, and fishes.
38. Classical and modern suggestions for stencilling tiles on walls.
39. Further suggestions for stencilling tiles and borders.
40. Heraldic stencils.


======================================

This scarce antiquarian book is included in our special Rare Books Recycled Series.

In the interest of creating a more extensive selection of rare historical books, we have chosen to Digitize this title even though it may possibly have occasional imperfections such as missing and blurred pages, missing text, poor pictures, markings, dark backgrounds and other Digitizing issues beyond our control.

Because this work is culturally important, we have made it available as a part of our commitment to protecting, preserving and promoting the world's rare works of literature that would not normally be available.

======================================

This Book is intended for education and informational purposes only.

Our modification and restoration process of this book, has resulted in our creating a new work (restored or annotated or improved work), that gives us a clear and novated copyright to this modified version.

======================================

Please note.

This ebook is in PDF. file format.
You can read it on your iPad or Tablet with iBooks.
You can read it on your computer with Adobe Acrobat Reader
If you do not have Adobe Acrobat Reader installed in your computer, you can download it from Adobe.
It's completely FREE.

======================================

Shipping is FREE via Instant Digital Delivery: This is a digital item. Once Payment is received, your book will be available in your etsy purchases to download directly to your iPad, Tablet or computer.

.
---
---

Wonderful images; easy download; thank-you!

Apr 26, 2018 by Mary Claire Ketchum
---
More from this seller
---
Digital downloads
---
Payments
Secure options
Etsy Studio keeps your payment information secure. Etsy Studio shops never receive your credit card information.