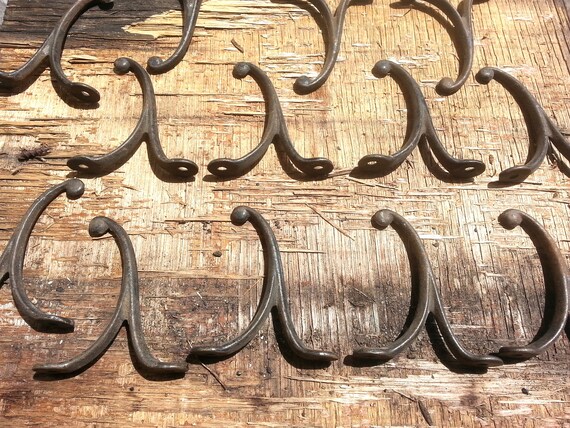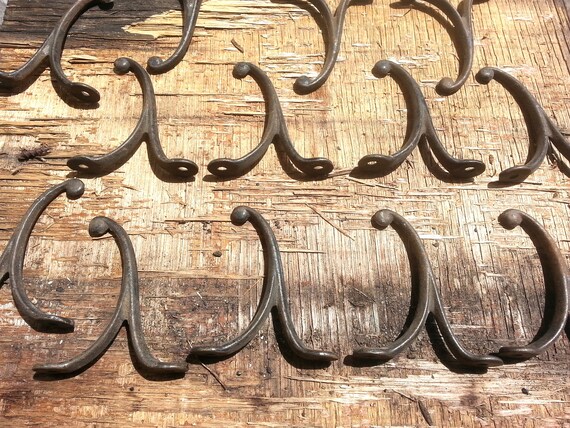 ---
Features
---
Item details
Set of 13 antique Victorian/Art Nouveau coat hooks. No cracks, breaks - all are good.
---
Shipping & policies
Preparation takes 3-5 business days
Arrives from the United States
Estimated Shipping
Custom work takes 4 to 12 weeks to fabricate, sometimes longer depending on the nature of the work. Shipping for small pieces are done via USPS, UPS or FedEx. Larger pieces are done through private insured shippers. Please contact me for an approximate quote.
---
Payments
Paypal, credit card, cash on pick up.


---
Returns & exchanges
Terms & Policies:
Thank you for considering me to build for you. Below is an outline of my terms and conditions, and what you can expect from me moving forward with your build.

Initial Contact:

-Please think over the piece you want to have built and include your needed dimensions and design elements you would like incorporated.
-Try to provide a rough sketch for me to review
-Consider your budget carefully and consider that the piece will have to be shipped if you are not in the Philadelphia area.
-Communicate your budget to me so that I can advise in regards to materials, details and design elements
-Once I have the above items to think over I will quote a price

Materials:

-I will determine what type of material to purchase based on our conversation during the design stage
-Client does not have choice of specific dimensional boards
-For live edge pieces, several slabs will be selected for client to choose from (please make sure to read the Live Edge section below)
-All cut off and scrap material stay in my possession

Deposit & Design:

-Once we have agreed on a price, I will require a 1/3rd to 50% deposit
-When the deposit is paid, I will work with you to finalize the design
-When the design is finalized, I will put your order into queue and send a message to you when I am going to begin work, typically about a week in advance
-Significant changes to an order after the design has been finalized will incur a minimum $150 charge but could mean that additional or all new material must be purchased and that I have to start over. Should this happen, we will need to treat the new design as a completely new order and your initial deposit will likely have to be forfeited to cover the original design time, communication time, material and labor costs

Fabrication & Completion:

-Once I begin work on your order, you can expect frequent contact from me including progress photos
-Please monitor your email closely and respond to any questions I may have as sometimes unexpected issues may arise; communication is always important at every step during this process
-When the piece is complete, I will send finish photographs along with your second invoice covering the balance owed
-A third invoice will be sent shortly after the second once I know exactly what the shipping cost will be

Visiting my Studio:

Visits to my studio in Philadelphia are welcome by appointment to discuss what you would like to have me design and build for you. I need a minimum 48 hours notice to allocate time.

Live Edge Material:
All terms and policies above apply along with the following:

Live edge material are slabs and boards which retain the tree bark edge – the natural edge of the tree as it was cut. This is highly specialized work with many variables. No two of these pieces can ever be the same. Each slab reacts in its own way as it dries, they crack and need to be stabilized using "bowties" and other methods which are labor intensive. The placement of bowties and other stabilizing elements are dictated by the material I am working with and cannot be "chosen" except for non-structural, purely design purposes.

When engaged in an order of this type, I take photographs of several slabs I believe are good candidates and send them over to you via text or email. We will discuss them and you will make your selection from the images provided. Once that selection is made, I go out to mill and bring it back to my studio. During the milling process, there will be things I see which will need to be addressed and I may need to make small changes to the plan and design of the piece to make sure it remains stable over time. That work must be left to my discretion as there is an element of unpredictability within the material which I sometimes must respond to.

Order Cancellations & Refunds:

Deposits and payments are refundable only if I cannot do the work and have to turn the order down. Returns are accepted only if I have made a significant mistake based on something the client has clearly documented they wanted done and I did not do; example being you ordered a maple bench and I made it from walnut or you wanted something stained in black but I stained it in cherry.

Order cancellation or abandonment at any time will result in forfeiture of deposit in order to compensate me for design time, communication time, material and labor costs. If the piece is complete or close to it when cancellation occurs, I will hold the piece up to two weeks in case the client changes their mind. After two weeks I will consider the piece abandoned and it will become mine to do with as I need.

All of my work is insured when shipped. If there is damage during transit, I will work with my client and the shipper on the insurance claim.

---
Additional policies
Occasionally something I've made and posted to Etsy might be purchased elsewhere. If somebody buys something I have already sold, I will offer to make a comparable item or refund payment immediately.