White Flower with Rhinestones Lace Trim, pair of Applique, each applique is 12 cm x 21 cm long WLP001
(1)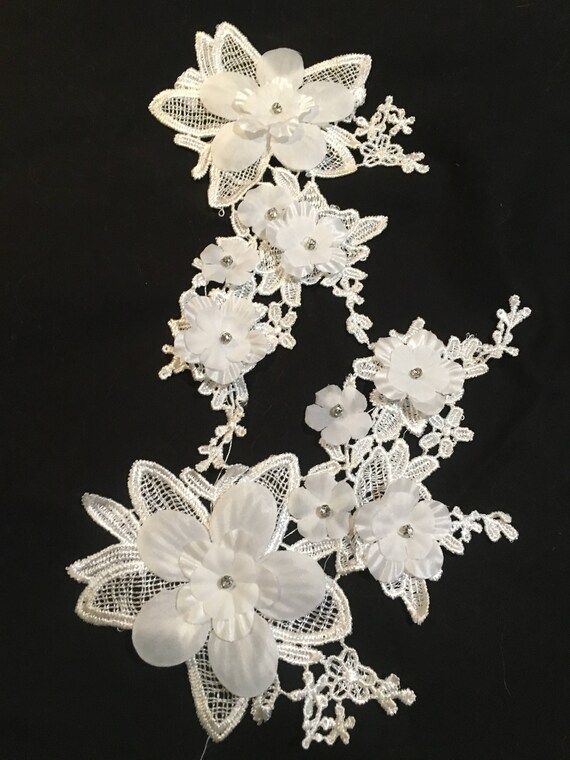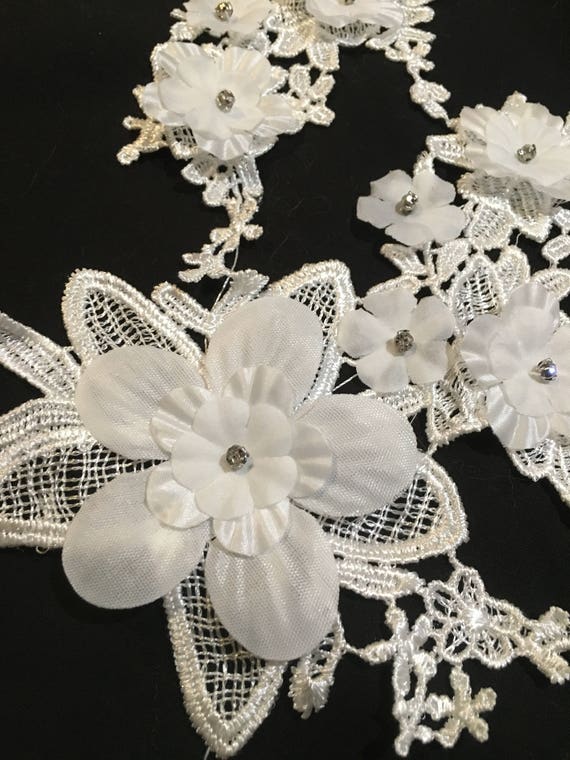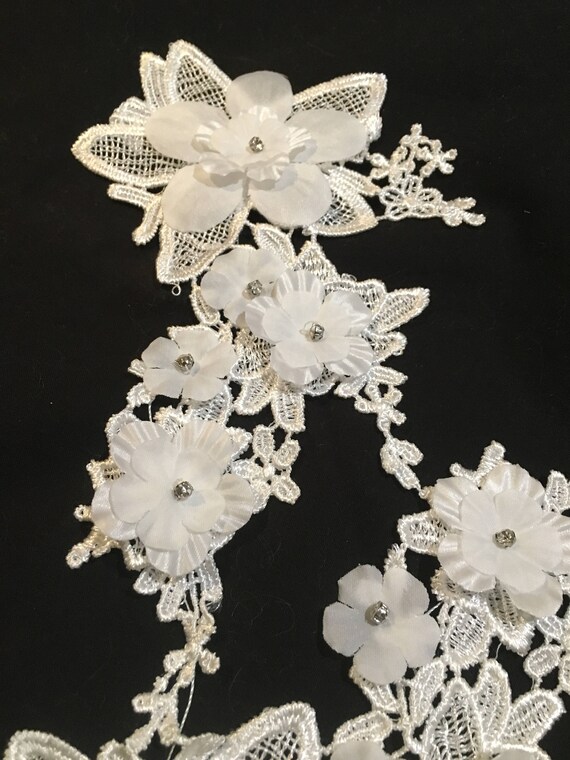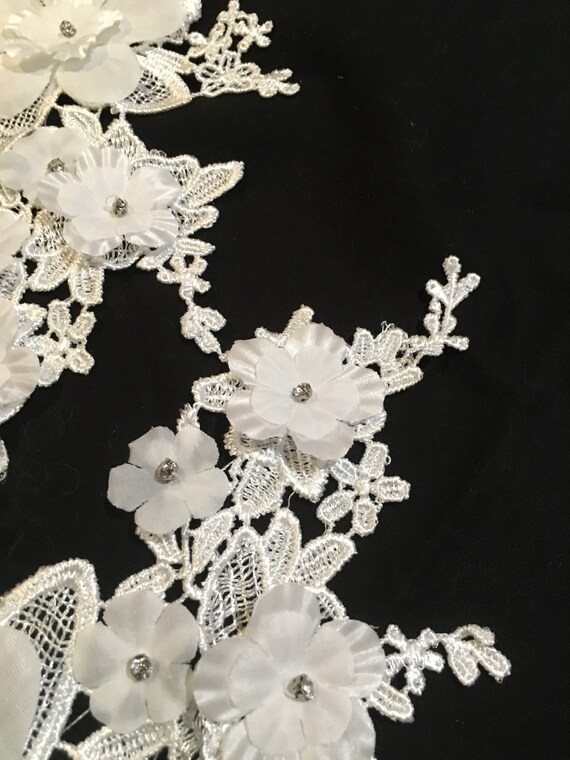 ---
Item details
1 pair (set) of white appliques. each applique is 12 cm wide x 21 cm long. A lace background with flowers and rhinestones. You can sew then on as they are or cut then in two, if you cut the pair apart, I have noticed that the rhinestones will need to be sewn on again as they are all sown on with a single thread.
WLP001

If they get bent during shipping or from storage, just use a stream iron and gentle past over the applique, don't hold the iron on the applique.

I have tried to describe the item to my best ability, if I haven't please let me know.

Postage and Handling.

Please ensure your Etsy address is correct. We do not check it see if it is correct. It is up to you. We will not be responsible for addresses which are incorrect.
WE ALWAYS REFUND UNUSED MONEY FOR POSTAGE. Within 48 hours of dispatch. (sometimes due to unforeseen reasons it may take longer)

Small items usually only cost a few dollars, but the ETSY postal system is set up for USA. I have tried ways to make my postal charges cheaper, so I have put a basic price and will refund you any money that is not used. (a pack of needles can be sent in a normal envelope and a metre of material can be sent in a large office envelope). 90% of our customers receive a postal refund. If your postage is over what you have paid, we pay the extra.

Most items sent to the USA, England and Europe take 2 to 3 weeks by air mail.
Faster airmail (Express) can take 2 to 3 business days but it is expense, but this can be arranged please just ask.

Parcels can come by sea at a third of the price of airmail, but can take up to 3 months to arrive.
Please check shipping upgrades.

Tracking.
Etsy tracking is not available in Australia. I can track with the customs declaration that it has left Australia. Overseas tracking is expensive and if you would like tracking on overseas parcels it has a minimum cost of $25 AUD per article. Ask and I will arrange tracking.

Problems
Any problem can be resolved. In the past I have had people who are rude, please I am here to help and play fair. I want to stay in business. Most problems are quite simple if people talk to each other. I will not be held responsible for a wrong address or you do not read to policy of my store. I am fair and honest. I hope I have not offended anyone by saying this, 99% of the people who I have sold items too are wonderful.

This is a summary of our policies, please take the time to read them in full.
---

Very impressed with the way seller presented delicate items and wrapped for protection. Thanks.

Jan 5, 2018 by Kerrie Duff
---
Shipping & policies
Preparation takes 1-2 business days
Estimated Shipping
The Quilted Cheese is at Miena, Tasmania. I will dispatch your parcels within the 1-3 Business day of the order. Due to the fact that we are the coldest place in Tasmania the weather may delay the mail leaving by a day or two due to road closures from snow and ice. Parcels may be 1 to 2 days at the post office collection point, waiting for better weather. The postal service only collects the mail on Monday, Tuesday and Friday. Postage from here doesn't cost any more than posting from anywhere else in Australia via Australia Post. I always take the mail over each day, to the collection point, just in case. If I am going on a errand where there is a post office, I take any mail with me.

The postal collection point is not a post office but a place where mail is collected and taken to the post office 70 miles away.

Any parcel sent within Australian will have tracking, but it may take a few days to let you know the tracking number. I have to wait for the mail documents to return back to me from the post office before letting you know.

Overseas parcel can have tracking just choose tracking on the shipping options. It does cost more.

Please insure your ETSY address is correct. This is the address your items will be sent too. If you require a different address for delivery, it is not a problem but please contact us though ETSY.

Etsy tracking is not available in Australia. We send all parcels without tracking. If you would like tracking it does cost more, please upgrade your postage options. Parcels without tracking travel at the cost of the purchaser. Once we hand parcels over to the postage service it is out of hands, and we bear no responsibility for them.

All items will be posted though AUSTRALIA POSTAL SERVICES. If you wish to have your parcel insured or sent by registered post, or express mail (extra charges will apply, at your cost) upgrade your shipping options, it is not a problem. All parcels will be shipped at the lowest cost. Please let me know prior to shipping via ETSY ONLY.

I like to have all parcels dispatched as quickly as possible, if I have a question for you regarding mailing I will contact you though ETSY. If I have not received a reply within 24 hours I will assume it is ok and send the parcel.


Esty tracking is not available here in Australia.

All items will be posted through 1st Class mail through Australia Postal Services.

Money for postage that is not required will be REFUNDED back to you within 24 hours of dispatch. I will always write an email to informing you of any refund via ETSY.

90% of our customers receive a postal refund. If you postal charges are more than you have paid, we pay the extra at no cost to you.

Please do not ask us to falsify information of any kind to CUSTOMS or any other AUTHORITIES.
(IT IS CLASSED AS A CRIMAL ACT UNDER INTERNATIONAL LAW)


INTERNATIONAL BUYERS

Duties, taxes or fees that may be applied by your country, are not included in our shipping fees, we are not able to assist in anyway in the collection of these duties.
Knowing the prohibited and restricted items in your country is your responsibility as the buyer.

We (The Quilted Cheese) are not responsible for items held by any INTERNATIONAL AUTHORITIES.

Please contact you local authorities for advice and you the customer are responsible for observing all customs rules when making your purchases. Any charges due to duties, taxes and fees incurred on the packages journey will be paid for by you, the customer upon delivery.

These charges are normally collected by the delivering freight or shipping company, or when you collect your item. Please do not confuse them as additional shipping charges.
---
Payments
Payments can be made securely online using Etsy, PayPal,, direct deposit, money orders, credit cards or debit cards. Upon receipt of monies your order will be completed and mailed to the ETSY address on the billing sheet.

PLEASE INSURE YOUR ETSY ADDRESS IS CORRECT.

All orders will be processed within 24 hours of monies being cleared. Any addition cost that may be added (due to postal cost, increasing etc) I will notify you before sending the parcel, you are also informed via Etsy.

Please contact us though ETSY if you have any concerns. WE want to be a good supplier and have happy customers. Difficulties can always be resolved.

For cancellation policy, taxes and international requirement PLEASE read our DELIVERY and REFUND sections.


COUPONS

Only one coupon offer can be used on one order. You can choose which offer you would like, if more than one coupon is available.

If an coupon is in the offering and you don't use it, we will not reimburse you. Please read the coupon offer at the top of the shop page.
---
Returns & exchanges
Sorry is not a good reason for a refund.

Please make sure the item is what you wanted. I have tried my best to photograph our products in good light. I have also tried to describe the item to the best of my ability and in all honesty. I can't refund monies because you have changed your mind. Refunds will not be paid until the goods have been returned to me within 7 to 28 days of delivery to you, we accept the right of refusal if the item is not in the same condition it was sent to you. Any postal costs on returning items is at your cost.

All returns notices are to be within 7 days of delivery. All items returned are to be unused and in the same condition they were sent in. If a product is returned in a condition that was not supplied by us to you, we accept the right of refusal. Return postal costs are to paid by you the purchaser.

Orders may be CANCELLED for a good reason, if the item has already been shipped to you no money will be refunded until the return of the item in its original condition and packaging. Items are to be returned within 7 days on receipt to you. The purchaser is responsible for the postal cost of returning items. Upon receipt of the goods back to us we will refund monies to you as soon as possible. The return postage cost is paid by you. We reserve the right of refusal to accept the good if they have been damaged, used or miss treated. Any damage caused though the postal service is to be taken up by you the customer. Once the parcel has left our control we have entrusted it to the postal service, we can not be held responsible in any way for there conduct towards your parcel. We package the goods is such a way that they travel quite well though the postal service, if however the delivery service has mistreated your item, please contact them and us to complain so we can together get the problem resolved.

Items described as NOT RETURNABLE will not be accepted back nor will a refund be given. These items are clearly marked in their descriptions.

We do not issue refunds if your ETSY address is wrong. Please ensure it is correct. We do not check to see if your address is correct.

We do not refund if you parcel has left Australia (confirmed by Australian customs) and is now lost in another countries postal service. Unless you have paid for international tracking.

Please contact us though ETSY if you have any concerns. WE want to be a good suppler and have happy customers. Things can always be resolved.
---
Additional policies
My guarantee is that any postal charges that are not used to send your parcel WILL be refunded to you. I will make sure that my products are in the best possible condition before sending and if any thing is wrong I will contact you or write a note via ETSY .

COUPONS

Only one coupon offer can be used on any one order. You can choose which offer you would like, if more than one coupon is available.

If an coupon is in the offering and you don't use it, we will not reimburse you. Please read the coupon offer at the top of the shop page.