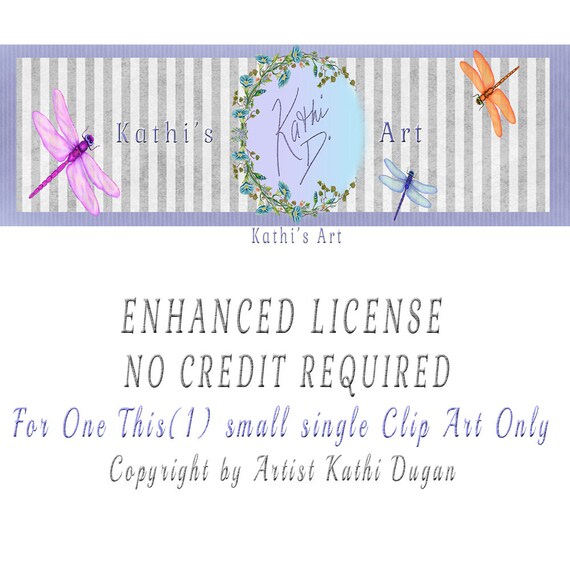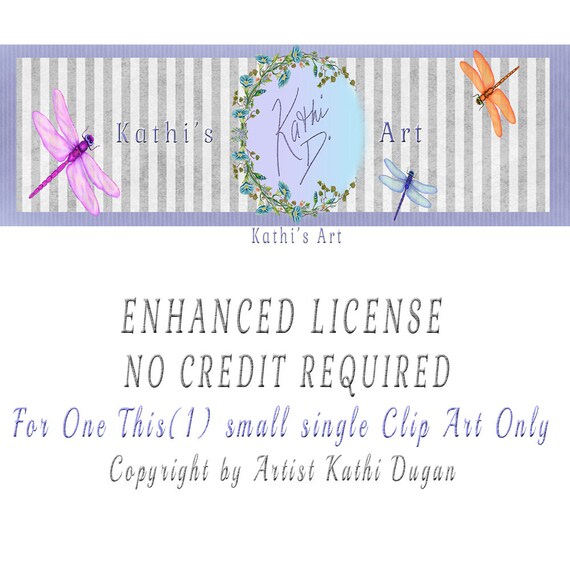 ---
Features
Made in Rockland, Massachusetts
---
Item details
COMMERCIAL USE: THIS TERM WILL BE USED BY KATHI'S ART AS MEANING ANY USAGE OF ANY PURCHASES FROM THIS SHOP, USED EITHER WITH AN INTENT OR HAVING THE RESULT OF MAKING A PROFIT /EARNINGS/MONEY.
License is not transferable and not refundable.
AFTER PURCHASE PLEASE LEAVE US A MESSAGE AS TO WHICH LISTING YOU HAVE SECURED THIS LICENSE FOR. PLEASE MARK YOUR LICENSE/ RECORDS WITH THE FILE TITLE, ORDER NUMBER AND DATE OF THIS PURCHASE AND OF THE LISTING FOR WHICH YOU HAVE SECURED THIS LICENSE.

- This Enhanced License applies to this one small clip art only.
- No expiration date of this Enhanced License. No limit on the number of uses. You can use it worldwide, for multiple purposes and multiple projects, within the terms of use

TERMS OF USE

- You may use this single item without providing credit to Artist Kathi D./Kathi's Art.
- You may use this single item to create a DERIVATIVE product. Files must be personalized with enough of your own design added to make it a new design. This graphic/artwork/design must not be used in any way that makes it easily
copied, downloaded or distributed.
- Files in which this graphic/artwork/design is used must be sold flattened as a JPEG or a PDF file only. For any type of website display it must not only be flattened but it must be used at 72 dpi. It cannot be extractable.
- This graphic/artwork/design cannot be used in any form of blank digital product, such as blank invitations, toppers, wrappers, party printables and sold. All digital products must be personalized and sent to a specific customer in a
flattened JPEG or PDF format. No digital products allowing others to customize are allowed. This is absolutely forbidden.
- You may use your derivative work made with this graphic/artwork/design in products for Zazzle, Cafe Press, Red Bubble or any other "Print On Demand"site.
- You may not use this graphic/artwork/design as a trademark/service mark or any other registered logo.
- You may not use this graphic/artwork/design for the creation of digital cutting files to sell commercially
- This graphic/artwork/design may not be traced in any manner and sold as a coloring file or a digital stamp commercially.
- Embroidery digitizers may use our graphic/artwork/design in the sale of embroidery files only, not as original files.
- You cannot use this graphic/artwork/design to create products and sell them on a competitor website.
- You may not re-distribute/share/sell any of my designs as they are received by you or in one of your creations intended for re-distribution/sharing/selling.
- You may not share graphics for free.
- You may not claim any of these designs as your own in any way. Copyright remains always with Artist Kathi Dugan.
- You may NOT use Kathi's Art designs for pornographic, obscene or libelous works.

You may NOT share, resell or redistribute my graphics/design/artwork as is or as individual images under ANY circumstances.

We regularly check the usage of our graphics and may ask you to provide us with an order number, in order for you to be able to prove that you have bought a license from us for each art piece used.

PLEASE NOTE: SEVERAL OTHER SMALL COMMERCIAL LICENSES /COMBO LICENSES AND ENHANCED LICENSES HAVE BEEN MADE AVAILABLE.
Please take care to purchase the license which best suits your needs.

Please note that the artist retains the copyright to each image and will be using all images for her own purposes.

NO CLIP ART IS INCLUDED WITH THIS LICENSE, it must be purchased separately from us.

LEGALITIES

Indemnification: Client will indemnify and defend Artist against all claims, liability, damages, costs, and expenses, including reasonable legal fees and expenses, arising out of the creation or any use of
the Images or materials furnished by Client. It is the Client's responsibility to obtain the necessary model or property releases are ensure they are full effect and in force.

By purchasing and using any Artwork commercially in conjunction with this license you agree to be bound by the terms of this license.

Your rights to use any Artwork are subject to this license, and you shall enter into this agreement after having downloaded any Artwork.

If you are entering into this Agreement on behalf of your employer, client or other entity, you warrant and guarantee that you have the full right and authority to do so. If you do not have such authority, your purchase of this license will be considered a breach of the license.

A file will be sent to you after purchasing this License. Your receipt of purchase confirms your rights as specified for commercial use on this page and in the file sent.

AFTER PURCHASE PLEASE LEAVE US A MESSAGE AS TO WHICH PIECE YOU HAVE SECURED THIS LICENSE FOR. PLEASE MARK YOUR LICENSE WITH THE FILE TITLE, ORDER NUMBER AND DATE OF THE PIECE FOR WHICH YOU HAVE SECURED THIS LICENSE.
ALONG WITH YOUR PAYPAL RECEIPT. It may be needed, should you ever have to offer proof that you have bought a license from us toward the use of today's purchase. If you find this license to be insufficent for your needs, please contact Kathi's Art to receive a deduction on a broader license.

If you already bought something from our shop and you decided to use it commercially buy this CREDIT REQUIRED License and write in comment section for which product you bought it.

Any questions, please feel free to convo me!
Thank You!
---
Digital downloads
---
Payments
PayPal is the preferred payment method of Kathi's Art.
If you don't have a PayPal account or if you don't desire to open a PayPal account, don't be discouraged!
PayPal offers the option to make payments using a variety of credit/debit cards, without signing up for an account!
I am sure you will find something that will work for you!
---
Returns & exchanges
Please note: FOR DIGITAL FILES ONLY:
There will be no refunds on digital file purchases, although the artist will be happy to work with you to resolve any problem you might be having. Thank you for your understanding!

FOR ALL PHYSICAL ITEMS OTHER THAN DIGITAL FILES:
Kathi's Art is as honest and accurate in the description of each product offered. If a return is desired, please contact Kathi's Art within 2 days of receipt of purchase. Exchanges and returns will be permissible, at the discretion of Kathi's Art and should be postmarked within 2 business days following the initial request to return. Monies will be refunded only after the item has been returned to Kathi's Art, in pristine and unused condition. Other than returns due to an error on the part of Kathi's Art, shipping and handling costs will be the responsibility of the buyer. Insurance will be required on all returns totaling $50.00 or more .
---
Additional policies
TERMS OF USE: DIGITAL FILES
All rights are retained by Kathi's Art and the copyright remains with Kathi's Art. By purchasing my graphic images you are being granted permission to use the images in your personal and small business projects, but the copyright is not transferred to you.
Kathi's Art provides digital graphics for personal and commercial use.

*PERSONAL USE
You can use my graphics on any personal project as long as NO profit/money is made.
Credit is not required for Personal Use, but it is greatly appreciated.

COMMERCIAL USE: THIS TERM WILL BE USED BY KATHI'S ART AS MEANING ANY USAGE OF ANY PURCHASES FROM THIS SHOP, USED EITHER WITH AN INTENT OR HAVING THE RESULT OF MAKING A PROFIT /EARNINGS/MONEY.

A * * * GUIDELINES/TERMS FOR SMALL COMMERCIAL USE (UNDER 250 COPIES):

There are 2 options available for the SMALL COMMERCIAL USE (UNDER 250 PIECES) of one of Kathi's Art graphics, purchased under $11.00.

1. Commercial Credit Required: You must link back to:
https://www.etsy.com/shop/kathisart?ref=search_shop_redirect
with the full name intact, credit should be placed on the page where the product is displayed.
Link to this License:
https://www.etsy.com/listing/533489376/commercial-license-credit-required?ref=shop_home_active_8

2. Commercial No Credit Required: If you do not wish to credit and link back to Kathi's Art then you must purchase with this option. You pay the extra fee required per single items purchased and you do not have to link back to https://www.etsy.com/shop/kathisart?ref=search_shop_redirect
Link to this License:
https://www.etsy.com/listing/534840966/commercial-license-no-credit-required?ref=shop_home_active_7

* * PLEASE NOTE, FOR ALL SMALL COMMERCIAL OPTIONS:

1. You may NOT share, resell or redistribute my graphics/design/artwork as is or as individual images under ANY circumstances.

2. You may use Kathi's Art graphics/design/artwork for: *Invitations, *Greeting Cards, *Stationary, *Tags/Labels, *Party Banners/ Decorations, *Brochures/Programs, *Decoupaged Hand Crafted Items, *Party Favors, *Cupcake Toppers /Candy Wrappers, *Business Cards, *Teacher Material/Educators, *Website/Blog Designs, *Embroidery Patterns.... and so much more...
...However... this said, please note the following terms and conditions which also apply to any commercial use of my graphics/design/artwork ...

A. You may not use my graphics/design/artwork digitally in any way that can be easily copied or downloaded and/ or distributed. Please be sure all files are FLATTENED as JPEG or PDF files and my graphics are merged properly with your own design.

B. You may NOT use my graphics/design/artwork for Zazzle, Cafe Press, Red Bubble, or any other "print on demand" site.

C. You may NOT incorporate my graphics/design/artwork into your products to sell in physical and/or digital forms OF MORE THAN 250 pieces.

3. You may NOT use my graphics/design/artwork as a trademark, service mark, or any other registered logo.

We regularly check the usage of our graphics and may ask you to provide us with an order number, in order for you to be able to prove that you have bought a license from us for each art piece used.

PLEASE NOTE: SEVERAL OTHER SMALL COMMERCIAL LICENSES HAVE BEEN MADE AVAILABLE LISTED 3-5) :

3. Commercial No Credit Required: 3 single items under $11.00 for not more than 250 copies; 1 item under $11.00 for not more than 500 copies $25.00
Link to this License:
https://www.etsy.com/listing/534859980/commercial-license-no-credit-required-3?ref=shop_home_active_6

4 Commercial No Credit Required: 3 single items under $11.00 for not more than 500 copies; 1 item for not more than 1000 copies $35.00
Link to this License:
https://www.etsy.com/listing/534864222/commercial-license-no-credit-required?ref=shop_home_active_5

5. Commercial No Credit Required: 3 single items under $11.00 for 1000 copies $65.00
Link to this License:
https://www.etsy.com/listing/548668483/commercial-license-no-credit-required-3?ref=shop_home_active_4

EACH COMMERCIAL LICENSE OPTION CARRIES THE SAME GUIDELINES/TERMS AS DOES THE SMALL USE (UNDER 250 COPIES), AS WRITTEN ABOVE.
Please take care to purchase the license which best suits your needs.


* * * GUIDELINES/TERMS FOR COMMERCIAL/MASS PRODUCTION USE (MORE THAN 1000 COPIES) KATHI'S ART OFFERS ENHANCED LICENSES:

You may use your derivative work made with this graphic/artwork/design in products for Zazzle, Cafe Press, Red Bubble or any other "Print On Demand"site, under the terms given in said License. Enhanced Licenses have no expiration and no limit on copies.

A. Enhanced License 1 small clip art only $90.00
Link to this License:
https://www.etsy.com/listing/535088346/enhanced-license-no-credit-required-1?ref=shop_home_active_3

B. Enhanced License 1 small Digital Set $175.00
Link to this License:
https://www.etsy.com/listing/548920881/enhanced-license-no-credit-required-1?ref=shop_home_active_2

C. Enhanced License 1 Bundle or 3 small Digital Set $299.00
Link to this License:
https://www.etsy.com/listing/535127364/enhanced-license-no-credit-required-1?ref=shop_home_active_1

IF you wish to use my graphics/design/artwork for commercial projects, in either digital /physical or in combination of both products sold, you need an ENHANCED/ COMMERCIAL/MASS PRODUCTION LICENSE. Please take care to purchase the license which best suits your purchase and your needs.

We regularly check the usage of our graphics and may ask you to provide us with an order number, in order for you to be able to prove that you have bought a license from us for each art piece used.

ALL LICENSES ARE AVAILABLE FOR PURCHASE FROM KATHI'S ART

### Kathi's Art reserves the right to modify the Guidelines/Terms Of Use for any section of this shop at any time without giving you prior notice.###


* A NOTE REGARDING DIGITAL ITEMS:

Please note that printed colors may vary slightly from their appearance on the screen. This may be due to the fact that your screen may not be calibrated to your printer. Or your display screen may be set either brighter or darker than that of the actual files, which could make an effectual change between what you see and what you get.

* IF YOU WOULD LIKE PERSONALIZATION OF ANY PIECE: Please communicate with me through conversation before you purchase. It would be possible to personalize most pieces. There will be a minimum charge of $10.00 for up to 5 words and $2.00 for every additional word.


Thank You!