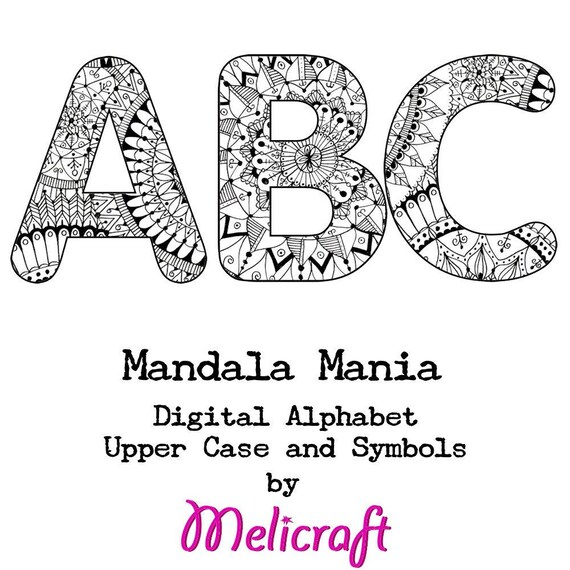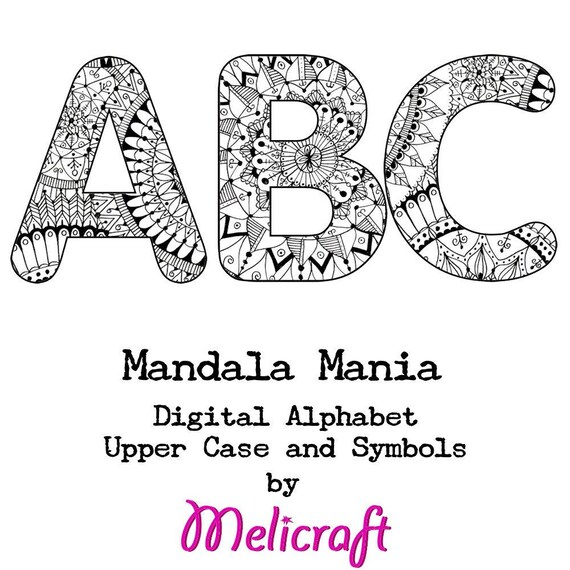 ---
Features
Made in Witham, United Kingdom
---
Item details
Hello! Welcome to my listing for the Mandala Mania digital alphabet. All my alphabets are designed and created myself, this particular one was made using mandala drawings I did whilst pregnant with my third baby girl!

Digital alphabets are very versatile graphics and can be used for a variety of purposes! If you love digital scrapbooking, then you know all about adding great word art to your creations. They can be added to websites and blogs, and then there is all the"real life" applications such as printing your own word art for home decor or having personalised mugs made.

These alphabet packs consist of separate .png files, separated into Upper Case, Number and Symbol, and in some cases Lower Case folders for tidiness! They are floating - i.e. on a transparent background so you can re-size, pick up and use as you will. The folders come compressed files (.zip) that will have to be unpacked on digital delivery. I use 7-Zip, you can use whatever you or your device prefer.

Obviously, the Upper (and if included) and Lower directories contain the 26 letters. The Numbers and Symbols folder contains the numbers 0-9, as well as various common symbols.

IMPORTANT - Due to the nature of the files, no refund will be given after digital delivery of the files. Please make sure you want the item before completing checkout - thank you!

Standard Terms & Conditions apply, and are included in your .zip file. Basically, with these files...

You CAN...

Use these files for personal use as many times as you like, whether you are making items for yourself, or for personal gifts.

Tell the world where you got your files. A little credit goes a long way!

Use these files digitally, or print them for physical use as many times as you like.

You may NOT...

Redistribute the files, share the files or sell the files, or pass them on for free or for commercial gain.

Pass the files off as your own work.

If in doubt, just drop me an email - and if you want to show off your work using these files, I would love to see!
---
---
More from this seller
---
Digital downloads
---
Payments
Paypal is the current method of payment, safe for you, safe for us...a good all rounder! No items will be shipped without cleared payments.
---
Returns & exchanges
Mistakes are rare, but do happen on occasion. If the error is ours then a replacement will be sent. If the error is in the details given to us, no refund is given.
---
Additional policies
CAKE TOPPERS

Material Information

Our edible cake topper products have been sourced from reputable suppliers, and we are very happy with the results they produce. We use wafer paper, card and fondant icing sheets and high quality edible ink. They are all suitable for vegetarians, are kosher and are gluten free! You can find the ingredients below.

Your toppers will arrive safely in plastic bags. The edible wafer paper toppers will be precut for you. Wafer card Stand Up toppers will arrive on a sheet ready for you to cut using clean dry scissors. Icing sheets, whether they are full sheet toppers or cupcake toppers will arrive on a plasic backing sheet - and won't be pre-cut. Icing sheets are easy to cut with scissors, a craft knife or cookie cutters!

The toppers will all stay fresh for up to a year, and if you are not using them right away, just keep them flat and dry. If your wafer toppers start to curl, just place them under a heavy book for an hour or two and they will sort them out!
Using Your Toppers

Icing sheets are best used chilled, they peel from the backing sheet much easier. Sometimes running a craft knife under the edges will help. They can be used on top of any type of icing, from buttercream to fondant. moistening the icing slightly will help the topper stick! If you are using the icing sheets for cupcakes, the cut discs will sit nicely on buttercream, or can be stuck onto hardened fondant or sugarpaste to make extra special toppers!

The wafer card stand up toppers make cupcakes really stand out. They have tags attached to the bottom that will insert into buttercream nicely. If using them with fondant icing, I find using a knife to cut a slot onto the fondant first makes it much easier! Don't get the wafer card wet as it will dissolve.

The rice/wafer paper is slightly transparent, so will look best on white or light coloured icing.

Do not get the toppers too wet, or they will curl. If you are putting them onto fondant icing, slightly dampen the icing and press the topper down lightly. For normal icing, wait until the icing dries to the point of crusting before putting the topper on.



INGREDIENTS

Wafer paper and card:

Density: 0.4mm (paper) and 0.7mm (card)
Shelf Life: 18 months
Storage: Cool, dry place (14-20 ͦC) - Out of direct sunlight
Ingredients: Water, vegetable oil, potato starch
Additional Info: Kosher and suitable for vegetarians

Icing Sheets

Water, cornstarch, corn syrup solids, cellulose, sorbitol, glycerine, sugar, vegetable oil, gum arabic, polysorbate 80, vanilla, titanium dioxide, citric acid.
Edible Icing Sheets are completely safe for human consumption, made from 100% EC approved ingredients.

Edible Ink

Yellow ingredients : Water, Glycerol E422, Colour: Tartrazine E102 (1.5%), Preservative: 1.2 Propandiol E1520, Citric acid E330


Blue ingredients : Glycerol E422, Colour: Brilliant blue E133 (2%), Preservative: 1.2 Propandiol E1520, Citric acid E330


Magenta ingredients : Water, Glycerol E422, Colour: Azorubine E122 (2.2%), Ponceau R124 (0.9%),Preservative: 1.2 Propandiol E1520, Citric acid E330


Black Ingredients: Water, Glycerol E422, Colour: Brilliant black BN E151 (2.5%), Sunset yellow E110 (0.8%), Quinoline yellow E104 (0.6%), Preservative: 1.2 Propandiol E1520