RING SIZER - adjustable ring sizer, reusable ring sizer, find ring size, US ring sizer, plastic ring sizer, ring size guide
(6)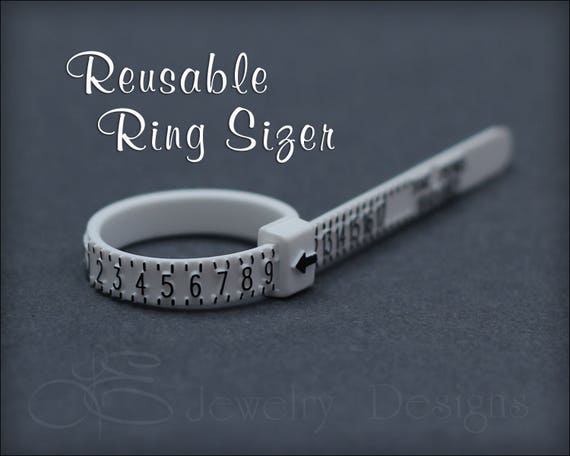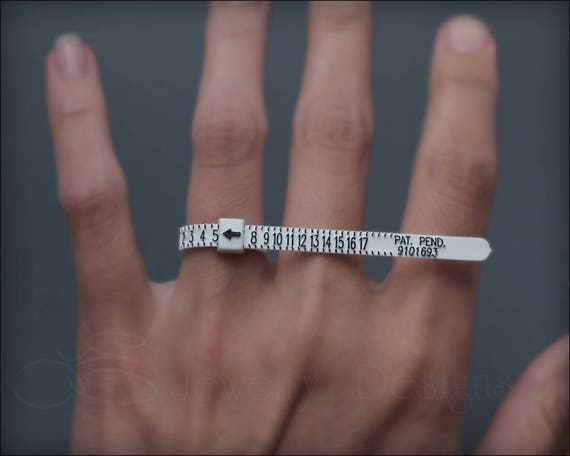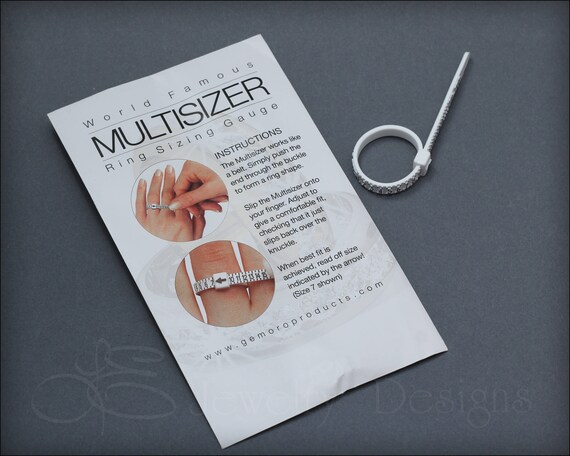 Preparation takes 2-4 business days
Arrives from the United States
---
Features
---
Item details
▼ This listing includes:

(1) Reusable Plastic Ring Sizer w/Instructions ▶ INDIVIDUALLY PACKAGED ◀

************************************************************************
★ ★ ★ ★ ★ ★ ★ ★ I T EM • D E T A I L S ★ ★ ★ ★ ★ ★ ★ ★ ★

Find your ring size with this handy ring sizer! Since it works similar to a belt, put the end through the loop, slide over finger and tighten until it fits. Repeatedly slide over knuckle and adjust to ensure the correct fit. The arrow points to your size. You may also refer to the instructions on the package.

▶ PLEASE NOTE: This sizer is reusable, so keep it with your jewelry or on your person. Ring sizes can change due to weather changes and other variables, so you will always be able to find your size.

************************************************************************
★ ★ ★ ★ ★ ★ ★ ★ S H I P P I N G • I N F O ★ ★ ★ ★ ★ ★ ★ ★

This item ships via ▶ FIRST CLASS MAIL. If you'd like it shipped faster ▶ (PRIORITY MAIL), please choose the shipping upgrade, when checking out.

Shipping upgrade is NOT available if you purchase a made-to-order item at the same time as the ring sizer.

************************************************************************
★ ★ ★ ★ ★ ★ ★ O T H E R • A D D • O N S ★ ★ ★ ★ ★ ★ ★ ★ ★

☆ PRO POLISH PAD ▶ http://etsy.me/2ss12Mi

☆ ALL ADD ONS ▶ http://etsy.me/2bSWMeL

************************************************************************
★ ★ ★ ★ ★ ★ ★ M Y • R I N G • D E S I G N S ★ ★ ★ ★ ★ ★ ★

☆ ALL MY HANDMADE RINGS ▶ http://etsy.me/2bpBy8o

*************************************************************************
Thank you so much for looking!

All designs and photos © LE JEWELRY DESIGNS

Join me on FACEBOOK for updates and news: http://bit.ly/2cFukvO

Follow me on INSTAGRAM: @lejewelrydesigns

Back to my shop - http://etsy.me/2bVRts4
---
---
Handy, inexpensive tool and very accurate!
5 days ago by Mehana
Easy to use and perfect to share with friends! Shipped quickly!
Apr 15, 2018 by hconsilvio
I never wore a ring in my life and I don't know my size. This helps finding my size without going to a jewelry store. Perfect. Thanks
Oct 23, 2017 by sbk151
Oct 11, 2017 by Todd Perkins
---
More from this seller
---
Shipping & policies
Preparation takes 2-4 business days
Arrives from the United States
Estimated Shipping
*************************************************************************
★ ★ ★ ★ ★ ★ D O M E S T I C • S H I P P I N G ★ ★ ★ ★ ★ ★ ★

↓ ↓ ↓ ↓ ↓ ↓ ↓ ↓ ↓ ↓ ↓ ↓ ↓ ↓ ↓ ↓ ↓ ↓ ↓ ↓ ↓ ↓ ↓ ↓ ↓ ↓ ↓ ↓

FLAT RATE STANDARD SHIPPING ▶ USPS PRIORITY MAIL (1-3 DAYS).

↑ ↑ ↑ ↑ ↑ ↑ ↑ ↑ ↑ ↑ ↑ ↑ ↑ ↑ ↑ ↑ ↑ ↑ ↑ ↑ ↑ ↑ ↑ ↑ ↑ ↑ ↑ ↑

▶ If you'd rather downgrade to FIRST CLASS, please contact me.

●●●●●●●●●●●●●●●●●●●●●●●●●●●●●●●●●●●●●
*PLEASE TAKE INTO ACCOUNT MY CURRENT PRODUCTION TIME. THIS DOES ►NOT◄ INCLUDE YOUR SHIPPING TIME*
●●●●●●●●●●●●●●●●●●●●●●●●●●●●●●●●●●●●●

If you need your item/s SHIPPED by Express Mail (THIS DOES NOT INCLUDE PROCESSING TIME), you may choose to upgrade when you check out.

Etsy does not hold its sellers responsible for lost, redirected, or undelivered mail. When I ship out an item, it is now in the hands of the USPS.

*************************************************************************
★ ★ ★ ★ ★ I N T E R N A T I O N A L • S H I P P I N G ★ ★ ★ ★ ★

The USPS does not provide tracking information for international shipping, so once your package leaves the US, it is in the hands of the postal system.

Etsy does not hold its sellers responsible for lost, redirected, or undelivered mail. When I ship out an item, it is now in the hands of the USPS.

♦♦♦ IMPORTANT ♦♦♦

Please familiarize yourself with your country's shipping policies. The BUYER is responsible for any CUSTOM/VAT, TAX and/or DUTY charges and is NOT the responsibility of the seller. Any additional fees are NOT included in the shipping price you pay through Etsy. These fees are especially high for customers in the UK.

▶ UK CUSTOMERS: As stated in my policies and in every listing description, you will be responsible for any CUSTOMS/VAT fees collected from you, when you retrieve your package. This is not a shipping charge, but rather a tax that is collected from your country. Please, do not ask me to mark your package as a "gift" or to pay for those fees, as it is illegal for me to do so. If you need to cancel your order, please do so within 24 hours. Here is a handy calculator to help you figure out how much you will have to owe: https://www.dutycalculator.com/new-import-duty-and-tax-calculation/ Any package that comes back to me marked as 'unpaid' or 'returned to sender' because of refusal to pay the fees, may not always be eligible for a refund. Shipping fees are not included in a refund amount.

The seller is not responsible for any delays caused by the shipping companies, international customs, or mail/delivery services. Please note that it can take 2 - 8 weeks for International shipping. (THIS DOES NOT INCLUDE THE TWO WEEK PRODUCTION TIME)

*************************************************************************
★ ★ ★ ★ ★ T R A C K I N G • I N F O R M A T I O N ★ ★ ★ ★ ★

PLEASE ALLOW 24 HRS FOR TRACKING INFO TO BE UPDATED BY THE USPS

Lately, it seems the USPS has been having issues with updating the tracking information on some packages. Many Etsy sellers have reported this issue and it is being looked into. Unfortunately, since the USPS is not updating the tracking info, your package may only have 'SHIPPING LABEL CREATED' as the latest update. Hopefully, this issue will be resolved soon. Thank you so much for your understanding.
---
Payments
I do not start an order until it has been paid in full.

*PLEASE MAKE SURE YOUR ADDRESS IS CORRECT IN YOUR ETSY ACCOUNT AND PAYPAL ACCOUNT. I CAN NOT CHANGE WHERE THE PACKAGE IS BEING SENT, ONCE THE ORDER HAS BEEN PLACED. I AM NOT RESPONSIBLE FOR PACKAGES SENT TO A WRONG ADDRESS.

▶ SALES TAX is applied to Texas residents, only.
---
Returns & exchanges
I gladly accept cancellations
Request a cancellation within:
2 days of purchase
I don't accept returns or exchanges
But please contact me if you have any problems with your order.
Additional return information
*************************************************************************
★ ★ ★ ★ ★ ★ ★ ★ ★ R E F U N D • I N F O ★ ★ ★ ★ ★ ★ ★ ★ ★

Because each piece is made according to the customer's specifications (size, finish, stone, etc), they are considered custom pieces. There are NO REFUNDS on any made-to-order, handmade piece, unless it is an error on my part.

▶ Please, make sure you order the correct ring size, as most of my rings cannot be resized.

☆ UNSURE OF YOUR RING SIZE? Going to your local jeweler is the best option, but I've had customers successfully find their size by PURCHASING A REUSABLE RING SIZER HERE ▶ http://etsy.me/2tu0VwS

▶ BUYER IS RESPONSIBLE FOR ANY RETURN SHIPPING. SHIPPING COSTS ARE NON REFUNDABLE.

▶ If you have an issue with your item/s, please contact me before leaving feedback. I will do all I can to make sure you are 100% satisfied with your purchase.

▶ It is extremely important that you double check the information you give me to stamp. I hand stamp exactly what you give me. I am not responsible for misspellings made by the buyer.

↓ ↓ ↓ ↓ ↓ ↓ ↓ ↓ ↓ ↓ ↓ ↓ ↓ ↓ ↓ ↓ ↓ ↓ ↓ ↓ ↓ ↓ ↓ ↓ ↓ ↓ ↓ ↓
THERE ARE NO REFUNDS/EXCHANGES ON PERSONALIZED ITEMS
↑ ↑ ↑ ↑ ↑ ↑ ↑ ↑ ↑ ↑ ↑ ↑ ↑ ↑ ↑ ↑ ↑ ↑ ↑ ↑ ↑ ↑ ↑ ↑ ↑ ↑ ↑ ↑
---
Additional policies
***********************************************************************
★ ★ ★ ★ ★ ★ ★ ★ ★ I M P O R T A N T ★ ★ ★ ★ ★ ★ ★ ★ ★

When ordering any of my custom, handmade rings, please make sure you order the correct size. Unfortunately, because I make each ring custom to the customer's demand (sizes, stones, finishes, etc), I CHARGE A RESIZING FEE to cover any additional costs for remaking the rings, my time and labor, and the possibility that I may not be able to resell the rings. NOT ALL RINGS CAN BE RESIZED.

↓ ↓ ↓ ↓ ↓ ↓ ↓ ↓ ↓ ↓ ↓ ↓ ↓ ↓ ↓ ↓ ↓ ↓ ↓ ↓ ↓ ↓ ↓ ↓ ↓ ↓
NO RESIZING FOR PERSONALIZED ITEMS
↑ ↑ ↑ ↑ ↑ ↑ ↑ ↑ ↑ ↑ ↑ ↑ ↑ ↑ ↑ ↑ ↑ ↑ ↑ ↑ ↑ ↑ ↑ ↑ ↑ ↑

Please, also note that when you order a stacking ring set, I make the size you requested for the whole ring set, not the individual rings. What this means, is that I may have to make each ring 1/4 or 1/2 size bigger to accommodate the width of all the rings worn together. Thank you for your understanding.

********************************************************************
★ ★ ★ ★ ★ ★ ★ ★ ★ R I N G • S I Z E ★ ★ ★ ★ ★ ★ ★ ★ ★

To find your ring size, you may go to your local jeweler or purchase this REUSABLE RING SIZER: http://etsy.me/2ssJBv9

********************************************************************
★ ★ ★ ★ ★ M Y • P R O C E S S • & • M A T E R I A L S ★ ★ ★ ★

Designing and making jewelry has been my passion for over almost 15 years, so I take pride into every single piece I make. I find great joy in knowing how special some of my pieces can be for someone, whether it is symbolic, used for a proposal, or even placed on fingers during a wedding ceremony. Each piece is made with my own two hands from start to finish. I am a one woman shop and doing everything from making/designing a piece, to photographing it, to answering all correspondence, to packaging your purchase, and shipping it off to you. Luckily, I do what I love and I love what I do!

The metals I use are sterling silver, fine silver, 14k yellow gold-filled, 14k rose gold-filled, titanium, brass, copper, and stainless steel. As with all base metals, brass and copper will tarnish over time. While you can keep it shiny by rubbing your piece with a polishing cloth and placing it in a ziploc baggie when not in use, a tarnished piece of jewelry is quite beautiful, giving it a rustic, organic look. For my base metal pieces, I use a yellow base metal solder. This will cause a small change in color at any soldering points on copper. For all my sterling silver pieces, I use Argentium sterling silver solder. With my gold-filled items, I use 14k yellow gold solder. This is pure gold. Because there is no 14k rose gold solder available that doesn't contain dangerous cadmium in it, I use 14k yellow gold solder, which can cause a slight discoloration at any soldering point. Most solder points are on the bottom of the ring and not visible, when wearing.

Please, note that since brass and copper do tarnish, it can cause a reaction on the wearer, especially after being exposed to oils in the skin, water, lotions, creams, swimming pools, etc. Please, be mindful of this, when purchasing any base metal pieces.

Though sterling silver, fine silver, and gold-filled items are considered fine jewelry, it is still possible for one to have a reaction to any of the metals. Though this is rare, it is not impossible.

As with all mood jewelry, it is EXTREMELY important to not get your mood ring or necklace wet! Also, stay away from lotions, creams, perfumes, etc. I make this very clear in the descriptions of all mood items. I am not responsible for your mood jewelry not changing color, because it got wet. Note: I check every single mood stone for color changing ability, before setting in the jewelry.

********************************************************************
★ ★ ★ ★ ★ ★ ★ ★ ★ C A R E • T I P S ★ ★ ★ ★ ★ ★ ★ ★ ★

Your jewelry is made to wear every day, but special steps should be taken in order to maintain its beauty. Please, avoid wearing lotions, perfumes, swimming/bathing, using household cleaning products, exercising, gardening, or other activities that could harm your jewelry. Skin oils, lotions, and soaps ca cause your jewelry to become dull looking. To shine it back up, use a mild detergent and a soft brush or the polish pad that was included in your order. To avoid tarnishing, wipe your piece clean with the polish pad and store in an air tight baggie or the box it came in, after each use.

For brass/copper items, you may use a mixture of water, vinegar, and salt to clean. Ketchup works, too!

For pieces that have darkened lettering: a quick and easy DIY way to darken the letters back up, after they have faded, is to use a black Sharpie marker to fill in the letter. Let dry for 10 mins and repeat. Once dry, use alcohol or the included polish pad to wipe away any access marker from the piece.